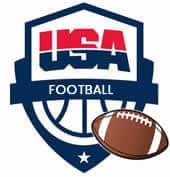 Betting on the NFL Playoffs is no easy feat because projection models that worked during the regular season tend to not show profitable results. In addition to looking at the current playoff picture, we'll offer some betting strategies to help you adapt to the postseason.
We also want to provide you with our reviewed list of best legal online sportsbooks in the United States for betting on football. Postseason football wagering is an entirely different beast to try and tackle, but we will give you the playbook on how to profit when betting on the 2019 NFL Playoffs. If you are new to betting on football, you may want to check out our NFL bet types guide to learn about all the different types of bets you place.
Best Betting Site for the 2019 NFL Playoffs
Bovada Sportsbook - Accepts All US Players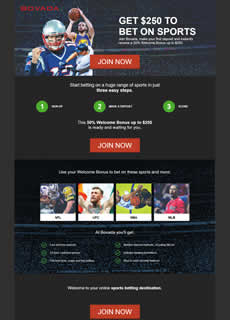 Bovada is an industry leader that has been servicing the USA for over a decade. They have built a trusted reputation among US sports bettors and offer a service that is valued by many seasoned professionals around the world.
Top USA Sportsbooks


Betting Lines and Odds for the NFL Playoffs
Below is our list of the top 5 online sportsbooks that accept USA players. Each of the sportsbooks below will be legally licensed offshore (or owned and operated by a parent company that holds legal licensing credentials), offer 24/7 support, great NFL betting lines and most of all offer fast payouts when you want to collect your winnings. We bet on sports too, so rest assured that the sites we recommend are the absolute cream of the crop 5-star sites available to USA players.
Is It Legal To Bet On The NFL Playoffs Online In The US?
In the United States, there is no federal law that prevents you from using an online sportsbook that is operating legally within the industry and located outside of the country. The NFL betting sites we recommend for the NFL Playoffs all fit this description and have been the most trusted sportsbooks in the industry for decades.
When it comes to betting online at sportsbooks that reside inside the U.S. border, legal wagering options are hard to find since only a few states allow betting sites to operate within state lines since the repeal of PASPA in May 2018. Playoff betting is also allowed in related sports such as college football, baseball, basketball, and more.
Super Bowl 54 Odds
---
2018/19 NFL Playoff Picture
The Los Angeles Rams and the New England Patriots have won their conference championships and will meet in Super Bowl 53.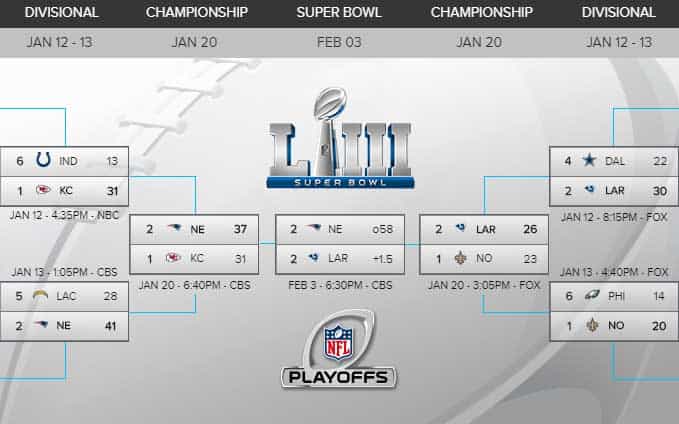 Here are the current playoff standings and the game line odds based on the Bovada online sportsbook. You can check back for updated odds, predictions, and more. Updates will be posted weekly.
2018/19 NFL Post Season Standings
NFL Playoff Standings - Divisional Round
(e) = Eliminated
AFC
Seed/Team         Division         Record
New England - East (11-5-0)
Kansas City Chiefs - West (12-4-0) - (e)
Los Angeles Chargers - West (13-4-0) - (e)
Indianapolis Colts - South - (11-6-0) - (e)
Houston Texans - South (11-5-0)  - (e)
Baltimore Ravens - North  (10-6-0) - (e)
Pittsburgh Steelers North - (9-6-1) - (e)
Tennessee Titans - South - (9-7-0) - (e)
Cleveland Browns - North - (7-8-1) - (e)
Miami Dolphins - East - (7-9-0) - (e)
Denver Broncos - West - (6-10-0) - (e)
Cincinnati Bengals - North - (6-10-0) - (e)
Buffalo Bills - East (6-10-0) - (e)
Jacksonville Jaguars - South - (5-11-0) - (e)
New York Jets - East - (4-12-0) - (e)
Oakland Raiders - West - (4-12-0) - (e)
NFC
Seed/Team           Division         Record
Los Angeles Rams - West - (13-3-0)
New Orleans Saints - South - (13-3-0) - (e)
Chicago Bears - North - (12-4-0) - (e)
Dallas Cowboys - East - (11-6-0) - (e)
Seattle Seahawks - West - (10-6-0) - (e)
Philadelphia Eagles - East - (10-7-0) - (e)
Minnesota Vikings - North - (8-7-1) - (e)
Carolina Panthers - South - (7-9-0) - (e)
Washington Redskins - East - (7-9-0) - (e)
Atlanta Falcons - South - (7-9-0) - (e)
Green Bay Packers - North  - (6-9-1) - (e)
Detroit Lions - North - (6-10-0) - (e)
Tampa Bay Buccaneers - South - (5-11-0) - (e)
New York Giants - East - (5-11-0) - (e)
San Francisco 49ers - West - (4-12-0) - (e)
Arizona Cardinals - West - (3-13-0) - (e)
NFL Playoff Betting Guide – Tips and Strategies
Playoff football is one of the most intense events in all of sports and pits the best NFL teams and players against each other. Change is necessary because the margin for error is razor-thin due to the amount of talent on the field for any play. Here are some things to help you adapt your bets for the NFL Playoffs.