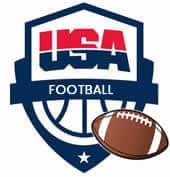 The Super Bowl is one of the most televised sporting events in the world, making USA Super Bowl betting lines some of the most sought after wagering action all year. It does not truly compare to the World Cup or Olympics on a global scale, but it is the most watched and wagered on sporting event in the United States. This page was developed specifically for Super Bowl betting coverage and provides insights on the best available sportsbook sites for US bettors, which teams you should wager on, some of the available betting options and much more.  We address the legalities involved for American football fans seeking legitimate options for betting on the Super Bowl from licensed and regulated destinations that welcome bettors from the United States.  If you enjoy betting on the Super Bowl, you may also want to visit our pages devoted to USA football betting that includes an NFL betting guide for US residents as well as a comprehensive guide to betting on college football.
The Billion Dollar Super Bowl
The American Gaming Association (AGA), which lobbies for the US casino and betting industry, reported than an estimated $4.7 billion would be wagered on the Super Bowl. They also estimated that only a small percentage of that take would be wagered in brick-and-mortar sportsbooks. The rest of the money would be bet with licensed offshore sportsbooks operating online. These online betting destinations provide the only legal source for Americans to bet on the Super Bowl outside of Las Vegas, Nevada. Part of the reason why offshore markets attract the most traffic is due to their promotional bonus incentives that give players more money to wager with at no additional cost. They also have more betting lines than most land-based sportsbooks, including a variety of props and alternative lines that keep things interesting.
Most Trusted US Friendly Sportsbook


For Betting On Super Bowl 52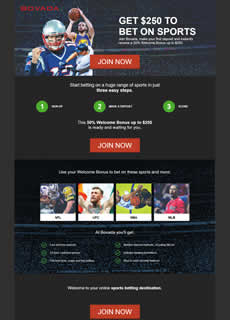 Super Bowl betting lines attract more US bettors than any other sports event that takes place all year. For those of you interested in wagering on the NFL's biggest championship game, we can recommend Bovada Sportsbook without hesitation. Owned and operated by the Bodog brand, Bovada is legally licensed and regulated, and is among the most trusted US friendly online sportsbooks in the business.
Bovada has a proven history of high quality service, attractive bonus offers and fast payouts. They feature a host of Super Bowl betting lines and wagering options, including a substantial range of prop bets. You will find mobile access to all of their lines, live betting options and a 50% welcome bonus worth up to $250 for betting on Super Bowl 52.
Leading USA Online Sportsbooks


To Bet On Superbowl LII
Is It Legal To Bet On The Super Bowl?

Yes. US residents can legally place bets with offshore sportsbooks as long as they are licensed and regulated by a respected government. There are 3 major federal laws applicable to sports wagering—the Professional and Amateur Sports Protection Act (PASPA), the Federal Wire Act and the Unlawful Internet Gambling Enforcement Act (UIGEA). None of these USA sports betting laws mention anything about offshore betting being illegal. Licensed offshore sportsbooks are also technically outside US government jurisdiction, hence the federal government is not able to impose their regulations or restrictions upon these sportsbook gambling sites.
Super Bowl 52 Recap - How It All Went Down In Super Bowl 2018
Super Bowl 52 is officially in the books. The Philadelphia Eagles clinched their first-ever franchise championship via a 41-33 victory over the New England Patriots. The Eagles once again proved the analysts and sportsbooks wrong. Considered the underdogs in each of their postseason games, the Eagles continued to soar and showed the entire NFL community that they are a legitimate force in the NFC.
The first quarter began with the Eagles receiving the ball. QB Nick Foles drove his team down the field, but New England's defense kicked in where it typically does best—the red zone. The Eagles were held to a field goal, but they put the first points up on the board. The Patriots looked similar in their offensive efforts and were able to move down into scoring territory, but the Eagles' defensive coverage broke up a potential touchdown pass and New England settled for a field goal. On the subsequent drive, the Eagles pushed down the field thanks to a strong run from RB LeGarrette Blount. Foles connected on a 34-yard pass to WR Alshon Jeffery to put the Birds up 9-3. The Eagles missed the extra point. New England failed to score a touchdown in the first quarter, continuing their ongoing first quarter-TD Super Bowl drought.
The Pats still had the ball to start off the second. They were held to a field goal attempt, which K Stephen Gostkowski missed. New England suffered a major loss in losing WR Brandin Cooks to a likely concussion. Cooks was rocked (by a clean hit) and unable to continue. On third and 5, the Pats tried a trick play with WR Danny Amendola passing to QB Tom Brady, but Brady was unable to make the catch. NE went for it on fourth with a long pass to TE Rob Gronkowski, however the pass was broken up. Blount scored a bullish run on the next drive to extend Philadelphia's lead. The Eagles went for a 2-point conversion to make up the missed extra point. This attempt failed and the score remained at 15-3. New England scored a field goal to make it 15-6. Their flat offense drew flashbacks to Super Bowl 51, where they only managed a field goal in the first half. However, the tide began to turn when New England scrounged an interception off a tipped ball. They finally scored a touchdown via RB James White with 2 minutes left in the half. Gostkowski missed the extra point off a botched snap.
Philadelphia's next drive was something special. After an electric run from third RB Corey Clement, the Eagles looked like they were going to miss a potential scoring opportunity. Then, on fourth and goal, Foles moved to the right side and appeared to be calling an audible. The ball was snapped, handed off to Trey Burton and thrown to a wide open Foles for a trick play touchdown. The Eagles led 22-12 at halftime.
Gronkowski had a strong drive to open up the third quarter and hauled in a touchdown for NE. This time, Gostkowski hit the extra point to make things 22-19. Philadelphia ate up a good portion of time on their next drive and finished with a bomb to Clement. The touchdown was reviewed, but stood. It was considered controversial from some Pats fans, but Clement had control of the ball and 2 steps before falling out of bounds. New England answered right back with a touchdown pass to WR Chris Hogan. Poor play calling on third down led to Philadelphia settling for a field goal with K Jake Elliot nailing a 42-yarder.
New England scored in the fourth quarter on a mismatch that saw Gronk wide open over a much smaller defender. New England took its first lead of the game at 33-32 and now the Eagles were under pressure. Coach Doug Pederson made a gusty call to go for it on fourth and one in their own territory. They successfully converted to TE Zach Ertz. Ertz then scored a touchdown that was also somewhat controversial, but a replay showed he had possession, became a runner and then broke the plane. Another unsuccessful 2-point attempt kept things at 38-33. Disaster struck NE on the next drive as Brandon Graham caused a sack-fumble with Philly recovering the ball. Now, Philly ran the clock down to just over a minute and scored another field goal. An interesting return trick play attempt landed the Patriots at their own 7-yard line. New England almost lost via a turnover on downs but converted with an Amendola completion. Philly played back to cover the deep ball, leaving Gronk open for a couple short catches. Brady threw a hail mary pass under pressure, though Gronk was smothered by Eagles defenders. Time expired as the ball was in the air, meaning the Pats had no more chances. Eagles win.
Super Bowl 52 saw breakout performances from Nick Foles (28/43 for 373 yards and 3 touchdowns), who was named Super Bowl MVP, LeGarrette Blount (90 yards and a touchdown), Corey Clement (100 receiving yards on 4 catches and a touchdown), the entire Eagles' receiving corps and their defense. For New England, Brady had an incredible performance with 505 yards and 3 touchdowns. Danny Amendola, Chris Hogan and Rob Gronkowski all had over 100 yards. It ended up coming down to defense, and Philadelphia proved to be the stronger team on this day. New England lost out on their 6th Super Bowl, and it is unclear whether all the players and coaches will be back, but the Eagles cemented their place in the NFC and will be a force next season.
Super Bowl 52 Preview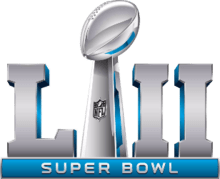 Updated January 2018 - Super Bowl LII is between the New England Patriots and the Philadelphia Eagles. Oddsmakers have the Patriots at 5-point favorites, but the Eagles have won both of their postseason games in which they were slated as underdogs. This game is expected to be a close one, with no real projections for a blowout. Pats fans are hoping it is not as emotionally draining as watching their team have to battle back from a 28-3 deficit (like in last year's Super Bowl). Eagles fans are hoping QB Nick Foles can end their dream season on a high note with their first ever franchise championship.
For the Patriots, getting out to an early lead is key. They were down in the AFC Championship against the Jags and had to battle back. If the offense can get going earlier, it might not be as much of a fight. They also need to get their run game operational, as both RBs Dion Lewis and James White were limited in the AFC Championship. For receiving, Brandin Cooks, Danny Amendola, Rob Gronkowski and Chris Hogan will need to be at their best. The Pats defense would do well to pressure Foles into making mistakes, as he has done in the past.
The Eagles need to put the emphasis on defense. The Patriots were flustered amidst the fierce defensive pressure from the Jags and were unable to convert on most third downs. If the Eagles can maintain defensive pressure throughout the entire game, they could pull off the upset. RBs LeGarrette Blount and Jay Ajayi were effective in the NFC Championship, and the Pats have had some issues against elite running backs, so if they enter this game in stride it will pull focus away from the receivers. Speaking of receivers, the Eagles have a lot of them. Zach Ertz, Alshon Jeffery, Nelson Agholor and Torrey Smith were all involved in their NFC Championship win against the Vikings. The biggest thing for the Eagles will be their defense. By putting pressure on Brady, they will force the Pats out of rhythm and give the offense the opportunity to get ahead. The key with defense against the Patriots is consistency, so they can never take their foot off the gas.
Super Bowl LII Odds
As expected, the Patriots are the favorite and most people, industry experts and analysts expect them to win. However, if there is anything that this year's playoffs have taught us, its to expect the unexpected.  The Patriots are the safer bet, but if the Eagles achieve a win on February 4th, 2018, those who bet with their hearts or guts will see a pretty nice payout.  
Moneyline
Philadelphia Eagles  +176
New England Patriots  -206
Spread
Philadelphia Eagles  +4.5
New England Patriots  -4.5
Total Points
Philadelphia Eagles  48
New England Patriots  48
Super Bowl LII Prop Bets
There are many different prop bets available with each Super Bowl. These include alternative scoring lines, game props, score props, random props and more. USA Super Bowl prop betting provides multiple options that create a more rounded wagering landscape. Our team of sports wagering analysts have compiled some of the more noteworthy props below:
Total Team Points – Philadelphia Eagles
Over 21 ½ (-130)o
Under 21 (EVEN)u
Total Team Points – Philadelphia Eagles – First Half
Over -1H +10 ½ (-125)
Under -1H +10 ½ (-105)
Total Team Points – New England Patriots
Over 27 (-135)o
Under 27 (+105)u
Total Team Points – New England Patriots – First Half
Over -1H +13 ½ (-140)
Under -1H +13 ½ (+110)
Odds to Win the Super Bowl MVP Award
Tom Brady (NE) -150
Rob Gronkowski (NE) +1000
Dion Lewis (NE) +1200
Nick Foles (PHI) +350
Jay Ajayi (PHI) +1600
Alshon Jeffery (PHI) +2500
Zach Ertz (PHI) +2000
Brandin Cooks (NE) +1600
Chris Hogan (NE) +2000
Danny Amendola (NE) +1400
Nelson Agholor (PHI) +3300
Torrey Smith (PHI) +3300
James White (NE) +2000
Rex Burkhead (NE) +2500
LeGarrette Blount (PHI) +3300
First Half Winning Margin
Tie (+900)
Eagles by 1-3 Points (+800)
Eagles by 4-6 Points (+1000)
Eagles by 7-9 Points (+1000)
Eagles by 10-12 Points (+1200)
Eagles by 13 or more Points (+850)
Patriots by 1-3 Points (+700)
Patriots by 4-6 Points (+800)
Patriots by 7-9 Points (+700)
Patriots by 10-12 Points (+750)
Patriots by 13 or more Points (+300)
Team to Score First in the Game
Philadelphia Eagles (+110)
New England Patriots (-140)
Team to Score Last in the Game
Philadelphia Eagles (+115)
New England Patriots (-145)
Will the Team that Scores First Win the Game?
Yes (-180)
No (+150)
Will Either Team Score 3 Unanswered Times in the Game?
Yes (-180)
No (+150)
Team to Record More First Downs
Philadelphia Eagles +3 (-115)
New England Patriots -3 (-115)
Coin Toss
Heads (-105)
Tails (-105)
Will the Team that Chooses Heads or Tails in the Coin Toss be Correct?
Yes (-105)
No (-105)
2pt Conversion
Successful 2pt Conversion (+260)
No Conversion/No Attempt (-320)
4th Down Conversion
Successful 4th Down Conversion (-220)
No Conversion/No Attempt (+180)
D/ST Score TD in Game
Yes (+175)
No (-210)
First Turnover
Fumble (+125)
Interception (-110)
No Turnovers (+650)
Score in the First 7m30s of the 1st Quarter?
Yes (-175)
No (+145)
Score in the First 6m30s of the 1st Quarter?
Yes (-130)
No (EVEN)
Overtime
Yes (+800)
No (-1250)
Pitfalls to Avoid When Betting On The Super Bowl
The Super Bowl is an exciting time, both in terms of fandom and betting. However, as with any type of gambling, excitement can lead to rushed and incorrect betting. There are certain ways to avoid common Super Bowl wagering pitfalls. Our team of betting analysts have put together a list of several misconceptions and how to avoid them.
Betting Too Soon
A lot of bettors tend to place their wagers immediately following the Conference Championship wins. This is easy to see why. For example, if you watch the Patriots demolish the Jaguars in the AFC Championship, you may ride that wave of confidence into placing a wager on them in the Super Bowl. However, the Super Bowl is a different game, with an entirely different team. There are multiple elements to consider, meaning you should delay placing your bet.
Another thing to note is the line itself. Some people place bets early because they anticipate a huge line shift closer to the game. In this instance, it may actually be better to lock in an early bet at a certain line before it moves, but common betting sense tells you to wait until closer to the game. This also allows for more time to consider other factors like team health after the Conference Championships, how the media hype affects the lines, etc. This brings us to our next point.
Avoid the Media Hype
This is perhaps the most difficult thing to avoid, especially for novice bettors. Sports analysts are employed to make predictions, and some of these are more off the rails than others, but they should not be your guiding light. If you want to look at reporting, check out injury reports and news coming out of the actual teams' camps, not sports network talking heads spouting their opinions. If you let the hype build it will eventually cloud your judgement and lead to a shaky pick.
Betting on Too Many Props
Prop bets are a great way of mixing things up with Super Bowl betting, but they can also quickly turn a positive betting night into a bad one. For example, a bettor could hit on a point spread coverage but lose it all betting on the coin toss at -150 odds. You should stick to prop bets rooted in statistics, like scoring props. A safe prop bet example would be betting on a defense/special teams touchdown when both teams have a history of scoring in these categories throughout the season. Another common pitfall is shooting yourself in the foot with props. If you place too many prop bets, you may see your winnings significantly cut before your eyes. Don't contradict your main bet(s) with too many props.
Wagering Too Much
A lot of people think they should bet big because this is the biggest game of the year. This is false. Just because it is the Super Bowl, it does not mean you should throw out high bets (this goes hand-in-hand with keeping your excitement and hype in check). For bettors that wager consistently throughout the season, don't let the Super Bowl take away all your winnings. If you've been betting well in the regular season and Playoffs, trust your gut. Don't bet all your winnings on the outcome of a single game.