We all know that crazy things happen during a game. Players get hurt, the weather changes, or your team who is favored by 30 just comes out a little flat footed during the first quarter and maybe throws a pick against a subpar team. There are many situations that arise that make your front line bet look like an impossible feat. This is what makes the option to make live in-play sports bets the stone cold nuts. It allows you to not only hedge your front bet locking in guaranteed profit, but it also allows you to buy out of bad situations which will ultimately limit your losses. There are a host of reasons why players need to consider taking advantage of the live betting features many of the top sportsbooks offer. Our guide will help both the novice player understand the value in live wagering, and the experienced bettor find the best USA online sportsbooks offering a live betting platform.
Best US Online Sportsbook

Offering Live In-Game Wagering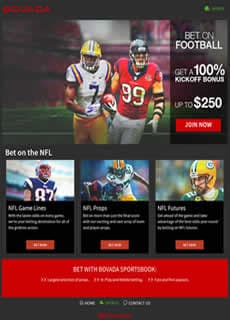 There are many reasons why we recommend Bovada as our #1 sportsbook throughout our website. The ability to place live in-game wagers is just one more reason. They actually offer the most robust live betting platform compared to other sports betting sites allowing players to make live wagers during every commercial break. Here are some additional reasons why players should join Bovada.
All USA Online Sports Betting Sites

With Live In-Play Betting
Live Betting - In-Game Live Wagers Explained
The last few years have seen the exciting live betting experience absolutely explode at most of the top USA online sports betting sites. Also called in-game or in play betting, this wonderful option truly does "put you in the game" in real-time. When combined with top-of-the-line mobile sports betting operations, this is easily the most interactive sports betting type you can find anywhere. You can actually place wagers in real time while a sporting event is being played. This adds an exciting new spin to watching your favorite sports, since you can react quickly with an intelligent wager when you see something happen live.
The old betting standard is okay, and it is still the most common. You place a sports wager before the beginning of a game or event, and once that sporting contest starts, you have to wait until the end to see if you won. But with live betting, you never have to worry about missing kickoff, tip-off or the opening pitch. Certainly, get your action down before the start of the game if you think you have an advantage. But if not, simply watch the game unravel in real-time, log into your sportsbook account and be ready to pounce with a quick in-game wager if you see something that you believe gives you an edge. Injuries, weather, a huge lead - these are all in-game circumstances which can be taken advantage of with live real-time betting.
The Basics Of Live Betting
Common Types of Live Betting In-Game Wagers
Log into any of the top USA friendly Internet sportsbooks and you will see a "live betting", "in play" or "in-game" option. (This can usually be found as an individual tab at the top or side of your control panel.) The types of wagers offered for live betting are the same that you are used to seeing. Generally, prop bets, first-quarter, halftime, third-quarter and fourth-quarter bets, money lines, adjusted spreads, and over/under totals will all be offered for in-game wagering. The big benefit here is the obvious availability to literally dozens of bets during game play, while you are watching the action unfold live, in real-time.
What Sports Usually Support Live Betting?
As this betting format becomes more popular, more bets are available all the time. But pretty much, all the big and popular sports leagues that you already wager on will probably offer "in play" gambling. The key is to access one of the bigger legally licensed USA sports betting sites, because they tend to have deep pockets offer more robust options to their players. You can expect to find NBA, MLB, NHL, NFL, PGA, Entertainment and even NASCAR live betting offered at the top sites. NCAA college football, baseball and basketball are also covered. Major tennis leagues, the UFC fighting network, UK, Asia and South American football/soccer leagues offer live in-game betting action as well.
Live Betting Bonus - Some Sportsbooks Give You a Free In-Game Bet
Some sportsbooks, in order to lure you away from the competition, are beginning to offer free live bets. Generally these are $10, $25 or $50 bets, and are delivered the first time you make an in-play wager. If you bet and lose, your money is reimbursed. If your bet is a winner, you profit. Currently finding a free in game bet is difficult, but as this particular sports wager has exploded in popularity in the last couple of years, watch for more of the legitimate sites to begin offering this bonus.
How To Use Live Betting to Offset a Losing Bet (Veteran Hedging Concepts)
Because of the nature of live betting, sports betting professionals use it to hedge their bets. If you make a wager before the start of the game, and things get ugly quickly, you can often limit your losses. Here is a black and white example of how you might utilize live betting to protect your front bet. Let's say you had the Patriots -10 against the Cleveland Browns and the Pats are up 14 at the end of 3 quarters, meaning you are winning your front bet by 4. If you logged into the live betting platform you might see the live line at the Patriots -14 now so you would have two options, Bet the Pats -14 or take the Browns +14. Essentially Taking Cleveland +14 here not only offsets the original wager (Patriots -10) that you made at the start of the contest, but it also gives you an opportunity to win both bets. Let's the Browns march down the field in the 4th quarter but can't punch it in and instead kick a field goal. Now they are down 11 and if neither team scores again, you just hit both bets. But no matter what happens, the worst you are going to do is break even on the game minus the juice.
It's important to note that the numbers don't always align allowing you to place a smart live wager and protect your bet. So picking your spots is important, and I recommend players who are new to live sports betting to test the waters first to get a good understanding of how it all works. It's also important to note that sometimes protecting your bet with a live wager during the game actually costs you money because your original front line bet hits, but you just gave up the profits because you went the other way. So live betting shouldn't be exercised on every single game that gets a little dicey. For what it's worth, I typically use live betting when I have a lot of money on a game, or when I see tremendous value. Meaning you also have the option to bet moneylines during the game. I hit a huge bet with Alabama a couple years ago. They were down 6 and had to both stop the other team on defense and march down the field and score a touchdown. It came in for +1400 which was a nice score.