Matchpay Sports Betting Guide For USA Players In 2023

Legitimate United States online sportsbooks operating internationally have long been the best option for American players, but they have one glaring flaw when it comes to sports betting banking: They don't accept PayPal, Venmo, Cash App, Zelle, or any other popular P2P money transfer services directly. MatchPay, however, changes that.
Now, MatchPay sportsbooks for USA players allow bettors to purchase all or part of the eligible account balances of other players using the above popular payment methods. Conversely, MatchPay lets sports bettors sell their balances, allowing them to claim fee-free same-day payouts, which was until now limited only to Bitcoin sports betting deposits and other crypto options.
Bovada MatchPay is the first integration of the MatchPay third-party platform, but we expect all of the top USA online sportsbooks to follow suit in the near future, as being able to make PayPal sports betting deposits – as well as Venmo sports betting deposits, Cash App betting deposits, and Zelle transfers – means that US players now have many more quick, easy, guaranteed options for getting their accounts funded so they can bet on their favorite players, teams, and sports immediately.
Best US Online Sportsbooks Accepting Matchpay Deposits In 2023
What Is MatchPay?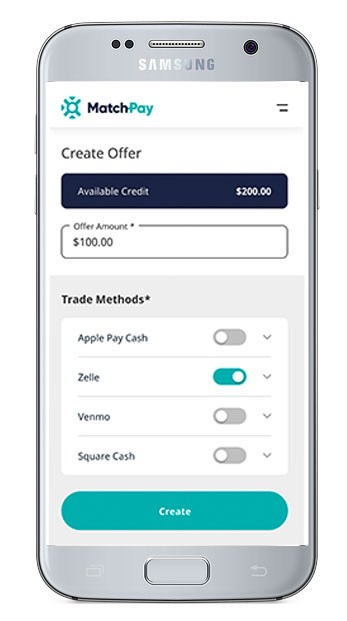 MatchPay is a new service that allows members at retail and merchant sites to transfer their account balances to other members at those same outlets. While each merchant must sign on to accept MatchPay's services, once they do, customers can buy other members' balances (or portions thereof) using a variety of popular person-to-person – or P2P – services, including the following:
PayPal
Venmo
Cash App
Zelle
Apple Pay Cash
Google Pay (G Pay)
Samsung Pay
Square
+ More
Bovada Sportsbook is the first reputable USA sports betting site to support MatchPay, which they do right in the deposit section of their Cashier page. In this context, MatchPay is a gamechanger, as it allows new and existing US sportsbook members to top off their bankrolls using the aforesaid P2P services.
Remember, because US-friendly sportsbooks like Bovada are not allowed to directly accept PayPal, Venmo, Cash App, or Zelle transfers, millions of potential customers who use these services every day have not been able to use them for online sports bet funding.
MatchPay changes the game, so now every MatchPay sportsbook is effectively a PayPal sportsbook, Venmo sportsbook, Cash App sportsbook, or sports betting site that accepts the US-only Zelle Pay instant-pay service.
In short, when it comes to online sports betting for USA players, MatchPay allows for a multitude of new deposit and withdrawal options. To learn the specifics of how to bet on sports with MatchPay, we outline the procedure in the section below.
How Does MatchPay Deposit Option Work At USA Sportsbooks In 2023?
In order to use MatchPay to fund your United States betting account, you must be both a member at an online sportsbook that supports the service (i.e. Bovada), and you must sign up for a free MatchPay Trader account.
The books that offer MatchPay deposit options have a plug-in to the MatchPay service where you can enroll if you're not already an account holder with the third-party platform, making that process easy. Once you're a MatchPay Trader, you can buy other sportsbook members' account balances or sell your own to fellow online gamblers.
At Bovada, you can also use player-to-player account transfers (aka sports betting vouchers) as a way to employ these P2P services, but the voucher process is much more complex and time-consuming for site members than MatchPay. That said, voucher deposit limits are lower and voucher payout limits are much higher, so there is a tradeoff there for the convenience MatchPay affords.
MatchPay Sports Betting Deposits
To make a MatchPay sportsbook deposit, the procedure is outlined below. Assuming you have neither an online betting account nor a MatchPay account, here's how the process works (using Bovada as the example, though we expect all the fastest-paying USA sports betting sites to employ the same general process):
Follow any link here to Bovada or another USA MatchPay sportsbook, and become a member by clicking or tapping the "Sign Up" or "Join" button (usually in the top right corner of the screen).
Enter your real name, phone number, address, and other requested data. You must use your actual information for account creation, as all the best USA sportsbooks require you to prove your identity in order to withdraw your winnings. Please do not use a VPN service when signing up or gambling at any USA-friendly online sportsbook.
After creating your account, you will be shown your deposit options. Select MatchPay from the menu. If you aren't already a MatchPay member (you can also join MatchPay at MatchPay.app), you'll get a pop-up allowing you to create your MatchPay Trader account. This will require a working phone number and a real email address for account verification.
Once you're a MatchPay Trader, you will be redirected back to your sports betting site. Here, enter your MatchPay ID and the amount of money you wish to deposit into your account.
MatchPay will automatically find a fellow sports betting site member who has earmarked their money for the MatchPay service. Once you are paired with this member, you can choose to transfer your deposit to them via services like PayPal, Venmo, Cash App, or Zelle.
Once you've transferred your money, it will be immediately credited to your sports betting account. Both MatchPay and your sportsbook act as overseers of this process, guaranteeing that your account is funded rapidly and in full. As with the Zelle-to-Bitcoin deposit process, there is no way for a MatchPay Trader to abscond with your funds.
That's the basic system, and all sportsbooks that support MatchPay will employ a similar setup. Again, MatchPay is the only way to make PayPal, Venmo, Cash App, or Zelle Pay deposits at legal offshore betting sites, and until these P2P payment services change their gambling policies, MatchPay will be the only way to do this.
MatchPay Sports Betting Same-Day Payouts
In addition to making PayPal deposits and other P2P deposits with MatchPay at sites like Bovada, members who sign up as MatchPay traders can also get same-day payouts. Up until now, Bitcoin and other cryptos have been the only banking method to allow for same-day payouts from overseas USA sports betting sites.
Now, however, any member that uses MatchPay can earmark a portion of their eligible-to-withdraw balance to transfer to other MatchPay Traders' account balances. This effectively allows sellers to claim same-day payouts via PayPal, Venmo, Cash App, and Zelle.
While the MatchPay process uses automated pairing, you may not always get same-day payouts going this route, but you usually will, and the transactions have no added fees and conclude in just minutes. Best of all, unlike Bitcoin sports betting payouts or other crypto withdrawals, that money comes to you in USD, ready to spend stateside without any conversions or exchanges.
Pros For Using Matchpay To Deposit
Make PayPal online sports betting deposits
Make Venmo online sports betting deposits
Make Cash App online sports betting deposits
Make Zelle online sports betting deposits
Fast transfers – Transactions complete in under 10 minutes
No fees – Keep more of your bankroll when depositing or withdrawing
Valuable sports betting bonuses for new deposits + account reloads
100% Guaranteed – MatchPay and your sportsbook site both manage the transfer process for safety and reliability
Same-day payouts in USD via popular P2P money transfer services
Cons For Using Matchpay
Currently limited to Bovada Sportsbook
Requires signing up for the third-party MatchPay service – Another account to manage
Does not support Visa sports betting deposits, Mastercard sports betting deposits, or American Express sports betting deposits
Does not support international gift cards or credEcardplus sports betting deposits
Sports Betting Bonuses For US Players When They Use Match Pay
MatchPay USA sportsbook bonuses can be claimed when new or returning members use the service to fund their betting accounts. However, because MatchPay is effectively an account-to-account transfer platform, players will only be eligible for the standard deposit and reload bonuses on offer.
If you want the absolute best bonuses, then cryptocurrency deposits (i.e. BTC deposits, Ethereum deposits, Litecoin deposits, Dogecoin deposits, etc.) are best. That said, the tradeoff is that MatchPay allows bettors to use the most convenient and popular USA P2P payment methods, so PayPal gambling deposits and other app transfers are finally on the table!
MatchPay Mobile Sportsbook Banking
Like the top US sports betting sites themselves, MatchPay is fully accessible by mobile, regardless of whether you're using an iPhone, iPad, Android phone, or any other modern device. The service is web-based, but given the fact that it's brand new, you can expect to find a dedicated MatchPay iPhone app and MatchPay Android app in due time.
Regardless, as long as you have a mobile device, an up-to-date web browser, and a live network connection via cellular Internet or Wi-Fi, you can use MatchPay and your favorite mobile sports betting sites all in one tidy package that fits right in your pocket or purse.
For betting on the go – and bet funding on the go – MatchPay is the perfect solution to use in conjunction with your PayPal app, Venmo app, Cash App account, or Zelle app.
Disclaimer: MatchPay is legal and safe to use for online sports betting. However, MatchPay is not partnered with and does not endorse this or any other online gambling site.