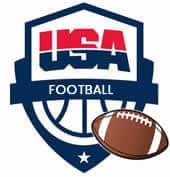 Football is not only the most popular sport in the US, it's a lifestyle for devoted fans. There is nothing better than lighting up the grill on the weekends and watching football with family and friends. Fans also enjoy placing a wager on their favorite teams. But is betting on NFL and college football even legal in the United States? We've got the lowdown and offer everything players need to know about USA football betting including which laws come into play and how players can wager online legally. We even offer some betting tips and some general advice to help you become a winning player. The football section of our website also includes more specific information about US NFL betting and US college football betting.
Best USA Football Betting Site


#1 For US Sports Bettors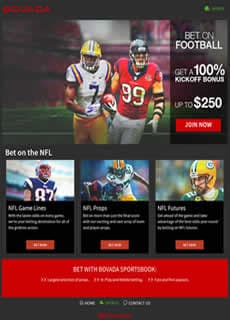 When it comes to football betting, Bovada Sportsbook is one of the safest and most reputable websites you can choose to play at. Not only are they one of the biggest names in online gambling for American players, but they also offer one of the most robust sportsbooks around offering many more betting options than the rest. Whether you want to make straight bets, teasers or half time wagers, Bovada offers it all. They actually offer the best parlay odds around as well paying up to an additional 20%.
New players can enjoy a 50% signup bonus up to $250 on their first deposit, and enjoy betting on sports, poker or casino games all under one roof. They also offer live betting and a mobile app for players on the go. And because they are one of the most reputable sites, players can always count on getting paid on time.
Top Rated US Friendly Sportsbooks

That Accept American Players
Where Can You Go To Bet On Football If You Live In The United States?
Before we get into the types of football lines on which you can bet, we should first talk about what options are available to US players. Unless you live in Nevada, your options for betting on sports from any land based casinos are very limited. Las Vegas and Lake Tahoe are the only destinations in the US that offers a full sportsbook. Delaware actually offers a very small sportsbook but only allows for parlay cards making their options very limited. However, even if you live right down the street from one of these locations, your best bet will be to go with an online sportsbook. There are many reasons for this. For starters, it's just more convenient and more accessible. And you also have to consider that your betting options via an online sportsbook will far out weight anything offered at a brick and mortar shop.
Online sportsbooks basically offer everything under the sun when it comes to sports betting. Whether you want to place a straight bet, parlays, teasers, pleasers, half time wagers, quarters ect.., most sites offer all these options and more. In addition every single one of the US online sportsbooks found on our website offer much more in the way of bonuses and perks for their players compared to any land sportsbook. Vegas can't come close to offering the kinds of promotions that you will find at the offshore sites we recommend. This is actually a huge part of being a successful sports bettor. If you aren't taking advantage of every angle you can find, then you are missing the boat my friend.
To really hammer that home, even the wise guys who live in Vegas bet online instead of down the street because they get so much more bang for their buck. You might be thinking that finding one of these sites is as easy as typing "sportsbook" into Google. But as college football's Lee Corso would say, "Not so fast, my friend." You need an online sportsbook that accepts Americans, has tight security, offers plenty of betting options, gives good bonuses, has a solid reputation, and more. We vet these sportsbooks for you. All you need to do is follow our lead.
Is Betting On Football Games Legal In The US?

We understand how confusing it can be for American players to interpret the gambling laws in the US. A lot of the legal language is just down right confusing for most people. But that's exactly why we've created this website. To help US players understand which laws apply to them, and how to bet on football games legally. There are basically 3 laws that come into play here which we will briefly cover below. If you want to learn more about the legalities, you can visit our legal USA sports betting page or our laws page.
UIGEA
The Unlawful Internet Gambling Enforcement Act was signed into law in 2006 and basically targets any businesses from knowingly accepting or processing any transactions related to online gambling. So it essentially makes it illegal for banks to process gambling related transactions unless they are fantasy or skill game related, which were specifically excluded from the bill. There is no language in the bill that targets players whatsoever.
Federal Wire Act
The Wire Act is a piece of legislation from 1961 which was originally intended to police organized crime syndicates that were offering sports betting over the phone or via any wire communication. Because the internet wasn't even invented at the time the law was passed, this has created a lot of confusion on what the law can and can't do. Again, this is a law that is geared to stop online gambling operations within the US borders, but does not make it illegal for a player to bet with a sportsbook located outside of the United States.
Paspa
Also known as the Professional Amateur Sports Protection Act, Paspa basically outlaws sports betting in the US with the exception of 4 states: Nevada, Delaware, Montana and Oregon. This effectively makes it illegal to own or operate an online sportsbook within the United States borders. However the law does not make it illegal for anyone to bet online as long as they are doing so at an offshore site out of the reach of US gaming laws. So in summary, the laws that are in play here address own or operating a sports betting operation, but does not speak to players specifically. So suffice to say that there is nothing illegal about the act of betting on sports from a players perspective as long as you wagering with an offshore site that is located outside of the US borders. We recommend the top US friendly football betting sites below.
Your Definitive Football Betting Guide
For nearly a century now, Americans have been in love with their football on the professional and collegiate levels. The history of football is long and storied, starting out as a game played more like rugby, in that it was very slow-paced, and the forward pass wasn't even conceived of until decades later. As football evolved throughout the 1950s, college programs and professional programs started moving the ball more through the air, scoring more points, and earning big ratings. By the time the 1960s rolled around and introduced the Super Bowl, football had surpassed baseball as America's true pastime.
Today, football is so incredibly fast, intense and high-scoring that a game like Baylor vs. TCU can put up a literal basketball score, and NFL quarterbacks like Drew Brees and Tom Brady throw for 400, and sometimes even 500 yards per game. Football's popularity and new style of play is a great thing for fans, but it's an even better thing for gamblers. The more popular football becomes as a sport, the more sportsbooks and lines open up and allow you to wager money on teams you think will win – or not lose that badly. Of course, people new to the genre might not know about betting on games. For newcomers to football betting, USA Sportsbook Sites offers you a definitive guide for football betting, wherein the process will be explained in very simplistic terms that you can easily follow.
Understanding Football Betting Lines
Now that you know how to find a legitimate sportsbook online, let's talk about what you're going to see when you get there. Lines are very simple things to figure out; however, there are a bunch of them that you will see. Without context, these lines appear to be an alien language. Let's go over them so that you know what you're in for.
The Over-Under Line (O/U)
This is a simple one to explain. Let's say that the aforementioned TCU-Baylor game is coming up. These are high-scoring teams, so you might see a line like: O/U 80. This basically means that the line is 80 total points (55 to 25, 45 to 35, etc). Now, do you think this game will accumulate more points than 80 or fewer points than 80? 80 on the nose will be a push, in which case you get your money back. To win, you have to select the right side of the O/U. Taking the over, you need 80+; taking the under, you can't go over 79.
The Points Spread
Another simple line, this is the one that looks like: Bears +7, Colts -7. Oddsmakers have favored the Colts in this match-up, and the line is that they are expected to win by more than 7 points (a TD and PAT). However, don't be fooled here. The lines are created to induce action on both sides. For instance, if you see: New England -28; Jacksonville +28, keep in mind that Jacksonville can still lose, get beat badly, but so long as they only lose by 27, they have covered the spread. In many instances, your best bet is to pick against a big favorite. However, this is situation dependent and you need to do research before selecting any team.
The Moneyline
A moneyline is like a straight bet (which you will see below), but you can also find moneylines attached to other forms of bets depending on the sportsbook. By and large, these bets are the same. We're separating them into two categories in the event you see a moneyline independent a straight bet. So, for instance, let's say the Cowboys are playing the Giants, and you see that the line is: Cowboys -275, Giants +200. So, for instance, to win $100 on the Cowboys, you have to bet $275. They are big favorites here; whereas playing a $100 bet on the Giants will pay you $200.
The Straight Bet
A straight bet is where you're simply picking a team to win or lose without any sort of spread or O/U line. Generally speaking, you will see these straight bets offered with a moneyline, whereby the team oddsmakers think will win will pay out less money than going with the other team. The reason here is that you only need to win by a single point, not a spread, and not a set amount of points. For risk-management, this is perhaps the best way to go. But since the biggest favorites pay the least amount of money, you're really only staving off losing and are not exactly raking in the winnings. In some instances, you might have to bet $100 just to win $20. That ends up becoming too much risk for too little reward. And while a $10 bet is very low risk, the reward is only $2.
Complex Football Wagers
The above bets are very simplistic, but you can get into some that are more complex, such as parlays and teasers. A parlay bet is where you're looking for a larger return on your bet. For instance, you will bet on multiple aspects of a game or multiple games (ticket), thereby increasing your potential winnings, but you have to get them all to win. A teaser is practically a parlay bet with better odds. For instance, you will bet on multiple events, but you can choose to add points to your odds. So if you're worried about your pick in the 3rd, with a team that's -10, you can shave those points down to -3 in exchange for a lesser payout. Needless to say, these bets require some experience.
Prop and Live Betting
Proposition betting, known as prop betting, is when you're betting on aspects of the game that typically don't include the final score or any sportsbook odds. These are bets you can usually find in the community, where you can bet somebody $20 or so that Peyton Manning has a 300-yard game, that Adrian Peterson scores 2 touchdowns, that Alabama will hold Auburn to 0 points in the first half, etc. For live betting, you're basically dealing with another set of props, but these happen in live-time as the game is being played. For instance, if you're watching the Broncos vs. the Saints, and the third quarter just started, you may see a bet that pops up that says Drew Brees will score 2 touchdowns, or that the Saints will tie the score or better. These are definitely bets for true fans of the game and shouldn't be made if you're unfamiliar with the game or the genre of betting.
NFL and CFB Options
There are two types of football on which you can bet in America: Professional (NFL) and collegiate (CFB). Now, of course, these two leagues (NFL and NCAA) are greatly different in the way they do things. For instance, the NFL has 32 teams, while the NCAA has hundreds. The NFL has a 16-team playoff, CFB has 4. The NFL has a 16-game regular season, and NCAA D1 teams typically have 10 or 11, give or take a conference championship game. Plus the axiomatic differences, such as college athletes playing for free as students, while the average NFL player earns $2 million annually.
When you get right down to the crux of the game, they are played very similarly. Touchdowns are 6 points with PATs being worth 1. Field goals are 3 points. They play four 15-minute quarters. Each side of the ball, offense and defense, has 11 players. Tight ends, wide receivers, quarterbacks, running backs, linemen, all these positions are the same. Even about 90% of the rules are the same, with the biggest differences coming in down by contact vs. just down and in overtime rules. So when you go to a sportsbook to find a line on football, you can be pretty sure that the lines are the same for each type.
CFB lines and NFL lines each offer spreads, straights, parlays, O/U bets, etc. One advantage to betting on CFB that you can't find in the NFL is that often is the case a FBS team (D1) plays an FCS team (D2), which means there is a lot of disparity in the talent level. D1 teams win about 95% of these match-ups, so it's much less risk involved. However, these games will give you those -300 lines, where you'd need to bet $300 just to win $100, so they're not necessarily lucrative.
Strategies And Leverage
If we were to give you betting strategies, this guide would drag out for another 3,000 words. There is so much information we can shove in here that the average person would undoubtedly lose focus before finished reading. Plus we're a bit uncomfortable in telling you what you need to do. There are no guarantees, and we do not want to give the impression that they exist. So, instead of giving you actual strategies, we think it's best to help you develop one.
1: Read Sports Betting Guides
We don't want to chase you away, but for the purposes of this guide, go ahead and see if you can Google a term like "10 tips for betting football." What you want here is a baseline. You want to know the things experts say are advantageous. Now, you don't have to go through the read everything you find. We suggest just getting a rough feel for tips.
2: Play a Mock Day
If you're playing CFB, set aside a Saturday, and a Sunday for the NFL, and go through and make mock bets. Get your Notepad out or Word document and copy-paste the lines and games on which you want to bet. Now, go through here and write your bet down beside the games. The idea here is to see how you do without putting any money down.
3: Adjust Your Line Play
With your mock results, the odds are great that you didn't do fantastically well. Figure out what you missed, and then see why. Did you bet too many teams to cover a spread? Did you bet on the over score too much? Perhaps you should try for another week and make about 8 straight bets and see how well you do. By adjusting your line play, you will find bets with which you're comfortable and will ultimately be able to develop a lucrative strategy.
4: Avoid Verbatim Methods
The number-one reason we're suggesting you build your own strategy through research isn't that we're opposed to giving you some great tips. It's that we don't want you to become locked in. For instance, you may read somewhere that you always need to take the underdog if the spread is over 17, or that you always need to take the over if the baseline is 40. These absolutes have no basis in reality. The idea with creating your own strategy through mock play, guided by some rudimentary tips to help you understand, is so you can avoid getting locked in and can adjust on the fly based on the team you select.
5: Always Research
Believe it or not, a great place to research is at a fantasy site! They will give you a preview on which players are slated to have the biggest games, and which players are injured, etc. For instance, if a fantasy site resource says that Tom Brady is the favorite to have a big passing day with multiple touchdowns, then you should know that the Patriots are probably going to do very well. Likewise, if you see that Adrian Peterson is hurt for the game, you know that Minnesota is probably a losing bet. Also check out former players' picks at sites like ESPN and the NFL Network. Learn what you can from actual experts, and then use that information to develop your own strategies for betting. When you're ready, put that real money down.
Other Relevant Pages About Legally Betting On Football
USA Sportsbooks Sites wants you to win big. You're not taking money from us. The more you win, the better it bodes for us, since you learned about the betting genre here! We hope this guide has helped you, and we urge caution in working up your own strategy. Don't jump in too quickly. Take a week or two to play a mock weekend to really get the feel for it.
USA NFL Betting Guide - This page provides information specifically for fans interested in betting on the NFL league games, players and events. You'll find everything you need to make informed decisions regarding our NFL bets.
USA Super Bowl LII Betting Guide - This page provides insight into betting on the Super Bowl, a preview of Super Bowl 52 and where to find the best betting lines.
USA NCAAF Betting Guide - For college football fans, we've developed a comprehensive guide that provides valuable insight for betting on the college football games, playoffs and championships.
Thanksgiving Day Football Betting For USA Players - This is the perfect guide for anyone new to sports betting who would like to have a better understanding on how to bet on Thanksgiving Day football games legally. We even offer odds and predictions to help new players start off on the winning track.
NFL Season Preview For 2017/2018 - We've just posted our NFL season preview for 2017/2018 which includes the top contenders to win AFC, NFC and the super bowl.