Betting on computer-simulated play has been around for 50+ years, and as virtual sports were invented in the US, the pastime has been a generator of betting interest for decades. Virtual games offer betting avenues at all hours of the day, without having to adhere to the schedules of major sports leagues. If you're looking for the best virtual sports betting sites for American players, we're here to show you the reality of the industry!
Our guide will show you how to find the best USA sportsbooks for virtual sports odds and will advise you as to what you can expect to find once you get there. We'll also discuss the legalities of betting on virtual sports and what options USA bettors have to take part in the action without running afoul of the law.
Whether it's racing that revs you up or team competition that makes you play nice, virtual sports have something to offer everyone. With the addition of betting on popular simulated sports markets like football, basketball, baseball, and soccer (among many others), this overabundance of options is sure to delight sports bettors from all walks of life. Just remember, virtual sports are fictional computer simulations, not eSports, and we're going to show you just how those markets are different.
The USA's Best Virtual Sports Betting Site

Bovada stands above the crowd when it comes to the online betting industry. Operating legally in Costa Rica, Bovada.LV is a name you can trust based on years of timely payouts and a history of fair play for US bettors. They offer a wide variety of virtual sports and video game simulations to wager on and provide a full sportsbook that encapsulates most of the sports and entertainment betting worlds. Bovada's top-notch customer service is second to none, with assistance available 24-7 via live chat, telephone, or text. Bovada virtual sports are the best in the business with mobile betting apps also available.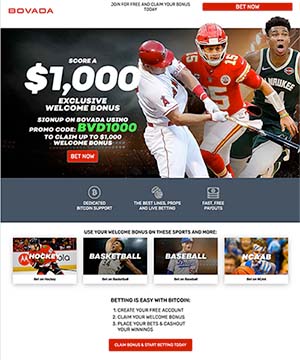 Top Rated USA Sportsbooks For 2022
Is It Legal To Bet On Virtual Sports In the United States?
Yes, betting on virtual sports is legal in the USA, and there are many options available to interested bettors. Unfortunately, brick-and-mortar betting lounges don't offer virtual sports (or even eSports) in most areas of the United States. But that's okay, because offshore betting sites have all these games on the front page, and joining is fast, free, and legal.
Because there are no federal sports betting laws that forbid placing a wager with a sportsbook operating from a jurisdiction outside of the USA, no laws are being broken when doing so (though WA bars online gambling, even if they don't enforce these mandates).
Just navigate to one of our top USA online sportsbooks and find the most advantageous and competitive virtual sports betting lines for American sports fans to wager on, taking care to shop around to find the sites that offer your favorite simulated sports markets.
Where Can I Bet On Virtual Sports In The USA?
Gamblers within the United States have an abundance of options when it comes to betting on virtual sports. One option is to visit a regional land-based sportsbook that offers betting lines on virtual sports. But good luck finding one of those!
If you don't want to waste time or money hunting down a unicorn, you should consider a top-rated offshore sportsbook site like the ones listed above. We stand behind these virtual sports betting destinations as being industry leaders and the most trusted names in online gaming, and all of them are focused on American players and their favorite sports.
How To Bet On Virtual Sports
There are several options when selecting which virtual sport to bet on, so the first thing to do is decide which betting line is right for you. Once you find your way to the sports sim that suits you best, you'll notice that the odds offered are nearly identical to those available for real sports. Spreads, straights, and over/under totals are common sights for sports contests, and they're the top choices for simulated sports betting, too. Racing odds are similar to what you'd see at a racetrack, with lines for winning, placing, and showing, and other virtual betting markets also reflect their real-world counterparts in these same ways.
US Virtual Sports Betting Apps
If you live in a state that offers regulated in-state gaming, although not common, there is a chance that online sports betting is offered in some form. If not, then a web app is a great option that USA bettors have for wagering on virtual sports. These web apps – made by all the top offshore books – don't require a download or a visit to the App Store or Google Play store. A current mobile browser is all that is required for access.
When you use a sports betting web app, the graphical interface will adhere to your mobile screen's size and provide an app-like betting experience, replete with all the tapping and swiping navigation you're used to. The use of web browsers as opposed to apps allow for enhanced cybersecurity and data encryption for a safe mobile betting environment on the go. The best USA mobile sportsbooks are waiting to accept your bet now!
Current Virtual Sports Odds
At any top offshore sportsbook, virtual sports odds come and go by the hour, all day, every day. That makes keeping up with the odds borderline impossible for players who aren't at these sites with their browser windows open. Fortunately, all the best USA sportsbook operators use technology that refreshes the odds without you having to refresh your browser, which means that you can see all the lines change in real time.
Essentially, it's a matter of volume. Virtual sports are great for American bettors because sportsbooks can cram an entire NFL season into a day of action on their sites. And then do it all again tomorrow. The same goes for all the sports covered, whether they're branded with real leagues or made up of fanciful teams loosely based on their real-life counterparts.
What Virtual Sports Can I Bet On?
The best US-friendly betting sites for sports simulations all have large virtual betting menus. Sites like Bovada have their own virtual sports interface dedicated to "generic simulations" of pro sports (to avoid any trademark issues), but they also offer betting on branded sports video game sims. The same goes for other sites on our list, and you can expect to find the following markets all covered in all their simulated glory:
Football (NFL, NCAA, generic)
Soccer (FIFA, International, generic)
Baseball (MLB, generic)
Hockey (NHL, generic)
Combat Sports (UFC, generic)
Auto Racing (NASCAR, F1, generic)
Horse Racing
Camel Racing
Greyhound Racing
+ More!
In addition to the above markets, you'll find that most top sites offer branded sports sims by way of popular video game franchises. Again, these aren't eSports or technically even virtual sports – they are straight-up AI simulations you can bet on, all governed by the player and team stats the developers use in their commercial video game titles.
The most popular titles include:
Understanding Virtual Sports Odds And Bet Types
Virtual sports wager types are the same as you'd find on the betting boards for the real sports themselves. The "big three" bet types are the most commonly offered: straights, spreads, and totals.
Virtual Straight Bets
These wagers simply ask you to pick a winner, and the odds are presented in the manner you're used to. Take the following generic pro basketball contest based on the NBA:
TEX -145 at CLE +185
Here, the Texas team is favored to win and pays out $100 for a $145 wager, while the Cleveland team is the underdog, paying out at $185 per $100 risked. Remember, these aren't betting minimums, as most sites will accept virtual sports bets of as little as $0.50 to $1.00.
Virtual Point Spread Bets
These also work the same way as real point spreads. Let's use a generic "NFL" matchup as an example:
KC -7.5 (-110) at BOS +7.5 (-110)
These aren't the Chiefs and the Patriots, but they're more or less based on them, and the point spread shows that KC is a 7.5-point favorite with a payout of -110. So, if you bet $110 on the "Chives" to win by 8 or more points, and they do, you would win $100. Meanwhile, the "Statesmen" can lose by up to 7 and still win the wager.
Virtual Over/Unders (Totals)
Over/unders are the final kind of bet you'll see on most sports sims wagering boards, and these have to do with how many combined points the two teams will score during the game. Let's use a baseball game as an example:
OAK at SD O/U 6.5 (-110)
Here, the "Athletes" and the "Fathers" have an o/u of 6.5 points.  After the sim is run, if the final score adds up to more than 6 points, the "over" bet wins, while if that score adds up to fewer than 6 points, the "under" bet wins. The payout (-110) is the same on either side of the bet.
Virtual Sports vs. eSports
Virtual sports and eSports are very similar, but there is one significant separator between the two categories. Virtual sports represent a computer vs. computer simulation with no human input, while eSports are video game competitions between human players. Additionally, virtual sports are based on traditional sports (i.e. football, baseball, basketball, soccer, etc.) but are not branded with real league or team names, logos, or data. Meanwhile, eSports run the gamut, from branded sports games (Madden, NBA2K, etc) and shooters to RTS titles and MMOs and more.
Both varieties offer betting lines similar to the athletic contests sportsbooks typically cover (spreads, straights, totals, player and team props, futures, and so on), but eSports betting focuses on the gamer and the team that they choose to play with, while virtual sports odds are concentrated on the statistical data in the RNG (random number generation) software that powers the virtual contests.
Virtual Sports Vs. Branded Sports Sims
There is another wrinkle in all this, and that's the advent of branded sports simulations.
A recent phenomenon that has emerged in the industry is betting on USA sports sims such as Madden, NBA2K and FIFA. These video game sims are not eSports, but they aren't really "virtual sports" in the classic sense, either. This is because the contests feature CPU vs. CPU competition but use branded leagues, teams, and players. Not only that, but the performances of these teams and players is based on their real-life play, giving bettors an edge compared against the "generic" teams used for virtual sports betting.
If you want to bet on Madden games or just want to participate in some NBA2K betting, you'll find sports sims in a different section at your USA sportsbook of choice. You can even join a sportsbook's Twitch stream to watch the games play out in real time!