Horse race betting dates back to the 1600s in the UK, and continues to draw major interest at online sportsbooks that serve the United States.
Betting on the Kentucky Derby, Preakness Stakes, and Belmont Stakes take up the lion's share of online horse race gambling in the US market, but there are also smaller domestic races that can be wagered on.
If you have ever been curious about betting on horse racing through an online sportsbook, you've come to the right place. This page was written as a guide to legal online USA horse race betting and to inform our readers about the legal options USA-based gamblers have available when it comes to laying some action using personal computers or mobile devices.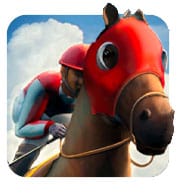 The USA's Best Horse Race Betting Site


Bovada Sportsbook

BetOnline.AG is our top pick out of all of our recommended USA-friendly sportsbooks. They have been offering quality service to online horse race betting enthusiasts for over 10 years and have developed a great reputation in the industry by offering their members a secure software platform, multiple wagering types, live in-race odds, and mobile betting. BetOnline Sportsbook offers a plethora of withdrawal and deposit methods, including cryptocurrency. Bonus options are also top-notch coupled with unrivaled customer service.
The USA's Best Horse Race Betting Sites

Online Racebooks That Accept Americans
Is Horse Race Betting Online Legal In The US?

Yes. In fact, betting on horse races is the only form of sports betting considered legal in some states. For example, in the state of Kentucky, you can place bets at the track or through an online service run by the track itself. You will not find a similar platform ran for betting on the NFL, NBA, or NHL arenas. This is not the case in some states, leaving certified offshore racebooks as the only legal option.
Offshore racebooks are international sites that are legally authorized and overseen by a respected government. These online sportsbooks/racebooks operate outside US jurisdiction and are not mentioned in any of the federal gambling laws. You can find more information on gambling laws and how they apply to offshore horse race betting in the next section.
What Is Horse Race Betting
There are several wagering types when it comes to horse race betting. These function differently than your typical point spread bets, as there is no score in horse racing, only winners, and losers.
Most horse race bets at the sites that top our online USA sportsbook reviews involve gambling on horses to finish in certain positions. You can either bet on one race at a time or multiple races/horses. Betting lines vary per the sportsbook you are using. We've provided an explanation of the wagering types below:
Show: A show bet is betting on your horse to either finish in first, second, or third. These bets do not pay out as much because they are considered safe.
Place: Place bets are when your horse finishes in either first or second. The payouts are better than a show bet because the odds are slimmer.
Win: Betting on a horse to win the race. Payouts fluctuate based on odds.
Quinella: This wager involves betting on 2 different horses. The horses must place in either first or second (in any order).
Exacta: An exacta bet is wagering on 2 horses to come in first and second. The difference is they must finish in a specific order.
Trifecta: Trifecta bets are like exactas except you are betting on 3 horses to finish in first, second and third, respectively. If any horse finishes out of order you lose the bet.
Superfecta: A superfecta wager is betting on 4 horses to finish in places 1-4 (in order). The payouts for these wagers are immense but very rare.
Horse Race Futures: This type of horse race betting line lists all competitors and places moneyline odds for each to win next to their names. These operate just like futures odds in other major sports around the USA.
Horse Race Prop Bets: This type of horse race bet covers all facets that are not included in the above categories, including the number of lengths the winner will be separated by, the gate number range of the winner, and whether the winner will lead wire-to-wire, and any other finite outcome.
How To Bet On Horse Races Online
Place a horserace bet in the United States can be done with both domestic and offshore books, but we recommend sticking with the best USA sportsbook sites listed above for the best user experience. These services are available to anyone in the United States that is over 18, but a membership profile must be created first.
First, have a look at each of our top horse racing sportsbooks we link to above and give some thought to joining more than one so that the odds can be shopped. Click the join button conveniently placed at the top of any online sportsbook page we endorse to begin the account creation process.
Enter your personal data and then move on to submit your first sportsbook deposit which can be done using cryptocurrencies like Bitcoin or Ethereum, or using standard USD methods like credit/debit cards, bank wire transfers, or money orders.
Once accounts are funded with betting cash, horse race gamblers can then head to the "horse racing" section of the sportsbook site to begin placing wagers on Triple Crown odds.
Where To Place Bets On Horse Races Legally
As mentioned earlier in this guide, horse race betting can be done legally with both domestic and offshore sportsbooks/racebooks. In-person horse race betting is regulated by many states with varying minimum ages depending on where you are. Some states also offer online or mobile horse race betting apps as well.
Offshore sportsbook sites are able to accept action on horse racing odds over the web from US-based customers because there are no sports betting laws that say they cannot. The top horse race betting sites we list above fall under the offshore sportsbook category, and represent the absolute best and most legitimate online gambling options in operation today.
Betting On The Triple Crown Races
The Triple Crown refers to 3 races known as the Kentucky Derby, Preakness Stakes, and Belmont Stakes. Each race makes up an individual jewel of the coveted Triple Crown where a horse and jockey must take first in all 3 races which take place between May and June each year.
Betting On The Kentucky Derby
Churchill Downs, located just outside of Louisville, is the annual home of the Kentucky Derby. Naturally, the Kentucky Derby odds leader has the best shot at winning the Triple Crown, according to oddsmakers.
USA-based horse race bettors can win big by selecting the right horse to win, place, or show at the Kentucky Derby by becoming members with one of the international racebook sites we list above.
Betting On The Preakness Stakes
The second leg of the Triple Crown is The Preakness Stakes which is held at the Pimlico Race Course outside of Baltimore, Maryland. The world's top thoroughbreds gather each year and battle it out to see which one can cross the finish line first.
Preakness Stakes betting is largely concentrated around the two weeks following the Kentucky Derby, but can be done year-round when using our most-recommended offshore sportsbook sites when opting for their futures odds and prop bets.
Betting On The Belmont Stakes
The third and final race in the Triple Crown is the Belmont Stakes which is run each year at Belmont Park near New York City. Belmont Stakes betting is often the most intense, especially when there is the potential for a Triple Crown Champion.
While there are several domestic racebooks that accept wagers on the Belmont Stakes, we do our business with racebook sites that are based overseas because they are available for use across the entire USA, and offer a greater variance of gambling options than their state-side alternatives.
Horse Race Betting Apps
Our features sports betting sites that we list above offer their services over major smartphones and tablets, both Apple and Android, but no software needs to be downloaded to devices in order to partake.
Mobile sports betting with offshore sportsbooks only requires clicking on the above-provided links using an iPhone, iPad, or Android-powered device, and the full horsebook app pulls up with touch-button navigation ready to go. Have a look at see for yourself!
Live Horse Race Betting
Live betting and in-game betting in the realm of competitive sports like football and basketball refers to placing wagers while the contest is in play. In the case of horse race betting, wagers cannot be placed while the competitors are circling the track.
There is the potential that some online sportsbooks may begin to provide futures odds or props that can be bet upon during the race, but due to the short duration of the contests, that's not likely. For now, Triple Crown gamblers will need to rely on prerace bets until oddsmakers come up with a new angle.
Federal Gambling Laws Pertaining To Online Horse Race Betting
There are 2 main laws that affect US-based sports betting to some degree. These are the Federal Wire Act and the UIGEA. Each of these laws addresses a different component of sports wagering. There is no mention of offshore gambling in any of these laws as being illegal. We've provided an explanation of each federal law below.
The Federal Wire Act
The Federal Wire Act pertains to US-based online sportsbooks, essentially preventing them from being operational. The law was passed in the 60s and mentions "wire transmissions," which some politicians have attributed to the Internet. The Department of Justice ruled back in 2011 that the law only applies to online sports wagering, meaning states could legalize online casino and poker gambling should they choose to do so. Online horse race betting exists through state-run sites where horse betting is allowed.
UIGEA
The Unlawful Internet Gambling Enforcement Act (UIGEA) deals with the financial side of online gambling. It targets banks and other financial institutions, specifically how they process online gambling transactions. The law was passed in 2006 in an effort to curtail illegal financial activity like money laundering, lack of payments to customers, theft, etc. The law does not make it illegal for US citizens to place bets online.
States With Legal Horse Race Betting
The following states have laws allowing horse racing and wagering on horse races domestically: