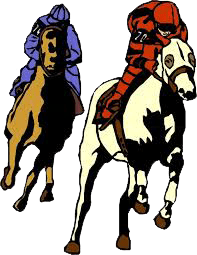 Betting on horse races is a storied pastime in the United States. With 3 of the most popular horse races in the world, it is no wonder that horse race betting has drawn much publicity over the years. The Kentucky Derby, Preakness Stakes, and Belmont Stakes take up the lion's share of betting in the US market, but there are smaller domestic races you can always wager on. If you have ever been curious about betting on horse racing through an online sportsbook, you've come to the right place. This page was written as a guide to legal online USA horse race betting and to inform our readers about the legal options USA players have when it comes to betting on horse races.
CORONAVIRUS UPDATE - WE'RE OFF TO THE RACES!
The 2020 Kentucky Derby, originally slated to take place the first Saturday in May, was postponed until September due to the coronavirus, which has made 2020 Triple Crown betting an interesting experience. A shortened Belmont Stakes was the first leg of the storied Thoroughbred series this year (June 20), but finally – even though it took its sweet time – the Fastest Two Minutes in Sports is upon us. The 146th Run for the Roses takes place on Saturday, September 5, and Belmont winner Tiz the Law is heavily favored at all the best online racebooks.
Best USA Horse Betting Site


#1 For US Sports Bettors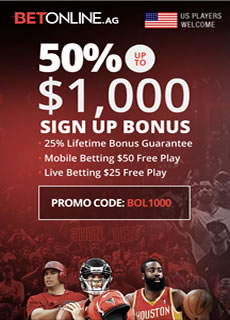 BetOnline.ag is our top pick for USA-friendly sportsbooks. They have been offering quality service to online horse race betting enthusiasts for over 10 years and have developed a great reputation in the industry by offering players a secure software platform, multiple wagering types, and industry-leading options such as live betting, and mobile betting. BetOnline.ag offers more withdrawal and deposit methods than their competitors and includes cryptocurrency options such as Bitcoin, Litecoin, and Ethereum. Bonus options are top-notch coupled with good customer service.
Top Rated US Friendly Racebooks

That Accepts American Players
Is It Legal To Bet On Horse Racing In The US?

Yes. In fact, betting on horse races is the only form of sports betting considered legal in some states. For example, in the state of Kentucky, you can place bets at the track or through an online service run by the track itself. You will not find a similar platform ran by NBA, NFL or NHL arenas. This is not the case in some states, leaving certified offshore racebooks as the only legal option.
Offshore racebooks are international sites that are legally authorized and overseen by a respected government. These online sportsbooks/racebooks operate outside US jurisdiction and are not mentioned in any of the federal gambling laws. You can find more information on gambling laws and how they apply to offshore horse race betting in the next section.
The main issue with legal vs. illegal betting comes down to hosting. It is illegal for someone to host betting lines on horse races outside of the legal confines established by law. For example, if you were to place a bet with a bookie or an online site without a proper authorization, you would be breaking the law. The laws are mainly designed to target the companies hosting illegal betting, not the individual bettors using the sites. That does not mean it is considered legal to bet with these types of outlets, but we mean more from an enforcement standpoint. As long as the offshore sportsbook you are using is both legally operated and certified you are not breaking any federal laws.
Federal Gambling Laws Pertaining To Online Horse Race Betting
There are 3 main laws that affect US-based sports betting to some degree. These are PASPA, the Federal Wire Act, and the UIGEA. Each of these laws addresses a different component of sports wagering. There is no mention of offshore gambling in any of these laws as being illegal. We've provided an explanation of each federal law below.
PASPA
PASPA, or the Professional and Amateur Sports Protection Act, was a federal ban on state-run sports betting applicable to 46 states. The only 4 states allowed to host sports wagering while PAPSA was in effect was Nevada, Montana, Oregon, and Delaware. These states already had existing betting platforms at the time of the law's passing in 1992. Horse race betting was considered exempt from PASPA on the grounds of it being pari-mutuel gambling, but it is still not allowed in every state. In May of 2018, the PAPSA act was ruled unconstitutional by the SCOTUS opening up the door for more legal sports betting states.
The Federal Wire Act
The Federal Wire Act pertains to US-based online sportsbooks, essentially preventing them from being operational. The law was passed in the 60s and mentions "wire transmissions," which some politicians have attributed to the Internet. The Department of Justice ruled back in 2011 that the law only applies to online sports wagering, meaning states could legalize online casino and poker gambling should they choose to do so. Online horse race betting exists through state-run sites where horse betting is allowed.
UIGEA
The Unlawful Internet Gambling Enforcement Act (UIGEA) deals with the financial side of online gambling. It targets banks and other financial institutions, specifically how they process online gambling transactions. The law was passed in 2006 in an effort to curtail illegal financial activity like money laundering, lack of payments to customers, theft, etc. The law does not make it illegal for US citizens to place bets online.
States With Legal Horse Race Betting
The following states have laws allowing horse racing and wagering on horse races:
Beginner's Guide To Horse Race Betting
There are several different wagering types when it comes to horse race betting. These function different than your typical point spread bets, as there is no score in horse racing, only winners, and losers. Most wagering types involve betting on certain horses to finish in certain positions. You can either bet on one race at a time or multiple races/horses. Betting lines vary per the sportsbook you are using. We've provided an explanation of the wagering types below:
Show
A show bet is betting on your horse to either finish in first, second or third. These bets do not pay out as much because they are considered safe.
Place
Place bets are when your horse finishes in either first or second. The payouts are better than a show bet because the odds are slimmer.
Win
Betting on a horse to win the race. Payouts fluctuate based on odds.
Quinella
This wager involves betting on 2 different horses. The horses must place in either first or second (in any order).
Exacta
An exacta bet is wagering on 2 horses to come in first and second. The difference is they must finish in a specific order.
Trifecta
Trifecta bets are like exactas except you are betting on 3 horses to finish in first, second and third, respectively. If any horse finishes out of order you lose the bet.
Superfecta
A superfecta wager is betting on 4 horses to finish in places 1-4 (in order). The payouts for these wagers are immense but very rare.
The Triple Crown Races – US Horse Betting Benchmark
The Triple Crown refers to 3 races known as the Kentucky Derby, Preakness Stakes, and Belmont Stakes. Each race makes up an individual jewel of the coveted Triple Crown. For a horse and jockey to win the Triple Crown they must place first in all 3 races. The races take place between May and June each year. Each race pulls in a high number of wagers on the runners. It is not common for all the same horses to be in all 3 races. The Derby winner is typically in the Preakness since they are going for a Triple Crown. Several other horses may come over, but there are mainly newcomers in each race. Trainers have multiple horses that practice for specific races, thus giving them the best odds of winning. You can place bets on the Triple Crown races through multiple USA sportsbook sites as well as on-track betting locations.