Aside from sporting a name which clearly states its area of expertise, SportsBetting AG is also one of the top USA online sports betting sites on the entire World Wide Web. I choose my online sportsbooks according to several very important qualities: they have to be legally authorized for US support, their financial backing has to allow them to withstand huge losses, they can not be a new kid on the block, and they have to offer competitive lines and dependable banking options.
As an intelligent US sports better, you probably demand the same features. SportsBetting AG is excellent in all of these areas, and this is why why it is one of the very few Internet sportsbooks we feel comfortable staking our hard-earned reputation as a leading sports gambling consultant on. You also receive a free mobile betting wager, a free horse racing bet, and a lifetime bonus which is literally only matched by its parent company.
SportsBetting AG


All USA Players Accepted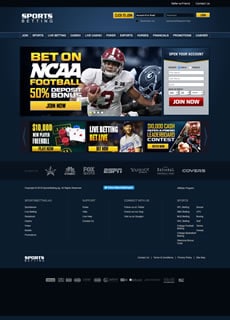 SportsBetting has been one of the best online sportsbooks since they first started accepting bets in 2011. Here are a few reasons why SportsBetting AG is a big hit with USA players.
Authorization And Reputation For The SportsBetting AG Brand
Since the United States does not support US-based companies offering Internet sports wagers, international industries have appeared. Panama City, Panama is one of the most recognized online gambling providers in the world.
As a subsidiary of the respected BetOnline sports betting giant, SportsBetting AG carries both a Panama certification for honoring US sports bettors, as well as the world class reputation for excellence that BetOnline has earned. Being able to back up a lifetime 25% deposit bonus also speaks to the excellent reputation and financial security that this sports betting site enjoys.
Rewards, Bonuses, And Incentives
The bonuses and player rewards delivered by SportsBetting AG mirror that of its parent company. There are six layers of bonuses a new account holder can access.
SportsBetting AG has recently changed its welcome bonus to a 50% match up to $1000 on your first deposits. What makes them really unique, though, is being able to receive 25% reload bonuses on all your lifetime deposits or 30% for crypto users.
Many websites will tease you with $1,000, $2,500, or even $10,000 in welcome bonus money. But they generally require that you receive that bonus only on your first deposit. And then they make it nearly impossible to actually earn that "free" money.
Deposit And Withdrawal Options
The financial security and safety that parent company BetOnline is known for are also present at SportsBetting AG. You can get money into your account immediately using your preferred credit card (Visa, Mastercard, American Express, Discover), Bitcoin/crypto, bank wire transfer or money transfer option. If you like, you can also send in a cashier's check or money order to fund your account.
Account balance transferring from other bookmakers is also available in some cases. Bitcoin and other cryptocurrencies are the fastest-payout bet funding options and are also the most popular ways to cash out your winnings in the United States. You can also request a bank wire or courier check.
In addition to Bitcoin, SportsBetting AG also accepts other popular forms of cryptocurrency including Bitcoin Cash, Cardano, Solana, TRON, Litecoin, Ethereum, Chainlink, Dogecoin, Stellar, Ripple XRP, USD Coin, Tether, ApeCoin, Shiba Inu, Avalanche, Binance Coin BNB, and Polygon.
SportsBetting AG is one of only a few online sportsbooks accepting 15+ cryptocurrency options. You can also find other banking methods including prepaid options backed by Visa with credEcardplus.
Sports Wagering Options
Just like any other top-level Internet sports betting website, you can place NBA, NHL, MLB, NFL, USFL Football, and entertainment bets at SportsBetting AG. But as a seasoned sports better from the United States, you probably also enjoy placing wagers on your favorite college teams. They are supported here, as are all major and most minor international and USA team and individual sporting leagues.
SportsBetting AG now allows account holders to bet on simulated sports, virtual sports, or eSports, and whatever else tickles your fancy.
The site also provides a definitely unique but increasingly popular option. You can play dominoes for real money, challenge your friends to a game of Yahtzee or Gin Rummy, and even place wagers on Spades or Tonk card games. Horse racing is supported, as are all major motor sports, as well as micro-sports like cricket betting, darts, martial arts, rugby and lacrosse.
Betting Limits
Like their sister site, BetOnline, SportsBetting AG offers much higher betting limits than most of the competition. Their betting limits on NFL and NCAA football cap out at $25K and $15K respectively, and all other sports they cover also include higher limits as compared to other sportsbooks.
SportsBetting AG is another strong option for bettors who enjoy high end wagering with large amounts of money. These bettors may find themselves frustrated with the lower limits at other popular US friendly sportsbooks such as Bovada, Intertops, or TopBet.
Mobile Wagering Options
The mobile sportsbook delivered by SportsBetting AG is a well designed, clean and robust application that delivers a sophisticated and high quality sports betting experience right from your smartphone or tablet. The application is compatible with all the primary mobile platforms, is free to access and use, and does not require a download of any kind.
Your first mobile sports bet will receive a $50 free play option, which boosts your betting power significantly. After that, the 25% match up to $1000 for life applies to all future deposits for life. You can access their live betting features from their mobile application.
Live In-Game Betting Options
Live betting at SportsBetting AG is available in both their online and mobile sportsbooks. Players will receive a $25 free play bonus to try out the live betting feature. For those new to this concept, this feature enables bettors to place wagers as the game progresses.
Live in-play wagering is a unique component to your sports betting and can really ramp up the intensity of the game. It has become the single most popular wagering option in the sportsbook industry, and is available from your computer, smartphone or tablet.
To check and see what live betting lines are open for action, simply go to that area of the sportsbook from the lobby. You will see a listing of events included in the live betting options. Not every single event will be open to live betting on any given day.
Super Bowl Betting At SportsBetting.AG
You don't have to wait until the NFL Playoffs are over just to bet on the Super Bowl at SportsBetting.AG's online sportsbook. As soon as the big game is over, NFL futures predicting the following year's Super Bowl Champions are posted at SportsBetting.AG and will take action until a winner hoists the Lombardi Trophy.
Mobile Super Bowl betting is offered at SportsBetting.AG via their web-based application which only requires an onboard Internet browser on your Android or Apple device to access. Loads of Super Bowl prop bets are also provided to NFL bettors who sign up with SportsBetting.AG, so consider becoming a member and placing a wager.
World Class Features And Considerations
Straight wagers (sides, totals and money lines) are always available at SportsBetting AG. But the inclusion of teasers, pleasers, futures, and prop bets across multiple sports is definitely what we would call "top flight features".
You can bet Triple Crown horse racing events or individual horse races that take place year-long and all around the world. Excellent ownership and financial backing join respected Internet sports betting to make the site attractive to the veteran US sports bettor.
Of course, I appreciate the ability to use my credit card to fund my account at SportsBetting AG, as will most Americans who prefer this type of secure payment method. And every one of your deposits is met with a 25% matching bonus for life.
The site software is secure and speedy, and the mobile experience is enjoyable. For all these and even more reasons we have not touched upon, SportsBetting AG has earned its spot on our recommended US friendly online sportsbooks list.
Sportsbetting.ag Rating
Reputation

Betting Options

Payout Speed