Paspa - Professional and Amateur Sports Protection Act And How It Affects Sports Betting In The US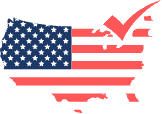 The Professional and Amature Sports Protection Act (PASPA) federally banned domestic sports betting operations for 46 US-states from 1992-2018. Today states can enact their own domestic sports betting laws.
This page will help you understand this law, its impact on the industry, and why the recent Supreme Court decision that rendered PASPA as unconstitutional will revolutionize the USA sports betting market.
May 14, 2018 Supreme Court Decision - PASPA Is Unconstitutional
The US Supreme Court ruled that PASPA is unconstitutional and moved to strike the law down. SCOTUS ruled in favor of New Jersey in the NJ sports betting case, meaning that the 46 states once affected by PASPA can now legally host regulated sports gambling.
This is a huge step forward in the fight for states' rights and the prospect of expanding our nationwide gambling options. SCOTUS Justices decided the case by a 6-3 vote.
Their decision has far-reaching implications regarding sports betting in the United States that go far beyond New Jersey. The Justices felt that PASPA commandeers states and forces them to impose a law they may not support.
In the wake of this decision, states can now vote in legal sports betting with the appropriate legislation. Multiple states have already passed legislation and now that PASPA has been cleared out of the way, their sports gambling plans can officially begin.
It is possible that Congress may pass a federal regulation applicable to all states. However, nothing has been made public as of yet. By the time the federal government gets it together there will likely be several states with brick-and-mortar betting options.
The one key thing to mention is that while this decision is momentous in the US sports betting saga, it does not mean something else can't happen. There could be some hidden strings attached at a later point, Congress' regulations, etc.
For now, the 46 states once barred from offering sports betting can relish the opportunity before them.  As the details regarding the application of this decision in regards to the existing PASPA restrictions are released, we will be updating this page in its entirety.
PASPA and Sports Betting in the USA
One of the most significant legislative packages that affected sports bettors in the United States was PASPA (the Professional and Amateur Sports Protection Act). Although enacted more than two decades ago and now repealed, PASPA has had a lasting effect on domestic sports betting in the USA.
While the framework of sports betting in America is now changing, PASPA's reign is why many states are without domestic sports betting operations in place.
Department of Justice "Strongly Opposes" PASPA as Infringing on States' Rights
The United States Department of Justice "strongly opposed" the passage of this particular sports betting legislation. The DOJ stated that PASPA trampled on the rights of individual states to operate and regulate businesses.
In September of 1991, the Justice Department included in a letter to Senator Joseph R. Biden (DEM, Delaware) its three major complaints.
First off, they claimed PASPA should leave to individual states how they govern sports betting.
Secondly, the DOJ noted that if PASPA wording could be legally understood as dealing with anything other than a clarification of existing law, it would raise serious questions about a Federalist legal base.
And third, the Justice Department believed that section 3703 of this particular legislation was "particularly troubling." That part of PASPA not only allows the deserving United States Attorney General to enforce the legislation, but also gives multiple professional and amateur sports organizations the ability to do so as well.
PASPA Passes in 1992 With NBA Backing
The Professional and Amateur Sports Protection Act, despite serious and intelligent DOJ arguments against, was signed into law in 1992. This seemingly powerful but seldom legally referenced piece of sports betting law began with several Senate Judiciary Subcommittee on Patents, Copyrights, and Trademarks public hearings.
Congress decided to exercise the authority given to it legally under the Commerce Clause, with the vocal Commissioner of the National Basketball Association (NBA) David Stern as a proponent. PASPA was the result, but to date, only one case in history was ever used to interpret PASPA, and it referenced private casino gambling in Louisiana, not sports betting.
Quoting PASPA Wording
Legally, this sports gambling law does definitely apply to "amateur sports organizations" and "professional sports organizations". Specifically, quoting directly from the legislation, PASPA makes it unlawful for:
"(1) a government entity to sponsor, operate, advertise, promote, license, or authorize by law or compact, or
(2) a person to sponsor, operate, advertise, promote, pursuant to the law or compact of a government entity, a lottery, sweepstakes, or other betting, gambling, or wagering scheme based, directly or indirectly (through the use of geographical references or otherwise), on one or more competitive games in which amateur or professional athletes participate, or are intended to participate, or on one or more performances of such athletes in such games."
PASPA Applies to Sports Gambling Operations, Not US Citizens Placing Bets
When enacted and coupled with the Federal Wire Act of 1961, PASPA's interpretation had effectively limited sports wagering to Nevada, Montana, Oregon, and Delaware in the United States.
Today the framework has changed and there is no PASPA law preventing states from enacting sports betting legislation. Online sports betting is still federally regulated by the Federal Wire Act and the UIGEA.
This of course has no impact on legitimately authorized legal online sports betting sites and physical bookmakers located outside of the United States, and not governed by US law.
It is important to note that strict and lenient interpretation of the Professional and Amateur Sports Protection Act limits the actions of businesses which would offer or profit from delivering online and off-line sports betting to citizens of the United States.
There is no provision in PASPA to prosecute or limit the sports betting actions of any individual living in or visiting the USA who decides to play at any legally operated USA online sportsbook.
Sources
Other Laws Related To USA Sports Betting