The Federal Wire Act Of 1961 – Interstate Gambling Law History And Facts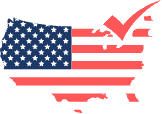 The wire act is a US federal law that has been thrown around by the DOJ as grounds for prohibiting US based online sports betting entertainment. However things have changed somewhat over the past decade affecting the current legal betting landscape.
This page provides a helpful explanation of this law, and its influence over the sports betting industry. Understanding precisely how it is applied and what it means will assist US bettors in understanding their legal options for sportsbook wagering.
The Federal Wire Act And How It Affects Interstate Gambling
Also known as the Interstate Anti-Crime Act and Interstate Wire Act of 1961, the gambling law most commonly called the Federal Wire Act prohibits operating specific types of gambling businesses in the USA. The opening sentence of this legislation, rather a lengthy one, is as follows:
"Whoever being engaged in the business of betting or wagering knowingly uses a wire communication facility for the transmission in interstate or foreign commerce of bets or wagers or information assisting in the placing of bets or wagers on any sporting event or contest, or for the transmission of a wire communication which entitles the recipient to receive money or credit as a result of bets or wagers, or for information assisting in the placing of bets or wagers, shall be fined under this title or imprisoned not more than two years, or both."
Obviously, in the more than 50 years since its inception, technology has changed drastically. Because of this and due to the recent explosion in the last several years of online sports gambling popularity in the United States, the Department of Justice felt it needed to state its legal opinion of the Federal Wire Act.
In September of 2011, the DOJ's formal opinion on the Federal Wire Act concluded, "interstate transmissions of wire communications that do not relate to a 'sporting event or contest' fall outside the reach of the Wire Act." This means that only US sports betting operations are a victim of this legislation and not other forms of online gambling.
This opinion has been backed up by the US Fifth Circuit Court of Appeals and has become the basis for a reliable and legitimate offshore online sports betting industry that caters to US bettors.
How Did the Federal Wire Act Of 1961 Come to Be?
When Robert F Kennedy was the US attorney general, he urged Congress to pass laws which would outlaw interstate gambling. He had one very specific goal in mind when he suggested this to the 87th United States Congress in 1961.
Kennedy was attempting to help the Department of Justice in the United States in its fight against organized crime. One of the 8 bills delivered to Congress that year was Senate Bill 1656, The Wire Act.
Kennedy's brother, President John F. Kennedy, signed the Interstate Anticrime Act into law on September 13, 1961. The law gave the Justice Department an improved ability to combat the illegal sports betting industry run by organized crime, which used telephones and other wired technology to place bets, fund accounts and collect debts.
While this legislation was aimed primarily at organized crime, smaller local illegal bookmakers also fall under its law. Basically part of a series of anti-racketeering laws, The Wire Act was developed over 50 years ago to help states and territories enforce their own gambling and USA sports betting laws.
This means that the legislation was enacted to support any existing laws which states already had governing sports betting and wagering.
When it is interpreted as a Federalist piece of legislation, The Wire Act can be seen as oppressing the basic rights of individual states. And as far as individual bettors are concerned, the Federal Wire Act leaves them in the clear. This includes you as a USA citizen and sports bettor, no matter what level of bets you prefer.
If you're ready to start researching USA online sportsbooks, we offer several sections that will help you make an informed decision such as which online sports betting sites are legal, what are the best USA online sportsbooks, and of course our reviews which go into great detail about the pros and cons of each of the sites we recommend to our visitors..
The Federal Wire Act Does Not Pertain to US Bettors, Only The Sportsbooks Themselves
When the House Of Representatives was debating the points of the bill, Congressman Emanuel Celler (Chairman of the House Judiciary Committee at the time) stated that, "This bill only gets after the bookmaker, the gambler who makes it his business to take bets or to lay off bets. . . It does not go after the casual gambler who bets $2 on a race. That type of transaction is not within the purview of the statute."
Furthermore, the Federal District Court made a proclamation that it was not Congress' intention to "include social bettors" under this particular statute.
That particular opinion went as far as to say that even those US betters that wage large sums of money and show a particular "degree of sophistication" or skill are in no way accused or prosecuted by The Wire Act. Yet another piece of legislation aimed at the US-based bookmaker, not the bettor.
Other Laws Related To USA Sports Betting