Laws That Impact Legal Online Sports Betting In The United States In 2023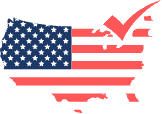 Sports betting in the United States has changed quite a bit over the past decade. And understanding what has changed, and what is or isn't legally available to US players is sometimes hard for the average gambler, which is the exact reason we've put this guide together.
This page explains the specific laws that govern sports betting in the United States covering both federal and local state laws. We hope to provide accurate and easy to digest information that allow those of us without a law degree to comprehend the legalities surrounding US-based sports betting versus US friendly sports betting.
USA Sports Betting Laws That Are In Play As Of 2023
Sports betting laws in the United States are generally directed at either the state or federal level. As a democracy and a republic, the government which rules the United States of America recognizes the rights of individual states.
Because of this dual level of government, there are going to be times when sports betting laws and their applications may seem confusing.
For instance, today the most applicable laws to sports betting at the federal level are the UIGEA of 2006 (Unlawful Internet Gaming Enforcement Act), and The Federal Wire Act of 1961 (Interstate Wire Act).
Covering 45 years, these laws were each created at a uniquely different time in the evolution of the US Internet gambling industry. And in the future, there will no doubt be new Internet sports gambling laws which originate at the state and federal levels in the United States of America.
Currently, a prohibition of US-based companies offering online sports wagering options is in effect. But nationwide prohibition has never lasted in the free country that is the USA. (See the alcoholic beverage prohibition from 1920 to 1933.)
The legal USA online sports betting section of our website strives to keep you informed of all applicable sports betting laws which affect US citizens. Since this is obviously a constantly growing and changing subject, check back often for late-breaking updates.
UIGEA Law (Unlawful Internet Gambling Enforcement Act)
The most recent piece of federal legislation in the United States which applies to sports gambling on the Internet is the Unlawful Internet Gambling Enforcement Act or UIGEA. The Security and Accountability For Every Port Act of 2006 (SAFE Port Act) were passed by Congress and signed into law by President Bush on October 13 of that year.
Originally created to enhance port security throughout the United States, the SAFE Act included a last-minute rider, Title VIII. This is the UIGEA portion of the law. It keeps US gambling businesses from "knowingly accepting payments" for bets and wagers over the Internet that are "unlawful under any federal or state law."
Totally unrelated to the original port safety legislation, the UIGEA has continually been under fire since its inception. We offer a complete and detailed article explaining exactly what the UIGEA gambling bill is and how it relates to online sports betting.
Federal Wire Act Law (Interstate Wire Act)
Officially named the Interstate Wire Act of 1961, the Federal Wire Act tells you its intent in its title. Back in the late 50s and early 60s, organized crime syndicates around the United States used wired communications to run illegal gambling operations. Since this most usually concerned sports betting, the Federal Wire Act became known as an anti-sports betting law.
This is the oldest piece of federal sports wagering legislation in the United States which is still alive and well, and is constantly referred to by both proponents and opponents of the US online gambling industry.
This section of our website explains the Interstate Federal Wire Act of 1961 completely, and we will consistently update you as new federal and state level legal opinions are released concerning this law and online sports betting.
PASPA Law (Professional and Amateur Sports Protection Act) - Repealed 2018
PASPA was a federal domestic ban on sports betting in the United States from 1992-2018. PASPA prevented all but 4 states from enacting sports betting laws. Delaware, Nevada, Montana, and Oregon were exempt from PASPA because they had previous sports betting legislation.
In 2018, the Supreme Court ruled in favor of New Jersey (New Jersey vs. NCAA) and repealed the PASPA act. Since PASPA was repealed several states has already enacted domestic sports betting legislation and many more are expected to follow suit in the upcoming years.
With PASPA stricken down, it is likely the Federal Wire Act is next. This would allow states to add online sports betting to their now-legal brick-and-mortar ventures. Nothing has come to fruition as of yet. Read more about PASPA and how it might affect anyone who bets on sports.
DOJ's Formal Opinion On The Federal Wire Act
Since the Federal Wire Act was first passed into law in 1961 there has been confusion surrounding the law's application. Years later lawmakers would try to construct the words mentioned in the Federal Wire Act to outlaw US-based online gambling even though the internet wasn't around when the law was originally drafted.
States began asking for clarification on the law's application as technological advancements relevant to gambling entertainment began to flourish.
The Department of Justice (DOJ) was asked to step in and decide if the original Federal Wire Act pertains to state-regulated online gambling operations. The DOJ eventually released a formal opinion that provided clarification as to the scope of the Wire Act's intent and implementation.
You can visit our page explaining the DOJ's Legal Opinion the Wire Act for more information.
RAWA Act (Restoration of America's Wire Act)
The RAWA Act is a piece of legislation designed to overturn the existing application of the Federal Wire Act. There have been several attempts to get this law passed but to no avail. The RAWA Act was first introduced in 2014 and if ever enacted the RAWA Act would drastically change American gambling laws.
The Act intends to reverse the Department of Justice's formal opinion on the Federal Wire Act and make all forms of state-based online gambling illegal. Even states that have voted in of favor licensed online gambling entertainment for their region would be forced to stop allowing online betting if the RAWA Act was ever to be enacted.
Fortunately for us, many conservatives are also against the Act and after several failed attempts it is highly unlikely we will ever see this Act become a law. Visit our page explaining Rawa for more information.