Most USA online sportsbooks reward new players with free bonus money when they open an account. This is an industry standard and a way that most sites incentivize new players to signup a real money account. With competition fierce in the industry, many sports betting companies understand that players have many different options on where to play and bet. So by offering attractive sportsbook bonuses, they have a better chance of landing a new player compared to the guy next door.
Most Popular Sportsbook Bonus Offer


Bovada 50% Cash Bonus Up To $750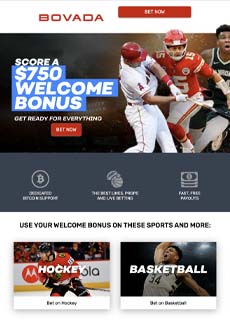 I will be honest, Bovada doesn't offer the biggest bonus offer to new players. They don't even offer the most attractive loyalty program amongst the sportsbooks we recommend. So why am I listing them as the most popular? Mainly because of the trust factor. Seasoned players understand how valuable it is to play with a 5 star site compared to others, and Bovada comes correct on all fronts. They offer the best sports betting software in the industry, mobile sports betting, live betting, casino and poker action and so much more. They have been fully operational since 2011, regarded as the most well known and respected sportsbook in the industry.
In terms of their bonus offer, new players can claim a 50% instant match bonus up to $750. So a $500 initial deposit lands you a $750 betting bankroll. Again it certainly isn't the biggest, but if you want to play with the absolute best site in the business, then Bovada is our #1 choice.
Best Sportsbook Bonuses For USA Players


Updated For 2022
What Are Sportsbook Bonuses And How Do They Work?
Sportsbook bonuses come in many forms including first deposit bonuses, reload bonuses, free play and cash bonuses, and annual cash back rewards based on your net losses. Deposit and reload bonuses typically have specific terms attached to the promotion such as rolling over your deposit plus bonus 5X in order to cashout. And that just makes sense. If a website offers $100 free cash to everyone that signed up, people would simply open an account, wait a couple of days, and withdraw their free money. That website would be out of business in less than a week. So the purpose of this page is to explain the different sports betting bonuses you will be offered at the best USA online sportsbooks, their differences and similarities, and just how they reward you.
Sportsbook Bonuses Explained
Deposit Bonuses
The most common type of "thank you" reward that an Internet bookmaker will give you is a deposit bonus. When you make your initial deposit, you may receive a 25%, 50% or even a 100% match bonus. For example, if the website offers a 25% matching deposit bonus and your first deposit is $500, you will receive $125 in matching, free bonus money. Depending on the site, you may be able to wager that money immediately, or you may have to wait until you place several bets. When you can withdraw that deposit bonus money depends on the rollover requirement that particular USA sportsbook has in place. For this reason, going with the largest percentage or dollar figure deposit bonus is not always the smartest move. Especially if it's a freeplay bonus compared to a cash bonus.
Reload Bonuses
After you make your first deposit, a promotion may be offered that is just too good to pass up. Or perhaps you spot a game that is so one-sided, you want to bet more than the amount of money you have in your account currently. If that is the case, you simply need to reload your account. And that is why USA online sportsbooks offer reload bonuses. They may give you a free play wager, 25% matching bonus or some other cash bonus when you reload your account, after your first deposit. Reload bonuses are also dependent upon rollover requirements, which we will get to in a minute. But basically, the top USA sportsbooks thank you for your business by giving you free bets or cash money when you add money to your account after your initial funding. However keep in mind that these are typically offered to players in the red. If you are winner on the site, reload bonuses may not be available to you.
Difference Between Cash Bonuses And Freeplay
The difference between a freeplay and a cash bonus is actually quite significant. Although many players won't notice or think about what is really going on when they claim these bonuses. Cash bonuses are pretty straight forward. If the sportsbook offers a 25% cash bonus on your initial deposit, and you deposit $1000, then you will have a $1250 bankroll to bet with.
Now let's take the same scenario but instead of the sportsbook offering a 25% cash bonus, instead they offer a 25% freeplay bonus. Same thing right? Not exactly! First of all freeplay bonuses are typically held separate from your cash bonus bankroll. So in this scenario, you would have your original $1000 deposit bankroll, then a $250 freeplay bankroll. The major difference in what the $250 is actually doing for you compared to a cash bonus is the fact that it's not pure cash. Meaning in order to turn that $250 into cash, you actually have to put it into action, then win the bet and the winnings from that bet will be placed into your $1000 cash bankroll. To put it another way, it would be similar to getting a 12.5% cash bonus because you have to win the bet to turn it into $250. I would think most seasoned players understand this, so this is more to help novice sports bettors understand the difference between these 2 common bonus types.
Cashback On Losses
Some sites offer what are called cashback rebates on your net losses. This is really a nice shot in the arm if you've had a losing year and can give you a decent bankroll to play with. Cashback bonuses are typically paid once a year after the superbowl. Essentially what they do look at your action for the entire year, and if you are in the red, they take the net figure, and return 10% of your losses to you. This used to be more popular several years back, I honestly don't think any of the bigger sites offer cashback bonuses on your net losses anymore.
Bonus Programs For Loyalty
Smart USA bookmakers offer bonus programs for loyal customers. You probably know that Las Vegas, Monte Carlo and other well-known brick-and-mortar gambling destinations offer bonuses to repeat customers. These may come in the form of free dinners, free rooms and travel, or free show tickets. Online bookmakers do the same thing. Call them frequent flyer bonuses, loyalty incentives or whatever you will. Simply by placing wagers, you earn points which can be redeemed for cash money, free bets, and in some cases, hot consumer electronics and cool gambling gear. And if you refer your friends to their site, that loyalty is rewarded with a bankroll boosting bonus also.
In terms of the best sportsbook for loyalty programs, we recommend Bookmaker. This site offers the most lucrative rewards system in the industry, and they are one of the oldest and most respected groups (part of the Betcris and DSI company). Players can choose to claim instant cash, awesome gear, giftcards, handicapping services and much more. The idea behind their loyalty program is they award betpoints for every bet you make, and as these accumulate you can claim your choice of cash, merchandise ect... But don't think this is like poker where you have to play for a year just to pull a decent reward in. I typically bet $500 to $1000 a game and if I bet 15 games over the weekend, I might have earned $200 in cash rewards just for giving that action, regardless if I won or lost. Trust me, their loyalty program is strong and really sets them apart from the other bookmakers.
Promotions And Contests
In addition to the various offers we've already mentioned on this page, most of the sportsbooks also offer many different promotions and contests throughout the year. One example would be during March madness. Most if not all of the sites we recommend offer free entries into march madness brackets where players can win their share of 1 million cold hard cash. This is just one example, and by opening up a real money sportsbook account you will be given many opportunities to claim free entries on many different events throughout the year.
Understanding The Promotional Terms And Conditions And Rollover Requirements
Rollover requirements are the least understood and most common condition employed by the most trusted USA sportsbook sitesto guarantee you do not simply cash their bonus and run. As we mentioned earlier, websites can not afford to simply hand out free money. Sports bettors and non-bettors would show up, take the free money, and leave. So sportsbooks require that you bet the amount of your deposit and bonus a certain number of times before you may cash out the bonus cash. This is called a rollover requirement. (Any money you deposit is always yours to cash out at any time. Rollover rules apply to bonus money only.) The top US sportsbooks will often offer a rollover requirement as low as 3X or 5X. You simply must wager 3 times or 5 times the amount of your deposit and bonus before you can withdraw that free deposit money. For example, if you deposit $500 and receive a $125 bonus at a 3X rollover sportsbook, once you place $1,875 in wagers (3 x $625), that $125 bonus money can be withdrawn or left in your account.
The main idea here is just to give the sportsbooks a fair shake when they offer such generous perks to you. Just give them good action and your player experience will be nothing short of a dream in terms of how you're treated.