What happens when the final whistle is blown and all basketball games have completed for the evening? How about when the NBA Finals are over, and you know that there won't be any betting on basketball for months? Well, just make room for betting on virtual basketball on your sporting calendar!
Virtual hoops are available to bet on 24 hours a day, 365 days a year, and are not constrained by any schedule. Games start up several times per hour, offering maximum betting opportunities with minimal commitment. But where can people play virtual basketball, and is it legal? We'll answer all of those questions and more in our guide to the 2022 best virtual basketball betting sites for USA players.
The USA's Best Virtual Basketball Betting Site

When looking for the best virtual basketball on the web, look no further than Bovada Sportsbook. Not only are virtual hoops a top option, but they've also got a full roster of virtual sports to bet on with new games beginning around the clock. Bovada.LV is synonymous with trusted, reliable play with timely and accurate payouts. Bovada also allows for most major forms of payment and withdrawal, including USD and cryptocurrencies. The cherry on top is their top-notch customer service that is available 24/7/365. Bovada is the best virtual basketball betting site on the web.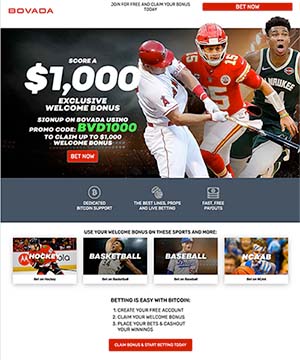 Best Virtual Basketball Betting Sites


For USA Players
What Is Virtual Basketball?
When first encountering virtual hoops, the interface can be a little confusing. Although it may look like a video game, virtual basketball is anything but. Virtual basketball games are produced using random numeric data inserted into software that provides a visual result. There are no human players controlling the simulated action.
The virtual basketball players and teams are generic and do not reflect players or teams that exist in real life. The New York basketball team may have blue and orange uniforms, but the similarities end there. Gamblers can browse prior game data to try and gain a competitive edge, but research opportunities for virtual basketball are slim.
These games are shown in a compilation of highlight clips that last for roughly five minutes. These clips are simply for the purposes of displaying the virtual basketball results and do not provide for live betting chances. The games recur so often that there is barely time to bet on the lines provided.  Players won't even have a moment to reflect on the lack of live betting.  Games begin anew several times per hour and do not require the adjustment of any personal schedules to participate.
How To Bet On Virtual Basketball  
The first item of business for prospective virtual basketball bettors is to choose the USA sportsbook site that they want to wager with. The sites listed above are all recommended by our expert team of analysts and can be trusted for safe and reliable play.
Once you are at the virtual basketball section of the betting site, you'll see many different games to choose from. Select one, and you'll transition to the game page, which features a live video feed of highlights of the game and betting lines underneath. The odds will resemble the spreads, totals, and moneylines that you've seen when wagering on the NBA or betting on NCAA Basketball.
All available wagers on virtual basketball are presented in the moneyline format, including combined team totals, final scores, individual team totals, final margins of victory, and more. Browsing through prior game results offers the only historical data available for virtual basketball, and each site offers a full data set for the current "season."
Understanding Virtual Basketball Betting Odds
As mentioned above, the betting lines for virtual hoops are displayed in the moneyline format. An example of a virtual basketball betting line is as follows:
Half Time Winner
Dallas -145, Tie +2040, Miami +110
Dallas is favored to be in the lead at halftime, and a $145 bet would yield a payout of $100 if they are. Meanwhile, Miami is the underdog, and a $100 wager on them would earn you $110 if they're ahead at the break. A $100 wager on the event of a tie would pay out at $2,040, using the +2040 odds in the betting line.
Is It Legal To Bet On Virtual Basketball In The USA?
Legally betting on virtual basketball is an option when using an offshore sportsbook operating online. Since United States gambling laws fail to regulate or mention gambling online with an entity located outside of the country, there are no laws on the books to be broken.
The state of WA has passed laws that forbid all forms of online gambling, but the coast is clear for offshore sportsbooks and betting on virtual basketball in the other 48 states.  Additionally, we have never heard of a single Washington resident being fined or otherwise prosecuted for betting on sports online, though you are advised to follow all local laws and proceed only at your own risk.
Where Can I Bet On Virtual Basketball In The United States?
Virtual basketball has not caught on yet with domestic USA sportsbooks, but we think its only a matter of time before bettors' demands are heard and they are allowed for. For now, betting on virtual basketball requires a visit to an offshore betting site like the ones we've recommended on this page. They offer the best in virtual basketball options as well as a host of other casino and table games and are conveniently open 24 hours a day.
Virtual Basketball Banking Options for American Bettors
Online sportsbooks are eager to gain the business of responsible gamblers and feature multiple avenues for depositing funds and withdrawing winnings. No two betting sites are alike, but the most common forms of currencies accepted are as follows:
Deposit
Debit and Credit Cards (Visa, Mastercard, American Express, Discover Card)
Wire Transfer
Cashier's Check
Money Retail Services
Betting Voucher
Zelle (allows the instant purchase and transfer of BTC)
Withdrawal
Wire Transfer
Check by Courier
Betting Voucher
Cryptocurrency* (only method that allows for a same day payout)
To find out which sportsbooks will get your winnings to you the fastest - check out our page on the fastest paying  USA sports betting sites.
Virtual Basketball Bonus Promotional Offers
Online sportsbooks extend many perks to their customers, and one of them is a welcome bonus that matches a portion of a new member's first deposit. As an example, one of these featured bonus offers at Bovada matches 50% of an initial deposit up to $250. If a new member uses Cryptocurrency to make their deposit, then the bonus level increases to $750. Accepting a bonus is never required, so read through the terms and conditions to make sure the bonus is the right move for you.
Mobile Virtual Basketball Betting
Android and Apple device gaming support is offered by our top-rated offshore virtual sports betting sites through their web apps. Just click on the link of one of our recommended virtual basketball betting sites using a current browser, and the responsive design tech will handle the rest.
The graphics will adhere to the size of any mobile device screen allowing for touchscreen virtual basketball play without the requirement for any download. There's no need for a downloadable app when the most secure mobile virtual hoops betting options on the net are the web apps provided by our recommended offshore sites.
Live Betting On Virtual Basketball
Because virtual sports feature games that recur every few minutes, there are no chances to place a live bet. Virtual team sports contests are not shown in their entirety and can be seen in highlight form only, so there is no "flow" of the game to wager on as there is in traditional in-game sports betting. Still, with new odds available to wager on every five minutes or so, virtual basketball is likely to offer more chances to place a bet than live betting ever could.
Difference Between Virtual Sports, eSports, and Sims
The best virtual sports betting sites also offer other wagering categories for simulated sports, such as eSports and video game simulations. How do these games compare with virtual basketball, and what makes them require a different classification?
Video Game Simulations – Just like virtual sports, video game sims do not involve any human interaction in the gameplay, with the computer controlling the action randomly. Virtual sports use generic software with players and teams that are entirely fictional. Sims use popular video games such as the NBA 2K series, which uses real player and team attributes to form the digital players and squads. Simulation games are shown completely, with quarter length declarations made pre-game, whereas virtual team sports are shown in brief highlight reels. Sims also provide for live betting opportunities, and odds are largely based on the historical data of the players and clubs replicated in the game.
eSports – Popular video game franchises, such as NBA 2K, are used for eSports competition, but what makes eSports different from video game simulations is that the players controlling the action are human. Odds are based on the skills of the human participants and the historical data associated with the virtual players and teams. Full games are shown, and live betting is allowed.
Free Virtual Basketball Games
Watching virtual basketball games online for free is the best tool to prepare for real money betting. There's no such thing as a virtual basketball coach, so take our advice and monitor virtual basketball games and how the results compare with the betting odds. It doesn't cost a thing to watch the virtual games, nor does it require a membership, so get on over to your favorite online sportsbook and take a couple of free throws before betting your game check.