The Year of the Underdog is officially over. After an NFL Playoffs full of upsets and surprises, the ultimate outcome is generally what everyone expected at the outset: Two bona fide superteams are facing off in Super Bowl 54.
With the Kansas City Chiefs punching their ticket to the Big Game by walking all over the breakout Tennessee Titans in the AFC title game, an air of normalcy has descended over the conference.
The actual best quarterback in the game did what the presumptive "best" quarterback could not do, and now Patrick Mahomes is in the Super Bowl while Lamar Jackson will be watching the game from wherever dejected superstar masochists do those sorts of things.
On the other side, the San Francisco 49ers completely dismantled the Green Bay Packers, with Cheesehead Aaron Rodgers now 0-3 against the Niners in the postseason (and 4-6 overall). Savvy bettors expected this, of course, which is why San Fran was the favorite going into the NFC title game.
Meanwhile, former New England backup Jimmy Garoppolo – whom the Patriots cut loose several years ago to stick with aging GOAT Tom Brady (which wasn't a bad move, all things considered) – is now primed to start a legacy of his own in the Bay.
Super Bowl LIV – Tale Of The Tape
The Pats might not be filming this contest, but they're certainly aware of how the two Super Bowl contenders fared this season. Here are the pertinent matchup stats between the AFC and NFC Champions as we inch ever closer to Super Bowl Sunday. Head-to-head leaders are in bold, and postseason numbers are italicized:
2020 San Francisco 49ers
Overall Record: 13-3, 2-0
Total Offense: 381.1 YPG, 331 YPG
Scoring Offense: 29.9 PPG, 32 PPG
Passing Offense: 237 PPG, 95.5 YPG
Rushing Offense: 144.1 PPG, 235.5 YPG
Total Defense: 252.5 YPG
Scoring Defense: 15 PPG
Passing Defense: 211 PPG
Rushing Defense: 41.5 PPG
QB Jimmy Garoppolo: 16 GS, 329-476 (69.1%) 3978 YDS passing, 62 YDS rushing, 27 TD, 13 INT, 102.0 RTG
2020 Kansas City Chiefs
Overall Record: 12-4, 2-0
Total Offense: 379.2 YPG, 419 YPG
Scoring Offense: 28.2 PPG, 43 PPG
Passing Offense: 281.1 YPG, 304 YPG
Rushing Offense 98.1 YPG, 115 YPG
Total Defense: 368.5 YPG
Scoring Defense: 27.5 PPG
Passing Defense: 279 YPG
Rushing Defense: 89.5 YPG
QB Patrick Mahomes: 14 GS, 319-484 (65.9%), 4031 YDS passing, 218 YDS rushing, 26 TD, 5 INT, 105.3 RTG
Matchup Summary – Meme Edition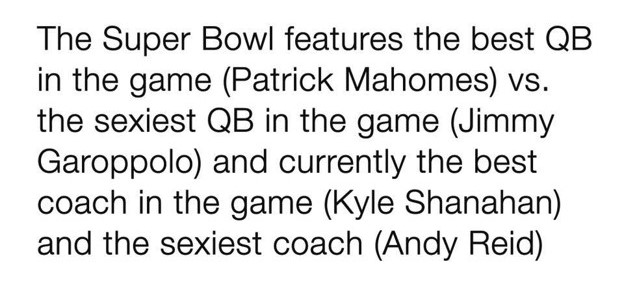 As you can see above, this seems like a pretty evenly matched Super Bowl, and both teams are strong in areas that their counterparts aren't.
If the 49ers – who are slight underdogs thanks in large part to the Chiefs' massive playoff numbers on the offensive side and the overarching public belief in the unrivaled brilliance of Mahomes under center – can get an early lead and control the clock by running for a million yards like they did against the Packers, they can probably pack their bags for Disney World.
However, given that "Big Red" Andy Reid's Kansas City offense can close a 24-0 gap in like three minutes flat, no lead is really safe.
For Super Bowl betting fans, this one's a tough call. Here are some of the lines and Super Bowl props you can choose from, and hopefully you'll find an edge in there somewhere.
2020 NFL Super Bowl Betting Odds
Via Bovada
San Francisco 49ers at Kansas City Chiefs (-1.5)
Straight: 49ers EVEN, Chiefs -120
Total: O54.5 (-115), U54.5 (-105)
Total Passing Yards – Jimmy Garoppolo (SF) – 239.5 YDS
Total Passing Yards – Patrick Mahomes (KC) – 305.5 YDS
Total TD Passes – Jimmy Garoppolo (SF) – 1.5 TD
Total TD Passes – Patrick Mahomes (KC) – 2.5 TD
Total Receiving Yards – Deebo Samuel (SF) – 54.5 YDS
Total Receiving Yards – Tyreek Hill (KC) – 79.5 YDS
Total Rushing Yards – Damien Williams (KC) – 51.5 YDS
Total Rushing Yards – Raheem Mostert (SF) – 69.5 YDS
Coin Toss Result
Team To Win Coin Toss
San Francisco 49ers -105
Kansas City Chiefs -105
Highest Scoring Half
1st Half EVEN
2nd Half + OT -125
Tie +1800
Team With Highest Scoring Quarter
San Francisco 49ers +120
Kansas City Chiefs -105
Both Teams Tied +600
First Score Method
Field Goal +150
Touchdown -200
Any Other +3500
First Offensive Play Of The Game
Will Either Team Score 3 Unanswered Times In The Game?
Will The Game Go To Overtime?
Super Bowl MVP Odds
Patrick Mahomes (KC) +105
Jimmy Garoppolo (SF) +260
Raheem Mostert (SF) +700
George Kittle (SF) +1400
Travis Kelce (KC) +1400
Tyreek Hill (KC) +1500
Damien Williams (KC) +1800
Nick Bosa (SF) +2200
Deebo Samuel (SF) +2500
Sammy Watkins (KC) +3300
Emmanuel Sanders (SF) +4000
Richard Sherman (SF) +5000
Tevin Coleman (SF) +6000
Matt Breida (SF) +6600
Mecole Hardman (SF) +6600
Chris Jones (KC) +8000
Frank Clark (KC) +9000
Arik Armstead (SF) +10000
Daniel Sorensen (KC) +10000
Tyrann Mathieu (KC) +10000