Each February, the Super Bowl pits the AFC and NFC Champions against each other to determine who will earn the coveted Lombardi Trophy.
It is the most-watched and gambled upon sporting event each year, and Super Bowl LVII Will be no different. Football betting culminates each year with the big game, and a readthrough of this guide to Super Bowl 57 betting sites will have gamblers placing wagers with confidence.
We'll direct you to the top-rated sportsbooks taking action on the Super Bowl, and the best part is, it's all legal. That's right, we'll show you legal options for betting real money on the NFL's title game without having to worry about a visit from the po-po, all right here in the good ol' US of A.
If that's not enough, we'll go into detail regarding what types of lines and prop bets will be offered for the Super Bowl, the deposit and withdrawal options that feature the fastest transactions, and many more tips and tricks for successfully navigating the world of wagering on the NFL's biggest game of the year.
The USA's Best Super Bowl Betting Site


Bovada Sportsbook

Super Bowl betting lines attract more US-based action than any other sporting event each year. For those of you interested in wagering on the NFL's championship game, we can recommend Bovada Sportsbook without hesitation. Bovada.LV is the most trusted US-friendly online sportsbook and has a proven history of high-quality service, attractive bonus offers, and fast payouts. They feature a host of Super Bowl betting lines and wagering options, including a substantial range of prop bets. Their Super Bowl betting app is also available on iPhones, iPads, and other popular smartphones and tablets.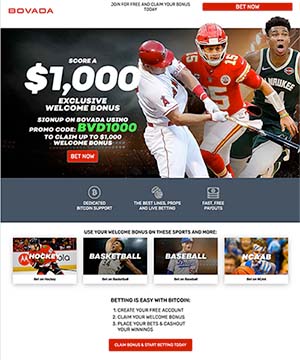 2022's Best USA Online Sportsbooks


To Bet On Superbowl LVII
Is It Legal To Bet On The Super Bowl in the USA?

Yes. Thanks to the repeal of PASPA in the spring of 2018, US residents can legally place bets at domestic, state-regulated sportsbooks in those regions that have legalized it. Football fans can also legally place bets through offshore sportsbooks as long as they are regulated by a respected government.
There are currently 2 major federal laws still in force applicable to sports wagering—the Federal Wire Act and the Unlawful Internet Gambling Enforcement Act (UIGEA). Neither of these USA sports betting laws mentions anything about offshore betting being illegal. Accredited offshore sportsbooks are also technically outside US government jurisdiction, hence the federal government is not able to impose their regulations or restrictions upon these sportsbook gambling sites.
Odds Provided By Bovada
Super Bowl LVII Betting Line
02/12/23
Point Spread: TBD
Money Line: TBD
Total Points: TBD
*More odds available here.
Where To Bet On The Super Bowl 2022 - States Allowing Legal Betting on Super Bowl 57
For those fortunate enough to live in a region that offers state-regulated sportsbooks, you may have local bookmakers you can place your Superbowl bets with. For the rest of us or those who simply prefer the convenience of online and mobile access to sports betting, the USA-friendly online sportsbooks featured on this page provide a secure, high-quality betting experience.  They are all operating legally offshore and provide Super Bowl odds and betting lines comparable with the Vegas sportsbooks.
Below you will find information for each state, including which states currently allow 2023 Super Bowl betting, which states have pending legislation at the time of the Super Bowl, and which states do not prohibit offshore betting.
Legal Super Bowl Betting By State (2022-2023)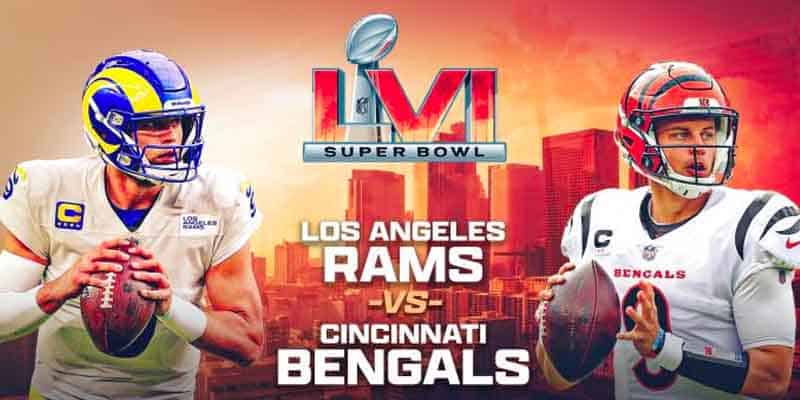 Super Bowl LVI Betting Lines
Hover over the picture and you will see all the details leading up to the 2022 Super Bowl in Los Angeles, California's SoFi Stadium. 
Super Bowl LVI Details & Betting Lines
Who: LA Rams vs. Cincinnati Bengals
Score: TBD
Super LV MVP: TBD
When: 6:30 p.m. ET on February 13, 2022
Watch on TV: NBC
Watch via Stream: Peacock
Where: SoFi Stadium, Los Angeles, California
National Anthem: TBD
Halftime Show: Dr. Dre, Eminem, Snoop Dogg, Kendrick Lamar, Mary J. Blige
Points Spread: Rams -4.0, Bengals +4.0
Money Line: Rams -195, Bengals +165
Over/Under: 48.5
Mobile Super Bowl Betting
Most folks who are watching the big game are doing so at a party or with a large group of people, and there's no time to escape to the PC or laptop to place a bet. That's where our top Super Bowl betting apps can let gamblers back in on the action with iPads, iPhones, and Android-based devices.
All of the betting lines and features of the main site are available via current mobile devices by clicking on any of the links to our preferred online sportsbooks with an up-to-date browser such as Chrome, Google, Opera, Safari, or Firefox. Operation looks and feels just like a downloadable app without the need to visit the Google Play or App Store. Our recommended mobile Super Bowl betting sites also allow you to manage your account, make deposits and withdrawals, and claim bonus offers from your smartphone or tablet.
Live Superbowl Betting
Not all NFL Championship games are competitive. Sometimes they are already decided early in the first quarter, making the remainder of the game a bore from a betting perspective. Live betting on the Super Bowl allows bettors to wager on updated odds on game lines that allow bets for quarter leaders, halftime leaders, totals, and overall winners.
Live betting on Super Bowl prop bets is also a possibility, so if the odds aren't looking so hot in the first quarter on whether Kim Kardashian will be shown on camera, check back in at half time and see if they've shifted in your favor. Live Super Bowl betting allows for wagers to occur until the broadcast has concluded.
Super Bowl Betting Site Banking Options
When you place a wager on the Super Bowl and win, in order to collect in the quickest fashion is to request a withdrawal with cryptocurrency like Bitcoin (BTC), which features transactions that can be completed in less than 24 hours. All other forms of currency feature waiting times of various lengths. Deposit and withdrawal options and Super Bowl betting sites are listed below, and represent the most common methods we've seen offered:
Deposit – Credit/Debit Card, Wire Transfer, Money Transfer Services, Cashier's Check, Zelle (USD-to-BTC), Cryptocurrency (Bitcoin, Bitcoin Cash, Tether, Litecoin, Ripple, Ethereum)
Withdrawal – Wire Transfer, Cashier's Check by Courier, Sportsbook Voucher, Cryptocurrency
2022-23 Super Bowl Betting Promotion Bonuses
The Superbowl is the most widely viewed television event of the year, sports or otherwise, and attracts a ton of attention from new bettors. Online sportsbooks are eager to bring in these new bettors as members and offer promotional bonuses that match a percentage of the first deposit made into a gambler's bankroll.
Sportsbook bonuses typically match 50% of the first $500-$1000 deposited, and usually have terms and conditions that should be read through prior to accepting, as taking a bonus is not a requirement of membership. Super Bowl 2022 promos can reach dollar amounts that are even higher than that, so championship season is the perfect time to join up with a betting site.
Future Sites for the Super Bowl
2023: Super Bowl LVII (57) - State Farm Stadium in Glendale, AZ
2024: Super Bowl LVIII (58) - Mercedes-Benz Stadium in New Orleans, LA