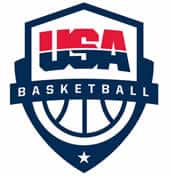 The National Basketball Association began to play in 1946, and since then, the NBA has become one of the most popular sports leagues to bet on in the United States. Because of the number of games played at the pro level, there is a game to wager on almost every night from October to June — meaning each night is a chance to increase your bankroll.
We want to set your bet up for the alley-oop by dishing out only the best legal basketball betting sites along with our guide on how to wager on NBA odds and lines for the 2020-2021 season. Whether you're betting on the regular season, the playoffs, or the NBA Finals, we want to make sure your bet is nothin' but net.
Top NBA Betting Site in the US
Bovada Sportsbook - Accepts US Players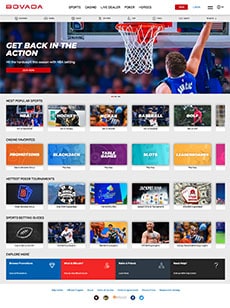 Since Bovada started servicing the United States in 2011 they have developed a great reputation among industry professionals for fast payouts, US-friendly deposit methods, and competitive basketball betting lines. Upon visiting the USA legal sportsbook you will find NBA betting lines, basketball betting lines, and basketball futures. In addition to NBA game lines and futures, Bovada also offers live betting on NBA games.
Based on personal experience, site features, reputation, and credentials, Bovada is the best choice for NBA betting online.
Best Online Sportsbooks


for NBA Odds and Lines
Is it legal to bet on NBA games online in the US?

Yes, there are no federal laws against betting on NBA games, NBA playoffs, NBA Christmas games, or the Finals online at legally authorized offshore betting sites in the United States. States can also legalize online sports betting following the PASPA repeal in 2018, but the option to bet online at a state-licensed sportsbook is only available in a handful of states.
Where can I bet on NBA Basketball in the United States?
Residents in 48 states and Washington D.C. can legally place real money wagers on the NBA at any of the online sportsbooks featured on our site. Additionally, some states have legalized sports betting within their jurisdiction, so check our legal page for more information and to see the status of sports betting coming to your state.
Can I bet on NBA Playoff odds?
Sixteen teams qualify for professional basketball's postseason, and patrons can lay some action on each best-of-seven series or on championship futures. NBA Playoff sportsbook sites for USA bettors will include futures odds for most of the year while individual playoff games won't receive action until the prior game concludes.
Which team will win the 2021 NBA Finals?
Most bettors are leaning toward the Lakers winning it all but only time will tell. The Lakers and the Clippers have been featured toward the top of the NBA Championship futures for some time now, but some bettors are also putting their money down on the Milwaukee Bucks or the Brooklyn Nets coming out of the East.
Odds to Win the 2020-2021 NBA Championship
Here you can find the latest odds to win the 2020-2021 NBA Finals and hoist the Larry O'Brien Trophy. Odds are updated regularly and as the season draws to a close, teams will be eliminated from contention, and thus, eliminated from the NBA championship betting odds.
Types of NBA Bets
There are multiple different ways to bet on the NBA, and we've included examples of each of the most common types of bets you'll see at a sportsbook. For beginners, we recommend sticking to the point spread since it gives equal value to both teams and has a low amount of vigorish in the odds.
Examples:
Point Spread – Lakers @ Warriors (-6): Warriors are favored must win by 7 pts or more, and the underdog Lakers must lose by no more than 5 pts or can win the game by any margin.
Money Line – Celtics (+125) @ Bucks (-145): Bucks are favored to win the game outright and requires 145u to win 100u while the Celtics are the underdog and need only 100u to win 125u.
Total Points – Trail Blazers @ Thunder O/U 240.0 pts: The combined number points from both sides will need to fall under or over the set number (240), depending on which side you bet.
Futures – Odds to win NBA Finals, Raptors (+750): The Raptors require 100u ahead of time (weeks, months) and will pay 750u if they become the NBA champions.
Prop Bets – 3-PT FG for Stephen Curry, O/U 4.5: Stephen Curry will need five or more 3's to win a bet on the over and four or fewer 3's to win a bet on the under. Props can be on stats or other events, both inside and outside the game itself.
Live Bets – Knicks down 11 w/ 5:31 left in the 3rd (+500): While the game is currently being played and the Knicks are down 11 points with 5:31 left in the 3rd period, if the Knicks (at +500) come back to win the game then a 100u bet would win 500u.
2020-21 NBA Schedule: Important Dates
Preseason: December 11-19, 2020
Beginning of 2020-2021 Season: December 22, 2020
All-Star Break: March 5-10, 2021
Play-In Tournament: May 18-21, 2021
NBA Playoffs: May 22-July 22, 2021
NBA Finals: July 8–22, 2021
Additional NBA Basketball Betting Resources