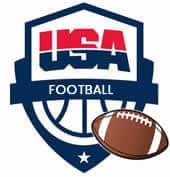 NCAA College Football provides some of the best sports entertainment in the US. Some fans hold college football in higher regard than the NFL. Aside from the intense fandom and thrilling games, the NCAA is a lucrative sports betting opportunity for USA bettors. There are more games each week to bet on, increasing your chances of winning. There are more prop bets, future bets, parlay options and more for those looking to cash in at popular US football betting sites. This page was created as a guide to NCAA college football betting and has insight into each of the big conferences, as well as odds on who is favored to win this upcoming season. Before you place your wagers on the 2017/18 season, take a few moments to read up on the league. If you also enjoy betting on the pro games, we've got a similar guide for betting on the NFL.
Best USA Online Sportsbook


To Bet On NCAAF Football Games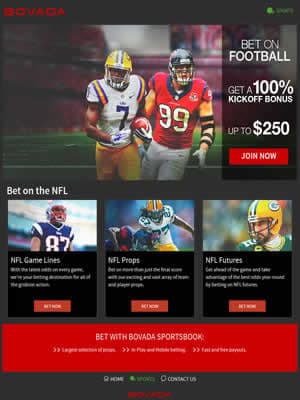 College football has a loyal following that includes avid USA sports bettors. Bovada caters to these die hard fans through offering a strong selection of NCAAF betting lines, odds and paylines. They cover teams from across the country and include a variety of prop bets, futures, over/under lines, parlays, live betting, in play betting, mobile betting and a host of additional wagering options.
Bovada is accessible from your computer or mobile device and accepts the most popular cryptocurrency in the market, Bitcoin. Bovada's welcome bonus for their sportsbook offers new players a 50% match bonus up to $250 on your first deposit. Bovada's online gambling platform also includes a casino, poker room and racebook. They are owned and operated by the popular Bodog brand and live up to this brand's reputation quite well. Bovada accepts players from all states except for DE, MD, NY, NJ and NV.
Top USA Online Sportsbooks


Offering College Football lines
Is It Legal To Bet On NCAAF Games In The US?

Yes, it is absolutely legal to place bets on college football games as long as you are selective about where you place those bets and base your choices on complying with USA sports betting laws. Understanding what is and is not legal when it comes to USA sportsbook betting can be a daunting task. The legal landscape in the US relevant to gambling entertainment seems to shift continuously, and in more than one direction. So we wanted to take this complex set of regulations and just spell them out for you in a simplified, layman's terms kind of way.
There are three US federal laws that are relevant to sportsbook gambling and govern this type of betting entertainment across the land. The Professional and Amateur Sports Protection Act (PASPA) makes brick and mortar sports betting illegal across the US with the exception of four specific regions: Montana, Oregon, Delaware and Nevada. This means that it is illegal to own or operate a bookmaker business anywhere else in the United States. The Federal Wire Act tackles sports betting from an online perspective, effectively outlawing US based online sportsbooks from operating within the nation's borders. These two laws address the operation of unregulated sportsbooks that are based in the US and do not in any way prohibit American residents from placing bets at legally sanctioned, offshore sportsbooks. So far so good. Lastly there is the UIGEA Bill that seeks to provide an effective layer of regulatory oversight concerning the processing of gambling related transactions online. This law speaks to US based banks and credit card companies, and in no way addresses individual bettors. Therefore, none of the US federal laws that govern sports betting make it a crime to place bets online at legally licensed and regulated online sportsbooks operating offshore.
Differences Between College Football And The NFL
There are many differences between the two US leagues, but only a few of actual significance. The NFL is a 32-team league, whereas the NCAA has hundreds of teams broken up into various conferences. While only a few conferences are considered to be in serious contention, there is potential for a breakout team each year. College football's Playoff system recently changed to a 4-team semi-final known as the CFP. The NFL postseason is made up of 16 teams fighting for a chance at the Super Bowl. Other than that, the key difference lies in betting. Betting on college games includes taking disparity into effect. Yes, there are similar situations in the NFL (the New England Patriots v. Cleveland Browns), where one team is heavily favored, but the number of college teams eligible to play each other creates more disparity. This makes for a positive or negative betting environment, depending on how you look at things. If anything, it keeps betting interesting.
How Are NCAAF Conferences Structured?
In the NCAA, there are 5 main conferences that people pay attention to. These are the ACC, SEC, Big 12, Big 10 and PAC-12. Outside of these 5 conferences exist a second-tier group, made up of the Mountain West Conference, Sun Belt Conference, Conference USA, American Athletic and Mid-American Conference. Below you will find a breakdown of each conference for the upcoming season.
ACC
The ACC has played second-fiddle to the SEC for a long time, but some analysts believe it has now surpassed it. Besides hosting the current defending champions in Clemson, the ACC features several other teams that could shake things up this year. The biggest threat is Florida State University. FSU won the National Championship in 2013 with QB Jameis Winston heading a remarkably talented squad. Since then, the team has been successful, but not strong enough to make the CFP. Analysts have FSU as the #2 ranked team in the country this year under Alabama. With other teams like the University of Miami, Virginia Tech and Louisville in the mix, not to forget Clemson, the ACC will be exciting this year. For bettors, keep an eye on FSU week-to-week and consider them as true contenders for a CFP spot. Clemson lost a lot of key players from their title-winning team to the Draft, so they are not expected to be as strong, but they will still be a force.
SEC
The SEC has historically been the toughest conference in college football. LSU, Alabama, Auburn, Florida and Georgia are just a few teams that make up this highly competitive group. While this competition is fierce, it presents a benefit for teams when it comes time for CFP selection, as the Selection Committee factors in toughness of schedule in their picks. Alabama has been the SEC champion for the better part of a decade. Their dynasty has been practically untouchable over the last few years, though they did happen to lose to Clemson in last year's championship game. LSU and Auburn are believed to be ranked in the top 10 at the start of this season, with both teams possessing enough to challenge the Crimson Tide, but it likely will not be enough. Georgia and Florida are both in the conference's Eastern division, but the Gators haven't been relevant for some time. The Bulldogs could be a nuisance for SEC opponents. Kentucky, Mississippi State, Arkansas and South Carolina are 4 other teams to watch. For bettors, Alabama is the best choice in almost any matchup.
Big 10
The Big 10 is on the rise. They had 4 teams finish their last season inside the top 10. The Ohio State Buckeyes featured in the CFP and most analysts have them going again this year. Michigan, Penn State and Wisconsin all make strong cases for Playoff spots, with Michigan and Wisconsin up over Penn State. Michigan is a dangerous team and almost made the CFP had they not lost to Ohio State last season. Expect them to be playing for vengeance. Despite the strength of Michigan and Wisconsin, it may not be enough to keep up with the Buckeyes, who are expected to be ranked #3. Coach Urban Meyer has everything he needs to challenge for a championship—they may even have enough to topple Alabama.
Big 12
When talking the Big 12, Oklahoma is the team. They are the clear favorites to win this conference over Texas, Oklahoma State, West Virginia and TCU. The Sooners have the strongest roster with the most talent, the only problem is their schedule may keep them out of the CFP pending other teams' performances. TCU has been fighting for a spot in the CFP for several seasons, and they could've performed better than other teams who have made it in the past, but the Selection Committee makes its picks following certain criteria. While these Big 12 teams are solid bets during the regular season, Oklahoma is the most realistic option for heading into the postseason.
PAC-12
The PAC-12 conference is interesting in that you wouldn't expect much from them, but Washington, USC and Oregon have all been successful. Oregon won a National Championship not too long ago and Washington qualified for the CFP just last year (even though they were destroyed by Alabama). Utah, Colorado and UCLA are other teams to monitor on a weekly basis. Washington will have a strong team again this year, and if they can manage to only lose one game, their chances of making the CFP are high. Their previous CFP experience hopefully taught them a thing or two, because they did not look like they belonged there against Alabama. If you are betting on a PAC-12 team, Washington is the way to go.
Outside 5
The Mountain West Conference, Sun Belt Conference, Conference USA, American Athletic and Mid-American Conference make up what is known as the "Group of 5", or "Outside 5". These conferences do not possess the same quality as the ACC, SEC, Big 10, Big 12 and PAC-12, but there are a few bright spots. Mathematically speaking, it would be very difficult for these teams to make the CFP, but they do provide consistent betting action on a weekly basis. In the Mountain West Conference, Boise State is being heralded as the best this year. They face competition in San Diego State, Colorado State and Air Force, but not enough to keep them out of the #1 spot. Appalachian State is expected to claim the Sun Belt Conference. Their schedule sets them up for a cakewalk to the conference championship. Western Kentucky is expected to win Conference USA over Middle Tennessee, Louisiana Tech and Southern Miss. In the American Athletic conference, the USF Bulls are projected to beat out the competition. Last but not least, Toledo is predicted to win the Middle American conference. Again, these teams may not pose a threat to the CFP, but they will provide solid betting options for other wagers.
CFP And National Championship Predictions
The Selection Committee determines their 4 teams through a review process that accounts for schedules, win-loss ratios and more. Each year, there are teams who probably should've made it left out, making the selection controversial. However, the Committee seems to know what they are doing for the most part. For this season, we predict Alabama (SEC), FSU (ACC), Ohio State (Big 10) and Oklahoma (Big 12) making the CFP. There are other options like Clemson, Wisconsin, Michigan and Washington that could make the cut, but as of now, these are the 4 to look out for. The most likely championship matchup is Alabama v. Florida State. While Alabama is probably the safer bet, FSU may have the tools in place to pull off an upset.
NCAA Football Records
The NCAA record books are large volumes. It would be too much to list all of the records on this page. Below, you will find just a few examples of some of the standing NCAA records.
Most Rushing Touchdowns, Season: FBS: 88, Keenan Reynolds, Navy, 2012-2015; FCS: 84, Adrian Peterson, Georgia Southern, 1998-2001
Highest Passing Efficiency Rating, Career: FBS: 175.6, Sam Bradford, Oklahoma, 2007-2009; FCS: 176.7, Josh Johnson, San Diego, 2004-2007
Most Receptions, Career: FBS: 399, Zay Jones, East Carolina, 2013-2016; FCS: 428, Cooper Kupp, Eastern Washington, 2011-2016
Most Winningest Team In NCAA: University of Michigan, 935 wins
Longest FBS Winning Streak: Oklahoma, 47 games
Longest Home Winning Streak: University of Miami (FL), 58 games, 1985-1994
Best Winning Percentage: Michigan, .737 (877-302-36)
Biggest Comeback: Michigan State v. Northwestern, October 21, 2006. Michigan State scored 38 unanswered points to beat Northwestern 41-38.
Top 15 Winningest NCAAF Programs
1. Michigan 2. Yale 3. Notre Dame 4. Texas 5. Nebraska 6. Ohio State 7. Alabama 8. Oklahoma 9. Penn State 10. Harvard 11. Penn 12. Tennessee 13. Southern California 14. Princeton 15. Georgia
USA Sportsbooks Sites was developed by die hard college football fans, so we tried to present a section here that really speaks to the NCAAF fan. We urge you to bet according to odds and performance rather than betting on your alma mater for sentimental reasons or betting simply for the sake of supporting your favorite team. The objective to betting is to win money - so you need to bet with your head and not your heart.
NFL Football Betting Guide - This page of our guide is designed to provide fans with a comprehensive resource for all things NFL. You will find information about the league's structure, season predictions, odds, and which NFL betting sites are legally sanctioned options for USA players.
NFL Season Preview For 2017/2018 - Get a sneak peak at the upcoming 2017-2018 NFL season and what this year's teams have in store for us. Naturally this preview is based on pre-season information, so the season can always surprise us.
Thanksgiving Day Football Betting For USA Players - If Thanksgiving Day football is a part of your holiday weekend, then you'll enjoy this page that focuses on these specific games offering information about the participating teams, odds and where to legally bet on the games.
NCAAF Resources