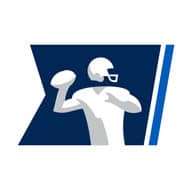 Nothing screams Americana quite like the smell of cut grass on a hot fall Saturday afternoon, cold beers, and NCAA College Football. The best way to up the stakes and enhance Saturday afternoons is to place some action on your favorite NCAAF game, and our guide to USA College Football betting can keep bettors inside the legal field of play by avoiding penalties.
Our guide will provide you with the best college football betting options, from domestic sportsbooks to online betting sites that can be accessed nearly anywhere in the United States. Our guide to college football betting has insight into the Power 5 conferences, as well as College Football Playoff and bowl game odds for which teams are favored to qualify for the NCAAF postseason.
Before you place a wager at a USA football betting site in 2022-23, take a few moments to read through our guide for the best in NCAAF wagering that the web has to offer, as well as strategies that can inform new bettors on what steps to take prior to risking any money. 
The USA's Best College Football Betting Site


Bovada Sportsbook

Bovada caters to die-hard college football fans by offering a strong selection of NCAAF betting lines, odds, props, and futures each season. Bovada Sportsbook covers teams from across the country and includes a variety of point spreads, over/under lines, parlays, live betting, and a host of additional wagering options. Bovada is accessible from your computer or mobile device and accepts some of the most popular cryptocurrencies trading today. This brand's online gambling platform also includes a casino, poker room, and racebook.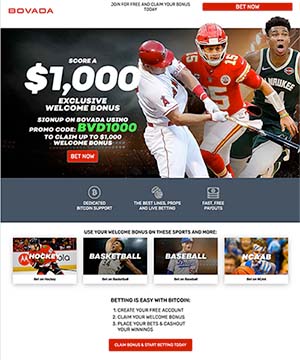 Top USA Online Sportsbooks


Offering College Football lines
Why Are These The Best College Football Betting Sites?
There are several factors that go into an elite-caliber college football betting site, but here are our top 5 reasons for picking the online sportsbooks found above.
1. Trusted - When we get down to brass tacks, the most important factor is whether you get paid for a winning bet and because each of the sportsbooks listed above have been around longer than most sites in the industry, we can confidently say that they're the safest bet you can make on NCAA football anywhere in the USA.
2. Freedom - Anyone who is at least 18 years old can sign up and bet on any of the hundreds of betting lines and prop bets that are posted ahead of each week's slate of games during the college football season. With essentially no restrictions on what can and can't be wagered on, just about anything during a contest is fair game!
3. Value - When it comes to line shopping and getting competitive odds, the college football betting sites we recommend easily take the cake. Several sportsbooks out there fill their lines with juice, but these sites prefer to squeeze out the vigorish and provide you with the best bang for your buck.
4. Bonuses - And speaking of value: Why not double your money this college football season by selecting a bonus or promotion? All the sites above cater to the rookies and veterans of the betting world by adding more money to your account, so you have more opportunities to score big during the season. Many bonuses are based on deposit matching, but there are several opportunities to stuff your bankroll with promo cash.
5. Experience - Because our recommended college football betting sites are industry leaders, they each have built an infrastructure that is made to give bettors the best user experience that you'll find anywhere. Whether your betting on college football from a computer or mobile device, before or during the game (via live/in-play wagering), the services provided by these online sportsbooks are unmatched by anyone on the Internet.
2023 NCAAF National Championship Odds
Each College Football postseason, the NCAA rolls out its final four teams to compete for the College Football Playoffs and National Championship. The latest College Football National Title Odds can be found below.

Is It Legal To Bet On NCAAF Games In The US?
Yes, it is absolutely legal to place bets on college football games as long as you are selective about where you place those bets and base your choices on complying with USA sports betting laws. Some states in the USA feature regulated domestic sportsbooks for in-person and/or online NCAAF betting. For bettors not located near a region that allows for domestic sports betting, online betting sites operating outside of the jurisdiction of the United States are legal to use and are open 24 hours a day.
The reason betting with an offshore sportsbook will not get USA bettors into any trouble is that gambling laws do not mention wagering over the net with an international website. Washington has laws that forbid all online betting, but our preferred betting sites accept members from this state. Considering all of these factors, being aware of all the information regarding sports betting in your region is the best practice.
Mobile College Football Betting
American society has been moving away from stationary devices at such a fast rate that laptops no longer seem portable. Tablets and smartphones are always nearby and offer the perfect outlet to allow for mobile sports betting. The entire sportsbook site can be accessed via an iPad, iPhone, or Android-powered device just by clicking on one of the links we've provided using a current mobile browser.
Smartphones and tablets are quickly converted into hand-held college football betting portals, with active response control that behaves like a downloadable app that doesn't require going to the Google Play or App Store. These betting applications are web-based and can be accessed quickly, all while offering premium security and data encryption. A functioning device, some money to risk, and a connection to the web are all that is needed to wager on NCAAF while on the move.
Bitcoin NCAAF Betting
Online sportsbooks are always looking to entice new members to join up and take advantage of their services, and most of the sites we recommend for college football betting prefer the use of Bitcoin (BTC) and other cryptocurrencies as a form of deposit and withdrawal. Sportsbook welcome bonus cash offers increase in value up to 3X when using Bitcoin to add funds to member's bankrolls. BTC is also the only method of withdrawal that can be completed within 24 hours of its request, while all other currencies will take a minimum of one day or more to process.
Differences Between Betting on College Football and the NFL
While similar in many ways at first glance, there are some notable differences between NFL and college football. NCAA Division I Football has 130 teams split into various conferences but the major groups (ACC, BIG TEN, BIG 12, PAC-12, SEC) are known as the Power 5 Conferences.
The NCAA recently changed Division I to allow a 4-team semifinal playoff to decide the national champion known as the College Football Playoff. The NFL is made of 32 franchises who play a 17-game season over 18 weeks.
The playoffs consist of 14 teams, 7 from the AFC and 7 from the NFC, in a single-elimination double bracket with the winner of the AFC and NFC playing for the NFL championship.
The CFP National Championship Game is similar to betting on the Super Bowl, in that both games feature extremely high ratings, high bet volumes, and feature the final two remaining teams competing for a title.
The key difference with betting on the two is college football has disparity due to the number of teams in Division I with only a handful of contenders each year.
The NFL, on the other hand, has more parity in play each week due to a salary cap and the worst teams being able to draft the best players the following season, keeping a balance and a level playing field in the process.
Why You Should Bet On College Football
In short: Betting on college football is an American tradition. This year marks the 151st anniversary of football with the first-ever game being played between Rutgers and Princeton on November 6, 1869. Rutgers beat Princeton 6-4, and you can bet that this was the first football game that had money riding on it.
Since then, many sports betting innovations - such as the invention of the point spread by Charles Kline McNeil - began with wagering on NCAA football games.
With dozens of games available each Saturday, there's a smorgasbord of choices you can make before heading out to the pregame tailgating parties. Millions of fans from around the country bleed their favorite schools' colors, but how many can turn that passion into profit?
If you think you know the in's and out's of the collegiate game, then there's no question you should dive right into betting on college football.
How Are NCAAF Conferences Structured?
In NCAA Division I football, the ACC, Big Ten, Big 12, Pac-12, and SEC make up the Power 5 Conferences and are the most competitive at the collegiate level.
Outside of these 5 conferences exist a second-tier group, which consists of the AAC, Conference USA, MAC, MWC, and SBC.
Currently, there are seven teams (Notre Dame*, Army, BYU, UConn, Liberty, UMass, New Mexico State) who are FBS Independents and do not compete in any conference.
Here is a breakdown of how each Power 5 Conference is structured:
ACC – Atlantic Coast Conference
The ACC was established in 1953 and currently has 14 members who field college football teams. Notre Dame is a member of the conference in all sports except football due to football broadcast rights with NBC. The 14 teams are split into two divisions.
Boston College Eagles
Clemson Tigers
Florida State Seminoles
Louisville Cardinals
C. State Wolfpack
Syracuse Orange
Wake Forest Demon Deacons
Duke Blue Devils
Georgia Tech Yellow Jackets
Miami Hurricanes
North Carolina Tar Heels
Pittsburgh Panthers
Virginia Cavaliers
Virginia Tech Hokies
The team with the best divisional record at the end of the season wins the division, and the winner of the Atlantic and Coastal divisions play at the end of the regular season in the ACC Championship to decide the winner of the conference.
Big Ten – Big 10 Conference
The Big Ten was established in 1896 and is the oldest Division I athletic conference in the United States. Currently, the conference has 14 members who field college football teams with the teams being split into two divisions:
Indiana Hoosiers
Maryland Terrapins
Michigan Wolverines
Michigan State Spartans
Ohio State Buckeyes
Penn State Nittany Lions
Rutgers Scarlet Knights
Illinois Fighting Illini
Iowa Hawkeyes
Minnesota Golden Gophers
Nebraska Cornhuskers
Northwestern Wildcats
Purdue Boilermakers
Wisconsin Badgers
The team with the best divisional record at the end of the season wins the division, and the winner of the East and West divisions play at the end of the regular season in the Big Ten Championship to decide the Big Ten Champion.
Big 12 – Big 12 Conference
The Big 12 Conference was established in 1994 and currently has 10 members who field college football teams. The 10 teams all play each other and are not split into divisions:
Baylor Bears
Iowa State Hawkeyes
Kansas Jayhawks
Kansas State Wildcats
Oklahoma Sooners
Oklahoma State Cowboys
TCU Horned Frogs
Texas Longhorns
Texas Tech Red Raiders
West Virginia Mountaineers
Each team plays one another during the regular season, competing in a round-robin structure with the two teams with the best conference record playing at the end of the season in the Big 12 Championship to decide the Big 12 Champion.
Pac-12 – Pacific-12 Conference
The Pac-12 Conference was founded in 1959 and currently has 12 members who field college football teams.
California Golden Bears
Oregon Ducks
Oregon State Beavers
Stanford Cardinals
Washington Huskies
Washington State Cougars
Arizona Wildcats
Arizona State Sun Devils
Colorado Buffaloes
UCLA Bruins
USC Trojans
Utah Utes
Every team plays nine conference games, five in the division and four outside the division, and the team with the best overall conference record in both the North and South division play in the Pac-12 Championship at the end of the regular season to decide the Pac-12 Champion.
SEC – Southeastern Conference
The SEC was founded in 1932 and currently has 14 members who field college football teams, which are split into two divisions:
Florida Gators
Georgia Bulldogs
Kentucky Wildcats
Missouri Tigers
South Carolina Gamecocks
Tennessee Volunteers
Vanderbilt Commodores
Alabama Crimson Tide
Arkansas Razorbacks
Auburn Tigers
LSU Tigers
Mississippi State Bulldogs
Ole Miss Rebels
Texas A&M Aggies
The team with the best divisional record at the end of the season wins the division, and the winner of the East and West divisions play at the end of the regular season in the SEC Championship to decide the winner of the conference.
Past Power 5 Conference Football Champions
Below you'll find a list of the football champions for each of the Power 5 Conferences dating back to 2014 when the College Football Playoff was established for determining a National Champion at the NCAA Division I FBS level.
ACC: Pittsburgh (2021), Clemson (2015, 2016, 2017, 2018, 2019, 2020), Florida State (2014)
Big Ten: Michigan (2021), Michigan State (2015), Ohio State (2014, 2017, 2018, 2019, 2020), Penn State (2016)
Big 12: Baylor (2021), Oklahoma (2015, 2016, 2017, 2018, 2019, 2020)
Pac-12: Utah (2021), Oregon (2014, 2019, 2020), Stanford (2015), USC (2017), Washington (2016, 2018)
SEC: LSU (2019), Alabama (2014, 2015, 2016, 2018, 2020, 2021), Georgia (2017)
*Notre Dame was selected to the CFP during the 2018-19 season after going 12-0 without a conference championship due to its status as an Independent in NCAA Division I FBS. They were also selected in 2020 to go to the CFP as a member of the ACC, although they lost the Conference Championship Game to Clemson.
College Football Playoff Selection Process
Since 2014, the CFP Selection Committee determines the four teams to put into the College Football Playoff on the Sunday following the results from Conference Championship Weekend. The committee reviews the win-loss record, head-to-head results, and general strength of schedule of every team and seeds them with No.1 playing No.4 and No.2 playing No.3.
The winner of No.1 vs. No.4 and No.2 vs. No.3 play then play in the CFP National Championship to decide the National Champion for the season.
2023 College Football Playoffs
CFP Semifinals: No. 1 vs No. 4
CFP Semifinals: No. 2 vs. No. 3
CFP National Championship Game: TBD
New 12-Team College Football Playoffs In 2024
CFP Round 1: 5 vs. 12, 6 vs. 11, 7 vs. 10, 8 vs. 9
CFP Round 2: 5/12 Winner vs. 4, 6/11 Winner vs. 3, 7/10 Winner vs. 2, 8/9 Winner vs. 1
CFP Semifinals: Top Remaining vs. Bottom Remaining, Middle Two Ranked Teams Face Off In Other Semi
CFP National Championship Game: TBD
Past College Football Playoff Results
Below you can find all of the results from the CFP Semifinals and National Championship games since the four-team knockout tournament was established in 2014.
2014-15 Champion: Ohio State Buckeyes
Semi: No.2 Oregon 59, No.3 Florida State 20
Semi: No.4 Ohio State 42, No.1 Alabama 35
NC: No.4 Ohio State 42, No.2 Oregon 20
2015-16 Champion: Alabama Crimson Tide
Semi: No.1 Clemson 37, No.4 Oklahoma 17
Semi: No.2 Alabama 38, No.3 Michigan State 0
NC: No.2 Alabama 45, No.1 Clemson 40
2016-17 Champion: Clemson Tigers
Semi: No.2 Clemson 31, No.3 Ohio State 0
Semi: No.1 Alabama 24, No.4 Washington 7
NC: No.2 Clemson 35, No.1 Alabama 31
2017-18 Champion: Alabama Crimson Tide
Semi: No.3 Georgia 54, No.2 Oklahoma 48 - OT
Semi: No.4 Alabama 24, No.1 Clemson 6
NC: No.4 Alabama 26, No.3 Georgia 23 - OT
2018-19 Champion: Clemson Tigers
Semi: No.1 Alabama 45, No.4 Oklahoma 34
Semi: No.2 Clemson 30, No.3 Notre Dame 3
NC: No.2 Clemson 44, No.1 Alabama 16
2019-20 Champion: LSU Tigers
Semi: No. 1 LSU 63, No. 4 Oklahoma 28
Semi: No. 3 Clemson 29, No. 2 Ohio State 23
NC: No. 1 LSU 42, No. 3 Clemson 25
2020-21 Champion: Alabama Crimson Tide
Semi: No. 1 Alabama 27, No. 4 Notre Dame 6
Semi: No. 2 Michigan 11, No. 3 Georgia 34
NC: Alabama 52, Ohio State 24
2021-22 Champion: Alabama Crimson Tide
Semi: No. 1 Alabama 31, No. 4 Cincinnati 14
Semi: No. 2 Clemson 28, No. 3 Ohio State 49
NC: Georgia 33, Alabama 18
2022-23 Champion: Alabama Crimson Tide
Semi: No. 1 Georgia 42, No. 4 Ohio State 41
Semi: No. 2 Michigan 45, No. 3 TCU  51
NC: Georgia 65, TCU 7
2022-23 Champion: Alabama Crimson Tide
Semi: No. 1 Michigan, No. 4 Alabama
Semi: No. 2 Washington, No. 3 Texas
NC: TBD
Additional Football Resources
NCAAF Resources