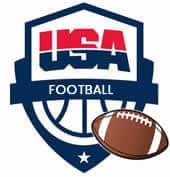 US football attracts more bets than most other leagues and accounts for a significant amount of the action in online sports betting in the US. The NFL is popular worldwide, and USA bettors rally behind their favorite teams at games, at home and in the sportsbooks. Betting on these teams is easy, but knowing a thing or two about them helps to make more informed betting decisions when engaging in USA football betting action. There are tons of betting line options including point spread bets, over/under bets, moneyline wagers and more which Americans can legally bet online.
The 2017/18 football season is shaping up to be exciting—one with the potential for some underdog champions. From a betting standpoint, the NFL provides many opportunities, which is why US football continues to be one of the most popular sports to bet on globally.
This page was created to inform American bettors where they can bet on NFL games online legally in the US and some additional things to keep in mind during this season. You will find insight into each of the major divisions as well as predictions for betting on Super Bowl 52. 
Best NFL Betting Site


For USA Players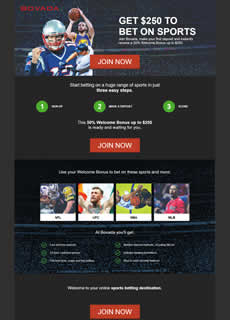 NFL football games see some of the highest levels of betting action from among all of the sports and events that are covered at any sportsbook, including Bovada. Bovada offers a robust NFL betting section that spans a wide range of betting lines and wagering options, including futures, the playoffs, the Super Bowl and the NFL Draft. You'll find prop bets, live betting, in play betting, parlays, and many other options. When it comes to NFL betting, Bovada has a comprehensive approach.
New players are eligible for Bovada's welcome bonus that offers a 50% match bonus up to $250 on your first deposit. Reload bonuses are frequently offered throughout the NFL season for return bettors. The fact that Bovada accepts Bitcoin deposits and processes Bitcoin withdrawals makes account funding extremely simple for USA residents. They welcome players from across the US, with the exception of Delaware, Maryland, New York, New Jersey and Nevada.
Leading USA Online Sportsbooks


Offering NFL Betting Lines
Is It Legal To Bet On NFL Games In The US?

There are no US federal laws that make it illegal to bet on NFL games through legally licensed offshore sportsbooks. The only state with laws that prohibit this type of betting is Washington. The complexity of the legal landscape surrounding sports betting in the United States can be enough to drive a lot of people away from this form of gambling entertainment. However, a simple and concise breakdown of the relevant gambling regulations can alleviate any confusion and reveal the legally sanctioned options available to USA residents. Sports betting is the only gambling venue that the US Government feels compelled to be completely immersed in. There are three US sports betting laws issued on a federal level that govern the US sportsbook gambling industry. These laws all pertain to US based sports betting operations, and are directed at sports gambling businesses and financial institutions, not individual bettors.
PASPA, or the Professional and Amateur Sports Protection Act prohibits brick and mortar sportsbooks or bookmakers from operating within the US, with the exception of Nevada, Delaware, Oregon and Montana. Of those four states, only Nevada offers full sportsbook betting, with Delaware offering limited parlay wagers. This law effectively prohibits any expansion of land based bookmaking throughout the US. The second law is the Federal Wire Act. This law makes it a crime to own or operate an online sportsbook within the United States. Both of these laws restricts the operation of accepting sports wagers, but has no stipulations relevant to the placing of bets either online or offline.
The UIGEA Bill places regulatory oversight on how gambling related transactions are processed. The regulatory oversight provided in this law apply only to US based banks and credit card companies, and is not applicable to individual bettors. There are no federal laws that prohibit US residents from placing bets at legally licensed and regulated offshore sportsbooks that are operating legally within the industry, such as the ones listed in this guide.
Is There any Hope That Options Will Expand In The United States For Betting On NFL Football?
United States residents are actually pretty limited as far as brick and mortar sportsbooks go. Nevada is the only state that provides full sportsbook betting in person. Delaware does offer limited sports wagering options that are restricted to NFL parlay bets. New Jersey has made an attempt to implement state regulated sportsbook gambling and was met with opposition by the major sports leagues and the nation's judicial system. Their case is currently awaiting input from SCOTUS. The outcome could set a new precedence for USA sports betting should NJ win the case. In the mean time, legislation known as the GAME Act is being discussed, a bill that would dramatically impact the sports betting market within the United States. If NJ is successful or if the GAME Act is passed, then it is quite possible that we will see an expansion of US based sports betting opportunities. Until then, American bettors who are not within close proximity to Las Vegas or Delaware can opt to legally place bets at licensed and regulated offshore sportsbooks that accept customers from the USA. The sportsbooks you see listed in this guide are all legally sanctioned destinations that offer NFL betting lines and accept residents from the US as customers. They are among the best USA online sportsbooks in the industry. We also have a page providing insight into the leading USA mobile sportsbooks as well.
How Is The NFL Structured?
The National Football League is broken up into 2 major conferences—the NFC and AFC. These conferences are then broken up into 4 divisions based on region. Below you will find a comprehensive breakdown of each division, starting with the NFC.
NFC North
The NFC North is made up of the Green Bay Packers, Minnesota Vikings, Detroit Lions and Chicago Bears. Out of these teams, the Packers and Vikings have the most realistic shot of making an impact. Green Bay is one of the best teams in the league and were in the NFC Championship game last year against the Atlanta Falcons. The Packers will most likely win the division again and clinch a Playoff berth. As for the other teams, the Vikings and Lions will be solid bets depending on who they are playing. The Bears are in the midst of a slump and will probably have a losing record again this year, meaning they would be better to bet against.
NFC South
The NFC South is the most interesting division this upcoming season. The Carolina Panthers, New Orleans Saints, Tampa Bay Buccaneers and Atlanta Falcons make up what is arguably the most competitive NFC division. The Falcons were in last year's Super Bowl and had one of the best offenses ever seen in the league. Having retained their key players, they are favorites to win the division. Meanwhile, the Bucs are on the rise and made some key signings in the offseason. If QB Jameis Winston can get his guys together, the Bucs could be a surprise contender. The Saints have underperformed in recent years and appear to be close to a rebuilding phase. The Panthers should be better than what they showed last year, especially after almost going undefeated in the 2015/16 season, so they will be a team to monitor.
NFC West
The NFC West comprises the Arizona Cardinals, LA Rams, San Francisco 49rs and Seattle Seahawks. To be honest, there isn't much to expect out of this division this year. The Rams and 49ers are both in low points and will probably not make a sharp turnaround. The Arizona Cardinals are a great team, but QB Carson Palmer and WR Larry Fitzgerald look poised to retire soon. If this is their last ride, the Cardinals may make a push to clinch their division. The Seahawks are the best team in this group by far. Their Legion of Boom defense is one of the best in the league, and their offense isn't too shabby either. Seattle is the safest option for betting on a NFC West winner; they will likely make the Playoffs too.
NFC East
The NFC East is another interesting division to watch this year. The Dallas Cowboys were one of the best teams in the league last season. Rookie sensations QB Dak Prescott and RB Ezekiel Elliot helped carry them into the postseason and most analysts have them doing so again. The New York Giants are a constant threat, but never seem to make it out of the early Playoff rounds. The Philadelphia Eagles and Washington Redskins have been non-factors for some time, but the Eagles look good on paper this year and could potentially be an underdog. For bettors, put the Cowboys at the top of your NFC East list.
AFC North
The AFC North has long been dominated by the Pittsburgh Steelers. The Steelers played in the AFC Championship last year but lost to the Patriots. You can expect them to fight for another chance at the Super Bowl, and with mostly the same roster, they have the tools to do it. The Baltimore Ravens have been in a bit of a slump, but a few offseason additions may be the catalyst needed to get this franchise back to their winning ways. Look for WR Jeremy Maclin and RB Danny Woodhead to make impacts. The Cincinnati Bengals possess a strong defense and good offensive players in WR A.J. Green and QB Andy Dalton, but something has been missing for them. It will be tough for them to beat out the Ravens and Steelers, which may seem claim 3rd in the division again. The Cleveland Browns are the worst team in the league right now and barely worth mentioning. Betting against them is like betting on the sun to shine.
AFC South
The Indianapolis Colts, Houston Texans, Tennessee Titans and Jacksonville Jaguars make up what is arguably the weakest division in the conference. The Titans and Texans have the best shot at making anything happen this year. The Colts look to be a different team without their starting QB Andrew Luck, so if he goes down again, expect them to fade away. The Jaguars haven't had a winning season in a long time. You should bet against them if you want to make the most of your money.
AFC East
The AFC East contains the New England Patriots, Miami Dolphins, Buffalo Bills and New York Jets. The Patriots are the current defending champions and undeniably the best in the division. The Patriots are the most consistent bet to make and they rarely lose more than 2 games a season. The Dolphins present the biggest threat to them, but that may change if QB Ryan Tannehill is out for the season. Meanwhile, the Bills and Jets have been struggling, the latter much more than the former. Despite any hopeful outcome from opposing fans, the Patriots are a shoe-in for division champions and probably the Super Bowl.
AFC West
The AFC West will be interesting to watch due to one team—the Las Vegas Raiders. The Raiders were the surprise of the season last year, qualifying for the Playoffs for the first time since 2002. They were Super Bowl favorites until QB Derek Carr went down. Interestingly enough, they are drawing more bets than the Patriots to win it all, despite the Patriots being favored. The LA Chargers, Kansas City Chiefs and Denver Broncos make up the other teams, but only the Chiefs should be in any sort of betting consideration.
Super Bowl LII
The Super Bowl is one of the most watched sporting events worldwide. It attracts billions of dollars in bets from around the world. It is by far the biggest US sporting event. Last year's Super Bowl proved to be very intense as the Patriots led a historic comeback win against the Falcons. Both teams are favorites to reach the Super Bowl again, but we have a different prediction. Our team of USA NFL betting experts have the Atlanta Falcons v. the Las Vegas Raiders as the Super Bowl LII matchup. With the addition of RB Marshawn Lynch, the Raiders are a formidable opponent and could dethrone the Patriots. If the Falcons played like they did last year, they won't have much competition leading up to the Super Bowl outside of Green Bay.
Interesting Football Records In The NFL
The NFL has seen its share of dominant teams and individual players over the years. From scoring records to team records and more, the NFL's history is rich. Below you find a few interesting examples of standing NFL records.
Most Touchdowns, Career
Jerry Rice, San Francisco, 1985-2000; Oakland, 2001-2004; Seattle, 2004 (208 touchdowns)
Most Touchdowns, Season
LaDainian Tomlinson, San Diego, 2001-2009; N.Y. Jets, 2010-2011 (31 touchdowns)
Most Points, Career
Morten Andersen, New Orleans, 1982-1994; Atlanta, 1995-2000; N.Y. Giants, 2001; Kansas City, 2002-2003; Minnesota, 2004; Atlanta, 2006-2007 (2,544 points)
Most Points, Season
LaDainian Tomlinson, San Diego, 2006 (186 points—31 touchdowns)
Most Rushing Yards, Career
Emmitt Smith, Dallas, 1990-2002; Arizona, 2003-2004 (18,355 yards)
Most Yards Gained, Game
Adrian Peterson, Minnesota v. San Diego, Nov. 4, 2007 (296 yards)
Most Passes Completed, Career
Brett Favre, Atlanta, 1991; Green Bay, 1992-2007; N.Y. Jets, 2008; Minnesota, 2009-2010 (6,300 completions)
Most Passes Completed, Season
Drew Brees, New Orleans, 2011 (468 passes)
Most Winningest AFC Team (Since 1970 AFL-NFL Merger)
Pittsburgh Steelers, 404 wins
Most Winningest NFC Team (Since 1970 AFL-NFL Merger)
Dallas Cowboys, 389 wins
Team With Most Super Bowl Wins
Pittsburgh Steelers, 6 Championships
Super Bowl LI by The Numbers
Not only does the NFL draw millions of viewers, but also millions worth of bets. The American Gaming Association (AGA), published a report with statistics regarding betting on Super Bowl LI between the Atlanta Falcons and the New England Patriots. These numbers reflect how prominent NFL betting is, despite the Professional and Amateur Sports Protection Act.
• $4.7 billion—total Super Bowl bets
• $132 million—illegal bets placed in Nevada
• $4.5 billion—illegal bets placed everywhere else
• 97% of all bets placed illegally
• +11%--increase in total Super Bowl bets from previous year
Betting on NFL games through licensed offshore sportsbooks is legal. The 'illegal bets' cited in this report refer to illegal brick-and-mortar bookies and unlicensed online sportsbooks.
What You May Not Know About The NFL
Not all records have to do with scoring. Some records and historical aspects stand out as interesting statistics. Below you will find a few different interesting pieces of NFL trivia.
Coldest NFL Game On Record: -13 degrees (-48 degree wind chill)—December 31, 1967, Lambeau Field, Green Bay, Wisconsin, NFL Championship (Green Bay, 21 Dallas 17)
Greatest Regular Season Comeback: From 28 points behind to win—December 7, 1980, at San Francisco (San Francisco 49ers 38—New Orleans Saints 35)
Only Team With Unbeaten Season: 1972 Miami Dolphins (went on to win Super Bowl)
Team With Most Playoff Appearances: New York Giants, 31
Most Viewed Super Bowl: Super Bowl XLVII, Feb. 3, 2013 (164,100,000 viewers)
Biggest Single-Game Attendance: August 15, 1994, Azteca Stadium, Cowboys v. Oilers, 112,376 in attendance
USA Sportsbooks Sites was created with some distinct objectives in place. 1. We wanted to provide valuable information that arms our visitors with the knowledge necessary to make an informed decisions regarding their involvement in online betting entertainment. 2. Provide access to premium, legally sanctioned online sportsbooks that deliver a high quality, secure and innovative online betting experience. 3. Provide insight on how to bet on sports legally and safely. 4. Encourage responsible gambling practices that provide enjoyable entertainment balanced with wise financial involvement.
NCAAF Football Betting Guide - Betting on college football carries a loyal following in the United States so we decided to create a comprehensive resource that provides everything you need to make informed decisions regarding your NCAA football wagers.
Thanksgiving Day Football Betting For USA Players - This page of our guide provides an inside look into Thanksgiving Day football games and the online betting options that are legally available for USA residents.
NFL Season Preview For 2017/2018 - We've got our NFL season preview for 2016/2017 posted, with a look at the leading contenders to win AFC, NFC and the super bowl.
NFL Resources