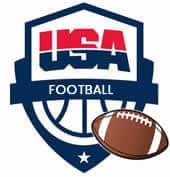 The National Football League is far and away the most popular and most bet on professional sports league in the United States. In fact, it is estimated that Americans bet nearly $6 billion on just the Super Bowl each year.
If you are interested in betting on the Super Bowl or regular-season NFL games this year, then buckle up that chinstrap because we want to plow through and stiff-arm the sketchy betting sites by providing you with only the best legal online sportsbooks available to residents in the United States.
Best NFL Betting Site


For USA Players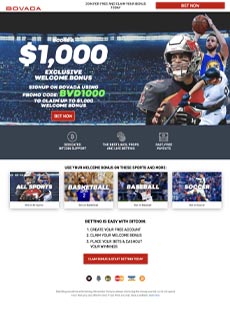 Professional football games see some of the highest levels of betting action from among all of the sports and events that are covered at any sportsbook, including Bovada. Bovada offers a robust NFL betting section that spans a wide range of betting lines and wagering options, including futures, the playoffs, the Super Bowl and the NFL Draft. You'll find prop bets, live betting, in-play betting, parlays, and many other options. When it comes to NFL betting, Bovada has a comprehensive approach.
New players are eligible for Bovada's welcome bonus that offers a 50% match bonus up to $1,000 on your first deposit. Reload bonuses are frequently offered throughout football season for return bettors. The fact that Bovada accepts Bitcoin deposits and processes Bitcoin withdrawals makes account funding extremely simple for USA residents. They welcome players from across the US, with the exception of Delaware, Maryland, New Jersey, and Nevada.
Top USA Sportsbooks


Offering NFL Betting Lines
Is it legal to bet on NFL games online in the US?

There are no federal laws in the United States that prevent residents from placing online bets on NFL games through reputable offshore sportsbooks that are operating legally within the industry.
This creates a situation where betting on NFL games with an international sportsbook does not break any rules and will not get USA-based bettors into any trouble.
Furthermore, some states have legalized domestic sportsbooks that offer mobile and online NFL betting within their respective regions. If you don't live in or near one of those states, then an offshore sportsbook site is the best option.
2021-22 NFL Betting Tutorial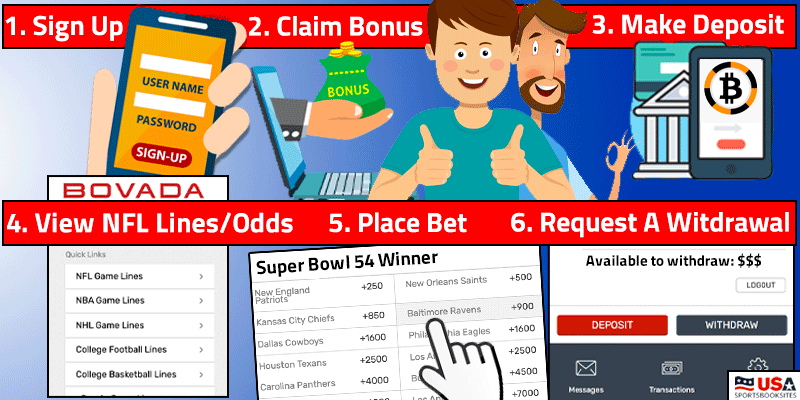 Betting on football in the United States is safe and easy to do. Just follow our walkthrough in this step-by-step guide, and you'll be betting real money on the NFL in no time. The infographic below will take you through all the steps to get started, including:
Step 1: Sign up
Visit any of the betting sites we recommend and check out the odds and lines on NFL games to see which you prefer. Once you have decided on a sportsbook, just look for the 'join now' or 'sign up' button to enter in all the required information to verify who you are on the sign-up page.
Step 2: Claim Bonus
All of the sportsbooks we recommend offer a welcome bonus.  Be sure to read the terms and conditions before you make your deposit to ensure you understand how to claim the bonus. Many premium sportsbooks also offer reload bonuses as well.
Step 3: Deposit
Determine how much you'd like to deposit and the method you'd like to use whether it be via credit/debit card, money transfer, or cryptocurrency, which is the most popular method to bet online by far.
Step 4: View NFL lines and odds
The sites we recommend offer numerous games and sports to wager money on, but for this guide, go to the sports section and then click on the football tab to see all the current NFL betting lines available and the odds displayed for each line. We do recommend that you sign up for an account at multiple sportsbooks so that you can easily shop for the best odds for any game.
Step 5: Place bet
Once you see a betting line you like, then choose the type of bet you'd like to make and look at the odds to see how much you need to wager for your desired outcome (ex. -110 means 110 units needed to win 100 units, +110 means 100 units needed to win 110 units).
Step 6: Request a withdrawal
When you win, you have two options: You can keep betting to increase your bankroll or request a withdrawal. To withdraw funds, go to your account and select the withdraw option relevant to you. Allow the sportsbooks some time to process the transaction (typically 1-3 days for non-cryptocurrency transactions depending on the site) to receive your winnings.
NFL Odds To Win Super Bowl 56
Super Bowl 55 Results
Kansas City Chiefs 9
Tampa Bay Buccaneers 31
MVP: Tom Brady
Understanding NFL Betting Lines And Odds
If you're experienced with betting, then you're probably familiar with all the different types of NFL bets you can make, but if you're a beginner, it's important to know what you're betting on before placing real money on betting lines.
Here are three examples of the most common football betting lines you'll see at an online sportsbook, and the ones we recommend wagering on to consistently increase your bankroll.
Point Spread
Teams                                 Spread (Odds)
New England Patriots         -8 (-110)
New York Jets                      +8 (-110)
The bottom team is always the home team. Negative numbers are assigned to the favorite and positive numbers are given to the underdog. In this example:
To win the NFL point spread bet on the Patriots, 110 units are needed to win 100 units, and the Patriots must win by 9 or more points.
To win a bet on the Jets, 110 units are needed to win 100 units, and the Jets can either with the game by any margin or lose by no more than 7 points.
Money Line
Teams                                     Money Line
New England Patriots         -400
New York Jets                      +300
The money line is a wager solely on which team will win the game. Only the odds are displayed, and the team with the negative number is the favorite while the team with the positive number is the underdog. In this example:
To win a bet on the Patriots, 400 units are needed to win 100 units, and the Patriots must win the game.
To win a bet on the Jets, 100 units are needed to win 300 units, and the Jets must win the game.
Total (Over/Under)
New England Patriots at New York Jets
O/U                 Total Points      (Odds)
Over               47.0                   (-105)
Under             47.0                   (-115)
For an Over/Under bet, a set number of points is given by the sportsbook, and a bet must be placed on whether the total points scored by both teams at the end of a game will go over or under the set number. In this example:
To win a bet on the Over, 105 units are needed to win 100 units, and the total points scored by both teams must be 48 points or more.
To win a bet on the Under, 115 units are needed to win 100 units, the total points scored by both teams must be 46 points or fewer.
2021-22 NFL Live Betting
Live in-game wagering is a revolution in the betting market. Traditionally, when you bet on a football game, your wagers must be submitted before the start of the contest in question.
Live betting does away with that, letting fans immerse themselves in the action by betting on straights, spreads, over/unders, and select props throughout the game as they shift in real-time.
Super Bowl props bets can be placed before and during the NFL Championship game and have no effect on the outcome of the game.
Live betting benefits everyone in the NFL equation: fans, bettors, and the league itself. Lve betting's perks include more audience engagement, higher viewership numbers, and overall better ratings.
For fans and bettors, the benefits of live betting are more specific and granular.
Benefits Of Live Betting
Get HUNDREDS of extra bets per game – Live betting adds literally hundreds of wagers to each game's docket. Because lines refresh every few minutes to reflect the action on the field, you'll never run out of opportunities to maximize your bankroll.
Hedge your bets – If you place a pre-game bet and your favored team comes out looking flatter than you'd like, you can hedge that bet by picking the other side on a live line. Sure, your original pick might still win, but a guaranteed wash is sometimes the right play.
Recoup early losses – For countless reasons, sometimes it becomes clear early in an NFL matchup that your pre-game pick isn't going to win. Live betting lets you put money on the other team so you can recoup some or all of your expected losses.
Recover from injuries – A "sure thing" might turn into a major fiasco if a key player is injured in a game. Live betting lets you make new bets on lines and odds that reflect that injury. It's like a trip to the sideline medical tent for your bankroll!
Get bigger payouts on favorites – If a pre-game favorite is -135 straight up and finds itself in an early 14-0 hole, their line might move to +165 or so. If you think they're still likely to win, you can make a lot more money betting on that outcome in-game at much longer odds.
Double down on locks – Live betting allows you to double down on good pre-game picks. If your team is favored at -3.5 and scores three unanswered TDs in the first quarter, you might decide that you should have risked more than you did at the outset. With live betting, you can!
Play the middle – Playing the middle is an advanced tactic that in-game NFL betting facilitates. Before a given game, let's say you bet on Team A at -7 to win, and they start racking up the points. Team B's odds might shift from +7 to +12.5. You can now bet on Team B to cover, and if Team A wins by 10 points, you'd win both sides of the bet!
Mobile NFL Betting
Betting on the go can be made easy by simply clicking on one the sportsbook links we've provided in this guide using a current browser on a modern iPad, iPhone, or Android device.
Your smartphone or tablet can place wagers on the NFL using touch-button control that functions just like a downloadable app, but only an up-to-date mobile browser like Opera, Safari, Google, Firefox, or Chrome.
All of the functions available of the full version of the NFL betting site can be accessed on a mobile device and all that is needed is a solid connection and a few dollars to risk.
Important 2021-2022 Dates for the National Football League
September 9, 2021 - Regular Season Begins
January 15/16, 2022 - NFL Playoffs Begin With Wild Card Weekend
January 22/23, 2022 - Divisional Round of the NFL Playoffs
January 30, 2022 - Conference Championship Games
February 6, 2022 - Pro Bowl
February 13, 2022 - Super Bowl LVI (56)
---
Additional Betting Resources
USA Sportsbooks Sites was created to provide valuable information give our visitors with the knowledge necessary to make an informed decision on where to bet legally online. It is our goal to provide only the most trusted offshore online sportsbooks to you and to encourage responsible gambling practices for all U.S. residents.
2020-2021 NFL Season Preview – Want to see how this season is shaping up? Check out our NFL preview of this season where we predict how this season with turn out for all 32 teams.
Thanksgiving Day Football Betting – Looking to place a bet on the NFL while chowing down on some turkey? Check our Thanksgiving Day previews to see the games and betting lines available this year.
Super Bowl 55 Betting Guide - Get insight and information for betting on Super Bowl 55, including the odds for who will win the Super Bowl in 2021, and a preview of what the odds have to say before this season even begins.
Madden Football Sims Betting Guide - The one-stop-shop for everything you need to know before betting on Madden simulations. Learn what factors affect the game and how to bet on the online action.
NCAAF Football Betting Guide – Do you prefer college football over the NFL? Here we run down the betting differences from college to pro that you need to know before wagering on NCAA Division I Football this season.
XFL Betting Guide - Even though the 2020 XFL season didn't really get a fair shake - the league being purchased by The Rock does give us some hope that it will be revived in the future.  Stay tuned.
---
NFL Resources