At the end of each NCAAF Season, betting on the College Football Playoffs begins, placing the top four teams as determined by the CFP Selection Committee in a two-weekend tournament to find out who will win the National Championship for that given year.
Once the final four CFP teams have been declared, football betting sites kick into full gear with game lines, futures, props, and more. This USA College Football Playoff betting guide is intended to direct prospective sports gamblers toward the best online CFP sportsbooks in business today.
Covered below are the odds to make the CFP, how they are determined, and by whom. We also detail what online sprots gamblers can expect to find when cursing their USA college football betting options, from sportsbook bonuses, mobile capabilities, and more.
The USA's Best CFP Betting Site

In the collective opinions of our review staff, Bovada is easily the #1 CFP sportsbook. Bovada Sportsbook operates legally out of a gambling jurisdiction in Costa Rica. Bovada proudly accepts USD and cryptocurrency, and features college football and CFP betting lines throughout the entire season. Bovada.LV also provides premium mobile sports betting services via their web app which can be accessed by all major Apple and Android tablets and smartphones at the age of 18 in the USA.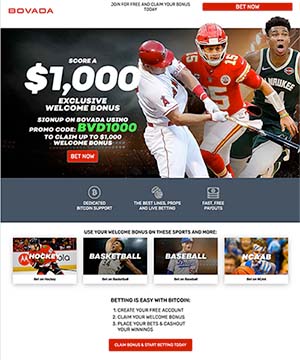 Top USA Online Sportsbooks


Offering Betting On CFP Odds
About The College Football Playoffs
The College Football Playoff system began in 2014 after years of NCAAF utilizing the Bowl Championship Series (BCS) as a way of determining which two teams would face off for the National Championship.
Each college football season around mid-October, the CFP Selection Committee meets to determine the top 25 ranked teams. These rankings are then updated by the committee each week until each of the Conference Championship Games are decided in mid-December.
The top four ranked NCAAF teams in the final top 25 will qualify for the College Football Playoffs, with the semifinal matchups consisting of #1 vs. #4 and #2 vs. #3. The winner of these two games will advance to the NCAA National Title Game and play for that season's championship.
Following the 2024-25 regular season, the CFP will expand to include 12 teams with a format that operates in the following order:
CFP First Round: #5 vs. #12, #6 vs. #11, #7 vs. #10, #8 vs. #9
CFP Second Round: 5/12 Winner vs. #4, 6/11 Winner vs. #3, 7/10 Winner vs. #2, 8/9 Winner vs. #1
CFP Semifinals: Top Remaining vs. Bottom Remaining, Middle Two Ranked Teams Face Off In Other Semi
CFP National Championship Game: TBD
2023 Betting Odds To Make The CFP
There are a few different ways that college football betting odds can be utilized to ascertain which teams will be included in the CFP at the end of the year when the committee makes their final selections.
The most obtuse methodology of determining the final four NCAAF CFP teams is by scanning the College Football Championship futures odds. While these NCAAF futures will list dozens of teams in the line, the top handful of teams should be considered as being in contention to make the final four of college football.
Another imperfect method of using college football betting odds to determine the final CFP bracket is NCAAF Conference futures. These odds place moneylines next to each team in a given conference which reveals what oddsmakers believe are their chances of finishing as the top squad among that grouping.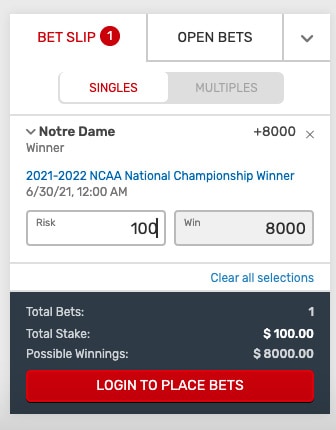 The trick is, these college football conference futures only determine the champion of said conference, and the only factions that routinely qualify for the CFP are the Southeastern Conference (SEC), Atlantic Coast Conference (ACC), and the Big Ten.
The fourth spot in the College Football Playoffs is typically rewarded to an additional SEC or ACC team, while longshots are often left on the outside looking in.
CFP Championship Prop Bets
Proposition bets, or prop bets, cover any potential occurrence during the televised broadcast of any of the three CFP games. When we say anything, we mean anything – as prop bets are only limited by the CFP oddsmakers' imaginations.
College Football Playoffs prop bets can include wagers on team or individual player statistical output, the attire of the head coaches, whether a fan will run onto the field, or if a player's girlfriend will be caught on camera during the National Anthem.
How To Bet On The CFP Online
Online NCAAF sportsbooks require signing up as a member which can be competed within minutes, especially if Bitcoin or other cryptocurrencies are used as a form of deposit (hint – BTC deposits are really fast!)
Click on one of the links we've provided in the table above and locate the join button on the home page. That button will lead new members to a page where they'll be asked to input personal data for completion of account profiles.
Once that information is entered, the following page will ask for the initial deposit and will also extend promotional offers that will match that amount and stuff bankrolls with bonus cash.  Once accounts are funded, head to the sportsbook, locate the college football section, and lay some action on CFP odds!
Current College Football Odds For 2023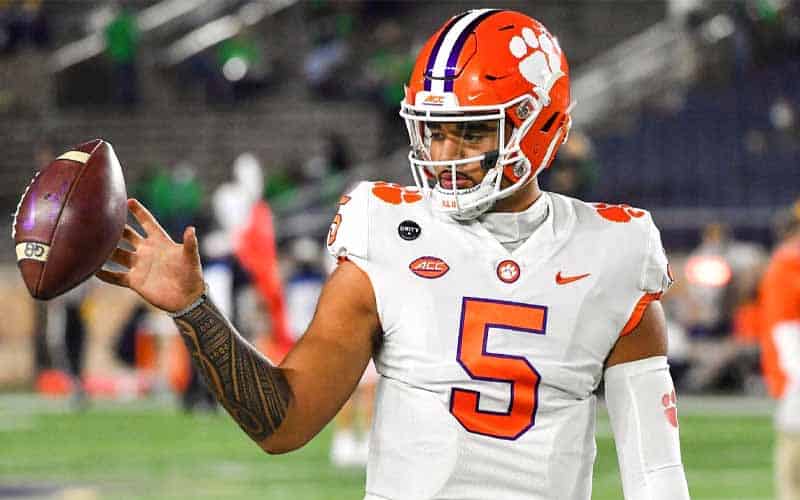 Why Are These The Best CFP Betting Sites?
Our review team has trolled the web for years seeking out the best that the Internet has to offer for online sportsbook sites, and our opinions are formed through actually becoming members and doing business with each one of them.
The best USA sportsbooks make our top list by providing prompt and accurate payouts via a large variety of banking options, and must possess a robust cybersecurity profile backed by reliable customer service.
Last but not least, these online sportsbooks must deliver worthwhile betting odds for the College Football Playoffs and other major sports, and each and every one of the websites we promote on this page place a priority on NCAAF playoff odds.
Is It Legal To Bet CFP National Championship Odds In The USA?
Yes. Many states across the USA have opted-in on regulating their own domestic sportsbooks and CFP betting lines are the dominating factor no matter whey you try and place a wager.
While not all US States allow domestic sports betting, offshore sportsbooks are able to serve every state in the USA* without violating any federal or regional gambling laws.
*Washington state has passed laws prohibiting all online gaming, but those laws remain unenforced. Furthermore, the sportsbook sites we recommend accept members from WA.
Mobile CFP Betting Apps
The final three games of the college football season are cause for celebration, and that often results in bettors heading out to watch parties, sports bars, and other festive environments that occur outside of the home.
That's where the USA's best mobile sportsbook applications that we endorse for betting on the CFP can sub-in and deliver a hail-Mary pass that drops right into your hands, as they can be used to place wagers on College Football Playoff odds from anywhere sports gamblers choose.
Unlike domestic books, these mobile CFP sportsbook apps do not need to be downloaded and can be accessed by clicking on any of the links we've provided on this page using a current smartphone or tablet (iPhone, iPad, Android).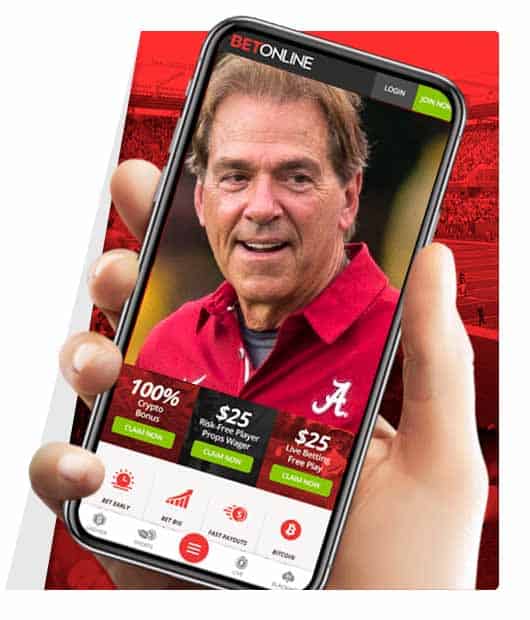 Banking Options For Betting On NCAA CFP Odds
Cryptocurrency and Bitcoin (BTC) are our top options for funding sportsbook accounts when betting on the CFP, and for good reason. BTC and crypto transactions complete in minutes and don't feature the same wait times as USD options.
The same can be said for BTC banking methods when withdrawing funds, as cryptocurrency is the only sub-24-hour technique to secure your cash winnings earned by betting on the CFP. US Dollar withdrawals will take at least 48 hours to process if not more.
Deposit Methods: Credit & Debit Cards, Wire Transfers, Cashier's Checks, Vouchers, Money Transfers, Zelle, Cryptocurrency (Bitcoin, Bitcoin Cash, Litecoin, Ripple, Tether, Cardano, Stellar).
Withdrawal Methods: Wire Transfer, Vouchers, Cryptocurrency
Live Betting Odds For The CFP
Wagers can be placed on the CFP while the game clock is running using the live betting odds offered by our finest offshore sportsbook sites that serve the United States. Live odds on the College Football Playoffs and the National Championship Game update as each contest proceeds with updated lines until the clock hits zero.
These live NCAAF odds allow for sports gamblers to set their own bet schedule and lay some action on the CFP at the time of each member's choosing.
Bonus Cash Promos
New and existing members at CFP sportsbook sites can choose to accept bonus cash dollars when making the first or additional deposits into online betting accounts. While these promotional offers are not required to become a member, they can add extra betting cash to user's accounts for betting on CFP games.
Members will need to check for any attached conditions of the sportsbook bonus as they often require extended betting periods before withdrawals can be made on wagers using promo cash.
Differences Between Betting On The NFL Playoffs & CFP Odds
There are several major differences between NFL Playoff betting and wagering on the College Football Playoff odds produced each winter. Here are a few that football bettors should take note of.
14 pro football teams compete for a trip to the Super Bowl and the chance to hoist a Lombardi Trophy following the NFL Playoffs each year, while the CFP only provides for the top four NCAAF teams to take a shot at a title – three game lines total.
The CFP takes place over the course of two weekends while the NFL Playoffs lasts for five weeks when including the Pro Bowl between the conference championship games and the Super Bowl.
NFL Teams must earn their way into the postseason by battling other franchises and earning a win-loss record that qualifies them for advancement. The final four NCAAF teams that make it to the College Football Playoff each year are chosen by the CFP Selection Committee.
In the NFL Playoffs, teams will have likely played each other earlier in the season providing for crucial data for oddsmakers and bettors. Because college football schedules are so conference-focused, oftentimes, CFP opponents are playing each other for the first time.
The Super Bowl inspires more prop bets than any other single sporting contest on the calendar each year. Although the NCAA College Football National Title Game produces loads of proposition bets for the big game, it doesn't compare to the Super Bowl – nothing does.
Past CFP National Champions
2022 – Georgia
2021 - Georgia
2020 – Alabama
2019 – LSU
2018 – Clemson
2017 – Alabama
2016 – Clemson
2015 – Alabama
2014 - Ohio State
Most All-Time NCAAF National Championships
Alabama - 13
Notre Dame - 8
Oklahoma - 7
USC - 7
Ohio State - 6
Miami (FL) - 5
Nebraska - 5
LSU - 4
Texas - 4
Minnesota - 4