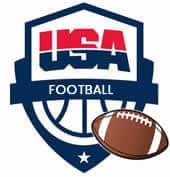 Betting on NFL Playoff odds isn't easy because projection models that worked during the regular season tend to differ in the postseason. In addition to looking at the current NFL Playoff picture, we'll offer some strategies to help you adapt to the postseason when wagering at the best NFL betting sites.
We also want to provide you with our list of the best legal USA sportsbook sites for betting on football. Postseason football betting is an entirely different beast to try and tackle, but we will give you the playbook on how to profit when risking your bankroll on the odds placed on the 2023-24 NFL Playoffs, and we'll also help you deliver a forearm shiver to sportsbooks by detailing the most common NFL bet types.
The USA's Best NFL Playoffs Betting Site

Bovada is an industry leader that has been servicing the USA for over a decade. They have built a trusted reputation among US sports bettors and offer a service that is valued by many seasoned professionals around the world.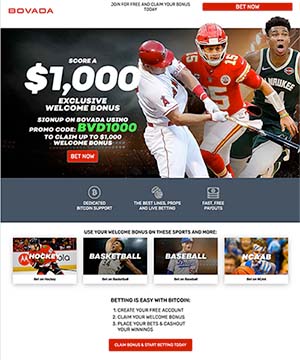 Top USA Sportsbook Sites


Offering NFL Playoffs Odds
Is It Legal To Bet On The NFL Playoffs Online?
In the United States, there is no federal law that prevents you from using an online sportsbook that is operating legally within the industry and located outside of the country.
The NFL betting sites we recommend for NFL Playoff odds all fit this description and have been the most trusted sportsbooks in the industry for decades. When it comes to betting online at domestic sportsbooks, legal wagering options are sparse and only available in a few states.
---
2023-2024 NFL Playoff Bracket
Below is how the NFL Playoff bracket stacked up last year, with a jam-packed opening weekend featuring six total games. We'll update the 2023-24 NFL Playoff bracket below once all 14 teams qualify.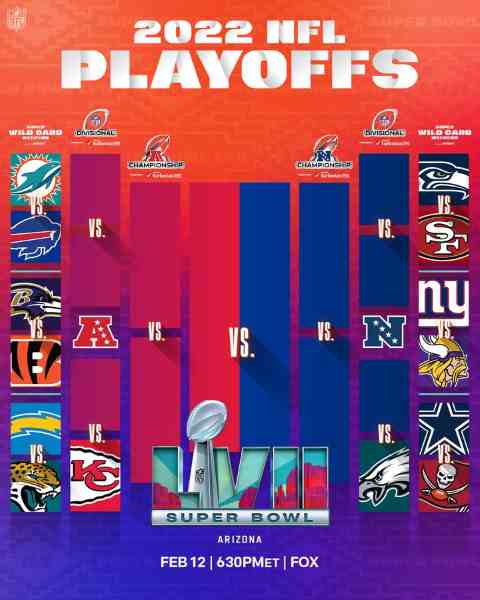 2023-2024 NFL Division Odds
The one sure way to make the NFL Playoffs is to win your division and secure one of the top four seeds in each conference.
NFL betting sites feature preseason odds on which team will win each division for bettors looking to get in on the action and take advantage of the higher payouts that long-term wagers allow for.
Two Extra Wild Card Teams Added In 2021
An extra wild card team was added to the playoff bracket in the AFC and NFC in 2021, creating a six-game wild card weekend and allowing room for only the first-seeded team to earn a bye week in the playoffs.
That's two extra game lines on the playoffs' first weekend and places a lot more emphasis on teams competing for the first-place position in each conference.
NFL Playoff Betting Guide – Tips and Strategies
Playoff football is one of the most intense events in all of sports and pits the best NFL teams and players against each other. Change is necessary because the margin for error is razor-thin due to the amount of talent on the field for any play. Here are some things to help you adapt your bets for the NFL Playoffs.
NFL Playoff Betting Apps
Apple and Android smartphones and tablets can access all the latest NFL Playoff betting lines by clicking on any football sportsbook link we've included on this page. No download is required to bet the NFL Playoff odds on your iPhone - all that is needed is a current mobile browser and a connection to the web via Wi-Fi or cell.
The entire online NFL sportsbook desktop site is accessible via mobile betting sites on handheld web-ready gadgets from anywhere in the USA, and if you're lucky, you might even find a mobile sportsbook promo code for bonus cash.
Live NFL Playoff Betting Odds
Once each NFL Playoff game begins, the betting doesn't end because there are live NFL odds for in-game wagering at each of the online sportsbooks we recommend. You can bet on NFL Playoff games from the opening kickoff through the fourth quarter, but odds can be taken off the boards at any time.
NFL Playoff Prop Bets
Just like during the regular season, the NFL prop bets continue throughout the playoffs for each round. Nothing is off limits when it comes to NFL prop bets and odds that are produced by bookmakers. All that is required is a result that can be tracked within an NFL Playoff game television broadcast for the production of odds.
Should I Accept An NFL Playoff Sportsbook Bonus?
Accepting an NFL betting promo cash offer is entirely up to the member. There are terms that should be read through and considered before entertaining a sportsbook bonus offer. As long as you can meet the requirements, then accepting the free cash for NFL Playoff betting is a no-brainer.
Funding Your NFL Playoff Bets
The offshore NFL sportsbooks that have earned a spot on our list of recommendations are unique in that they not only accept USD deposits but also allow for accounts to be funded using the most popular cryptocurrencies on the market today.
Bitcoin payouts and withdrawals are a requisite for any NFL Playoff betting site that we visit, and every sportsbook listed on this page is BTC-friendly. Cryptocurrency betting features the fastest and most secure transaction times, and in most cases, there are no additional fees attached.