If you want to bet on a winner or a loser in the pro football, moneyline odds are the NFL bet type of choice. Just pick the NFL team, player, or outcome you think is going to win, lay some action on it, and wait for the results to come in. Online betting on NFL moneyline odds in the USA brings in as much or more action than any other wagering activity, and we're here to show readers the ins and outs of what they entail.
If you are new to betting on the NFL, moneyline odds are some of the easiest to understand and partake in with little experience required. What you must arm yourself with is the knowledge of how to wager on NFL moneyline bets online safely and legally where you live, and our playbook has got gamblers covered there as well.
The USA's Best NFL Betting Site

The best site in business today that offers legal football betting in the USA on NFL moneyline odds is Bovada. They offer the most safe and secure online sportsbook services available and back it up with 24/7/365 customer service. Outside of NFL odds, they offer lines on all major professional and collegiate sports, filling their boards with exponentially more betting options than one will encounter at a domestic book. Bovada has famously never missed a payout during its many years of successful operation, and their banking section allows for the latest methodologies for depositing and withdrawing winnings, including cryptocurrency and the US Dollar.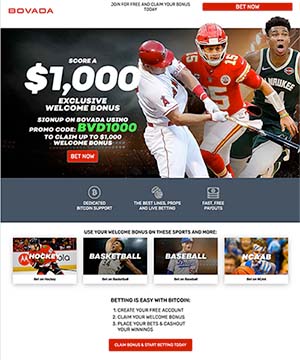 Best Online Sportsbooks


For NFL Moneyline Odds
What Is A Moneyline Bet In Football?
Betting on NFL moneyline odds at USA sportsbook sites allows for wagers to be placed on which team will win the game, or which team, player, or coach will win the pro football bet that they are included in as an option.
When betting on football game lines, NFL point spreads, moneylines, and over/unders are the three wagering options that will always be included. The NFL moneyline odds are the positive or negative three digit numbers placed in between the spread and the total.
NFL prop bets are also made up of contenders with moneyline odds placed next to their names that indicate their overall chances of winning set by oddsmakers and also lets gamblers know how much money can be won by wagering on them.
Prop bets in pro football typically include several options to lay action on, but can also contain as few as one team, player, or outcome to bet on. Wagering on any postseason-based prop bet moneylines also qualifies as betting on the NFL Playoffs.
How To Read NFL Moneyline Odds
Below is an example of a standard NFL game line. The three-digit numbers placed in the column between the point spread and the over/under contains the NFL moneyline odds for each team.

The Tampa Bay Buccaneers are favored to win with a negative moneyline of -300. A $3 bet on the Buccaneers to win the game outright against the Cowboys will earn $1 because online sportsbooks aren't willing to risk much on the near-certain prospect of a Tampa Bay victory.
A bet on the Dallas Cowboys will reward more than the amount wagered on their +250 NFL moneyline because of their unlikely chances of beating the Buccaneers. If Dallas wins, $1 bets on their Vegas money line NFL odds will pay happy sports gamblers $2.50.
Another option for betting on pro football moneylines is to wager on NFL futures odds. Below is an example of NFC East Division future odds that predict the overall winning team.

The above NFL money line lists each of the NFC East teams from first to worst in order of the odds. When so few options are offered, the favored team or player is typically listed with a negative moneyline.
The NFC East is expected to be competitive, and $1 bets made on their NFL moneyline predictions will award as follows: Dallas Cowboys $1.15, Washington Football Team $2.50, New York Giants $4.50, Philadelphia Eagles $5.00.
Another selection available for NFL moneyline betting are football prop bets for statistical achievements, superlative awards, or any other outcome oddsmakers believe will attract enough action. Below is an example of a free agent moneyline available for NFL prop bets.

The New Orleans Saints have a -1100 moneyline laid on their chances of securing wide receiver Michael Thomas's services beyond the 2021 NFL trade deadline, and because his chances are so certain, it'll take an $11 bet to earn a buck.
Literally any outcome can be included in an NFL prop bet imaginable, with moneyline odds placed next to an endless potential of victors. The most popular NFL futures are the Super Bowl betting odds that receive action for the entire calendar year and allow for wagers on the moneylines for each team until they are eliminated from postseason contention.
How To Bet On NFL Moneylines Online In The US
Before beginning to bet on an NFL moneyline with one of our best USA sportsbook sites that we review, we suggest becoming a member with more than one of them. The reason is simple. It allows customers to go line shopping for the best NFL moneyline odds available and can earn a higher payout for the same wager.
Becoming a member with an NFL sportsbook site is easy. Just click on the online sportsbook links above and locate the join or sign-up icon at the top of the homepage. Enter the requested information to complete your account profile and follow the prompt to go to the sportsbook banking options page.
Before finalizing your sportsbook deposit with cryptocurrency or USD, consider the many bonuses available that will match a portion of your total. Once your bankroll is funded, locate the sportsbook and find the NFL tab. Inside will be a wealth of NFL moneyline bets and other pro football betting options at your disposal.
Live Betting On NFL Moneylines
Live NFL betting at our preferred online USA sports betting sites place a premium on user experience. With that in mind, they allow for bets to be made on NFL moneylines while the game is in progress by offering live betting odds that update as time ticks off the clock.
No matter what the reason, wager on the NFL and their moneyline odds when it suits you using their live betting odds. Most online NFL sportsbooks place their live football lines on the main page, but others may require navigating to a "live" section via a tab or a button.
USA Mobile NFL Moneyline Betting Apps
Everyone is on the go these days and majority of online traffic at offshore NFL sportsbook sites is sourced from mobile devices. That's why the online NFL betting sites that we include in our top-rated list must offer solid and secure mobile sportsbook services, and each one linked to in the table above delivers on all counts.
By clicking on any of the NFL sportsbooks on this page using a popular mobile device (Apple, Samsung, LG, Motorola), bettors can access the best pro football moneylines available from anywhere that they choose. Use your iPhone, iPad, or other popular smartphone or device to click through to any of the mobile NFL sportsbooks in this guide to see what we mean.
USA NFL Moneyline Betting FAQs
When an NFL game ends in a tie, the result is a push and all bets are refunded. There is the possibility of some books keeping the juice portion of the NFL moneyline bet so check the terms and conditions with each to be certain.
The most tempting element of NFL moneyline odds are the underdogs and the exponential profits they can provide when they come through with an unlikely victory. Our best NFL moneyline bet advice we can give is to temper expectations on extreme underdogs and to only dedicate a small percentage of your sports betting bankroll to them.
Yes. A few US states feature NFL moneyline betting venues that allow for 18 and over customers. In almost every state in the country, 18 and over sports bettors can access offshore NFL sportsbook sites and wager on pro football moneyline odds from laptops, PCs, iPhones, iPads, and other popular Internet-ready devices.
The beauty of NFL moneyline bets is that they are simple. Select the team or player you think will win and once they appear in the betting slip, insert the amount you'd like to wager on them and review the payout calculation. If the moneyline odds you bet on win, you win the bet and the cash payout. If the NFL moneyline bet fails, all wagers are lost.