NFL parlay picks are some of the most enticing NFL bet types available at online sports betting sites because when two or more wagers are combined into one, the odds escalate and so do the payouts. USA NFL parlay betting can be done legally, and the following sections outline the process on how American gamblers can get in the game at online National Football League sportsbooks in the United States.
We also provide our top USA online sports betting site reviews that we recommend for NFL parlay odds, and we tackle the process of joining up and preparing new members for their very first online wager. Don't make an online NFL parlay bet without reading through this guide first.
The USA's Best NFL Betting Site

We don't limit ourselves to just one sports betting site when it comes to making NFL parlay picks, but we do most of our business with Bovada Sportsbook because they treat the customer with class. They roll out the red carpet for their users by offering bonus cash offers and cryptocurrency banking options so that NFL parlay bets can be made at the customer's convenience at any hour of the day. Bovada has been in consistent operation since 2011 and is based out of the legal gaming jurisdiction of Costa Rica. They've never missed a payout, and continue to be the best option for online sportsbook services in the USA.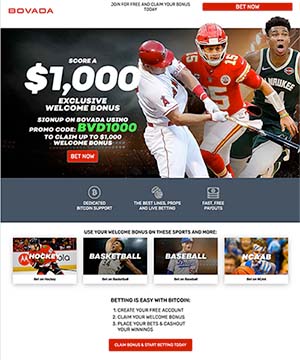 Best USA Sports Betting Sites


For NFL Parlay Odds
What Is An NFL Parlay?
A parlay is when two or more wagers are combined into a single bet.  Combining multiple NFL bets into one lowers the odds of winning, and thus, raises the potential payout. Any combination of more than one NFL wager, no matter what type of football bet is included, qualifies as a parlay.
All wagers inside an NFL parlay must win or the entire bet fails, making it a high-risk, high-reward situation. Because of the high dollar amounts that come with hitting a parlay, they are one of the most popular options at USA football betting sites.
How To Bet NFL Parlays
First, NFL betting lines need to be browsed at online USA sports betting sites so that parlay options can be considered. Point spreads, NFL moneyline odds, and the over/under can be included in football parlay bets, and each online sports betting site can opt for what they will and will not allow.
Once the first odds are selected, a bet slip will populate. Simply select other components that you'd like to include and watch as the bet slip not only updates, but also acts as an NFL parlay calculator. As each NFL betting option is added to the parlay, the odd will recalculate.
Most online sportsbooks allow for between 2 and 10 NFL bets to be included into a parlay, so check out each one we promote here on this page to see which one works best for you. NFL prop bets are also an option for football parlays, but some sites only allow for single wagers on propositions.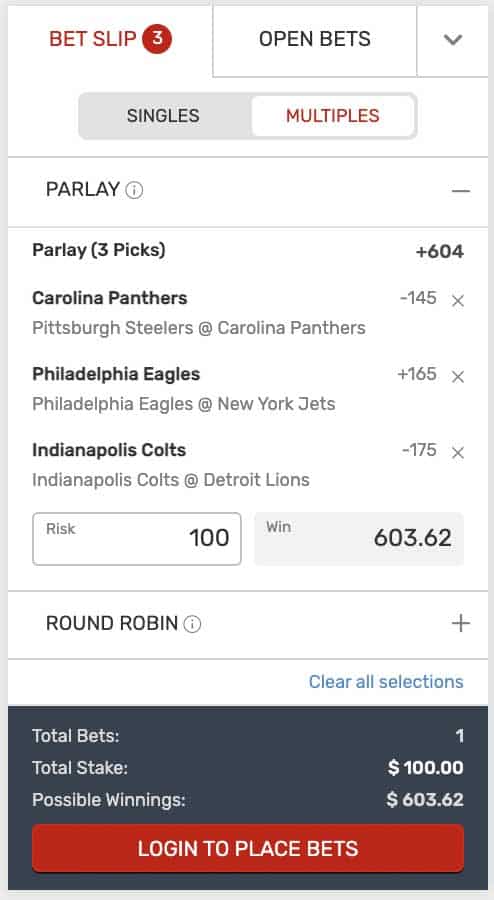 How To Bet On NFL Parlays Online In The USA
All that is needed to join up and place an NFL parlay bet with any of our top-rated USA sports betting sites is a minimum age of 18, an internet ready device, and some money to wager with. Here's how to get started.
Select the NFL betting sites you want to join and find the join or signup icon located at the top of the main page.
Fill out your account data, and once entered, new members will be asked to make their first sportsbook deposit using cryptocurrency or USD.
Once accounts are funded, new clientele can create an NFL parlay bet in the football section of the online sportsbook.
Live Betting On NFL Parlay Odds
Most of the online sportsbooks featured in this guide allow for live NFL betting odds that permit wagers to be placed on NFL games while they are in-play. No matter what quarter it is, live NFL bets can be made on the point spread, moneyline odds, and more.
Some, but not all, of the online books we suggest for USA NFL gamblers will allow for football parlays using live odds. Check with each prior to committing to making a live NFL parlay bet. Live betting lines on NFL games are usually in the center column of the site upon entering the sportsbook section.
Super Bowl Parlays
Each February, more eyes are drawn to the Super Bowl than any other single sporting event on the planet. Super Bowl betting sites produce futures odds for year-round wagering on NFL champions, but not all of them allow for parlays on prop bets.
Once the winners of the AFC and NFC have advanced to the final game of year, sportsbooks will allow for NFL parlays to be created on Super Bowl betting lines that include the spread, total, and moneyline. Each site will differ on whether they allow for NFL parlays to be created combining Super Bowl prop bets, so it may take trying to add them to your bet slip to find out.
The USA's Best NFL Parlay Betting Apps
Folks that like to use their mobile phones and tablets to make a parlay bet on an NFL game are in luck because the sportsbooks we rank at the top don't even need a download for the combination wagering to begin.
Just click on any of the links using a popular smartphone or tablet and NFL parlays can be created at will from anywhere with a solid Wi-Fi or cellular connection to the web. Click on any of the NFL sports betting links on this page to transform your handheld device into a mecca for USA mobile sports betting.
Online NFL Parlay Betting FAQs