In the football betting market, NFL proposition bets are one of the foundations of the pastime's popularity. Though the majority of money wagered on the NFL is placed on standard betting lines, props are a way for fans to dig deeper and put their cash on all kinds of different in-game situations and outcomes. For millions of NFL bettors, prop betting makes the sport much more engaging and immersive.
In the NFL, prop bets are broken down into four main categories: player props, team props, game props, and broadcast props. For those just getting started betting on professional football, we discuss each of these categories below. We also explain how to understand and wager on props, and we discuss which online sportsbooks are the safest and best destinations to enjoy the activity. If that sounds like a good proposal, read on!
The USA's Best NFL Betting Site

One of the biggest ways that the top US sportsbook sites stand out from the competition is in the sheer number of props they offer. Bovada has more than most, and the NFL is where the service really shows its edge. At Bovada, you'll get upwards of 50 prop bets for every NFL game on the calendar, with even more offered for marquee matchups and primetime tilts. Bovada is also one of the most reputable betting sites on the Internet. Operating out of a well-respected jurisdiction in Costa Rica, Bovada is famous for its dedication to fair play, guaranteed payouts, and 24/7 customer service.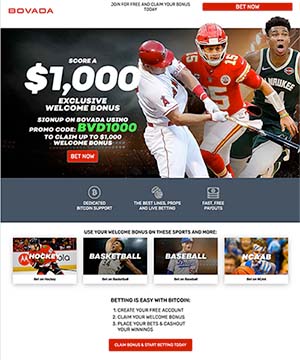 Our Top Rated


USA Sportsbooks For NFL Prop Bets
The sportsbooks listed below are the best legal options for US players looking to enjoy a great selection of NFL bet types including prop betting options. These sites have been vetted by our team of industry professionals and determined to be the best destinations for US bettors. Each of the following sites has state of the art security measures in place, offers generous welcome bonus offers, provides multiple betting options, and has tons of betting lines for US sports. There is no obligation to sign up and if you want more detailed information follow the link below to our full-page review.
What Are NFL Prop Bets?
Prop bets take action on occurrences in NFL games and over the course of the season that are not wagered on within standard betting lines or futures. Player/team stat totals, over/under, and superlative odds are a major component of NFL props, but lines can take wagers on anything that is trackable in-game.
Common Types Of NFL Props
There are four categories of NFL prop bets: the player prop, team prop, game prop, and broadcast prop. The following list explains what you can expect from each type:
NFL Player Props – These props are based on the statistical performances of individual players. Examples include odds on how many TDs a quarterback will throw, how many rushing yards a running back will gain, or how many receptions a wide receiver will haul in.
NFL Team Props – Team props are akin to the above, but they're based on the statistical performances of entire squads. The number of sacks a defense produces or the number of first downs an offense accumulates are examples of NFL team propositions.
NFL Game Props – Game props are typically reserved for the bigger contests on the schedule. The most popular NFL game prop bet is probably the Super Bowl coin toss, where bettors can wager on whether the flip comes up heads or tails.
NFL Broadcast Props – Broadcast props are only found in the biggest games of all, like AFC/NFC championships and the Super Bowl. These can include odds on many disparate things, like the color of the halftime performer's sneakers, how many times the announcers say a coach's nickname, or how many beer ads run during the broadcast.
How To Read NFL Prop Bets
NFL proposition bets generally come in one of three forms: the over/under prop, the yes/no prop, and the multiple-choice prop. The following are basic examples of the kinds of NFL props to expect at offshore sportsbooks:
Patrick Mahomes Total Passing TDs vs. Green Bay Packers: O/U 2.5 (-110)
Will Odell Beckham, Jr. score Cleveland Browns' first TD vs. New England Patriots? Yes (-115), No (-105)
New Orleans Saints vs. Los Angeles Rams - Player with most yards from scrimmage: Alvin Kamara (-110), Ted Ginn, Jr. (+105), Todd Gurley II (-140), Robert Woods (-125)
Regular Season NFL Props
Regular season NFL props are available but fairly limited, with most books offering 20-30 different bets. For marquee matchups/rivalries or primetime events like Monday Night Football, you may find up to 50 or so propositions at the best sports betting sites.
Postseason NFL Props
Props pick up big time in the NFL playoffs. Because of the increased fan and bettor attention on each game, sportsbooks will publish upwards of 100 different postseason NFL props, with more bets available the deeper the playoffs go.
Super Bowl Props
The Super Bowl is the biggest single gambling event on earth, so it's no surprise that sportsbooks offer hundreds of different props covering every aspect of the big game. You can expect to find 500+ Super Bowl props at any reputable NFL sports betting site.
NFL Draft Prop Bets
Who will be the first overall pick and NFL odds for the number of positional players that will be selected in the first round are just two examples of prop bets that are produced for each year's NFL Draft. Props for the usually appear after the Super Bowl.
State-Licensed vs. Offshore NFL Prop Bets
In US states that have legal sports betting, football props are as popular as ever. But compared to offshore NFL sportsbooks, their options are surprisingly limited. That's because domestic books are actually disallowed from offering certain types of NFL prop bets.
State-based betting sites are usually only to allow wagers on events that happen "on the field" or "between the lines," so betting on things like the length of the national anthem or the color of the winning coach's drink bath is not allowed. At offshore books, though, the sky's the limit – you might even find props on the Goodyear Blimp!
Live In-Game NFL Props
Live betting is the newest, most immersive way to wager on football. Traditionally, NFL betting has required you to submit your picks before a given contest. But with NFL live betting, you can place your bets throughout games as they're being played in real-time!
Most in-game betting is based on the standard lines you're used to (NFL spreads, straights, totals, etc.), but live NFL props are also available. These allow you to put money on player and team performances in accordance with the ebb and flow of the game. And since bets are graded and credited instantly, you never have to wait before risking your winnings on the next set of refreshed live odds.
Prop Builder Apps
Have you ever struggled to power through the massive amounts of prop bets offered each week in the NFL? Many of our top NFL betting sites now provide prop builders so that all the team and player-based propositions can be scoured, parlayed, and gambled upon within a single screen.
These prop builders come in especially helpful with the Super Bowl rolls around each year as it keeps us from having to navigate several pages just to find the NFL odds we're after.
Mobile NFL Prop Betting
NFL prop betting is lots of fun, but there's also a lot to sort through. Additionally, proposition bets tend to be added to the football betting boards in bunches as gameday approaches. Thanks to mobile NFL prop wagering, though, that's easy enough to handle. As long as you've got a smartphone (iPhone, Android, etc.) or an Internet-connected tablet, you can stay up-to-the-minute on all available props and submit your betting slip in a few taps or swipes. USA mobile sports betting apps have made betting on NFL props ultra-convenient.
In the growing number of states with legal sports betting, yes. However, no matter where you live in the US, you can sign up at offshore betting sites, which are considered "unregulated." Note: Washington is the only state where all online betting – including NFL prop betting – is explicitly illegal, although the law is largely unenforced. In WA, you can use offshore betting sites, but you do so at your own risk.
If you stick with one of our recommended sportsbooks, NFL prop betting is very safe. We've never heard of anyone being fined or arrested just for placing proposition wagers online, and all the top books employ state-of-the-art security standards and data security measures. For even greater personal and financial protection, we recommended using Bitcoin or another supported cryptocurrency.
The more bets a sportsbook offers on a given event, the more liability it carries. Too many winners and a book can find itself in the red. So when it comes to NFL props, the betting limits are often lower compared to standard game lines. At Bovada, for example, the wager limit on an NFL spread bet is $5000, while NFL game props are capped at $1000 and player props are capped at $500.
Shopping lines is one of the best ways to maximize your bankroll, and you should do it whenever you can. That said, you're likely to find less of a site-to-site price difference on NFL props than you will on standard betting lines.
Each USA sports betting site will have its own selection of NFL props, though the options will usually be similar across competing books. Still, there are bound to be options unique to a given site, so you'll want to check out several different operators to see which one offers the most attractive props for your style of play.
When the NFL opening lines are first posted on Monday mornings during the regular season, there usually aren't many attached props. However, as the week progresses, more proposition bets will populate the odds boards. In most cases, the prop selection is finalized either the night before a given game or on gameday in the hours before kickoff.
Professional sports bettors will occasionally place NFL prop bets, but these are not moneymakers for them. The betting limits are too low, and there are usually too many options to find a profitable pattern. Prop bets are so popular for casual bettors because they're just plain fun, not because they're the best way to make money betting on the NFL.