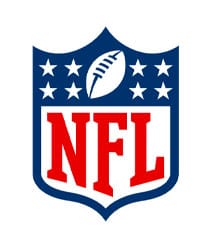 With the sheer volume of people betting on NFL football in the US, it's not surprising that sportsbooks offer a huge variety of NFL wager types on any given Sunday. As a result, there is a bit of a learning curve when it comes to the pastime. But once you tackle the basics, you should have no problem sorting out a winning game plan.
The most prominent and common NFL bet varieties are listed below. In order to make informed wagers at your US sportsbook(s) of choice, you'll need to know the difference between straights and exotics, how to read the American moneyline and understand spreads, straight-up bets, totals, props, and parlays. Here we introduce these concepts so you can bet on the NFL with confidence!
Best Online Sportsbook Offering Numerous Bet Types For NFL Games

Since 2011, Bovada has built a solid reputation among avid online NFL bettors. Today they have developed into the most convenient and trusted online pro football sportsbook available to US bettors.
Bovada offers new users generous signup bonuses with an easy-to-use interface for desktop or mobile betting. Bovada is also known for its US-friendly banking options, fast payouts, and multiple gambling platforms under one account.
Claim up to $1,000 in free bonus money when you make your first real money deposit at Bovada.
Top Rated US Online Sportsbooks To Bet On NFL Games Legally In 2023
Different Types Of NFL Bets Offered In 2023
Straight Bets Vs. Exotic Bets
There are two primary classes of NFL bet types: the straight wager and the exotic wager. Straights – not to be confused with straight-up bets (more on that in a moment) – are individual wagers. That is, a straight bet is a single bet on a single event. Exotics, on the other hand, are parlay bets. These are also called chain bets, and they allow you to assemble multiple NFL bets into a single wager.
How To Read NFL Betting Lines
You can't read an NFL bet without understanding the American moneyline system. In the US, the moneyline is how wagers are priced. The moneyline will most often follow each bet in parentheses, and it will be a negative or positive number.
A negative moneyline number shows how much money you need to wager to win $100, while a positive moneyline number shows how much you stand to win on a $100 bet. These amounts are not wagered minimums, either, instead of showing the ratio of risk to reward. Whether you bet $1 or $100,000, your winnings are determined by the moneyline ratio.
The Moneyline Bet
Example: Kansas City Chiefs -220 at Green Bay Packers +165
NFL moneyline bets are also called "straight" bets. When betting straight-up on an NFL game, the moneyline shows not only the price of the wager, but it also represents the odds for each team to win outright. In the example above, a $220 bet on the favored Chiefs pays out $100, while a $100 bet on the underdog packers pays out $165.
The more heavily a team is favored, the bigger their negative moneyline number will be. Conversely, the bigger the underdog a team is, the bigger their positive moneyline number will be.
The Point Spread Bet
Example: Los Angeles Chargers -9.5 (-110) at Miami Dolphins +9.5 (-110)
NFL point spread bets are a way to handicap favorites so that bettors are enticed to put money on either side of a given bet. Favorites "give" a certain number of points to the underdog, making an otherwise lopsided contest more enticing to wager on. Favorites will always have a negative spread number, while underdogs will always have a positive spread number.
If you bet on the Chargers in the above example, they have to beat the Dolphins by at least 10 points for your wager to win. If you bet on the Dolphins, they can lose the game by up to 9 points and still payout as a winner. The moneyline, or price of the bet, is included in parentheses.
The Over/Under Bet
Example: Los Angeles Rams at Cleveland Browns O/U 46.5 (-110)
NFL over/under bets – also called totals bets – ask the bettor to choose whether the two teams in a given matchup will exceed or fall short of the combined point total for the game, as set by the sportsbook. In the above, if you think the Rams and Browns are going to put on an airshow and score at least 47 combined points, you'd take the over. Otherwise, you'd choose the under. Again, the moneyline is in parentheses.
NFL Prop Bets
Dozens of different NFL prop bets are commonly offered for each game, with bigger matchups and primetime tilts having even more props to choose from. Prop bets allow you to put money on the achievements of players or teams within the contests themselves.
NFL player props might be based on a quarterback's total yardage or a linebacker's number of sacks in a game. NFL team props might be for how many first downs a defense surrenders or how many field goals a club attempts. Game props are also available and include things like coin toss results, the total time of possession, etc.
NFL Futures Bets
Futures bets are a lot like props, only longer-term in nature. The most popular NFL futures are Super Bowl futures, which ask bettors to put money on the team they think will win the next NFL title. You can also place futures wagers on division titles, conference championships, and even individual awards like NFL MVP. Futures bets typically pay out better the earlier you place them, usually sometime in the offseason before the upcoming campaign starts.
NFL Specials
NFL specials are side bets that have to do with something "off the field." A bet on the college player to go first in the NFL Draft is an example of a popular NFL special, as is picking a star player's landing spot in free agency. Any popular NFL-related news is potential fodder for specials bets, so every season brings plenty of unique drama to the table – and to the odds boards!
NFL First-Half Lines
NFL first-half lines (aka halftime lines) comprise the three major NFL wager types – straights, spreads, and over/unders – but limit them to the first half of play. For example, if the Pittsburgh Steelers are -7.5 on the spread against the San Francisco 49ers, their first-half line may be -3 or -3.5. Also, a game's over/under will typically be halved (or nearly halved) for its halftime line.
NFL Quarter Lines
Most USA sportsbook sites also offer NFL betting lines on individual quarters. These are based on the same main wager types as first-half lines (straights, spreads, over/unders) but are limited to the outcomes of individual quarters. For example, if a team is known to score more points at the ends of their games, you may find value in limiting your wagering to their fourth-quarter performances. Just ask Drew Brees or Tom Brady how that goes.
NFL Parlays
Parlays, also called exotic bets in some markets, have many different associated bet types. NFL parlays payout better than the individual straight bets that make them up, but they're also more difficult to win. Parlays are made up of many constituent wagers, all of which have to hit in order for the bet to be successful. The most common NFL parlays are as follows:
Teasers – Teasers are made up of multiple NFL spread bets and allow their lines to be moved in the bettor's favor by a fixed number of points. Example: A 6-point teaser would cause a favorite to be "teased down" from -7 to -1 while it would cause an underdog to be "teased up" from +3.5 to +9.5. Teasers are easier to win and thus pay out less than standard parlays.
Pleasers – NFL pleasers are the opposite of teasers, moving the line in the sportsbook's favor for all bets on the parlay card. Example: A 6-point pleaser would move a favorite from -3 to -9, and it would move an underdog on the same ticket from +7 to +1. Pleasers are difficult to win, so they pay out much better than standard parlays.
If Bets – If bets are parlays where each successive wager only has action "if" you win the previous wager. Example: If you win the first leg of an NFL if bet, you pocket the winnings and "re-invest" your original stake on the second leg. If you lose the second leg (or any successive leg), the bet is over, but your losses are mitigated by the money you've already won. If bets are viewed as "safer" than parlays. ttors to box their parlays. Let's say your online NFL sportsbook has five different attractive wagers, but you only want to assemble a three-bet parlay. By boxing those five wagers into a Round Robin, if any three of them hit – in any combination – you win!
Live NFL Betting & In-Play Odds
In-play football betting is one of the most engaging and immersive ways to wager on the NFL. Instead of having all your bets turned in and locked before kickoff of a given game, in-play betting – or live betting – allows you to wager during the entire contest in real-time. This means that the game's main lines and props will be adjusted to reflect the pace and flow of the game.
NFL live betting isn't just a fun feature for fans and casual bettors, either. Live betting is tactically useful for serious bettors because it allows them to get longshot odds on pre-game favorites who uncharacteristically face adversity early. In-play betting can also let bettors mitigate losses from bad pre-game wagers.
Mobile NFL Betting Apps
Mobile sports betting is the platform through which a significant number of NFL gamblers wager. Gone are the days when online sports betting required participants to sit at their computer desks and constantly refresh their browser windows. Today, with iPhones, Androids, and other smartphones and tablets being so popular, everyone has a live Internet connection in their pocket, and betting is so much simpler and more convenient as a result.
All the best USA sports betting sites focus on mobile NFL betting as a matter of course, and the full suite of NFL wager types is always available via the mobile interface. These sites don't use dedicated apps, either, so there's never anything to download or update. To bet on NFL games on the go, simply visit your sportsbook of choice via your mobile browser, log in, take a hike, and hike the ball!