Of all the NFL bet types that populate a standard football game line, the point spread is the most commonly seen at online sports betting sites in the USA. Once oddsmakers figured out that blowout games didn't inspire much action, NFL point spread betting filled the void with competitive lines.
Learn how to bet the spread in pro football at online NFL betting sites in the USA by reading through this exhaustive guide that "covers" all points involved. We detail football betting terminology and the facets involved in spread betting, and also reveal the top legal sportsbook sites in the United States.
The USA's Best NFL Betting SIte

Bovada separates themselves from the other online sportsbooks featured in our USA sports betting site reviews because we've been placing wagers on NFL spreads with them for over decade and they have delivered on all points when it comes to customer service. Bovada.LV also sets the tone for other USA sportsbooks to follow, and is often the first to debut new features such as builder apps for NFL prop bets, Super Bowl bonus promotions, and is often adding new cryptocurrencies to their banking profile.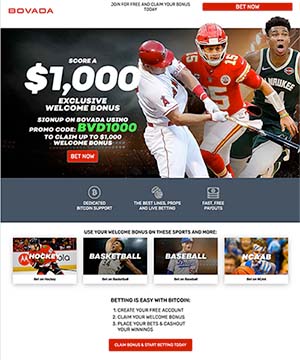 Best NFL Betting Sites


For Pro Football Point Spreads
What Is An NFL Point Spread?
A point spread in the dominion of NFL betting involves placing a wager on whether a team can cover the number of points that they have been projected to win or lose by.
Most NFL teams are unevenly matched and simple bets on winners do not provide a level playing field when wagering dollar for dollar.
When applying the spread differential to each team, the matchup becomes even, creating a more palatable NFL betting atmosphere where even a blowout can keep gamblers on the edge of their seats until the final whistle.

NFL Point Spread Betting Terminology
Cover – Covering the spread means that the team won by more than the amount predicted, or lost by less than the amount forecasted.
Spread – The spread is a number that represents the amount of points an NFL team is expected to win or lose by, based on oddsmakers predictions.
Underdog – The team that is expected to lose.
Favorite – The NFL franchise that is expected to win.
Push – A push occurs when a team scores the exact amount of points that sportsbooks expected them to win or lose by and typically results in a refund.
Margin – The actual differential in the final score that reveals the separation of points between both NFL teams.
The "+" and "–" Signs – The plus and minus signs indicate the underdog and favored outcomes, respectively, in regard to the NFL spread.
Where Can I Bet On NFL Point Spreads?
If you ever encounter a sports betting venue that does not feature NFL betting and pro football spreads, run! The NFL is the most popular betting sport in existence, so if they don't allow wagers on pro football point spreads, find another vendor at once.
Any reputable sportsbook, be they offshore or domestic, lets their members bet on NFL point spreads, but the betting sites we've compiled in the table above are the absolute best options in the USA.
The best USA sportsbooks that we feature in this guide allow for 18 and over gamblers to bet on point spreads for NFL games over the web, and they are perfectly legal to use.
How Can I Tell Which Team Is Predicted To Win Or Lose?
The team that is predicted to win – the favorite – will have a negative NFL point spread listed next to their name.
The underdog, or the team that is predicted to lose, will have a positive point spread next to their name in a standard NFL game line.
If the point spread is listed as "EVEN" for either or both teams (usually both), that means the game is a "pick'em" and all bets made will payout to the outright winner of the contest.
Why Are There Fractional Or Decimal Point Spreads?
The major difference between a whole number and a fractional number for an NFL point spread is that there is no longer the potential for the spread to hit exactly and cause a push or tie. For instance, if the Dallas Cowboys have a spread of -4.0 for this week's game and they win by four, the result is a push and all bets are refunded.
If Dallas is favored to win with a -4.5 spread, there is no chance for a push as victories by 3 or less will fail to cover while wins of 5 or more will result in successful bets.
How Do I Cover An NFL Point Spread?
In order to cover the spread in the NFL, Super Bowl point spread, or in any other sport, the amount of variance must be "covered" by the team being wagered on.
For instance, if the Dallas Cowboys are favored to win by -7.0, then they must win by 8 or more points to cover the spread. If the Cowboys win by 7 exactly then the bet is a push and wagers are refunded. If they win by 6 or less, or outright lose, then Dallas failed to cover the spread.
In order for an underdog NFL team to cover the spread, they must lose by less than the amount predicted. If the Detroit Lions are expected to lose by a margin of -6.0, they must lose by 5 points or less to cover.
Round numbers in the NFL spread (i.e. 4.0, 5.0, 6.0, etc.) allow for two full points of variance, whereas fractional spreads (4.5, 5.5, 6.5, etc.) provide one point of differential.
Is Betting On NFL Point Spreads Legal In The USA?
Yes. Any sportsbook, regardless of whether they are online, in-person, domestic, or offshore, will offer NFL point spread betting. That's because betting on the NFL is the most popular sports on the planet, and pro football game lines always include the point spread, moneyline odds, and the over/under.
Domestic sportsbooks accept bets on NFL spreads, but not all US states allow for them inside of their borders, and a majority of them require a minimum age of 21 years old to partake.
International NFL betting sites like the ones listed in this guide allow for 18 and over gamblers to become members and wager over the Internet from anywhere inside of the United States.
The reason that offshore sportsbooks can accept NFL point spread bets over the web from US-based customers is that there is a complete absence of gambling laws and regulations in place to address them. If there is no law to break, NFL point spread bettors cannot get into any trouble!
Point Spread Apps For NFL Games
Whether in use during transit, while out and about, or at home, iPads, iPhones and other popular smartphones and tablets are used to access the web more each passing year.
NFL sportsbooks are aware of this as well, and port their services to Apple and Android web-ready devices through mobile browsers with no download required.
All that is needed for the best in USA mobile betting is a modern handheld device, a minimum age of 18 years old, some money to risk on NFL point spreads, and both of your feet to be planted inside of the USA.
Are Point Spread Parlays Possible?
Yes, as long as you are betting on separate NFL games and not trying to combine spreads that are contained within the same contest using quarter lines.
Each betting site may differ slightly in what football odds they allow for inclusion into NFL parlays, so shop around for the combination betting options you prefer.
Live Odds: NFL Point Spreads
Once kickoff occurs in an NFL game, live NFL bets can still be made on the point spread with the live wagering capabilities presented at each of the online sportsbooks we endorse.
The spread will shift as the game progresses, but once bets are made, it is locked in until the fat lady sings so don't lay any action until you are certain about it.
Super Bowl Point Spreads
The point spread that takes in the most action each calendar year, regardless of sport, is the one offered up for Super Bowl betting. The question "what is the point spread for the Super Bowl?" will be answered during the two weeks leading up to the game after the participants are decided in the NFL Playoffs.
Speaking of betting on the NFL Playoffs, point spreads for each round from the Wild Card through the Conference Championship Games will also populate the boards and dominate the action during most of each January.