If you're looking for where to bet on NFL Draft action, you've found it. While there are some domestic options for legal draft betting, most US gamblers don't have a nearby venue – or easy online access to a sportsbook – where they can bet on the biggest event of the NFL offseason. Fortunately, you can sign up to any of the reputable offshore sites listed here and wager on the draft in style.
Betting on NFL Draft results is a time-honored tradition in Las Vegas, and it's one of the few events you can wager on in Sin City that doesn't explicitly happen "between the lines" on a field of play. Of course, offshore betting sites don't have that problem, which is why you'll always get a much larger number of NFL Draft prop bets and futures at offshore books than you'll find anywhere in Nevada.
So read on to find out how to join a legitimate USA sportsbook site where you can put a little money on the NFL betting board while teams put a ton of money on the draft board.
CORONAVIRUS UPDATE
The global COVID-19 pandemic caused the hiatus or cancellation of nearly all early-year sports leagues and events in 2020. However, the NFL Draft will go on as scheduled for April 23-25. That said, the event will not feature a live audience, nor will prospects and their families be in attendance. Instead, the NFL Draft will be televised as usual, but it will have a conference-call "virtual" format with live reactions from draftees and clubs via video interviews.
Best NFL Draft Betting Site For USA Players
Bovada – Full NFL Draft Coverage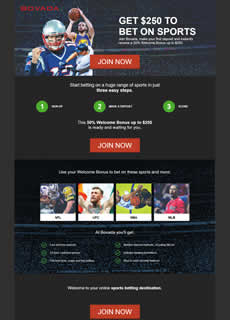 Bovada is America's favorite sportsbook, and it's been serving USA players for nearly a decade (with a pedigree that goes back to the mid-1990s). Operating under the umbrella of the respected Bodog brand, Bovada is legal to use for 18+ US bettors and takes members from most states (excluding DE, MD, NJ, and NV, which all have local betting options). If you want to legally wager on the 2020 NFL Draft, Bovada has the most lines of any major sportsbook, with over 100 unique odds on their boards.
Bovada isn't just a sports betting site, either. The operator has a full Vegas-style casino with hundreds of slots and table games, a poker room with cash tables and tournament play, and even an international pari-mutuel racebook. New bettors who join now can get the best deposit promotion in the industry, a 50% Welcome Bonus worth up to $250 with a small 5X rollover. You're on the clock – Will you make Bovada your number-one pick?
Best US Sportsbooks


For NFL Draft Betting 2020
Is It Legal To Bet On The NFL Draft Online In The USA?
Yes! Most legal domestic US sportsbooks offer NFL Draft odds, and the sites with domestic online betting have odds available there, too. Still, most football bettors in the US don't have access to these, so offshore betting sites are the way to go.
There are no federal laws that criminalize individuals from betting with these overseas outlets, and only two states – WA and CT – have laws against online gambling in general. Though we've never heard of any Washington or Connecticut residents being fined or arrested for betting on sports online, you are advised to abide by all local laws before signing up and wagering on the 2020 NFL Draft or any other sporting event.
Current 2020 NFL Draft Odds
Via Bovada
The following 2020 NFL draft props bets and futures are available at a number of offshore sites, though these are from Bovada, which regularly posts the most draft odds of any online USA sportsbook. With over 100 NFL Draft bets to choose from (and more being added each day), we're only including a small handful of the more stand-out wagers for the better-known players on the board.
Top 2020 NFL Draft Prospects
There several standout prospects in this year's draft, and the first overall pick is already a foregone conclusion. In fact, LSU QB and Heisman winner Joe Burrow is such a lock to be taken number one by the Cincinnati Bengals that many betting sites don't even have him on their odds boards.
Nevertheless, these are the top five players for the 2020 draft according to scouts, industry insiders, and pundits, with their relevant statistics from the 2019 NCAAF season:
Joe Burrow, LSU QB – 402-527 (76.3%), 5671 yds, 60 TD, 6 INT
Chase Young, OSU DE – 48 tackles, 10.5 tackles for loss, 16.5 sacks, 6 forced fumbles
Isaiah Simmons, Clemson OLB – 67 tackles, 7 sacks, 3 INT, 1 forced fumble, 1 fumble recovery
Jeff Okudah, OSU CB – 35 tackles, 3 INT, 2 forced fumbles, 9 passes defended
Tua Tagovailoa, Alabama QB – 180-252 (71.4%), 2840 yds, 33 TD, 3 INT
2020 NFL Draft Order
The following list shows the NFL Draft order for 2020. The teams' total picks for this year's draft are in parentheses. Six teams have no first-round picks, and they are included at the end of the list.
NFL Draft Start Time And Other Information
Date

Round 1: Thursday, April 23 – 8:00 PM EST
Rounds 2-3: Friday, April 24 – 7:00 PM EST
Rounds 4-7: Saturday, April 25 – 12:00 PM EST

Venue
Television

ABC, ESPN, ESPN 2, ESPN Deportes, NFL Network

Streaming

com, fuboTV, Apple TV, YouTube TV, Roku TV, etc.
2020 NFL Draft And Betting FAQs
Can I bet on the 2020 NFL Draft from a mobile betting app?
Yes, you can!  All of the sportsbooks listed on this page offer a mobile betting app that provides odds and lines for all their wagering categories, including the NFL Draft.  The app is web-based, so your account information is always presented in real-time and up to date, and you can not only place your bets, but also manage your account and access any other platforms offered by the brand, such as casino, poker, and racebooks.
When can I place my bet on the NFL Draft?
Typically you can place bets right up to a few minutes before the draft starts.  Be sure to verify the cutoff at the sportsbook you intend to place your bet at because it can vary from site to site.  You can also place bets on the next NFL draft months ahead of time as a futures bet.  These bets carry a higher risk because there is less information about the potential players, but they also offer a bigger payout.  Futures bets allow you to place a very small wager for a nice big payout.
How do I get paid if my Draft bet wins?
The sportsbooks we recommend offer several payout methods - but your options are determined by the method you use to fund your account.  We recommend using Bitcoin or other cryptocurrencies.  Not only is it the easiest deposit method, but it is also your only option for instant payouts.  Some sportsbooks even support services to provide instant Bitcoin purchases, such as Zelle to Bitcoin that allows you buy BTC instantly with no waiting period. You can find out which brands handle this the best on our page covering the fastest paying sportsbooks.
If you use a credit or debit card to fund your account, then you can usually request a payout through a check by courier, money transfer or wire transfer depending on the banking suite options available.  These options take longer to get paid, but they are reliable.
What time does the NFL Draft start?
The 2020 NFL Draft kicks off at 8:00 PM EST, at which time the first team will be on the clock. All pre-draft betting will close at this time, so make sure to get your NFL Draft props and futures in before that.
How long does each team get to make their draft pick?
Each NFL team gets 10 minutes to make each of their draft picks. However, that maximum allotment is typically used up only if there is any ambiguity or uncertainty about the picks they're choosing from or if there are any trade negotiations with other teams.
If a team knows which player it's going to pick, that pick typically comes in rapidly. This is one reason why if your USA sportsbook offers live draft odds, you need to get your own picks in ASAP.
How many rounds are in the NFL Draft?
There are seven rounds in the NFL draft, for a total of 255 picks. The last pick is famously dubbed "Mr. Irrelevant."
Who has the first pick in the 2020 NFL Draft?
The Cincinnati Bengals have the first pick of the 2020 NFL Draft, and all signs indicate that they're going to pick LSU's Joe Burrow. If Burrow continues to play like he did during his college Heisman campaign, he could be Cincinnati's very own LeBron.
Which team has the last pick of the 2020 NFL Draft?
The New York Giants have the very last pick of the draft. Will Mr. Irrelevant make the cut for the start of the 2020 season? You'll probably be able to bet on that soon!
Does each team get the same number of draft picks?
No. Each team, in theory, starts out with the same number of picks (one per round, for a total of seven), but draft picks are used in trades, which means teams can give up picks or accumulate picks each year, often many years in advance.
Which team has the most draft picks in 2020?
The lowly Miami Dolphins have the most draft picks for 2020, with a total of 14.  
Which team has the least draft picks in 2020?
The New Orleans Saints and the defending champion Kansas City Chiefs are tied for the fewest 2020 draft picks at five each.
Which teams have more than one first-round pick in 2020?
The Miami Dolphins have three first-round picks, while the Jacksonville Jaguars, Las Vegas Raiders, Minnesota Vikings, and San Francisco 49ers have two each. This may change on Draft Day as teams trade picks between themselves.
Which college usually produces the most NFL Draft picks?
Since 2000, the Ohio State Buckeyes have produced the most draft picks in the NFL. The following eight schools have all sent more than 100 players to the NFL since the turn of the millennium:
Ohio St. – 131
Alabama – 118
Miami, FL – 115
LSU – 112
USC – 110
Florida – 110
FSU – 108
Georgia - 108
Which NCAA conference do most NFL players come from?
As of the 2019-2020 season, these were the conferences with at least 100 players on active NFL rosters:
SEC – 339
Big Ten – 253
ACC – 215
Pac-12 – 189
Big 12 – 131
American – 100
What is the NFL Mock Draft?
There is no singular 2020 NFL mock draft, as just about every major sports outlet holds a mock draft in the lead-up to the NFL Draft itself. The most famous of these is ESPN's, hosted by Mel Kiper and Todd McShay. Kiper is the leading expert on the NFL Draft, and bettors should listen to his analyses to get an extra edge when placing their own wagers.
What is the NFL Supplemental Draft?
The NFL Supplemental Draft takes place after the normal draft, and it is designed to give teams the chance to select players who did not file in time for the regular draft or who were otherwise prevented from doing so for academic or other eligibility issues.
Since the Supplemental Draft was instituted in 1977, only 46 players have been taken through this route. Far more players make teams by being undrafted free agents.   
---
Additional Betting Resources