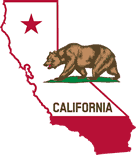 The legalization of sports betting in California has been a slow, arduous process but may finally be nearing the finish line. Assembly member Adam Gray brought forth an amendment to the California state constitution in 2017, which would allow the state to "permit sports wagering only if a change in federal law occurs."
The federal law was changed in May 2018 with the U.S. Supreme Court's repeal of PASPA, the federal law prohibiting states from legalizing sports betting, and Gray, just hours following the Supreme Court decision, stated he wanted to push forward with a sports betting amendment to the state constitution. "All other gaming activities in California are subject to regulations that ensure the safety of consumers," said Gray in a press release. "Sports wagering should be treated no differently."
Currently, California has a voter referendum pending on whether to legalize sports betting but will not be on the ballots until 2020. However, there are no state laws prohibiting the placing of a wager at a legally authorized, offshore online sportsbook. Below are the brands we've reviewed and guarantee are 100% legal, safe and guarantee payouts for winning bets.
Best Sports Betting Site


Accepting California Players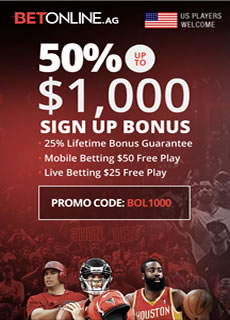 Betonline is one of the top shelf sports betting sites in the industry and our top recommended online sportsbook. With only a handful of truly 5 star sportsbooks available to US players, Betonline is right at the top of that list. They offer all sorts of action for players under one betting account to include one of the best sportsbook platforms around, a full racebook, a busy online poker room with tons of fish, and an online casino featuring live dealer table games. They even offer scratch cards and skill games, so whatever you're in the mood for, Betonline has got you covered. New players enjoy a 50% signup bonus up to $1,000, plus 25% reload bonuses for life if you aren't running so hot.
Legally Certified Online Sportsbooks


For California Residents
Is Online Sports Betting Legal In California?

With California's obvious interest in the online gambling platform and silicon valley being one of their claims to fame, it would be logical to assume that state-licensed online sports betting is on the horizon for the Golden State. Despite California's openness to online betting, there are not any regions in the US that can legally allow state-regulated online sports betting to operate within their borders, no matter how willing or technologically advanced they are. The DOJ's 2011 formal opinion hammered the final nail into that coffin when they clarified that the Federal Wire Act makes it illegal for any type of US-based online sportsbooks to accept bets from the nation's citizens.
Unfortunately, we do not anticipate any changes taking place concerning the federal laws that govern sports betting in the United States. Despite many leaders of various professional sports leagues calling for changes, and the controversy surrounding DFS contests and their resemblance to sportsbook gambling, the feds are a tough nut to crack. The good news is that sports fans in California are not reliant on a state-regulated version of sportsbook gambling in order to enjoy this form of betting entertainment. There are viable and legal alternatives that offer sports betting options to bettors in California and the US in general.
The one thing that the Federal Wire Act did not achieve was preventing US residents from legally betting on sports at certified offshore sportsbooks offering their services online. California's gambling laws also do not prevent residents from enjoying online sports betting at legitimate bookmakers located outside of the US. This means that betting on sports at offshore online sportsbooks that are legally authorized and operated is not a violation of any state or federal laws. The legitimate online sportsbooks you see listed in this guide legally accept customers from California and include coverage on a wide range of sports categories, a strong selection of betting lines and wagering options, with odds and pay lines that are easily comparable to the Vegas bookmakers.
How Federal Laws Affect the Betting Atmosphere in California
As part of the United States, California is certainly subject to the federal regulations against gambling. Since PASPA's repeal, there are two still main pieces of legislation which are working together to enforce federal law in California: The Federal Wire Act, and the UIGEA. Together, these federal gambling laws combine to restrict domestic online sports betting in the US. The good news is that none of these laws prohibits California residents from placing bets on sports at legally sanctioned offshore sportsbooks that accept American bettors.
These laws do not extend to gambling businesses located outside of United States jurisdiction, therefore any casino or sportsbook or other gambling location to open up outside of the US is perfectly legal to gamble with as long as they possess the appropriate regulatory oversight and authorization to allow them to operate legally within the industry. It is important to understand that the federal government does not punish the act of gambling itself; they instead punish the act of offering unregulated gambling services. So, as long as you want to gamble, the government will not stop you, providing that you're gambling with an authorized site that is outside of the United States' jurisdiction. There's really nothing they can do to stop you from gambling at any of the online sportsbooks accepting USA players that we recommend.
State-Specific Gambling Laws in California
According to the Constitution of California, the state has the right to allow state lotteries, certain types of horse betting, and a variety of casino games that are operated on tribal lands. Other than that, the state is pretty much at the mercy of the federal government and its regulations against gambling. Gambling that is legal in California is regulated by the California Gambling Control Commission. This is a commission that basically oversees the different lotteries and horse betting options.
Anyone interested in reading the entire range of gambling legislation can do so from the Commission's website, but everything is basically straightforward. The language of the law explains how California has the right to control lotteries, horse racing, and then allow for Indians to have their casinos, while every other type of gambling is basically illegal. There is some stuff in there specifically aimed at Internet sweepstakes in certain cafes and other odds and ends, but nothing that pertains to the whole of the state or an activity like sports betting. Unfortunately, betting on sports is something that is expressly prohibited in the state, unless you either find sports betting options at an Indian casino or sign up with a sportsbook that's located offshore, outside of US jurisdiction.
So, for future reference, remember that gambling in California is legal for the lotto, horse betting, and on Indian casinos, while anything else that is based within state lines is illegal. However, finding a certified gambling site outside of US jurisdiction with which to bet is the backdoor you need to gamble legally and freely on any sport you want. You can learn more about which states offer legal online sports betting here.
History Of California Sports
With a population of nearly 40 million people, the Golden State has 15 professional sports franchises across the four major professional sports (NFL, NBA, MLB, NHL), which is more than any other state, along with 4 college football teams (Cal, Stanford, UCLA, USC) in a Power 5 Conference (Pac-12). In addition to the numerous sports teams, 14 Heisman Trophy winners were born and played high school football in the state with football talent such as O.J. Simpson, Marcus Allen, Ricky Williams, and Carson Palmer. California said goodbye to the Las Vegas-bound Oakland Raiders after the 2019 NFL season.
Currently, California is in the process of building the Los Angeles Stadium at Hollywood Park located in Inglewood, which will be the most expensive stadium complex ever built at $4.96 billion. The stadium is scheduled to open in 2020 and will be the home stadium for both the L.A. Chargers and the L.A. Rams NFL teams. In addition, the stadium will host several events, including Super LVI in February 2022, the College Football Playoff National Championship in January 2023, and the opening ceremony and various sporting events for the 2028 Summer Olympics.
NFL Teams in California
California is currently home to three NFL teams and has won a combined nine Super Bowls between them (49ers - 5, Raiders - 3, Rams - 1, Chargers - 0). The Rams are the most recent addition, moving back to Los Angeles from St. Louis before the 2016 season (after previously leaving L.A. for St. Louis after the 1994 season).
The Chargers recently relocated, too, but they remained in the state after moving from San Diego to Los Angeles before the start of the 2017 season. The San Francisco 49ers recently built Levi's Stadium and have called it home since 2014.
However, the Raiders left Oakland following an announcement in 2017, where they chose Las Vegas, Nevada, as their new home. The 2019 NFL season was the Raiders' last in Oakland, and they were fittingly booed off the field in their season finale.
Betting on the 2020 Los Angeles Chargers
After going 12-4 in 2018, the Chargers had high expectations for 2019. Unfortunately, they finished the season with a record of 5-11, good for last place in the AFC West. Longtime quarterback Philip Rivers moved on from the Chargers after the season, with his new NFL destination remaining a question mark. While Rivers threw for over 4500 yards in 2019, he also tossed 20 interceptions and finished with a 48.6 QBR, good for 22nd in the league. It is unlikely Rivers will play again for another California team.
The Chargers are in a rebuild mode at the QB position and perhaps beyond, and bettors are not high on their chances to win the 2020 Super Bowl or their division, particularly as the AFC West's Chiefs just won it all and are a considerably stronger team across the board.
Super Bowl LV Odds to Win: +2500
Betting on the 2020 Los Angeles Rams
The Rams went to the Super Bowl in 2019 after a surprise 2018 season that saw top-tier play from franchise QB Jared Goff. However, after losing Super Bowl LIII to the Patriots due to a historically bad offensive showing, the team struggled to find its rhythm in the 2019 regular season. The Rams started the year as near favorites to win Super Bowl LIV, but they were quickly out of the running, finishing with a record of 9-7.
In the NFC West dominated by strong Seattle Seahawks and 49ers teams, the Rams' odds for a quick return to championship-level play seem pretty long. Still, Goff's 2019 stat line of 4638 yards, 22 TDs, and 16 INTs was promising, and he could put together an MVP type season in 2020.
Super Bowl LV Odds to Win: +3000
Betting on the 2020 Oakland Raiders
RIP Oakland Raiders. We hardly knew ye. Here's to bigger and better things in Sin City!
Betting on the 2020 San Francisco 49ers
San Francisco had a poor 2018 season, finishing 4-12 on the year. However, this can mostly be attributed to franchise QB Jimmy Garoppolo's injury early in the season. In 2019, with a healthy Garoppolo under center, the 49ers went 13-3 and made it to the Super Bowl. Unfortunately, a guy named Patrick Mahomes was having none of it, and the Kansas City Chiefs beat the Niners 31-20 to win Super Bowl LIV.
Right now, as we prepare for the 2020 NFL season, the 49ers are sitting high atop the odds boards at most USA sportsbok sites, trading spots with the Baltimore Ravens as runners up to the Chiefs, who maintain the best odds to win the next Super Bowl. By all accounts, the 49ers are in a good place and should be perennial contenders for several years to come.
Super Bowl LV Odds to Win: +750
NBA Teams In California
Since the 1980s with Showtime with the Lakers, CA has been head over heels in love with the National Basketball Association. There are four professional NBA teams in California: The LA Lakers, the LA Clippers, the Sacramento Kings, and the Golden State Warriors. The Lakers, far and away the most famous team in the NBA, had seen hard times of late, though the addition of Lebron James and The Brow have them atop the odds boards once again after years of Golden State dominance. Unfortunately, Lakers legend Kobe Bryant died in helicopter accident in early 2020, putting a marked damper on the team's resurgent 2019-2020 season.
After the Lakers, the most popular team in CA is the Golden State Warriors. The Warriors were the super team of the 2010s, going to five straight championships from 2015-2019 and winning three of them. However, after losing Kevin Durant to free agency and both Steph Curry and Klay Thompson to injury, the Warriors are one of the worst teams in the league in 2020. While they could be back to championship form in a year or two, between the Lakers and the Clippers coming on strong, that might be too late.
About those Clippers. Long an also-ran to the Lakers, the Clippers finally seem like a real contender, having courted and come away with the most prized free agent in basketball, Kawhi Leonard. With the addition of Leonard and fellow superstar Paul George for the 2019-2020 season, the Clips are trending just behind the Lakers and the Milwaukee Bucks on the NBA title odds boards.
Last and definitely least, the Sacramento Kings aren't really worth mentioning. They gave the Lakers a run for their money a few times in the early 2000s, but that's about it. Still, Kings fans abound in CA, and you can make good money betting on (or against) Sacramento if you pick your spots.
Betting Odds To Win 2020 NBA Finals
LA Lakers +250
Los Angeles Clippers +350
Sacramento Kings +75000
Golden State Warriors +100000
Major League Baseball Teams In CA (MLB)
Californians also love their baseball, evidenced by the five different Major League Baseball teams in the state. Golden State baseball fans have almost three full seasons to watch America's Pastime, from the start of April to the end of October. California's MLB teams include the Los Angeles Angels of Anaheim (LA Angels), the Los Angeles Dodgers, the Oakland Athletics (A's), the San Diego Padres, and the San Francisco Giants.
Of all these teams, the A's have the best track record for winning the fewest games. They always seem to be out of post-season contention early in the season, often trading away star players per their vaunted and much ballyhooed "moneyball" analytics system. If you're going to bet on A's games this year, you should probably be betting against them. Ditto for the Padres.
The Angels are interesting, primarily because they've done less with more than any other MLB team over the last few years. While they've had exclusive access to the greatest player of this generation in Mike Trout, they haven't actually done anything with him. And with the record money tied up in Trout, Anaheim doesn't seem like they'll be fishing for championship rings any time soon.
The Giants are CA's second most popular baseball team, though they seem to have peaked a few years ago, giving way to the state's favorites, the Dodgers. The Dodgers, of course, have gone to the World Series in each of the last two seasons, losing both times. However, those series' victors, the Houston Astros and Boston Red Sox, were recently penalized for cheating
2020 Odds To Win World Series
LA Dodgers +400
LA Angels +2500
Oakland Athletics +3300
San Diego Padres +3300
San Francisco Giants +10000
Power 5 Conference College Football Teams in California
There are four major universities in California who play in the Pac-12: California, Stanford, UCLA, and USC.  Notable professionals to come out of these programs include NFL QB Aaron Rodgers, TE Tony Gonzalez, RB Marshawn Lynch, Hall of Fame QB John Elway, QB Andrew Luck, DB Richard Sherman, Hall of Fame QB Troy Aikman, RB Maurice Jones-Drew, and 2018 first round pick QB Josh Rosen.
USC has been a particularly dominant force in college football throughout history, winning 11 national championships and having more players selected in the NFL Draft (506), as well as more first rounders (81), than any other school in the country.
Betting on the 2020 California Golden Bears
The Golden Bears went 8-5 in 2019, though they were only 4-5 in conference play, finishing well behind Pac-12 North champion Oregon. Nevertheless, Cal looks to be sitting pretty in their division, and a decent bowl berth in 2020 is all but assured. While California is not expected to contend for a major bowl or the College Football Playoff, they'll give bettors plenty of excitement all season long.
2020 NCAA Championship Odds to Win: TBD
Betting on the 2019 Stanford Cardinal
The once-proud Stanford Cardinal were seeing red in 2019 after finishing with a Pac-12 North record of 3-6 and an overall record of 4-8. They are not expected to compete in the division in 2020, though they still have plenty of talent and a large betting fan base. If they can improve on last year's numbers by just two wins, the Cardinal will again be bowl eligible after missing the postseason for just the first time since 2008.
2020 NCAA Championship Odds to Win: TBD
Betting on the 2020 UCLA Bruins
Chip Kelly took over for UCLA in November 2017, but his 3-9 season in 2018 was one of the worst in school history. In 2019, Kelly's team was almost as bad, finishing with an overall record of 4-8 (4-5 in the Pac-12 South).
Kelly is still the head coach, though he's undoubtedly on the hot seat. While a return to bowl eligibility may be enough to save his job, conference domination and a major bowl or CFP berth is unlikely for the foreseeable future.
2020 NCAA Championship Odds to Win: TBD
Betting on the 2020 USC Trojans
In 2018, USC had its first losing season since 2000, going 5-7. In 2019, they righted the ship, going 8-5 overall and 7-2 in the Pac-12 South, nearly winning the conference. Bettors are naturally high on USC, as they're one of the 25-30 teams that betting sites are giving title futures to for 2020.
2020 NCAA Championship Odds to Win: +10000
Other Sports To Bet In In California
Your sports betting options in California don't stop where this article ends. California also has multiple professional hockey teams, professional soccer teams, and plenty of other collegiate teams that are always in contention in certain sports, like field hockey, volleyball, etc. What we aimed to cover throughout this article were the most popular sporting franchises in California. And we touched on quite a few. However, when it comes to the options you have available for betting on sports, there are dozens of alternative routes you can take. Not to even mention literally hundreds of collegiate athletic programs outside of Division 1 contention, including D2 through NAIA. So, you're not without a slew of options here when it comes to sports betting. No matter what you want to bet on, you can find options.