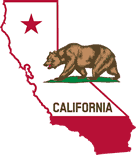 California is no stranger to state regulated gambling. There is literally a smorgasbord of gambling entertainment options available to residents and visitors to the Golden State. The state of California is also not opposed to allowing online access to betting as is demonstrated by their approval of online pari-mutuel wagering and DFS contests as well as their ongoing efforts to establish state licensed online poker. So where does sports betting fit into the state's gambling market? We have to say it doesn't fit very snuggly into the states established gambling industry. State regulated sports betting is not permitted in California either online or through brick and mortar bookmakers.
That is not the end of the line however for sports bettors in the Golden State. We are pleased to inform you that there are a handful of online sportsbooks located offshore that can legally accept bets from gamblers in California. Participating in online sportsbook gambling legally simply involves knowing where to place your bets and understanding California's gambling laws that pertain to this type of betting entertainment. This page of our guide will provide you with information concerning the legalities of online sports betting in California, as well as information about selecting a safe, trusted and legally licensed online sportsbook destination that accepts customers from California.
Best Sports Betting Site


Accepting California Players In 2018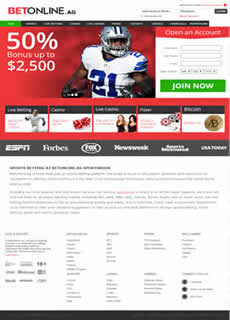 Betonline is one of the top shelf sports betting sites in the industry and our top recommended online sportsbook. With only a handful of truly 5 star sportsbooks available to US players, Betonline is right at the top of that list. They offer all sorts of action for players under one betting account to include one of the best sportsbook platforms around, a full racebook, a busy online poker room with tons of fish, and an online casino featuring live dealer table games. They even offer scratch cards and skill games, so whatever you're in the mood for, Betonline has got you covered. New players enjoy a 50% signup bonus up to $2500, plus 25% reload bonuses for life if you aren't running so hot.
Legally Licensed Online Sportsbooks


For California Residents
Is Online Sports Betting Legal In California?

With California's obvious interest in the online gambling platform and silicon valley being one of their claims to fame, it would be logical to assume that state-licensed online sports betting is on the horizon for the Golden State. Despite California's openness to online betting, there are not any regions in the US that can legally allow state-regulated online sports betting to operate within their borders, no matter how willing or technologically advanced they are. The DOJ's 2011 formal opinion hammered the final nail into that coffin when they clarified that the Federal Wire Act makes it illegal for any type of US-based online sportsbooks to accept bets from the nation's citizens.
Unfortunately, we do not anticipate any changes taking place concerning the federal laws that govern sports betting in the United States. Despite many leaders of various professional sports leagues calling for changes, and the controversy surrounding DFS contests and their resemblance to sportsbook gambling, the feds are a tough nut to crack. The good news is that sports fans in California are not reliant on a state-regulated version of sportsbook gambling in order to enjoy this form of betting entertainment. There are viable and legal alternatives that offer sports betting options to bettors in California and the US in general.
The one thing that the Federal Wire Act did not achieve was preventing US residents from legally betting on sports at licensed offshore sportsbooks offering their services online. California's gambling laws also do not prevent residents from enjoying online sports betting at legitimate bookmakers located outside of the US. This means that betting on sports at offshore online sportsbooks that are legally licensed and regulated is not a violation of any state or federal laws. The legitimate online sportsbooks you see listed in this guide legally accept customers from California and include coverage on a wide range of sports categories, a strong selection of betting lines and wagering options, with odds and paylines that are easily comparable to the Vegas bookmakers.
How Federal Laws Affect the Betting Atmosphere in California
As part of the United States, California is certainly subject to the federal regulations against gambling. Even if CA voted tomorrow to make gambling perfectly legal within its respective borders, it would have to contend with the will of the federal government of the USA, and whether or not the government actually allowed gambling to be legal there. There are three main pieces of legislation which are working together to keep gambling illegal in California: The Federal Wire Act, PASPA, and the UIGEA. Together, these federal gambling laws combine to restrict most forms of sports betting in the US. The good news is that none of these laws prohibits California residents from placing bets on sports at legally sanctioned offshore sportsbooks that accept American bettors.
These laws do not extend to gambling businesses located outside of United States jurisdiction, therefore any casino or sportsbook or other gambling location to open up outside of the US is perfectly legal to gamble with as long as they possess the appropriate regulatory oversight and licensing to allow them to operate legally within the industry. It is important to understand that the federal government does not punish the act of gambling itself; they instead punish the act of offering unregulated gambling services. So, as long as you want to gamble, the government will not stop you, providing that you're gambling with a licensed site that is outside of the United States' jurisdiction. There's really nothing they can do to stop you from gambling at any of the online sportsbooks accepting USA players that we recommend.
State-Specific Gambling Laws in California
According to the Constitution of California, the state has the right to allow state lotteries, certain types of horse betting, and a variety of casino games that are operated on tribal lands. Other than that, the state is pretty much at the mercy of the federal government and its regulations against gambling. Gambling that is legal in California is regulated by the California Gambling Control Commission. This is a commission that basically oversees the different lotteries and horse betting options.
Anyone interested in reading the entire range of gambling legislation can do so from the Commission's website, but everything is basically straightforward. The language of the law explains how California has the right to control lotteries, horse racing, and then allow for Indians to have their casinos, while every other type of gambling is basically illegal. There is some stuff in there specifically aimed at Internet sweepstakes in certain cafes and other odds and ends, but nothing that pertains to the whole of the state or an activity like sports betting. Unfortunately, betting on sports is something that is expressly prohibited in the state, unless you either find sports betting options at an Indian casino or sign up with a sportsbook that's located offshore, outside of US jurisdiction.
So, for future reference, remember that gambling in California is legal for the lotto, horse betting, and on Indian casinos, while anything else that is based within state lines is illegal. However, finding a licensed gambling site outside of US jurisdiction with which to bet is the backdoor you need to gamble legally and freely on any sport you want. You can learn more about which states offer legal online sports betting here.
California's Long List of Professional Sporting Teams
NFL Teams In California
In the state of California, it's hard to find teams more popular than NFL teams. California has three major teams in the National Football League: The San Francisco 49ers, the Los Angeles Chargers and now the LA Rams. The Chargers relocated to Los Angeles in the offseason and the Oakland Raiders have moved on to Las Vegas. So, most of Cali's NFL teams are based in southern CA. Even still, the state packs the stadiums every week.
The 49rs have been going through a bit of a rough patch as of late. Their 2016-2017 season left them with a 2-14 record overall, steeping below their previous season. With a 1-7 home record, the lowest in franchise history, the organization decided to part ways with head coach Chip Kelly and GM Trent Baalke. Their defense had the most rushing yards allowed by any team in the league. The only 2 wins of the season came from interstate rivals the LA Rams, but even those were not enough to keep them from finishing last in their division. New head coach Kyle Shanahan will try to turn the ship around, and veteran QB Brian Hoyer will look to make an impact, but things don't look good for the bay area team.
The Chargers also had a dismal season, finishing 5-11 and 4th in the AFC West. Despite having talent like QB Phillip Rivers, RB Melvin Gordon and CB Casey Hayward, the Chargers could never seem to get it together. To their credit, there was a lot of additional noise going on with their relocation from San Diego to Los Angeles, but the team failed to produce results. Their 2017 season will be under new head coach Anthony Lynn and their first season in LA since 1960 when they were in the American Football League. They made a few quiet signings over the offseason while also releasing some players, including Danny Woodhead, Jeremy Butler and Manti Te'o, but the Chargers will likely not be a solid bet week-to-week.
The LA Rams continued last season's tradition of poor California teams with a 4-12 record and not qualifying for the Playoffs. Head coach Jeff Fisher was fired prior to the end of the season. This was their debut season in LA after relocating from St. Louis and things did not go well. Many believed they would perform well after their 3-1 start, but things went downhill quickly. They hired the young Sean McVay as their new head coach and will hope to get the most out of their role players in QB Jared Goff, RB Todd Gurley and more.
California NFL Team Betting Odds To Win The Super Bowl 53
LA Chargers +3300
La Rams +1600
San Francisco 49ers +1400
NBA Teams In California
California has long had a love affair going with the NBA. Since the 1980s with Showtime with the Lakers, Cali has been head over heels in love with the National Basketball Association. And, surprisingly enough, it's been teams other than the LA Lakers who have really captured Californian hearts of late. There are four professional NBA teams in California: The LA Lakers, the LA Clippers, the Sacramento Kings, and the Golden State Warriors. The Lakers, far and away the most famous team, has really taken a hit of late. Other than Kobe Bryant, the organization is a mess. No coaching, no bench talent, no motivation; they finished far out of playoff contention last year, and probably will again this year, especially considering Kobe's far too old to stay healthy for an entire season.
The Kings are a step above the Lakers, but that step doesn't really take them anywhere. They may be coached by George Karl, a surefire Hall of Famer, but their roster consists of one star, DeMarcus "Boogie" Cousins. They have good role players, like Rudy Gay and Ben McLemore, but the NBA Western Conference is brutally competitive, and the Kings simply cannot compete with the other talent inside of California, much less inside the NBA.
Next up on the list in terms of how well they're going to do, you have the LA Clippers. This is a very exciting team to watch. Doc Rivers is a tremendous coach, Chris Paul is the best point guard in the NBA, Blake Griffin is a superstar who can dunk from practically anywhere, and DeAndre Jordan is a big, mean, legit 7-footer who can ball. They haven't been able to get over the hump in the playoffs, but their off-season acquisitions include Paul Pierce, which may help them best the West en route to the Finals. They're definitely a smart pick for basketball lovers.
Last but certainly not least, you have the cream of the entire NBA, last year's champions, the Golden State Warriors. With Steph Curry, Klay Thompson, Drawmond Green, and Andre Iguodala, this is a very young basketball team that can flat-out shoot! They're also very solid defensively. Combine those two aspects, the ability to score and the ability to stop other teams from scoring, and you have the makings of a potential repeat champion. They will have to get through the West again, which will probably include teams like the Spurs and Clippers, neither of which the Warriors faced last year. But smart money is on Golden State at least coasting to a 2-seed and the 2nd round of the Playoffs.
California NBA Team Future Betting Odds To Win 2018 National Championship
Sacramento Kings TBD
LA Lakers TBD
Los Angeles Clippers +20000
Golden State Warriors -150
Major League Baseball Teams In CA (MLB)
Californians also love their baseball, evidenced by five different MLB teams within the state. People in the state have almost three full seasons to watch baseball, from the start of April to the end of October. California's MLB teams include the Los Angeles Angels of Anaheim (LA Angels), the Los Angeles Dodgers, the Oakland Athletics (A's), the San Diego Padres, and the San Francisco Giants.
Of all these teams, the A's unfortunately have the best track record for winning the fewest games. Although they're perhaps one of the most famous teams, because Billy Bean and the Brad Pitt movie Moneyball, they always seem to be out of post-season contention, usually trading away any star player they have to stay married to their analytics system, a system that has not rewarded them with a championship. It wouldn't be smart to chase the A's around with betting this season.
The Padres and the Dodgers are two very solid baseball teams in the state, but neither one of them are really contenders for the World Series. They contend in their respective divisions, and there's always a chance that they will make a late-season run, but they're basically middle-of-the-pack teams compared to the others in California.
The top two teams are the Angels and the Giants. Each of these teams can be a World Series winner any given year. In fact, some refer to the Giants as a dynasty. Although they can't seem to put together back-to-back wins, they seem to win a World Series every two to three years, and they do so by having the best pitching in baseball. The Angels are a streaky team, but they can easily plow through the American League en route to a Series berth. If Californians are looking to put their money down on in-state baseball teams, it should be with the Angels or the Giants. They're the two best the state have to offer.
Odds To Win World Series For California MLB Teams Updated For 2018
LA Angels +2500
LA Dodgers +550
Oakland Athletics (A's) +20000
San Diego Padres +20000
San Francisco Giants +2200
NCAA Teams In California (Football NCAAF + Basketball NCAAB)
The field of NCAA teams may be amateurs and unpaid athletes, but that still doesn't stop an entire billion-dollar gambling industry from being constructed solely on the outcomes of collegiate athletes. For California specifically, there are dozens of NCAA teams that play in D1 sports; however, instead of giving you a 5000-word encyclopedia entry covering all those teams, let's instead keep things dealing with the teams that are actually in contention for NCAA football and basketball every year.
While teams like the Cal Poly Mustangs and Cal State Titans are sometimes knocking at the door, the big two teams are the UCLA Bruins and the USC Trojans. The Stanford Cardinal are another in heavy contention in NCAA men's football, but they have basically fallen off the map since Andrew Luck went to the NFL. So, right now, in both basketball and football, you're looking at the Bruins and the Trojans as the top-two contending teams in California.
Both of these teams play in the same division, the Pac-12, so naturally if one ends up winning, the other ends up losing. This is often the case in other niche sports, like volleyball and tennis tournaments. For the big sports in America, like basketball and football, this can be hashed out in playoffs. In basketball, each Cali team could really cement its own run in March Madness, and in football it's not inconceivable that each team could make the 4-team playoff.
However, fans of these teams would be better served to bet on them via game-by-game basis. We wouldn't go so far as to say that any CA collegiate team is ready to vie for a title just yet. The field is just too jam-packed with talent outside of the Golden State, and California's teams don't have the talent necessary to dominate the entire country. Though if you can find the Bruins or Trojans going up against a Poly team or something like Pepperdine or Saint Mary's, feel free to place your money on the big-name D1 teams. They're always heavily favored in those match-ups.
Future NCAAF Betting Odds
UCLA Bruins +10000
USC Trojans +5000
Other Sports To Bet In In California
Your sports betting options in California don't stop where this article ends. California also has multiple professional hockey teams, professional soccer teams, and plenty of other collegiate teams that are always in contention in certain sports, like field hockey, volleyball, etc. What we aimed to cover throughout this article were the most popular sporting franchises in California. And we touched on quite a few. However, when it comes to the options you have available for betting on sports, there are dozens of alternative routes you can take. Not to even mention literally hundreds of collegiate athletic programs outside of Division 1 contention, including D2 through NAIA. So, you're not without a slew of options here when it comes to sports betting. No matter what you want to bet on, you can find options.