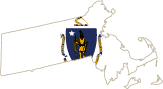 Massachusetts' citizens love to gamble, particularly on sports, and the entire area has long been a huge draw for sports, with some the nation's most celebrated sports franchises coming out of Massachusetts.
Gambling laws in the United States can be a little on the confusing side, and while certain federal laws are in place to govern some aspects of gambling in the US, other aspects are handled by individual states, and can actually vary from state to state. So, is gambling actually legal in Massachusetts? That's the big question at hand.
This page was created to provide insight into the legalities surrounding sports betting in Massachusetts, and to take a look at what options are available to residents of the Bay State. Along with an explanation of the gambling laws in MA, you will also find recommendations for legally licensed and regulated online sportsbooks that accept USA players which can legitimately offer their services to players in America. We also provide some information on the state's most prominent sports programs.
Most Trusted Online Sports Betting Sites


Accepting All Massachusetts Players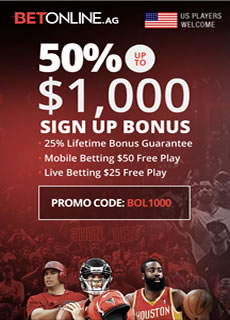 Our recommendation to sports fans in Massachusetts seeking top shelf sports betting action is to visit Betonline Sportsbook. They are super welcoming to US players, and they provide a top notch betting experience. Their range of sports coverage, lines and wagering options is substantial and competitive, and their customer support is one of the more helpful and responsive teams we've found. They have been in the business for more than 20 years and know what they are doing. Their bonus offer extends to every single deposit you make for the life your account, so you'll get free money every time you fund your account.
Leading US Sportsbooks

Open To Massachusetts Players In 2022
Is Online Sports Betting Legal In Massachusetts?

The short answer is, yes, as long as you meet some specific criteria regarding where you are placing those bets. America is pretty strict with gambling per its federal regulations and sports betting laws. However, states' rights do play a role in allowing each individual state to determine their own destiny for most forms of gambling with one specific exception: sports betting.
In 2011 the DOJ issued a formal opinion that clarified the application of the Federal Wire Act to be a ban of US-based online sports betting operations accepting bets from across state lines. There are no states that are exempted from this law. State laws in the Bay State do not address state-based Internet gambling, therefore it is not legal as of yet to own or operate any type of online gambling site with state borders.
Currently, Maryland bettors have the option of legally sanctioned online sportsbooks that are licensed and located outside of the USA and under strict regulatory oversight by a respected governing jurisdiction. These destinations are legitimately operating within the sports betting industry on an international level, and can legally accept customers from around the world, including Massachusetts. Placing bets at these types of approved online betting destinations does not violate either state gambling laws in MA or relevant US federal laws. None of those gambling laws prevent residents from participating in offshore sportsbook wagering from a customer standpoint.
The fact that the state allows daily fantasy sports contests to be played online suggests that if the state had the freedom to do so, sports betting would be made legal in this region. We don't see anything like that happening anytime soon as it would require major changes to federal laws. In the meantime, the legal U.S. online sportsbooks recommended in this guide will provide a legally sanctioned, secure and high-quality environment for betting on sports in Massachusetts.
A Brief Rundown of Federal Gambling Laws Affecting MA Residents
What most Americans are familiar with in relation to gambling laws are the federal regulations against gambling. For instance, the entire world became aware of the federal government's stance against online gambling in 2006 when George Bush signed the Unlawful Internet Gambling Enforcement Act into law, also known as the UIGEA. This act not only imposed ridiculously stringent regulations concerning the processing of gambling-related transactions, but it also gave the federal government a massive amount of power to go after those hosting and licensing these sites, seizing their assets and charging them federally. The end result of the 2006 crackdown was billions of dollars lost, thousands of sites completely shut down, and quite a few people in jail.
The federal government wasn't joking about going after illegal US-based online gambling. They decided to go after it hard, and they did. However, their efforts were directed at gambling site operators and payment processors, and not players. Since that time, more online gambling sites have learned to work within the industry as legally sanctioned businesses that are licensed to provide their services to players in the US, thereby providing a nice range of legal betting options to gamblers in Massachusetts and around the world.
The federal US government has long had regulations against gambling in place. They shut down wire transmissions for the purposes of gambling back in the 1960s with the Federal Wire Act. That's been a very strong piece of legislation which has basically rendered US-based online sports betting obsolete across state lines. The PASPA act banned states from electing sports betting laws from 1992-2018 until it was ruled unconstitutional by the SCOTUS. PASPA was responsible for banning sports betting in 46 of 50 states. The UIGEA act keeps financial institutions from knowingly processing payments to or from known gambling sites. The UIGEA act is still in effect today and a major reason why cryptocurrencies and other e-wallet services are popular among online gamblers.
But despite the fact that the government has multiple federal laws in place to govern certain aspects of US-based gambling entertainment, all of these laws are directed at those who provide the gambling services and not those who participate as bettors. In other words, gambling isn't regulated like alcohol was during Prohibition. While it's illegal for people to open up gambling houses if they go against the federal regulations, it's not illegal for a person to gamble. As long as an individual finds a legal destination at which to gamble, the government can do nothing about it. We simply don't live in a nation where the act is prohibited on a personal level, so that's at least a silver lining to an otherwise dark cloud. To sum things up, there are no federal laws which prohibit Massachusetts residents from engaging in online sports betting that takes place at a licensed and regulated sportsbook that is based outside of the USA.
Casino Options in Massachusetts
Massachusetts may not seem like it, but it's quickly becoming a state where the best casino brands in the world want to open up. Part of this is that these casinos in Massachusetts are simply huge draws for surrounding states. The amount of tourism that's going to kick off due to these big-name casinos will definitely be impressive, and from the tax revenue for the state to the profits for these casino moguls, it's a relationship that suits everyone well. And gamblers certainly don't mind. They don't have to drive five hours to Atlantic City anymore, nor do they have to rely solely on cut-rate casinos in other states that don't even feature many table games. If they want a legitimate casino, all they have to do is drive to the city.
Two of the older casinos in Massachusetts include the Atlantic Casino Cruises Ocean Club and the Horizon's Edge. Both of these casinos are actually riverboat casinos, which feature a couple hundred slot machines and a few table games. They're not very big at all, and they're pretty much one-trick ponies, e.g. slot houses, but they have long been big draws for people living in Massachusetts. Unfortunately, neither of these riverboat casinos can offer sports betting per state laws. The state's racetracks have also long brought in the gamblers. You have the Plainridge Racecourse, which features harness racing and simulcast racing, along with restaurants and shopping, and the Raynham-Taunton Greyhound Park, which features greyhound races, a few dining areas, and other forms of entertainment. Again, nothing big or spectacular, but certainly popular in the Massachusetts area.
The biggest casinos in the state are actually yet to be opened. That's because the land deals to build these casinos are still relatively new. For instance, you have the Plainridge Park Casino, slated to open up later this year, which features over 1,200 slot machines, plenty of table games, valet parking, fine dining, and much more. The biggest casino, however, slated to open on New Year's Day of 2017, is the Wynn Casino. Steve Wynn is a famous casino entrepreneur who has casinos in Vegas, China and other locations around the globe. This huge casino resort will feature over 3,200 slot machines, nearly 200 gaming tables, an entertainment hall, multiple restaurants, and much more. When this casino opens, it will be the biggest thing between the Mohegan Sun and Atlantic City, definitely a go-to destination for gamblers.
Which Boston Team Will End Up Winning the Most?
Massachusetts has four main sports franchises, comprising the big-four American sports: The Boston Red Sox in Major League Baseball, the New England Patriots in the National Football League, the Boston Celtics in the National Basketball Association, and the Boston Bruins in the National Hockey League. They also have the New England Revolution from Major League Soccer, but they're not nearly as popular as any of the big four sports.
Boston Red Sox
The Boston Red Sox really became one of America's favorite teams in 2004. After falling 3-0 to the New York Yankees, their bitter rivals, in the '04 American League Championship Series, the Red Sox went on an unprecedented comeback run, where they won four games in a row en route to the World Series. This is the first time in any major American sport that a team had came back from a three-game deficit to actually win. It was the biggest thing to ever happen to the Red Sox. They would win the World Series again in 2007, and again in 2013. Overall, the Red Sox have been one of the best teams consistently for about a decade now. And while they're playing poorly this year, most baseball experts agree that all they need is time for their stars to meld. You have a lot of new players with Boston, and big personalities don't instantly come together. Given another spring training session, the Red Sox are sure to be one of the best AL teams next season. So, for this year, don't count on the Red Sox doing much.
Boston Red Sox Odds to Win the World Series +1000
Boston Bruins
The Boston Bruins are a strong hockey team, often making the playoffs and kicking up a lot of dust. They won the Stanley Cup in the 2011 season, the first they had won since 1972. And for many people in Massachusetts, they believed that this was the start of a new dynasty in Boston. Last year, they ended up winning their division but fell short of the Stanley Cup. And in this season upcoming, they're again favorites to win their division. Claude Julien has these men playing great hockey, and they may end up winning a solid 70% of their games. But as far as penciling the Bruins in for the Stanley Cup, don't get carried away. Their team is typically outmatched by other teams like the Red Wings and Senators.
Boston Bruins Odds To Win Stanley Cup +900
Boston Celtics
It was only a few years ago that the Boston Celtics looked unstoppable in the NBA. They had Kevin Garnett, Paul Pierce, Ray Allen, and a young point guard named Rajon Rondo. They were blowing through the East and giving Western teams like the Lakers fits. In 2008, they beat the Lakers in six games in the NBA Finals, and two years later they took the Lakers to seven and lost a heartbreaker in LA. It looked like the Celtics might be on top for at least another five years. However, Garnett and Pierce got very old very quick, and Ray Allen split for Miami to play with LeBron James. Soon after, the Celtics got rid of Rondo and amassed a bunch of first-round picks to rebuild with. They actually made the playoffs last year, and might again next season. But with teams like the Cavs, Bulls and Hawks in the East, it's doubtful that Boston will get out of the first round. In a few years when those draft picks come through, the Celtics might be a top-tier team for the next 12 years. But for right now, they're middle of the pack at best.
Boston Celtics Odds To Win The NBA Championship+1600
NFL Teams in Massachusetts
The New England Patriots franchise played their first season of professional football in 1960 and since 2002, play at Gillette Stadium in Foxborough, MA, located 21 miles from Boston. The Patriots are one of the most successful franchises in NFL history, appearing in the Super Bowl 10 times in franchise history, more than any team, and winning five times in 2001(XXXVI), 2003(XXXVIII), 2004(XXXIX), 2014(XLIX), and 2016(LI). Today, the team is led by head coach Bill Belichick and QB Tom Brady, who together own the record for most Super Bowls reached (8) and won (5) by a head coach-quarterback duo.
Betting on the 2019 New England Patriots
The Patriots enter the 2019 season as favorites to win the Super Bowl for the second straight year. Hoping to reach their fourth consecutive Super Bowl appearance and third win in the last four seasons, franchise cornerstone Tom Brady leads New England at age 41.
Although they lost TE Rob Gronkowski to retirement, New England is still favored to win a weak AFC East en route to the Super Bowl. The Patriots were also able to pick up veterans DL Michael Bennet and WR Demaryius Thomas
Coach Bill Belichick remains at the helm, but there are other changes to the coaching staff. Defensive coordinator Brian Flores took the head coaching job with the Dolphins, meaning Belichick may take over on defense.
One of the most successful teams of all-time doesn't look to be slowing down in 2019.
Super Bowl LIV Odds to Win: +600
College Football Teams in Massachusetts
The Boston College Eagles are the only Power 5 Conference college football team in the state of Massachusetts and currently play in the Atlantic Coast Conference (ACC). The Eagles played their first season of collegiate football in 1893 and are one of only two Catholic universities who play college football in Division I, with the other being Notre Dame. The football program has produced several notable NFL players, including Pro Bowlers QB Doug Flutie, QB Matt Ryan, LB Luke Kuechly, QB Matt Hasselbeck, LB Bill Romanowski and Hall of Fame DT Art Donovan.
Betting on the 2019 Boston College Eagles
Boston College started 2018 ranked in the top-25 with a chance to make the ACC Championship Game. But after a string of early-season losses, Boston College finished the season 7-5.
While BC lost four offensive line starters from 2018, QB Anthony Brown and WR Kobay White return to lead the offense in the air while Heisman hopeful RB AJ Dillon leads the running game.
The Eagles also need to address defensive holes on the line and in the secondary. If they can fix the problems, the team will make another bowl game in 2019.
2019 NCAA Championship Odds to Win: TBD