Although it's not on par with states like Nevada or big-time gambling cities like Atlantic City, there are some viable options for gambling in Connecticut. These options include licensed tribal casinos, the state lottery, charitable gaming, of track betting and legally sanctioned offshore gambling sites. Connecticut also allows participation in daily fantasy sports contests as well, which is about as close as you will come to state approved sports related gambling. While state licensed sportsbook gambling may not be legal, there are certainly international alternatives for Connecticut residents to enjoy.
This guide was created specifically for CT residents who are seeking information about what options are available for legal online sports betting. We will provide insight into the legalities of the issue by discussing both state and federal sports betting laws, why state based options are not available, and how to make sure you access gambling destinations that are safe, secure and perfectly legal. We also provide some information about land based gambling options in the state and what types of sports leagues and teams are popular among residents.
Top Online Sportsbook


Accepting Connecticut Residents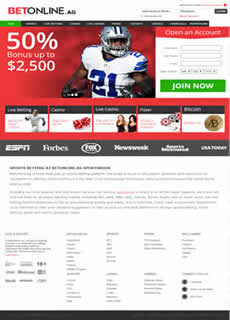 Sports fans in Connecticut will find a premium online betting experience at BetOnline Sportsbook. One of the first brands to offer a high quality online gambling presence, Betonline welcomes US players, delivers a wide range of sports categories to bet on, and competitive lines that rival the Vegas bookmakers.  In addition to their 50% welcome bonus up to $2,500, they also offer all customers a 25% match bonus up to $1000 on all deposits made into your account for as long as you are a registered customers. Their customer support is knowledgeable and responsive, and they are known for fast payouts. Betonline is the very definition of professional from the moment you sign up to the moment you log out.
Legally Licensed USA Sports Betting Sites

Open To Connecticut Players In 2018
Is Online Sports Betting Legal in Connecticut?

In a word, its safe to say that, no, state regulated sports betting is not legal in Connecticut either online or on location. You're not going to find any bookies shops or other sports betting locations opening their doors to gamblers within the state. It is not legal to own or operate any type of sports betting business within the state's borders, be it in a brick and mortar destination or via a website. You are not going to find a lot in the state's statutes concerning sports betting either. Even if the state wanted to allow this type of betting entertainment, they would not be able to due to federal laws which are already in place across the nation. While this all sounds doom and gloom for sports fans, there is a silver lining in here too. There will not be any type of state licensed sportsbook gambling available to Connecticut residents anytime soon, there are numerous USA online sportsbooks that are legally licensed to provide their betting services to players in the US, including those living in Connecticut. These businesses are located and regulated outside of the United States, hence they are not restricted by state laws or US federal laws and are free to operate legally within the industry, providing their services to whomever they so choose.
Connecticut gambling laws focus primarily on those desiring to offer gambling services. The laws prohibiting various elements of gambling do not criminalise the players. We urge you to never consider participating in any type of gambling entertainment that is not licensed and regulated by a legitimate authority and jurisdiction. The state may not bring you up on charges for doing so, but it will land you too close to potentially dangerous situations and questionable characters. The key to engaging in legal online sports betting is to make sure you only consider legally sanctioned destinations that are regulated carefully outside of the US.
To sum things up all neat and tidy for you, the answer to the question above is both yes and no. No, state regulated sports betting is not legal in Connecticut, but yes, legally licensed offshore sports betting is perfectly legal. The online sportsbooks you find listed in this guide are all legitimately licensed, offer a high end security profile to protect their players, and are located within governing jurisdictions that have legalized sports betting already, providing strict regulatory oversight.
What Laws are there Against Gambling in Connecticut?
In Connecticut, charitable gambling is perfectly legal. But this type of gambling means games that are offered at a variety of charity events, and all the proceeds go to helping out disabled kids, cancer victims, etc. This is the exact opposite of commercial gambling, and as such the state will allow charitable gambling within its borders. Pari-mutuel gambling is outlawed in the state of Connecticut but they hold state lotteries frequently. No commercial betting whatsoever is allowed inside of the state, unless on tribal lands, and they don't have any racetracks allowed to operate. Even on tribal lands, you won't find horse racing or greyhounds. So, Connecticut does put the hammer down on different types of gambling within the state. There are two tribes that legally operate land based casinos within the state.
Does the Federal Government Influence Gambling in Connecticut?
Although Connecticut is an independent state and its citizens certainly value freedom, the federal government of the United States still has some say when it comes to gambling regulations. To ensure that sports betting does not expand within the US, the federal government has released a few different acts over the years. First up on the list was the Federal Wire Act, which popped up back in 1961. This is an act that basically made it illegal to transmit money over the wire if the purpose of that money was for gambling. As one might imagine, this act hit bookmakers' shops really hard and all but rendered extinct the entire genre in the USA. The bill was originally created to curtail organized crime's involvement with sports betting. It succeeded. The Department of Justice has deemed that the law applies across the board to sports betting, effectively prohibiting US based online sports betting. This law does not prohibit any type of legally licensed offshore sportsbook gambling.
The second piece of legislation the government threw out there was PASPA, also known as the Bradley Act. In essence, this act made all forms of US based sports betting illegal across the nation, and it defined amateur and professional sports betting as illegal wagering. So whether you're talking about the Super Bowl or a first-round badminton match in some random high school, betting on the sport is considered illegal per the US government. This is an area where they really left nothing up for debate. There were four states exempted from the restrictions of this law, including Delaware, Nevada, Oregon and Montana.
The only sports niche that's exempt from this legislation is fantasy sports betting, but even that is disputed these days. For right now, it can be spun that fantasy sports are skill-based and not luck-based, but that's likely to be challenged before it's all said and done. Many feel that legally sanctioning fantasy betting while prohibiting other types of sports betting is highly contradictory and hypocritical. The PASPA law does not prohibit US residents from enjoying legally licensed offshore sports betting that is regulated and located outside of the United States.
The most recent piece of legislation to come out via the federal government was the Unlawful Internet Gambling Enforcement Act of 2006, or the UIGEA. This piece of legislation did kick up some sand throughout the online gambling industry, most of which has now settled. This law basically places regulatory oversight regarding how online gambling transactions can be processed by US companies, such as banks and credit card companies. The law addresses online gambling site operators and payment processors, and does not address players at all. The enactment of this law did briefly cause many online gambling brands to exit the US market, and at times poses challenges for US residents attempting to bet online, but for the most part, US friendly and legally sanctioned offshore gambling businesses have learned to coexist with the law and the number of brands that accept US players has grown exponentially.
These three gambling laws regulate US based sports betting, but have zero impact on offshore sportsbooks that are regulated outside of the US. As long as you're gambling on a site that's outside of the reach of the US, then there's nothing the government can do to them or do to you. You are allowed to gamble on those websites, and the government cannot do a thing about it. As long as you're limiting your action to those sites that are legally licensed and regulated, there is nothing the government can do to stop you from gambling with an offshore website.
Types of Sports in Connecticut
As stated above, people in Connecticut definitely love their sports. However, there aren't many sports to choose from. Unfortunately, Connecticut is one of those states that professional leagues have long ignored. You won't find a presence from an NBA team, an NFL franchise, an MLB squad, or even a team from MLS or the NHL. When it comes to pro sports, Connecticut is a barren wasteland where nothing really ever happens. However, that doesn't mean that Connecticut isn't one of the biggest sporting states in the nation. You only have to look as far as their number-one college program, the University of Connecticut Huskies. Known as the Uconn Huskies, there really isn't a better team in the nation when it comes to both the men's and women's programs combined. The men have long been a force to be reckoned with. The best three-point shooter in NBA history, Ray Allen, came out of Uconn, and for the women Huskies, they had an impressive 90-game winning streak over the course of two seasons, which earned them back-to-back National Championships.
In the northeast, you won't find another team as popular and as good as Uconn. They are a powerhouse team, whether male or female, and every year people get riled up in Connecticut in anticipation of what's going to happen when the Huskies take the floor. With such a massively popular collegiate program on both the men's and women's side of the aisle, Connecticut doesn't really need any professional sports franchises. They do very well with just their one popular college. They have other collegiate programs in that state, but nothing that compares even remotely to the Huskies' and their reputation for winning across the board at basketball. And for sports betters in particular, it's an unprecedented thing to have a college program with the women's Huskies that win around 90% of their games and cover the spread just as often. They're probably the safest bet in all of sports, no matter what type of sport you're betting on.
March Madness in Connecticut
While the men might take up the lion's share of publicity, the women also have their go at March Madness, and nowhere is this more popular than in Connecticut. A big part of the reason is that the women's Huskies are far more likely every year to win than the men's team, but the men's team still competes in there with teams like Villanova, Georgetown, Duke, North Carolina, etc. The Huskies are one of the most celebrated teams in the nation. In the south, it's a team like Kentucky that's considered the best. In the west, you're looking at a team like Gonzaga currently, or UCLA. In the north, it's all about Connecticut basketball and the Uconn Huskies. There is a huge party when March Madness rolls around, and every resident of the state who's even mildly attracted to basketball lends his or her full attention to the sport. This is when the bets really start to roll out, and if you want to bet on Connecticut sports, then March Madness is definitely a great time to get in. We suggest betting on the women's Huskies program. They're the team more statistically likely to cover the spread and to outright win most of their games.
Just remember that sports betting should be about having fun, not about trying to win a bundle of money. You don't want to place huge, risky bets. Take your time, learn about the sports, and leverage your action by betting in smaller increments. If you can bet responsibly, you can have a lot of fun and still end up winning some money.
Current Future Betting Odds For Connecticut's Major Collegiate Teams
University of Connecticut Huskies To Win March Madness +4000
Tribal Casinos That are Huge in Connecticut
Tribal casinos are very large in Connecticut, speaking both figuratively and literally. The idea of tribal casinos didn't really take off across the rest of America until the casinos in Connecticut became such huge draws. There are two main tribal casinos in the state, the Mohegan Sun and Foxwoods. Foxwoods is actually the largest casino in the United States, and it has hundreds of luxury hotel rooms and suites, and thousands of combined games. They also have dozens of high-end restaurants and attract talent from all across the globe. Penn & Teller, the famous American magician duo, is known to play there for a few months out of the year, and they're constantly hosting big-name bands in a range of concerts on the grounds. They have a very impressive layout at Foxwoods, and they're annually listed as one of the go-to casinos in all the world.
The Mohegan Sun isn't too shabby itself. If you're a fan of billiards, then you may be pleased to know that the casino hosts the 9-ball and trick shot championships almost every year, and they're typically aired on ESPN. The Sun also draws in talent from across the globe, including magicians, circus acts, singers, dancers, and much more. They're not quite as large as Foxwoods, but they're nearly every bit as popular. Plus you can find some serious live poker happening at the Mohegan Sun, and you might actually sit down next to a pro like Johnny Chan or Phil Hellmuth while playing.
Connecticut Player Resources
Department of Consumer Protection - Division of Gaming
Connecticut Council on Problem Gambling