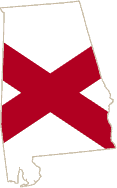 Sports betting is enjoyed by millions of American's from all over the country. But unless you live in one of the 4 states that are exempt from the Paspa law, your options are limited for any Alabama state regulated options. However what many players don't understand is that there no state or federal laws that actually make online sports betting illegal in America as long as the site you are placing your bets with is located offshore which ultimately puts them out of the reach of US law. The current gambling laws make it illegal to accept sports bets on US soil such as what a local bookie does, but the laws do not speak to placing bets.
It's no secret that of all 50 states in the USA, Alabama is undoubtedly the most formidable when it comes to game-day football on Saturdays by being home to popular football teams such as the Crimson Tide and the Auburn Tigers. Our guide explains which laws apply to Alabama sports betting and how to legally place bets online while staying within the confines of the law. We also review offshore sports betting sites that are licensed to legally accept players from Alabama. So whether you want a better understanding on what your legal sports betting options are in AL or you want to find a reputable online sportsbook to bet with, our guide has you covered.
Best Online Sportsbook


Accepting Alabama Players In 2018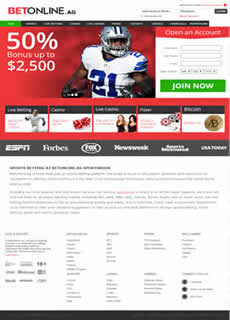 Betonline is one of the top shelf sports betting sites and accept players world wide including USA players residing in Alabama. You will have access to a strong menu of betting options, odds, and prop bets. They offer a fantastic welcome bonus to new players, a killer sports betting software suite and some of the fastest payouts in the industry. Below are a few reasons why Betonline stands above the rest.
Most Trusted Sports Betting Sites

Open To Alabama Residents In 2018
Is Online Sports Betting Legal In Alabama?

In 2011, the United States Department of Justice issued a formal opinion that clarified the legal application of the Federal Wire Act. It was clearly stated that the Federal Wire Act effectively prohibits any US based online sports betting from taking place anywhere in the United States. Based on this definitive explanation of the Federal Wire Act's place in the US gambling market, it is absolutely not legal to own or operate an online sportsbook within the state of Alabama. Even if Alabama's lawmakers wanted to legalize state based sportsbook gambling, they would be unable to do so because of this US federal law that applies to all states.
The good news is that US based sports betting does not comprise the only options available to gamblers in the US or in the Yellowhammer State. Neither Alabama's state gambling laws nor the US federal laws discussed on this page prohibit residents from legally engaging in online sports betting offered by a licensed and regulated online bookmaker that is located outside of the United States, beyond the application of the Federal Wire Act. US federal laws can regulate the gambling activities in America all day long, but have no impact on legitimate bookmakers that are legally operating within the international gambling industry. As long as US residents are selective concerning where they intend to bet on sports and limit their activities to only legally sanctioned offshore bookmakers, they will not be in violation of the laws governing this type of betting entertainment within US borders. The online sportsbook brands you find listed in this guide are all legally sanctioned, have been personally vetted by our team, and are licensed to provide their betting services to gamblers in Alabama.
There has been chatter about groups interested in challenging the constitutionality of both PASPA and the Federal Wire Act. The controversy seems to escalate as daily fantasy sports contests expand their presence in the US market. Debate continues regarding whether or not DFS is actually categorized as 'gambling'. Depending on how things develop regarding these issues, the US could potentially see some changes taking place that affect the legal US online sports betting atmosphere in the future, but probably a more distant future than we would like. It would require significant modifications or repealing of the existing laws, and that is no easy feat. While it certainly is possible, it is not really probable in the current political climate, but who knows what a changing of the guard might bring to the table.
Alabama State Legislation Meets US Federal Regulations - Gambling Laws To Contend With
What makes Alabama's state gambling laws even more formidable is that they're backed up completely by federal regulations. PASPA, the UIGEA, and the Federal Wire Act all work in conjunction to keep gambling illegal. However, in Alabama specifically, there's a two-pronged approach. In many states, the state legislation simply mirrors the federal sports gambling laws and regulations, in that an individual cannot open up a gambling establishment or knowingly accept money for gambling wagers. In Alabama, however, the state takes it a step further and actually makes it illegal to even place wagers with locally based gambling businesses or operations that are not licensed by the state. Alabama isn't the only state that does this, but it is less common than one may think. The USA has a pretty straightforward way of looking at gambling, in that they typically view gambling houses as wrong and gamblers as victims of exploitation. Alabama happens to view the gamblers themselves as criminals.
Does this mean that the same offshore backdoor isn't available to Alabamans the same way it is to Californians? Actually, no; Alabama's state gambling restrictions to not apply to bets placed through legally sanctioned destinations located outside of state lines. Suffice to say that it's perfectly legal for Alabamans to gamble from their own homes and private property via PCs and mobile devices, so long as the sites with which they're gambling are located outside of US jurisdiction.
Alabama has not included any restrictions specific to online gambling at offshore destinations within their laws or statutes. As a citizen in Alabama, you are perfectly free to gamble online so long as the site is located outside of US jurisdiction. Check out our list of USA online sportsbooks that have been vetted by our team and have proven to be legally licensed.
Alabama's Top Sports Franchises
Gambling in Alabama takes on all sorts of shapes, sizes and suchlike. As mentioned previously, the state does have three Indian casinos, all of which are perpetually packed and offer a wide assortment of games. They also have greyhound and horse racing tracks in big cities like Mobile. So, on the whole, there are different ways to spread your gambler's wings in the state, even though Alabama is very strict with its gambling laws overall. However, no matter how many casinos you find, and no matter how many greyhound tracks you attend, nothing in Alabama compares to betting on college football. Known as the Heart of Dixie, Alabama could easily be known as the home of the NCAA. It isn't of course; that's in Indiana. But when it comes to football, there is no state in the nation right now as revered for their athletic programs quite like Alabama.
A big part of the reason that college football is so incredibly huge in the state of Alabama is that there isn't any other pro sporting franchises to speak of. Unfortunately, the NFL, NBA, MLB, MLS, nor even the NHL have a pro team here. Which really seems odd when you think about, because it's objective that Alabama has some of the nation's craziest and most fanatic sports enthusiasts. Even still, the state does not have a single professional team. There are actually over half a dozen semi-pro teams in Alabama, covering sports like football, basketball and baseball, and as you might imagine they draw pretty big crowds and fanfare. But when it comes to the pros, there is no professional presence in the Cotton State. It's all college, all the time, and Alabamans don't really seem to mind this at all.
Alabama has nine Division 1 NCAA teams in the state, ranging from SWAC and Ohio Valley teams to Southern, Sun Belt and C-USA teams. The big two, however, both play in the SEC West: The Alabama Crime Tide, from the University of Alabama, and the Auburn Tigers, from Auburn University. Other D1 teams like the A&M Bulldogs, South Alabama Jaguars and Troy Trojans definitely have their followings, but the Tigers and Crimson Tide are indistinguishable from a religion in Alabama. These teams are so popular that they're amongst the only two state college teams in the nation to have an actual nationwide following in the media. The SEC Network is nationally syndicated, and every major sports broadcast in the nation stays closely attached to the Crimson Tide and the Tigers, aka War Eagle, during college football season.
Not to take anything away from basketball, baseball or women's sports in college, of course; speaking of Alabama specifically, these sports still have huge followings and there are a lot of sports betters in Alabama who closely follow men's and women's basketball, baseball, volleyball, gymnastics, and other sports. Especially with women's gymnastics, the SEC West is easily one of the best in the nation. However, we must return to men's college football in Alabama, if only because that's where the lion's share of all betting takes place, and it's certainly where the biggest ratings come from.
Football Betting In Alabama
The Alabama Crimson Tide
When the Crimson Tide suit up to play football on Saturdays in Tuscaloosa, you can hear the cries of "Roll Tide" from miles away. Hundreds of thousands of people show up every week, even if Alabama is playing an away game. Having tailgate parties in the parking lot of Bryant-Denny Stadium is like a rite of passage for proud Alabamans, and from 8 to 88, you can find rabid fans showing their appreciation. And while the atmosphere is the thickest for the football team, other college sports in Alabama also draw pretty big crowds. This is in part due to the fact that there aren't any pro league teams in the state, but it also has a lot to do with the Tide itself. The Crimson Tide is one of the winningest programs in all of NCAA history, and there's a proud legacy of just showing up, even if the team isn't doing that well. All throughout the late '90s and early 2000s in Alabama, their collegiate teams in Tuscaloosa were hard-pressed to win anything, and the University of Alabama was even sanctioned and lost some scholarships and bowl games. Even still, the fans stood right by them, and the betting numbers have been soaring for the past 8 years.
For almost a decade now, coach Nick Saban has created a Crimson Tide program that can literally match up well with some NFL teams. They have won three National Championships in the past six years, and they were one of the four teams in the inaugural playoff system last year. Their defense is always a powerful force. In six seasons, they have never lost to a big underdog team. Their biggest losses include losing to LSU a few years ago, which warranted a rematch in the National Championship game that Alabama dominated. They lost to a Cam Newton-led Auburn team. And they lost to a Texas A&M team with Johnny Football at the helm.
Preview Of Alabama Crimson Tide For 2018-2019 Season
TBD
Odds For Alabama to Win the 2019 CFP Championship
Alabama Crimson Tide +210
Auburn Tigers Sports
With the Auburn Tigers, there's a lot more War Eagle offers than the Crimson Tide. For instance, Auburn's men's basketball team is very good, and used to be a true contender in the '80s, alongside the likes of Kentucky and Indiana. Charles Barkley was the most notable athlete playing basketball there, but since then there have been solid pros to come out of War Eagle territory, like Jamison Brewer, Pat Burke, Marquis Daniels, Adam Harrington, and Chris Porter. They also have a very fierce women's branch of athletics. Their girls can seriously play sports like basketball, softball and volleyball. For some reason, Auburn attracts far more female talent to its school than does the University of Alabama. And because of this, Auburn typically dominates in sports that aren't men's football. This is an aspect of the bitter rivalry that Crimson Tide fans don't like to speak about.
Auburn Tigers Football
Auburn is Alabama's biggest interstate rival. The two schools make up most of the sports action in the state. Auburn, under Head Coach Gus Malzahn, has been threatening Alabama for years. The Iron Bowl, as it has been dubbed, is arguably the most important game of the season for local fans. Alabama has won the last three Iron Bowls, but Auburn always gives them a run for their money. No matter which team you support, you better believe that this type of competition has transformed the Iron Bowl into one of the most bet-on events in the entire nation, much less Alabama.
With their last championship being in 2010, Auburn has been left out of the postseason conversation for a while, but that doesn't take away from their overall success rate. Auburn's football team covers the spread around 70% and they're typically around 80% on winning when they're favored to do so. Because of their spread offense and lackluster secondary, they often get into shootouts, so they typically end up losing two or three games a year – games that they're favored to win. This hurts betting odds and makes the Crimson Tide a more bet-worthy team, but don't sleep on Auburn's ability to crush an opponent and earn a better a huge return.
Odds For Auburn Tigers To Win The 2019 CFP Championship
Auburn Tigers +2500
Options For Alabama Residents Interested In Betting
Alabama residents enjoy a nice selection of regulated gambling entertainment options. From Indian casinos, horse and greyhound races and popular collegiate atheltic programs in place, there is always an option for enjoying responsible, adult betting options. Just remember to always be responsible with your wagering and follow the law by finding a licensed sportsbook regulated outside of US jurisdiction to avoid the risk of breaking any Alabama gambling laws.
Resources For Alabama Players