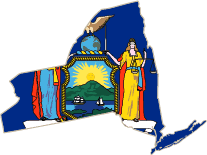 The Big Apple is home to several huge sports franchises. There are even some interstate rivalries across multiple leagues, creating an interesting sports environment. New York also presents an exciting opportunity for sports bettors. Sports gambling is a restricted industry in that there are several laws related to it, but it is not impossible to participate in for New York residents. In this guide, you will find several legal offshore sportsbooks that allow New York residents to get in on the sports betting action. This page will go into the state's position concerning legal online sports betting, and how federal laws impact things as well. We also take a look at the state's prominent professional sports teams that span just about all pro leagues.
Best USA Friendly Sports Betting Site


Accepting New York Residents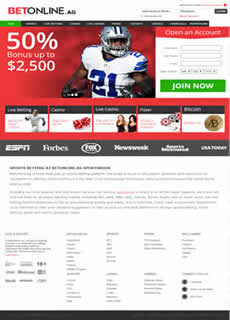 Betonline Sportsbook is our recommended destination for New York sports fans seeking a legitimately licensed and legal online sports gambling opportunity. They also offer some of the most competitive betting lines, odds and paylines. BetOnline was one of the initial pioneers in the online gambling arena, and have been involved in the industry since 1991. They offer their customers a lifetime bonus on every single deposit they make into their account, a superb selection of US and International sports categories, events and leagues to bet on, and a user friendly, innovative online platform by which to do so. They also offer a mobile sports betting application that includes live betting features.
USA Online Sportsbooks


Open To NY Players In 2018
Is Online Sports Betting Legal In New York?

New York allows for charitable gambling, pari-mutuel gambling, state lotteries, tribal casinos and racetracks. Regardless of the fact that NY residents love their sports teams, the state is unable to offer regulated sports betting options either online or offline. This is due to federal regulations. That being said, it is illegal to operate any type of sports betting business within the state or to participate in any type of unlicensed gambling entertainment. New York sports fans do have some other options however for accessing legally regulated sportsbook gambling without violating any state or federal gambling laws. Providing clarification on this topic is the primary objective of this page, which effectively provides the information you need to make informed decisions regarding your sports betting activities.
As long as you restrict your betting to only those sportsbooks that are licensed and regulated outside of the US, then you will not be violating any laws at home. None of those laws prohibit or affect offshore gambling sites. If you live in New York, you don't have to worry about getting yanked up by the boys in blue just because you placed a bet online. So as long as you're able to find a licensed online site that allows you to deposit and play, you're actually well within your rights as a New Yorker to gamble there as long as you want and on any game you want, from sports betting to playing bingo. This can be done through USA online sports bettingoptions available to United States residents. Citizens are allowed to technically gamble and bet on sports as long as they're gambling at a legal location such as the destinations featured in this guide.
New York and How Federal Laws Work Here
If you have read our state-based articles before, then you know that we like to give our readers a rundown of the federal US sports betting laws in every article. We do this because (a) it's very important that you know about the federal laws (the American government's laws) governing gambling, and (b) we like to illustrate how state-based legislation melds, or doesn't meld, with the federal regulations. This will help players in making informed decisions regarding their gambling participation. We like giving you the skinny on how states get along with the feds, so that you can gamble in peace without having to worry about potentially breaking any laws. Sure, it takes up a whole section of every article, but it's well worth it to get that information out there.
In terms of federal regulations which may or may not affect New York, you have three: The UIGEA of 2006, the Bradley Act of 1992, and the Federal Wire Act of 1961. For the UIGEA, this law basically places regulations on how online gambling transactions can be processed. The law is directed solely at the online gambling site operators and payment processors, and does not address players. While this law did temporarily send a lot of online gambling businesses out of the US gambling market, the dust has since settled and US gamblers once again have a decent range of options when it comes to legal offshore betting. This law caused an initial uproar in the industry, but ultimately did improve the safety of online gambling transactions and does little to hinder us from betting on sports.
PASPA, which is technically the Professional and Amateur Sports Protection Act, debuted in 1992 and effectively made it illegal to bet on any type of sports throughout the US, with the exception of four specific states, none of which are NY. New York doesn't allow any sports betting in the state, so they're covered here. If they did allow it, it would be illegally operating in the backroom of a casino somewhere, and you might want to avoid it. New York is like the poster-child state of America, so if they're breaking federal law, the federal government would swoop in quickly to make an example out of them. To date, however, state based sports betting is something that remains illegal in New York.
With the Federal Wire Act of 1961, the government basically went after organized crime by making it illegal for them to carry on with their sports betting via phone lines. Since that time, the DOJ has stated that the law does apply only to sports betting and that it does prohibit US based online sports betting. Many people are crying fowl since that date, pointing out that the Internet was not even around in 1961 hence the law certainly could not have any intention of banning something that didn't exist when it was established. These objections have fallen on deaf ears thus far, with no changes in the law being made. Though if you do want to bet via a "wire," you can still do so via the Internet, technically speaking, by simply finding a site that's legally licensed outside of the US and that allows you to play there. The government won't come down on you for that as US federal laws do not impact businesses operating outside of the US.
Your Gambling Options in New York
The state of New York basically has a mixture of tribal casinos and racetracks. Not all of their racetracks are actually tribal, but the majority of their casinos are. Some people have a bone to pick with tribal casinos. For the most part, they're very heavy on the slots and only offer a few table games, and they're not exactly going to earn a magazine feature for their cuisine anytime soon. Their hotel rooms are also frequently cut-rate and they don't put a lot of care into creating a resort-like atmosphere like you would find in a Vegas casinos or at the Trump down in Jersey. However, some of the casinos in the state of New York are top-of-the-line gambling houses that are basically like resorts. It all really depends on which casino you visit.
For instance, the Empire City Casino at Yonkers Raceway is a relatively new addition to the state. It used to be a famous racetrack, but it has since been completely remodeled into a legitimate casino. You can find over 5,300 slot machines here, as well as roulette, sic bo, baccarat, blackjack, video poker, and much more. This is a large establishment with high-quality rooms, great entertainment, fine dining options, and much more. It even has valet parking. Another solid casino in the state is one that you might not even want to stop at when driving by. The Akwesasne Mohawk Casino looks like a large Howard Johnson's that was painted red, but it's actually one of the best casinos in the state once you get inside. This casino has over 1,800 slot machines, dozens of table games, a health spa, a gym, plenty or rooms, and even RV parking for people who are on cross-country trips with their families.
Don't sleep on New York's offerings for a minute. The state is where the famous Belmont Racetrack is located, which features the Belmont Stakes every year. This is a legitimate A1 horse race that draws in hundred of thousands to watch live, and millions on television. They also offer simulcast racing and dining and entertainment options. All told, there are over a dozen other casinos located in New York, where you can play slots, bet on the ponies, play blackjack, enjoy a show, etc. You might not think it, but New York is quickly becoming a go-to locale for gamblers.
A Few of Many of New York's Sports Franchises
The NFL
New York isn't a very large state by area, but their population is booming. This means that they have quite a few professional sports teams, and three in the National Football League. Their three NFL teams are the Buffalo Bills, the New York Jets, and the New York Giants, the latter two of which are representatives of NYC and not the state. Buffalo is a New York state team and is actually the only team that plays inside of New York. They were huge in the 1990s, with Jim Kelly, Thurman Thomas and Andre Reed. They went to four consecutive Super Bowls, though they never won one. Even still, that was an unprecedented run that New Yorkers still talk about today.
The NY Jets 2017-2018 NFL Football Season
The Jets in the AFC are the hard-luck story of the New York football teams. They haven't won a Super Bowl since Joe Namath, and their team seems to get worse on a season-by-season basis. The Jets have missed the Playoffs for six consecutive seasons and can't seem to keep the same team for a long period of time. They traded their star WR Brandon Marshall to the Giants, ushering in another reboot effort. The Jets finished 5-11 and will more than likely have a losing record this year. Betting against the Jets is a more statistically positive wager.
The Buffalo Bills 2017-2018 NFL Football Season
The Bills capped last season with a 7-9 record and third place finish in the AFC East. Despite having six Pro Bowlers in DT Kule Williams, OG Richie Incognito, OLB Lorenzo Alexander, RB LeSean McCoy, CB Stephon Brown and ILB Zach Brown, the team were unable to make the Playoffs. Head coach Rex Ryan was fired with one game remaining the season. Sean McDermott has been appointed the position and will try to turn things around in Buffalo. They lost RB Mike Gillislee to the Patriots, but McCoy is a solid enough RB to maintain the position. The Bills will be a team to monitor on a week-to-week basis as their new coach learns the ropes.
The NY Giants 2017-2018 NFL Football Season
The Giants had potential heading into the 2016-2017 season, but their loss to the Packers in the Playoff Wild Card round squashed any chance at postseason glory. They were left at 11-5 and second in the AFC East. They picked up WR Brandon Marshall from the Jets in the offseason, so look for his impact early on. QB Eli Manning and WR Odell Beckham Jr. have had their success, but Marshall adds a new element to the offensive unit.
Major League Baseball
There are two MLB teams in New York: The New York Mets, who play in the National League, and the New York Yankees, who play in the American League. The Mets haven't won much since being donned the Miracle Mets over four decades ago, whereas the Yankees are known for winning. They were the team of the late '90s and 2000s, winning multiple World Series titles and having the best roster in all of baseball, which featured players like Derek Jeter, Roger Clemens and Mariano Rivera. The Yankees are looking strong again this year, while the Mets are teetering on the edge of disaster. We're not ready to predict a Yankees World Series win or anything, but they are looking strong to make it to the playoffs. New Yorkers should be thrilled to see the Yankees back in the postseason.
The NBA
For years, the only NBA team in New York was the New York Knicks, but recently the New Jersey Nets jumped over to Brooklyn to become the Brooklyn Nets. Even with two teams, neither one really wins anything. The Knicks have Phil Jackson as their GM, and Carmello Anthony as their best player, but they don't have much chemistry, and the East is quickly getting as tough as the West, with teams like the Cavs, the Pacers, the Wizards, the Hawks and a resurgent Heat squad. The Nets and Knicks both play in the East, so it's likely that only one will make the playoffs, if any. The Knicks are looking in a better position to do so this year, but they need a point guard who can move the ball, and they need players who can defend. Anthony is all about offense, and he's like the Kobe of the East. They're struggling for surrounding talent. Don't bank on either New York NBA team making any noise next season.
The NHL
New York is also well represented within the National Hockey League. With the Islanders, who play at the Barclays Center, New York has a team that often makes some noise in the East. Although their last Stanley Cup was in 1983, the Islanders are still impressive to watch on the ice. The Rangers, who play in the famed Madison Square Garden, are a different breed. Although they're also a long time without a Stanley Cup, winning in '93, they actually just won their division last year and they're looking even stronger for this year upcoming. If you had to bank on one doing better, it would be the Rangers.
New York offers you plenty of bet fodder, but always remember to be measured and logical when betting. When you bet like a fan, you're betting to lose. Bet using stats and probabilities and you will find more real money in your account after the games are played. And if you are smart, you will look to take advantage of all the USA sportsbook bonuses offered at each of the sites giving you even more money to work with.
Future Betting Odds For All New York Sports Teams 2018-2019 Season
Odds For The Buffalo Bills To Win The 2018 Super Bowl +6000
Odds For The New York Giants To Win The 2018 Super Bow +5000
Odds For The New York Jets To Win The 2018 Super Bow +10,000
New York Mets to win World Series +3000
New York Yankees to win World Series +600
New York Knicks to win NBA Championship +TBD
Brooklyn Nets to win NBA Championship +TBD
New York Islanders to win the Stanley Cup +20000
New York Gambling Resources