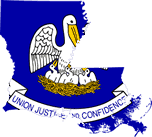 The state of Louisiana offers a gambling-friendly atmosphere, with a healthy selection of regulated betting entertainment available to residents and visitors. While many of the most popular types of gambling are approved and licensed by the state, sportsbook betting is currently not one of them. While there is a sports betting bill pending, as of now offshore online sportsbooks are the only legal option for sports-related wagering in the Bayou State. By selectively visiting legitimately regulated bookmakers located outside of the United States, bettors can enjoy high quality and legally sanctioned sportsbook gambling without violating state statutes or federal laws.
Here we will take a look at the Louisiana state laws and statutes, the US federal laws that govern sports betting in America, and how these two specific legal landscapes intersect to determine what is and is not legal for Louisiana when it comes to betting on sports.
Best Online Sportsbook


Accepting Louisiana Players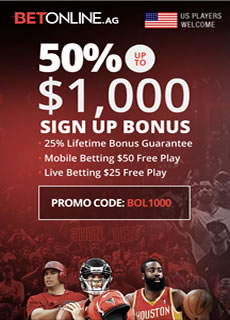 Louisiana sports fans will find a great lineup of sports events and betting lines at BetOnline Sportsbook. This popular sports betting destination welcomes players from the US and supports American customers throughout their range of services, including their banking suite. All players will receive a 50% welcome bonus up to $1,000 and a 25% reload bonus on all deposits into their account for as long as they remain registered players. You can use that bonus to on any of the many sports events covered in their lines. BetOnline was one of the first online sportsbooks in the industry, affording them invaluable long time experience – and it shows. Their betting lines, odds and paylines are highly competitive and on par with the Vegas bookmakers.
Legally Licensed USA Sports Betting Sites

Open To Louisiana Players In 2019
Is Online Sports Betting Legal In Louisiana?

There are two sets of laws that come in to play in order to accurately answer this question. Let's start with the state laws. Louisiana is one of the few states that have expressly made state-based online gambling illegal. There is a provision within the state's gambling laws that makes it a crime to operate any type of online gambling site or businesses within the state's borders. The penalties for doing so are among the stiffest in the country. The law specifically targets those responsible for offering betting services rather than the individuals who are placing the bets. This law does not address legal offshore sports betting.
State and Federal Laws to Deal with in Louisiana
Before May 2018, two Federal gambling laws prohibited state regulated sportsbook gambling in most of the United States, including Louisiana. The Professional and Sports Protection Act combined with the Federal Wire Act effectively outlawed domestic sports betting options in LA.
The repeal of PASPA, which also modified the application of the Federal Wire Act has opened the door to give individual states the authority to determine whether they want to allow or prohibit sports betting at a state level.  Now we just have to wait to see if Louisiana says yes or no to this form of state-based betting entertainment.
Is Offshore Online Sports Betting Legal In Lousiana?
There are state laws in Louisiana preventing the operation of an online gambling site, but there are no laws that govern placing bets online at legally licensed and regulated offshore gambling sites. Despite the fact that the DOJ has given each state the authority to launch online casino and poker gambling as they desire, we aren't very confident that LA lawmakers will go down this road due to their negative views to online gambling in general. However, there is currently a domestic sports betting bill on the table, we will have to wait and see if it gets passed by state legislatures.
Louisiana Sports Teams
The state of Louisiana has a booming, vibrant sports culture that no other state in America can outdo. There are many states where sports are just as important, and where fans are just as fanatical, but Louisiana is definitely in the upper echelon here, and a state can only match the sports culture of this state, never exceed it. And it all actually started relatively recently. After hurricane Katrina came through and basically wiped out the city of New Orleans, everything changed in Louisiana. Even the Super Dome, the home of the Saints, took an extreme hit and some serious damage.
Only a year later, however, the Super Dome had been repaired and the New Orleans Saints had a home opener on Monday Night Football. They not only won this game, they dominated. They returned a punt for a touchdown. Drew Brees was playing out of his mind. They even went on to win the Super Bowl not long after that, defeating Peyton Manning and the Colts handily. Football gave the people of Louisiana a great reason to stick together, and sports in the state seriously exploded after that point. They had always been popular, but the Saints' triumph from tragedy pushed it over the edge in an unprecedented way.
Betting on the 2018 New Orleans Saints
Following the heartbreaking 29-24 defeat to the Minnesota Vikings, who won on a last-second miraculous throw and catch, in the NFC Divisional Playoffs a year ago, the Saints look to put 2017 behind them and prove they are ready to contend for a Super Bowl once again. Sean Payton enters his 12th season as head coach of the Saints and will return 21 of 22 offensive and defensive starters from a year ago led by none other than Drew Brees, one of the best NFL quarterbacks of all time and future first-ballot Hall of Famer.
RB Alvin Kamara enters his second season after winning the AP NFL Offensive Rookie of the Year award from a year ago, and with starting RB Mark Ingram Jr. suspended for the first four games of the season for using PEDs, Kamara could become the full-time starter for the entire season, making him a dark-horse MVP candidate.
The Saints hope 2018 14th overall pick DE Marcus Davenport can bolster the defensive line and take double teams away from Pro Bowl DE and leader of the defense Cameron Jordan. Look for the Saints to improve on their 17th ranked total defense from a year ago and make a serious run at the Super Bowl. Now is the time to bet because the Saints current odds have a good payout at most sportsbooks should they win it all.
2018 Preseason NCAA Championship Odds: +1400
Betting on the 2018 LSU Tigers
Ed Orgeron enters his second year as head coach at LSU after finishing 3rd in the SEC West and ending the season ranked No.18 with a 9-4 record. The Tigers have perhaps the toughest schedule in the entire country this season. LSU opens their schedule against No.8 Miami in Texas and plays at No.9 Auburn two weeks later. If that wasn't a tough ask already, starting in October, the Tigers must play at Florida before coming home to play No.3 Georgia, No.18 Mississippi State, and No.1 Alabama then finishes the season at Texas A&M.
Fans of the Bayou Bengals have high expectations for this season, and it just doesn't seem to match reality. Starting QB Danny Etling graduated and RB Derrius Guice entered the NFL Draft, leaving the Tigers with two major holes to fill on the offensive side of the ball. Fortunately, the Tigers defense might be even better then they were in 2017, a season where they finished 12th in the country and allowed only 316 total offensive yards per game to opposing teams.
The defense is led by one of the best linebackers in the nation, Devin White. NFL scouts expect the LSU LB to be a top 10 pick in the 2019 NFL Draft with some scouts calling him the most athletic player in the entire draft class. Whether he can carry LSU to an SEC or CFP National Championship is not a fair question to ask of a linebacker, but it is a fair one to ask before placing a wager. Unfortunately, the LSU Tigers have too many holes and too tough a schedule to overcome for someone to feel good about betting on the Bayou Bengals in 2018.
2018 Preseason NCAA Championship Odds: +7000
The New Orleans Pelicans
The Pelicans, formerly the New Orleans Hornets, formerly the Charlotte Hornets, are a very young NBA basketball team in a pretty bad situation. They were moved from the Eastern Conference into the Southwestern division of the Western Conference, which means they have to go through teams like the Spurs, Clippers, Warriors, Rockets and Thunder if they want to make it to an NBA championship. This is a very tough road for any team in the NBA, hence the pure battles that happen every year in the playoffs when the Western teams collide.
However, the Pelicans do have one thing going for them: They're very young. Anthony Davis, only entering into his third year, AKA the Unibrow, is a very young talent who's already considered to be an elite player in the league. They also have young players like Jrue Holiday, Tyreke Evans and Omer Asik to round out the roster. If ever they can get a top seed in the West and force the other teams to come through them, then that might just be enough to carry them to the Finals.
They had a pretty good season last year, making the playoffs in the West. And if that doesn't seem like a big feat, just look at the West! The Oklahoma City Thunder, featuring MVP Kevin Durant and superstar Russel Westbrook, did not make the playoffs in the West. That's how brutal the conference is.
Which Louisiana Team Has the Best Odds of Winning Next Year?
Of the three Louisiana teams covered above, which one actually has the best chance of winning a lot this year? In many respects, we can rule LSU out. Not out of a bowl game or even a winning season that looks something like 7-3, but out of playoff contention. The fact is that the rest of the SEC is simply too tough for LSU right now. They're close, but they're not there yet. They have a few more pieces of the puzzle. But what about the New Orleans Saints? With Drew Brees and a high-powered offense, they're really looking good for running away with their division.
In fact, we predict that they will go 12-4, easily win their division, and hold down the #3 seed in the NFC playoffs. However, we predict that this won't be enough. They're going to run into either Green Bay or Seattle eventually, and both of these teams are simply on another level and will most likely beat the Saints. So, we predict the Divisional round of the playoffs is as far as the Saints go. Good, but not great.
That, of course, leaves the New Orleans Pelicans. They're our pick for the Louisiana team that's going to do the best this year. We predict that Anthony Davis will come to life and cement himself on the current Mount Rushmore with players like LeBron James and Kevin Durant. The kid is already a superstar, and he's only going to get better. The Spurs in the West are also getting older, and the Clippers seem to be dysfunctional. That leaves the Rockets and the Warriors to really challenge the Pelicans.
We predict the Rockets are going to implode after Dwight Howard and James Harden fail to become Stockton and Malone; plus Howard is forever injured. And as far as the Warriors go, we predict that their high shooting percentage simply cannot remain over 50% throughout another entire playoff run. So what we expect to happen is that the New Orleans Pelicans pick up a #2 seed in the West and end up in the NBA Finals after defeating the Golden State Warriors in a seven-game nail-biter in the Western Conference Finals. We really see the Pelicans coming to life this season, behind Anthony Davis.
Of course, these are just our predictions. As sports fans, we keep up with the goings-on in these leagues, and we certainly have our favorites. But that doesn't mean you should just blindly throw your money down. Make sure you do your own research. Keep up with the sports. Look at injuries and stats and momentum. Make informed decisions when you bet, and doing so will put you in a position to win.
Future Betting Odds For All Louisiana Sports Teams 2018-2019
New Orleans Saints Odds to Win the Super Bowl 53 +1400
New Orleans Pelicans Odds To Win The 2018 NBA Championship +20000
LSU Tigers Football Odds To Win the 2019 NCAAF Championship +7000
You can check out our list of the best USA online sportsbooks here or read our opinions on which sites are the most trusted. We also offer a section on which sportsbooks offer same day payouts. Fast paying sites are becoming more prevalent in the industry thanks to cryptocurrencies such as Bitcoin.