21+ Domestic Sports Betting In MD Available In-Person, Online, Mobile
Offshore Sportsbook Sites Allow 18+ Sports Betting In Maryland (Online/Mobile)
Gambling laws in Maryland allow multiple forms of regulated betting entertainment to take place, including casino and poker gambling, pari-mutuel wagering on horse races, a state lottery, charitable gaming, legal sports betting, and daily fantasy sports contests.
This page specifically focuses on online sports betting in Maryland, including relevant gambling laws and their relevance to sportsbook gambling. Legal online sports betting is available to Maryland gamblers if you know where to look and what legalities you must be mindful of.
Selectively and thoughtfully choosing your online betting sites in MD will be a vital factor in determining what is legal vs illegal when betting on sports. This guide will assist you in making an informed Maryland sports betting decision.
Best Maryland Sports Betting Site


BetOnline Sportsbook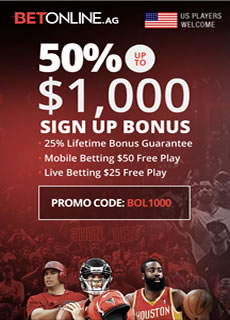 BetOnline Sportsbook welcomes customers from Maryland at the age of 18. New members are offered a nice 50% match bonus up to $1,000 on their first deposit. Returning gamblers are entitled to a 25% match bonus on all deposits into their account for as long as they remain a customer at BetOnline.AG. They cover all the major events, including the Super Bowl, World Series, March Madness, UFC events, and more. This brand operates with very high standards during their over 20+ years in the business. BetOnline offers a robust betting environment that includes live odds and a sophisticated mobile sportsbook app. We invite all readers to click the link below to see for yourselves.
Best USA Sportsbook Sites

For Online Sports Betting In Maryland 2022
Is Sports Betting Legal In MD?

Yes. Sports betting is legal in Maryland. Maryland sports betting was made legal in 2020, and in December of 2021, online and in-person sportsbooks began operation. State gambling laws and statutes don't address offshore sports betting entities that offer their services in Maryland over the web, making them a legitimate and oftentimes more favorable option.
Using offshore USA sportsbook sites inside of MD is an option for Maryland gamblers that have reached the age of 18, where domestic venues require customers to be 21.
No current state gambling laws or federal regulations prevent Maryland's residents from participating in certified and legally operated online sports betting through legitimate sportsbooks located offshore.
Is There MD Online Sports Betting?
Yes, online sports betting in Maryland can be done via offshore or domestic sportsbook sites on mobile phones, tablets, or personal computers. Domestic sports betting sites in MD require that gamblers be 21 years of age to place a wager on major sports, teams, and players online.
Offshore sportsbooks also legally serve the Maryland area and offer their services to 18 and older gamblers standing inside MD's borders. These international sports betting sites can be pulled up in Maryland using any web-ready device with an onboard browser - just make sure it is up to date for the best online security!
How To Sports Bet On MD Online
While there are ample options in Maryland to place an online bet, overseas sportsbook sites are where we recommend that readers wager over the web for many reasons. Placing a bet in Maryland online with an offshore book requires membership - here's how to complete the process quickly.
Don't rush into joining a MD sportsbook site - take your time and browse through all of the books we link to above as they each offer unique odds, lines, bonus offers, and other perks.
Once a decision has been made regarding which site to join, click the join icon atop any page in the sportsbook to begin signing up. We recommend joining more than one book so that bettors can shop the odds.
Populate your account profile by typing in your name and other requested information and create a sportsbook login.
Deposit funds into your sportsbook account using USD or cryptocurrency (crypto is exclusive to offshore sportsbooks and is not accepted at domestic MD betting venues).
Once deposits have completed uploading, new members can head over to the online sportsbook and locate the Maryland betting odds they want to wager on and lay some action.
Where To Bet On Sports In Maryland
Literally, every square inch of Maryland provides fertile sports betting ground for anyone aged 18 or older with some money to risk. While domestic sports betting in MD allows for 21 and older gamblers to wager at in-person, online, and mobile venues, 18-20-year-old patrons still have some options on the table.
Mobile and online sports betting in Maryland can be done at 18 years old using any of the web-based sportsbooks we list and link to above. We prefer offshore sportsbooks to domestic MD gambling sites for convenience, a wide variety of betting odds, and their acceptance of cryptocurrency.
When Will Online Sports Betting Be Legal In Maryland Locally?
Sports betting already is legal domestically within MD and has been since 2021. 21 and older sports bettors inside of Maryland are able to visit a local, in-person sportsbook, access an online gambling site, or download a mobile sports betting app.
MD does not place any restrictions on betting on the games of local colleges and universities at domestic sportsbooks like some other states.
Are There Tribal Gambling Casinos In MD?
Maryland is devoid of any Native American gaming venues but there are three non-tribal casinos located within MD borders.
Live! Casino & Hotel Maryland - Arundell Hills, MD
Hollywood Casino Perryville - Perryville, MD
Horseshoe Casino Baltimore - Baltimore, MD
Rocky Gap Casino Resort - Flintstone, MD *no sportsbook
Ocean Downs Casino - Berlin, MD
MGM National Harbor - Oxon Hill, MD
MD Sports Betting Apps
Both domestic and offshore sports betting apps are on the table in Maryland for gamblers to choose from. Once again, international sportsbook applications hold the advantage in MD because of their expedience of access and operation combined with their 18-friendly status.
21+ gamblers are free to download domestic Maryland sportsbook apps to their mobile devices but be advised you'll be missing out on thousands of odds, betting lines, and props on major sports that in-state options do not offer.
Also, because offshore sportsbook apps operate via web browsers, all that is required is to click on one of the links we've included above using any Apple or Android device.
Major Sports To Bet On In Maryland
Maryland is a mecca of pro and college sports with representation in the NFL, Major League Baseball, as well as several competitive colleges and universities that compete in NCAAB and College Football. The Washington Commanders also play inside of Maryland at FedEx Field, but they're still officially a D.C. team.
Betting On The Baltimore Ravens (NFL)
Baltimore has a rather long history of professional teams. Many from Maryland may still remember the Baltimore Colts before they moved to Indianapolis. In 1996, the Browns departed Cleveland and rebranded as the Ravens.  The Ravens have won two championships, and their odds for Super Bowl betting often place them near the top of all contenders.
We feel that the best NFL betting option for Maryland area gamblers is presented by the offshore sportsbook sites we list within this guide.
Betting On The Baltimore Orioles (MLB)
The Orioles are a team adored by more than Marylanders. Playing small-market baseball, which means they don't have obscene contract numbers, the Orioles are often an underdog team that locals just love to root for. They play in the same division with the New York Yankees and the Boston Red Sox who usually sport the two biggest payrolls in all of professional sports, so Marylanders love rooting for their Orioles to finally get over the hump.
Legal MLB betting in MD can occur using offshore and state-regulated sports gambling venues (online, mobile, in-person). When doing business with overseas sportsbook sites, World Series betting can take place at any time of year with MLB futures, and they also offer exclusive props that domestic MD books avoid.
Betting On The Maryland Terrapins (NCAAF/NCAAB)
The Maryland Terrapins are a member of the Big Ten Conference, a Power 5 Conference in College Football, and a major grouping of universities that compete at a high level in NCAA Basketball. The Terrapins are no stranger to championships either as they won a College Football National Championship in 1953 and were the winners of March Madness in 2002.
Whether betting on NCAA Football or gambling on college basketball, we recommend offshore sportsbook sites over domestic MD gambling options.
Other Major Sports In The MD Region
Betting On The Navy Midshipmen (NCAAF/NCAAB)
Betting On The Washington Commanders (NFL)
Betting On The Washington Nationals (MLB)
Betting On The Washington Capitals (NHL)
Betting On D.C. United (MLS)
Do Federal Gambling Restrictions Affect Maryland?
The Federal Wire Act forbids the transfer of monetary funds across state lines for the purposes of gambling. This means that any bets placed with a Maryland sportsbook must be made from within the state lines of MD and applies to every single other territory in the USA.
This does not apply to the offshore sportsbook sites that we recommend on this page as federal laws have no governance over international jurisdictions.
Your Maryland Gambling Options
Since legalized casino gambling is fairly recent in Maryland, you have to take the good with the bad. On the good side of things, their casinos are brand new, state-of-the-art establishments that have all the bells and whistles, beautiful rooms, spas, etc. They're gorgeous landmarks that bring people in from all up and down the eastern seaboard.
On the negative side, of course, you don't have a lot of places from which to choose. Your options are rather limited since the state hasn't had enough time, nor enough revenue, to start building its own version of Atlantic City within the state.