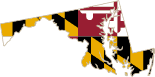 Gambling laws in Maryland allow multiple forms of regulated betting entertainment to take place, including casino and poker gambling, pari-mutuel wagering on horse races, a state lottery, charitable gaming, sports betting, and daily fantasy sports contests.
This page will focus specifically on how online sports betting figures into the gambling market in Maryland. We will discuss the gambling laws in Little America and their relevance to sportsbook gambling. We will also discuss relevant US federal laws and the role they play in the governing of sports betting across the nation. Legal online sports betting is available to Maryland gamblers if you know where to look and what legalities you must be mindful of.
Selectively and thoughtfully choosing your online bookmaker destination will be a vital factor in determining what is legal vs illegal when betting on sports. This guide will assist you in making an informed decision by systematically breaking down relevant elements through comprehensive explanations about the pertinent legal landscape of Maryland's betting entertainment
Best Online Sportsbook


Accepting Maryland Players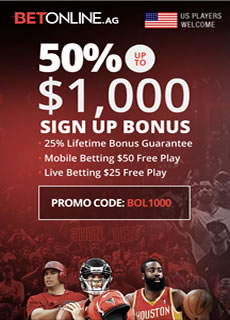 Betonline Sportsbook welcomes customers from the US in general, including those from Maryland. This sportsbook also accepts international players. New players are offered a nice 50% match bonus up to $1,000 on their first deposit. Returning players are entitled to a 25% match bonus on all deposits into their account for as long as they remain a customer at Betonline. They cover all the major events, including some interesting. This brand operates with very high standards and their 20+ years in the business shines through their secure, high quality and legally sanctioned betting environment that includes live betting and a sophisticated mobile betting app. We can easily recommend them as the premium options for sports fans in Maryland.
Best USA Sportsbooks For Maryland Bettors
Is Online Sports Betting Legal In Maryland?

Yes. Sports betting is legal in Maryland.
Maryland sports betting was made legal in 2020, and in December of 2021, online and in-person sportsbooks began operation. State gambling laws and statutes don't address offshore sports betting entities that offer their services in Maryland over the web, making them a legitimate second option.
To sum things up, MD-based online sports betting is now an option for Maryland gamblers and the activity can be done at in-person venues or online. Also of note, none of the state gambling laws or the federal gambling laws discussed above prevent Maryland's residents from participating in certified and legally operated online sports betting through legitimate sportsbooks located offshore.
When we say legitimate, we mean a high-quality online sports betting site that is authorized and located outside of United States borders within a governing jurisdiction that has expressly legalized online sports betting. The bookmakers that are operating legitimately within the industry can legally accept bets from gamblers in the US.
You will find a list of recommended legal online sports betting sites on this page. Each of them has been carefully vetted by our team through an intense review process that effectively determines their legitimacy and quality. The ones that made it onto our list exceed minimal industry standards and credentials, deliver a safe and sophisticated betting environment, and competitive betting lines and wagering options.
Do Federal Gambling Restrictions Affect Maryland?
The Federal Wire Act forbids the transfer of monetary funds across state lines for the purposes of gambling. This means that any bets placed with a Maryland sportsbook must be made from within the state lines of MD and applies to every single other territory in the USA.
This does not apply to the offshore sportsbook sites that we recommend on this page as federal laws to apply and have no governance over international jurisdictions.
Your Maryland Gambling Options
Since legalized casino gambling is still brand new in Maryland, you have to take the good with the bad. On the good side of things, their casinos are brand new, state-of-the-art establishments that have all the bells and whistles, beautiful rooms, spas, etc. They're gorgeous landmarks that bring people in from all up and down the eastern seaboard.
On the negative side, of course, you don't have a lot of places from which to choose. Your options are rather limited since the state hasn't had enough time, nor enough revenue, to start building their own version of Atlantic City within the state. At the moment, there are six casinos operating within Maryland's borders, with the oldest opening in 2010.
Teams To Bet On In Baltimore
While the Washington Commanders play inside of Maryland via FedEx Field, they're still a DC team and not a Maryland team. Calling the Football Team a Maryland franchise would be like calling the New York Jets or Giants New Jersey teams. They might play there, but they're still New York teams. And even though there is a hefty Redskins fan base inside of Maryland, most Marylanders love their big two teams out of Baltimore: The Baltimore Orioles and the Baltimore Ravens.
Betting On The Baltimore Orioles
The Orioles are a team adored by more than Marylanders. Playing small-market baseball, which means they don't have those obscene contract numbers, the Orioles are like the underdog team, a la Rocky Balboa, that people just love to root for. They play in the same division with the New York Yankees and the Boston Red Sox, the two biggest payrolls in all of professional sports, so Marylanders love rooting for their Orioles to finally get over the hump. They don't have a long tradition of winning games, but they do have a long tradition of having some tough ballplayers.
Cal Ripken, Jr. was an Oriole and ended up becoming the true iron man of baseball, playing in 2,632 consecutive games over 16 seasons. Cal played through tears, breaks and sprains, concussions and lacerations, and more. No matter what was wrong with him, he suited up and took the field, and this embodied the Maryland spirit of hard work and determination, and it's still one of the biggest reasons that the Orioles are so popular in Maryland.
Betting On The Baltimore Ravens
Baltimore has a rather long history of professional teams. Many from Maryland may still remember the Baltimore Colts before they moved to Indianapolis. The Colts ultimately became the Ravens, and Marylanders aren't upset about the change. The Ravens have won two Super Bowls in recent memory, with the latest coming when they defeated the San Francisco 49ers in a fantastic game that pitted brother against brother via the head coaches, John and Jim Harbaugh.
The Ravens have a short history, but it is already littered with title runs and they are usually featured toward the top of the futures odds at Super Bowl betting sites.