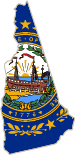 As far as gambling goes, New Hampshire leaves much to be desired. The state prohibits most forms of gambling, with very few options for regulated betting. Commercial and tribal casinos are illegal in the Granite State, however, class II games can be found and played at the state's off-track betting locations that also offer simulcast pari-mutuel wagering. A state lottery and charitable gaming are the only other forms of state-licensed gambling entertainment permitted in New Hampshire. The legal status of gambling in the state has seen its share of efforts made to expand the betting industry in the state.
From 2010 to 2016, lawmakers in New Hampshire introduced 25 pieces of gambling-related legislation, with 23 of these bills either killed in the house or tabled in the Senate, and only two being signed into law. The two that made it did not provide any significant changes other than increasing betting limits in charitable poker games. Despite this, New Hampshire residents do have access to legally sanctioned USA online sportsbook gambling opportunities; you just need to know where to look. This guide will lay out the nuances of navigating the sports betting market without violating any state or federal laws in the process.
Best Online Sports Betting Site


For New Hampshire Residents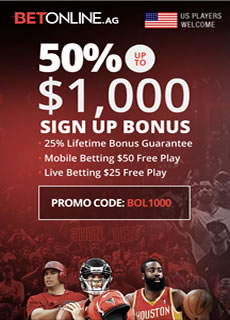 Betonline is truly one of the most reputable online sportsbooks that are still servicing the US market as of 2019. They have been around for over a decade and are one of only a handful of sportsbooks that are top shelf operations. They just updated their bonus for 2018 - 2019 football season which now includes a 50% deposit bonus for new players up to $1,000. You will also find a variety of wagering options, including live betting features and some exceptional prop bets.
#1 US Online Sportsbooks

Accepting NH Players In 2019
Is Online Sports Betting Legal In New Hampshire?

Like is the case with most US states, New Hampshire doesn't have any laws which specifically makes the act of betting online illegal. It would be illegal to open up a bookie shop in the state and accept bets, but it wouldn't be illegal for the player placing the wagers. So what this means in terms of betting on sports, players from NH can legally place bets online as long as they are doing so with a licensed offshore site which is located in a country that offers legal online sports betting.
New Hampshire and How They Abide Federal Regulations
The Granite State has some fairly restrictive gambling laws in place, contained primarily within Chapter 647 of the New Hampshire Criminal Code. Efforts were made in 2016 to repeal some of the gambling prohibitions that are currently in effect, however HB 1498 was killed in the House. An effort was also made in 2016 to establish a sports lottery in the state, however this bill also failed to come to fruition. Despite the many efforts of lawmakers and the support of the Live Free or Die Alliance, which is a pro-gambling group in the state, gambling expansion just can't see the light of day in New Hampshire. To be perfectly honest, when it comes to sports related wagering, the failure of the state to expand gambling is inconsequential. The state really has no say in the matter at this point. The feds typically leave it up to each individual state to carve out regulation for their preferred forms of gambling. Sports betting is the exception.
Two specific federal laws dictate sportsbook gambling in the United States. Both PASPA also known as the Bradley Act (now repealed) and the Federal Wire Act of 1961 combined to outlaw any type of US-based sports betting operation within the state of New Hampshire. In 2018 the PASPA act was declared unconstitutional by the Supreme Court of the United States. Us-states now have the option of enacting sports betting laws and legislation for regulating the industry. New Hampshire has not produced a sports betting bill to state legislatures yet, but it is possibly coming.
Now without PASPA in place, the Federal wire act prevents online bets across state lines. Thankfully, the buck does not stop there. Legitimately licensed and regulated online sportsbooks that are located outside of the USA can legally accept bets from gamblers in New Hampshire. This is because they are operating legally within a jurisdiction that has expressly legalized bookmaker operations.
Sports fans in New Hampshire can visit, open an account and place bets at legally sanctioned offshore sportsbooks without violating any US federal gambling laws on either a federal or state level. There are no state or federal laws that prevent US New Hampshire citizens from legally placing bets online as long as you selectively choose an officially licensed, certified and regulated bookmaker that is based overseas. The sportsbooks that we have presented to you on this page all fall into this category, and have all been vetted by our team of professional gambling analysts to ensure their legitimacy and quality.
The Overall State of Gambling in New Hampshire
As we mentioned above, New Hampshire may be one of the most confusing states to figure out when it comes to how they handle gambling. Per the letter of their own state law, they are expressly against allowing commercial gambling in their state. The same also holds true with tribal gaming. If you were to read their state constitution and their statutes against gambling in their state law registry, you would see that all commercial gambling is banned and that tribes are not allowed to be recognized by the state for the purposes of opening up live casinos. Racetracks are also out in New Hampshire; the state stands wholly against creating racetracks and allowing people to bet on greyhounds or the ponies. Though evidently, these could be new laws and older establishments were grand-fathered in, or it's a case of New Hampshire acting hypocritical because it's in their best interest to milk the tax revenues from certain locations. Whatever the state's reason and whatever they're hoping to achieve, all they've managed to create is a mess when it comes to who can gamble and who can't.
The only thing we can say about New Hampshire with any level of certainty is that you're not without gambling options inside of the state. While the laws might be against gambling, and while that might get very confusing from time to time, the fact of the matter is that you can gamble inside of the state. There aren't very many locations at which you can gamble, but they do exist inside of the state. You just have to know where to look to find them. And this is definitely an area where we can assist you on your gambling journey.
Your New Hampshire Gambling Options
While you can find one or two slot houses, you won't find any legitimate casinos in New Hampshire. So if you like poker rooms, table games like blackjack and craps, and other casino mainstays that keep people coming back time and again, you will have to travel outside of the state. Yes, we said that New Hampshire was a bit hypocritical, and they are. But this is only to a very limited extent. They actually don't have any legitimate casinos in the state at which you can gamble. What they do have, however, are a variety of racetracks. Sure, this isn't nowhere near as fancy or as gambler-friendly as would be a casino, but New Hampshire is stuck back in the 1800s for some reason, and they tend to view gambling as immoral and that's why they keep it illegal. The state might want to think about changing its motto from "Live Free or Die" to something more like "Be Moral Like Government Tells You," but we digress.
The first land-based gambling site in New Hampshire is at the Lakes Region Greyhound Casino & Track. They offer racetrack betting, live poker, and casino games. Another racetrack in the state is the Rockingham Park Race Track, where you can watch thoroughbreds, harness racing, and play a few table casino games.
The citizens inside of New Hampshire have been trying to get casinos for years. They keep pressuring local politicians into creating casino bills to build some top-flight casinos in the state, but the higher-ups in New Hampshire's government keep rejecting the bill. Hey, you Hampshirites out there, listen up: These politicians literally need your votes to survive. If ever the government doesn't act how you would like them to act, replace them! It might not be simple in practical application, but it is in principle. The government works for you, not the other way around. If you want gambling in your state, then elect officials who will offer you more gambling options. Oftentimes the threat of a change is enough to change government's mind without having to fire everyone and replace them, but this is something that only you can do from a grassroots level. Nobody is going to step in and do it for you. If you want gambling, vote to make it happen.
Are There Any Sports Teams to Root For in New Hampshire?
Located in the northeastern region of the United States, one outside of New Hampshire may think that the state is loaded to the rafters with different professional teams and a slew of high-profile collegiate teams competing for NCAA titles in Division 1. However, New Hampshire has two basic options when it comes to sports: Slim and none. That's right; the state doesn't even have a college that's in competition in any of the over 20 major varsity collegiate sports. It's hard to believe, but the best collegiate team New Hampshire has is the New Hampshire Wildcats, and when's the last time you ever heard that name on the news? The reason that their collegiate teams don't do well is that their schools are about 90% academic and about 5% socially aware, leaving under 5% devoted to athletics, as you will always find 1 and 2 and 3% numbers devoted to other things like a capella groups and student government, etc. Collegiate athletics are simply not important in New Hampshire, and this is reflected with their bottom-shelf teams playing sports like football, basketball, baseball, and volleyball.
The reason you won't find any pro teams is twofold. First and foremost, the state only has 1.3 million people and is one of the smallest states in the nation. It's barely larger than Delaware, so there's not exactly a lot of room to build a new luxury stadium, and even if there were there still aren't a lot of people who would show up as season ticket holders to an NFL team or an NBA franchise. The second reason they don't have any professional teams is that New Hampshire is located in the six-state New England area, which means they basically already have sports teams up there. The Boston Celtics, the Boston Bruins, the New England Patriots, and the famed Boston Red Sox are basically home teams for New Hampshire, even though technically in a different state. The New England region of the USA shares a lot, and this certainly includes sports teams.
Betting on Football in New Hampshire
New Hampshire may be without a major NFL franchise, but their location puts them in New England Patriots territory. The Patriots have dominated the NFL for years, and the Brady-Belichick era has now seen 5 Super Bowl victories in 8 Super Bowl appearances. The Patriots are once again one of the favorites to win the Super Bowls, and the current odds can be found below.
Odds for the New England Patriots to Win the 2019 Super Bowl +500
So, if you're a Hampshirite and want to bet on sports, you're probably going to be betting on a New England Patriots or a Massachusetts team. No shame in that, of course; it's not as if you have a lot of options. But when betting on these teams, try to take your fandom out of it and tap instead into your logical brain to place bets. Study up on the teams and bet only on teams you think have the best chance of covering and/or winning. Pick one of the best USA online sportsbooks that we recommend, claim your bonus and get started on a winning track.