Domestic PA Sports Betting Is Available Via Online, Mobile, And In-Person
Offshore Sportsbook Sites Also Serve Pennsylvania Over The Web
Pennsylvania is a sports fan's dream. The state has eight professional sports franchises and several popular college sports programs. This makes for a dynamic sports betting landscape, and bettors have plenty of teams to place wagers on.
Pennsylvania passed legislation to allow domestic sports betting after PASPA's repeal. Sports betting officially launched in November of 2018. However, there are several options, and Pennsylvania gamblers can participate in legal online sports betting through several authorized domestic and offshore sportsbooks.
This page was designed for sports bettors inside of Pennsylvania and sheds light on the legalities of the industry as well as which sportsbooks are best to use. You will also find information on the most popular sports teams in the state.
Best PA Sports Betting Site


Accepting Pennsylvania Gamblers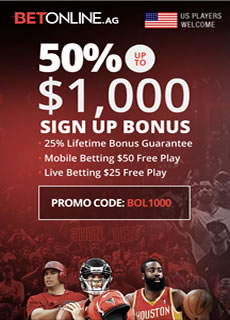 We can easily recommend BetOnline Sportsbook for PA sports bettors seeking a premium online sportsbook. BetOnline is an industry leader when it comes to competitive odds and betting lines, which are comparable to the bookmakers in Vegas. This well-established operation has been in business since 1991.
They offer a lifetime match bonus on all deposits, and fast withdrawals and deliver a high-quality, secure, and innovative betting environment that is authorized and overseen in Panama City, Panama. You will find a well-designed mobile app that includes their live betting features, a banking suite that effectively supports US members and a highly responsive customer support team.
Best USA Sportsbook Sites

For Online Sports Betting In Pennsylvania 2022
Is Sports Betting Legal In Pennsylvania?
In late 2018 domestic sports betting was launched across the state, and today, there are in-person, online, and mobile options in play. In addition to state-regulated sportsbooks, area gamblers can also partake at offshore betting sites.
USA-friendly sportsbooks often have better bonus options and more favorable sport betting lines. Offshore sportsbooks have been servicing Pennsylvania residents for over a decade and have built a great reputation among bettors in the region.
Is Online Sports Betting Legal In Pennsylvania?
Yes. There are multiple legal options for online PA sports betting in 2023. State-regulated sports betting is available via domestic sportsbook apps and online gambling sites to 21 and older patrons. Offshore sportsbooks are also able to accept Pennsylvania-based members and allow them to wager on a wide array of sports occurring around the globe.
The reason that international sports betting sites can serve gamblers in PA is that there are not any state or federal laws in place that say they cannot. These overseas sports betting sites offer more odds and lines than domestic books and allow members to wager on political election odds and bet on entertainment lines.
How To Bet On Sports In Pennsylvania
We suggest reading through our online sportsbook reviews so that new members can decide which sites they want to join. We say sites because it pays to join more than one. How? It lets gamblers shop around for the best odds on the boards that feature the easiest route to w win.
Now that you've made up your mind on which sites you intend to become a member with, click on any sportsbook link we've posted on this page and then click on the join button at the top of the homepage of the sports betting site. Enter account data, create a sportsbook login, and move on to the deposit page.
Fund your account with credit cards, debit cards, cryptocurrency, P2P vendors, and more. Be sure to check out the promo section at each online sportsbook because there are often sportsbook bonus codes that can be entered that match a portion of the deposit and add it to accounts once the transaction completes.
Once you have received notification that your deposit has been successfully uploaded, venture to the online sportsbook section of the gambling site and place a wager on the Steelers, odds on the Phillies, or any other popular regional or worldwide sport.
Where Can I Bet On Sports In Pennsylvania
Cast a stone in any direction in the state of PA, and chances are you will hit a sports betting venue, be it a retail location or a web-ready device that can host a gambling app. 21 and older domestic sports bettors can drive to a nearby brick-and-mortar sportsbook or use their smartphone, tablet, or personal computer to access mobile sports betting app or a state-regulated sports betting site.
PA is also able to pull up offshore sportsbooks onto their web-ready devices without violating any local or federal laws and offers many perks that make them superior to domestic options. For instance, they accept cryptocurrencies like Bitcoin, and they offer loads more prop bets for the Super Bowl and most other regular season and playoff games.
Are There Tribal Casinos In PA?
It isn't going to take you long to find casinos in Pennsylvania. One of their most popular is the Valley Forge Casino Resort. This casino features over 600 slots, 50 table games and has a health spa, a gym, restaurants, valet parking, and entertainment options. If you want something that's much more inclusive, then you might appreciate The Meadows Racetrack and Casino. This is a location where you can find slot machines, table games, a 15-table poker room, horse races, simulcast racing, and so much more.
If you're a serious poker fan who wants to play in a large poker room where many tournaments are frequently held, then you might enjoy the Sands Casino Resort in Bethlehem. Not only can you find over 3,000 slot machines and nearly 200 table games here, but they also have a very large 36-table poker room. They also have plenty of entertainment options, multiple restaurants, valet parking, top-notch rooms, and every other odd and end you would expect from a top-flight casino.
One of the fastest-growing names in all of gambling is the Mohegan Sun, and you can find their biggest offering in Connecticut. However, they're starting to open more locations around the nation, such as their relatively new casino in Pocono Downs. This version of the Mohegan Sun has over 2,300 slots, nearly 100 table games, and an 18-table poker room. Slated to open up in 2018, Pennsylvania isn't done with their casinos yet. They have a brand new and very large casino coming via the Live Hotel and Casino resort. This casino will feature over 2,000 slots, over 100 table games, and more than 30 poker tables. There will also be entertainment options and plenty of dining options. If you need a place to gamble in Pennsylvania, you definitely have a few options available.
PA Sports Betting Apps
Both offshore and domestic sports betting apps are available to gamblers in Pennsylvania who want to use their smartphones or tablets to place a mobile wager. Domestic sports betting apps can be downloaded to devices and used if the gambler is 21 or older.
Offshore sports betting apps can be pulled up on Apple and Android smartphones and tablets in Pennsylvania without the need for a download because they are accessed through web browsers like Opera, Safari, and others.
Many of these overseas sportsbook apps allow for members to join at 18 and bet on pro and college sports using their iPhone or iPad.
Major Sports To Bet On In PA
PA is a hotbed of pro and college football with roots that lead back to the origins of the game. There are also representative franchises from the NBA, NHL, MLB, and more, granting local gamblers plenty of regional options to wager on.
Betting On The Philadelphia Eagles (NFL)
The Philadelphia Eagles franchise was first established in 1933 and won its first Super Bowl championship in 2018 with a 41-33 upset over the New England Patriots in Super Bowl LII. The Eagles play in the NFC East Division, and each of their games will feature odds that can be wagered on at the USA's best NFL betting sites.
Betting On The Pittsburgh Steelers (NFL)
The Pittsburgh Steelers were also founded in 1933 and are one of the most successful franchises in league history with 6 Super Bowl championships, winning in 1974 (IX), 1975 (X), 1978 (XIII), 1979 (XIV), 2005 (XL), and 2008 (XLIII). Pittsburgh remains a top option for Super Bowl betting each year, as the Steelers never seem to dip too far below average, even when rebuilding.
Betting On The Penn State Nittany Lions (NCAAF/NCAAB)
Located at State College, PA, Penn State claims two national titles (1982, 1986) and plays in Beaver Stadium, the second largest stadium in the western hemisphere with a seating capacity of 106,572.
If anyone in PA wants to wager on the Nittany Lions, the college football betting sites we list in this guide are the perfect remedy. All Penn State games, as well as other Big Ten teams, can be bet on using any offshore sportsbook we recommend.
Betting On The Pittsburgh Panthers (NCAAF/NCAAB)
Pitt claims nine national titles (1915, 1916, 1918, 1929, 1931, 1934, 1936, 1937, 1976) and, out of all college football programs, has the twelfth most consensus All-Americans and the third most Pro Football Hall of Fame inductees, including all-time greats RB Curtis Martin, RB Tony Dorsett, QB Dan Marino, and head coach Mike Ditka.
Pittsburgh plays in the ACC, a Power 5 Conference, which allows them a shot at the CFP if they run the table on a given year. If you're in Pennsylvania and want to wager on NCAAF or bet on the CFP, the sportsbooks mentioned in this guide are the best option.
Betting On The Pittsburgh Pirates (MLB)
MLB betting in PA is no problem as the state features domestic and offshore options for doing so. The Pirates have won 5 World Series (1909, 1925, 1960, 1971, 1979), but the last one was in 1979, so the state of Pennsylvania is hungry for another title soon. Pittsburgh plays in the National League's Central Division and hosts their home games in PNC Park.
Betting On The Philadelphia Phillies (MLB)
The Phillies are members of the National League's East Division and have resided in eastern PA since 1883. Philadelphia won the World Series in 1980 and 2008, and local fans are geared up for number three. If you want to wager on Phillies odds, bet on the MLB Playoffs or gamble on the World Series in Pennsylvania, the offshore sportsbooks that we mention here should be your first destination.
Betting On The Pittsburgh Penguins (NHL)
One of the most prominent franchises in the National Hockey League is the Pittsburgh Penguins. Established in 1967, the team has won seven Stanley Cups (1991, 1992, 2009, 2016, 2017) during their relatively short existence in western PA.
NHL betting on the Penguins or any other team can take place at domestic and offshore sportsbooks inside Pennsylvania. We advise sticking to the NHL sportsbooks we recommend here to ensure a safe hockey gambling experience when wagering on Penguins odds.
Betting On The Philadelphia Flyers (NHL)
The Philadelphia Flyers have been around since 1967 and have a pretty big following in eastern PA. They compete in the Eastern Conference's Metropolitan Division and have placed two Stanley Cup Championships (1974, 1975) in their trophy cabinet.
Whether inside of Wells Fargo Center or anywhere else in Pennsylvania, the best choice for betting on hockey is with an offshore sportsbook included in this guide. They offer odds for betting on the Flyers all year long, including game lines, Stanley Cup futures, and NHL prop bets for all other occasions.
Betting On The Philadephia 76ers (NBA)
In the NBA, there's only one team in Pennsylvania, and that's the Philadelphia 76ers. This is an incredibly proud franchise, which once had the famous Dr. J playing for them, and they had Mr. "Who Needs Practice" himself, Allen Iverson, in the 1990s.
They are one of the oldest franchises in the league and have won three championships (1955, 1967, 1983) during their long history. Betting on the NBA in Philadelphia and other parts of PA is best done with the basketball sportsbooks that our review team endorses. They've got 76ers betting lines during the season and NBA futures all year long.
Betting On The Philadelphia Union (MLS)
Perhaps the newest sports franchise in Pennsylvania is the Philadelphia Union of Major League Soccer (MLS). PA-based gamblers can wager on MLS games, World Cup odds, or any other international football matches at the soccer betting sites linked to on this page. Readers can bet on Union odds to win the MLS Championship or lay some action on a single game at any book mentioned here.
Federal Laws that May Impact Pennsylvania
There are three major pieces of legislation here, and we'll start with the latest of the series, the UIGEA. Known technically as the Unlawful Internet Gambling Enforcement Act of 2006. The Unlawful Internet Gambling Enforcement Act (UIGEA) places strict regulatory oversight concerning how gambling-related transactions are processed online. It is not directed towards bettors but rather towards gambling site owners and operators, as well as payment processors.
The second piece of regulation we'll speak about is known as the Bradley Act but is technically the Professional and Amateur Sports Protection Act of 1992 (recently repealed). PASPA was huge when it was first implemented. The PASPA law barred all but four states—Oregon, Nevada, Montana, and Delaware—from having any form of state-regulated brick-and-mortar sports betting options. PASPA was ruled unconstitutional in 2018 by the Supreme Court, and as a result, the Pennsylvania gambling expansion law of 2017 legalized sports betting as part of its initial framework.
The third piece of legislation is the oldest, the Federal Wire Act of 1961. The Federal Wire Act makes it illegal for US-based online sportsbooks to accept any action from US bettors across state lines. It doesn't go after the bettor but rather the sportsbook or bookie running the show. However, the law does not apply to legally operated offshore sportsbooks that offer online access to their betting services.