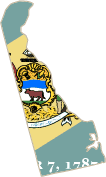 Delaware may be small and unassuming, but this tiny state lies on the cutting edge of the gambling industry. Not only does The First State offer a healthy selection of gambling entertainment options to their residents and visitors, they are also one of only four states in the US that is legally permitted to offer state licensed sports betting, and one of only three states that has legalized online casino and poker gambling as well. State leaders have successfully negotiated interstate online gambling compacts with Nevada, allowing them to benefit from the shared customer base. Yes, Delaware knows how to play their cards when it comes to gambling.
The state of Delaware's regulated sports betting options pale in comparison to those offered in Las Vegas. Wagering is restricted to parlay bets and is accessible at several of the state's multiple racetracks. Despite a sparse range of betting lines and wagering options, Delaware's sportsbook gambling opportunities remain a popular form of legal betting entertainment among sports fans. Though several forms of state based online gambling is legally approved in Delaware, online sports betting is in a league of its own with an entirely different set of legalities that affect accessibility. This guide was created specifically to assist Delaware sports fans in successfully navigating the unique nuances contained in the sports betting industry in this tiny state. We provide valuable insight and knowledge that will help Delaware gamblers to make informed decisions regarding their involvement in legally sanctioned online sports betting opportunities.
Top Sportsbooks


Accepting Delaware Players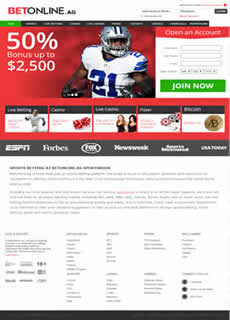 Betonline is our featured online sportsbook that welcomes all Delaware players and provides an exceptional environment for betting on your sport of choice. They are a giant in the industry and have an stellar reputation, so trust me you are in good hands. They were one of the first brands to have an online gambling presence and they bring a wealth of experience and expertise to the game. There are a lot of reasons why players love betting at Betonline. Below are just a few.
US Friendly Online Sports Betting Sites

Open To Delaware Players In 2018
Is Online Sports Betting Legal In Delaware?

Delaware is one of only four US states that is legally permitted to offer state regulated sports betting options to residents and visitors who are physically located within the state's borders. The state's sportsbook gambling opportunities were legally grandfathered in when the federal government offered the state exemption from the Professional and Amateur Sports Protection Act (PASPA). As a result, parlay sports bets are legally permitted in Delaware through their lottery system. However, the PASPA exemption did not apply to online sportsbook gambling.
The Federal Wire Act effectively prohibits state regulated online sports betting activities across the country, including Delaware. This means that Delaware lawmakers are not able to legalize state licensed online sportsbook gambling, even if they wanted to. Their progressive approach to gambling in general has no impact on Internet sports betting in the state because the federal laws that are in place to govern sports betting in the United States take precedence over state law. In case there was any question as to the application of the Federal Wire Act, the DOJ's formal opinion was relaeased in 2011 that clarified the nationwide ban on US based online sports betting.
This leaves US gamblers, including those in Delaware with one primary alternative for betting on sports online: licensed offshore sports betting. Thankfully, this alternative comes with some very legitimate, high quality sportsbooks that are licensed and regulated outside of the Untied States, legally offering their services to gamblers in the US. Participating in online sports betting at destinations that hold legitimate credentials and are operating legally within the international gambling market does not violate state or federal laws. So to answer the initial question of whether or not online sports betting is legal in Delaware, the question is actually yes and no. Yes, online sports betting is legal at licensed and regulated sportsbooks located offshore. No, online sports betting is not legal through any type of state regulated initiative.
We have included a listing of the leading sports betting sites on this page. They are all legally licensed, certified and regulated offshore, and all accept customers from Delaware. Our team of analysts has vetted the sportsbooks on this page for legitimacy and quality, and only listed those that met our stringent requirements for inclusion.
Delaware's Unique Gambling Laws
Delaware is unique in that their attitude about gambling is very lax compared to the rest of the nation. Every type of gambling you can imagine is legal in Delaware. And while they don't have any tribal casinos, it's not because tribal gambling is illegal; it's because there is no market for Indian casinos within the state. Indian casinos, by and large, pop up in places like Washington, California, and West Virginia because the state doesn't allow gambling otherwise. With Delaware's laws that allow gambling, this isn't an issue. Tribes being granted special status is not a necessity within the state, so this in itself makes Delaware a very unique location.
In fact, Delaware's gambling laws are probably the state's biggest draw, and it may in fact be why the state allows legal gambling in the first place. The state doesn't have any huge stadiums or concert venues or famous parks to show off. Nobody's visiting Delaware to take star tours of the semi-famous city council people who live around the area. When someone comes to Delaware from another state for a visit, it's typically to take advantage of the gambling atmosphere offered by the state. And Delaware actually ends up with a lot of competition. Atlantic City is literally just to the north of the state, and as most gamblers are fully aware, AC is like a miniature Las Vegas.
Another aspect of Delaware that's rather unique is that the state is not subject to the federal regulations against sports gambling. Delaware is considered a state that's exempt from PASP, which gives them the freedom to offer sports betting options to their residents. They have not taken this opportunity to the fullest in our humble opinion, but there are limited state regulated sports betting options available to residents. While sports betting is not a part of the state's online gambling initiative, it is still available to DE citizens online through legally licensed offshore sportsbooks. Betting at these destinations does not violate any type of Delaware state gambling laws or US federal gambling laws.
Different Delaware Sports to Bet On
There are a lot of professional sporting leagues across the United States. You have the National Football League (NFL); the National Basketball Association (NBA); Major League Baseball (MLB); Major League Soccer (MLS); and the National Hockey League (NHL), and these are just the main popular sports in the nation. You also have professional golf leagues, professional volleyball, professional tennis, and more. But for every single major professional league in the entire nation, not a single one has a team in Delaware. Talk about a bummer! If you live in Delaware and want a home team to root for, you know that your options are limited to second-rung leagues at best, and semi-pro leagues and D-leagues at worst. For instance, there is an NBADL (Developmental League) team called the Delaware 87ers, but even the name sounds generic. Oh, and let's not forget the bowling league team, the Delaware Stars. Boy, they turn a lot of heads!
It's really a sad state of affairs. There's so much going on inside of Delaware with the state's attitudes about gambling and their allowance of a variety of betting, including sports betting, in their live venues. But if you're looking for a home team on which to bet, then you might as well cash it in. Delaware doesn't even have a good collegiate team, which in itself is very strange. Quite a few states don't have any pro teams, like Virginia directly to Delaware's south, but at least they have collegiate teams like the Virginia Tech Hokies and the Virginia Cavaliers. Delaware's largest university, UD, is a school that no one has ever heard of. Sure, they're a division 1 team, but do people in Delaware even know who the Fightin' Blue Hens are? The state simply isn't offering a whole lot in terms of gambling options.
Delaware's Adopted Teams
Being so close to New Jersey, Maryland and DC, Delaware's citizens actually have a lot to pick from if they want to follow a professional sporting franchise. Of course, it won't be a home team per se; but it is the next best thing. This is why so many different teams are popular in Delaware, especially in terms of sports betting. The most popular football team in the state is the Washington Redskins. With RGIII, Garson, and newer coach Jay Gruden, the 'Skins actually have a legitimate chance in the NFC East to overtake the Cowboys for the top spot. This makes a lot of people happy in Delaware, as the citizens aren't too much at all on Dallas. Though the Baltimore Ravens are also very popular inside of the state. Maryland is right next door, and so too are the Ravens. Plus, the Ravens just won a Super Bowl three seasons ago, so it's a lot easier to cheer for a team that has some hardware to show off. But that's only for the NFL. Surrounding states and the capital have a lot of other teams to choose from.
For instance, on a collegiate level in NCAA men's basketball, people in Delaware are basically split between two teams: The Georgetown Hoyas of DC, or the Maryland Terps. Both teams threaten every year in the tournament it seems, and both are located within shouting distance of the state. For the NBA, it's basically just the Washington Wizards. Maryland doesn't have a professional team. And even if they did, the Wizards, formerly the Bullets, are so ingrained in the culture that it's unlikely Delaware's populous would split over the competition.
Things get a little more complicated in baseball. The Baltimore Oriels are the older, more established team, but the Washington Nationals are just as close and have been playing even better for the past couple of seasons. Plus, if you're from Delaware and like to place money on baseball, the Nationals are a safer bet with their superior pitching and young stable of powerhouse hitters. So while the state itself doesn't have any professional teams, there are still plenty of options that people from Delaware can choose from.
If you're going to bet in Delaware on sports, you can show up at one of the state's three live venues and get the job done. Just be careful when you're out at a live location like this. It's very easy to get lost in the moment and to end up losing your money. Always proceed with caution, no matter where you're betting at. And if you'd rather stay home and use your computer to bet via an online sportsbook, just remember that you're going to need to find a solid sportsbook that accepts US players. Just because Delaware allows it doesn't mean any random site will let you play.
Gambling Options in Delaware
While Delaware doesn't have any good sporting teams that its citizens can root for and actually win money on, they do have some very cool places to gamble. The state has three main casinos: Delaware Park and Casino, Dover Downs Hotel and Casino, and Harrington Raceway and Casino. Delaware Park is a very large establishment located directly on the waterfront. They offer over 2,500 slot machines, over 60 table games, and have a very large poker room that features 45 separate tables. They hold massive poker tournaments here, which is a huge draw for gamblers all over the east coast. They also feature a live sportsbook inside the casino, so you can place your bets on your favorite sport(s) and then watch the action unfold in front of you.
Dover Downs is a more professional-style casino within Delaware. They don't have as many slot machines, and their poker room is only a fraction of the size, but this place is like a true Vegas resort located in the heart of the state's capital. Just like the casino before it, Dover Downs actually has a live sportsbook. Sports betting is very, very popular in Delaware, despite the state not even boasting a collegiate level team that can actually win a game. There's something about these citizens that continues to bet on sports even bereft their own team, so it makes sense that their casinos offer up a live sportsbook.
Their last casino, Harrington, is like the best of all worlds. Not only do they offer slots, plenty of casino games, a poker room, and a live sportsbook, but they're also a racetrack. You can watch the ponies and bet on them here. And we're not talking about some generic horse races. They run thoroughbreds at Harrington, so you never have to worry about shoddy colts that are going to give up before the straightaway. Delaware does it right when it comes to gambling. Other states could easily learn a thing or two.