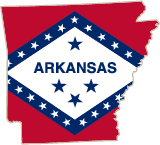 Arkansas's views on gambling are fairly restrictive. There are a few state regulated forms of gambling in the state, including pari-mutuel wagering, the lottery and charitable gambling. This short list will definitely leave sports fans wanting, but not forgotten entirely. When it comes to sports betting, the legalities involved can seem pretty complex. That is because federal laws play a larger role in what states can offer for sports related gambling than with other forms of betting. This being the case, Arkansas residents will need to look at alternatives that provide accessibility to legally licensed and regulated online sportsbook gambling that is based offshore.
This is precisely the objective of our resource guide. We desire to provide insight into the applicable gambling laws that specifically affect Arkansas gamblers. We will also provide helpful information about legal US online sports betting options that are available to residents in the Natural State. We intend to provide precisely what you need to walk away with the knowledge necessary to make informed decisions about your involvement in sports betting. It is critical that you make decisions that result in a legitimate, legally approved and high quality betting experience through a safe and secure online destination. The information on this page will assist you in doing so.
Best Sports Betting Site


For Arkansas Residents In 2018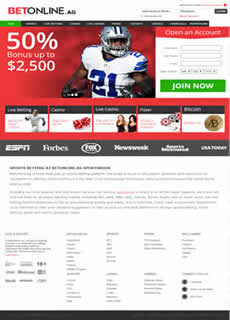 Betonline Sportsbook has become a preferred option among Arkansas sports bettors and USA gamblers in general. They have been in the business for over 20 years and are a well established operation that delivers a secure, professional and comprehensive betting environment. They cover all major US and international sports categories and have designed a high quality mobile betting app that includes their live betting features as well. You will find a host of betting lines, odds and wagering options.  Betonline is licensed and regulated to provide their services to gamblers all around the world, including those in the United States, making them a premium legal sports betting destination for American sports fans.
Most Trusted US Sportsbooks


For Arkansas Players
Is Online Sports Betting Legal in Arkansas?

Since Arkansas is not one of the four golden states that were exempted from the PASPA law, you are not going to find any legally sanctioned state based options for betting on sports. Couple that with the Federal Wire Act, and you also will not have access to any type of state licensed online sportsbook gambling either. Both of those laws combine to make it a crime to own or operate any type of bookmaking services either online or offline within the state of Arkansas. These federal laws are currently being debated by many as unconstitutional, with intensity of the matter growing as daily fantasy sports contests begin to take a prominent place in the sports culture of America. However we do not see any evidence that either law will be modified or repealed anytime in the foreseeable future.
With these federal laws in place, individual states do not have to bother addressing sports betting regulation within their own statutes, laws and codes. Federal law would trump anything the state laws established, so what's the point? This means that Arkansas lawmakers would be unable to legally pass any type of legislation that approves the licensing of state based sports betting. There is more than doom and gloom to this story however.
The good news is that the US federal government does not leave Arkansas sports fans without viable alternatives. Those two laws may prevent you from opening up an online or offline sportsbook in the state, but they do not prevent anyone in Arkansas, or the US for that matter, from placing bets online. The key to keeping thing on the legal up and up is to make sure you limit your betting action to only those licensed USA online sportsbooks that are located outside of the United States. You will find a listing of recommended offshore sportsbooks on this page. It is not illegal for Arkansas residents to engage in legitimate sportsbook gambling at these types of regulated sports betting sites.
Federal Laws That Affect Gambling in Arkansas
One thing that any resident of any state in America has to realize is that the federal government's authority supersedes that of a state's authority, giving federal USA sports betting laws the upper hand when it comes to US based sports betting. Although it most certainly is not supposed to be that way, per the Constitution of the United States of America, the feds have whittled away more and more power over time, and now what they say stands as the ultimate authority. So, Arkansas could technically allow people to line up around the block and gamble their little hearts out. But just because Arkansas could hypothetically allow their state citizens to do such, the federal government could still step in and charge people per federal statutes. So, basically, what we want to cover here are the federal regulations against gambling, of which there are three major ones on the books: The Federal Wire Act, PASPA, and the UIGEA.
The Federal Wire Act was at one time interpreted to restrict all types of US based online gambling. However, the DOJ issued a formal opinion which clarified the application of the law. The DOJ's formal opinion stated that the Federal Wire Act only prohibits US based online sports betting, and that each individual state has the authority to determine their own destiny concerning any other type of state regulated online gambling initiative. Yes, the Federal Wire Act does prohibit US based online sportsbook gambling. No it does not prohibit state regulated online casinos or poker gambling. Next up, PASPA, also called the Bradley Act, essentially restricts US based sportsbook businesses to four specific regions within the US, those being Oregon, Nevada, Delaware and Montana. And finally we have the UIGEA – the Unlawful Internet Gambling Enforcement Act of 2006. The name pretty much says it all; this act is designed to deal specifically to provide regulatory oversight on gambling related transactions processed by US based credit card companies and banks.
Altogether, the federal laws and Arkansas' state laws make it pretty clear that nobody within the state is going to be able to open up a gambling establishment. However, none of the three federal regulations are geared toward gamblers themselves. This means that, just as with the state laws, gamblers are free to bet money where they can find legal avenues. So, if you look outside of US jurisdiction for a site that accepts US members, you can bet freely and safely as a citizen of Arkansas.
Arkansas' Selection of Casinos and Race Tracks
Being in the heart of the south, one might expect that Arkansas would have a very heavy population of Native Americans. However, there are only a few tribes that are recognized in the state, and even fewer Indian casinos. In fact, there are only two Indian casinos in the entire state, which means that Arkansas doesn't have that many options for gambling that don't include finding a legal website with which to wager. The first live casino they have is the Oaklawn Park Racing & Gaming center, which features horse racing, over 1,100 slot machines, blackjack, and a slew of entertainment options. However, you won't find sports betting on the premises. Their other casino is the Southland Park Gaming & Racing center, and it's basically just like Oaklawn. Only Southland has a poker room with six poker tables, and you can frequently find live tournaments and high-stakes cash games within the doors. Of course, Southland is by far the more popular of the two, and they also run greyhounds. Though Oaklawn has its share of traffic, of course, since they offer high-stakes horse racing.
Other than these two Indian casinos, your options are pretty nonexistent in Arkansas for live gambling. Not to worry, though; anyone with a computer can use our resource sites to find great websites with which to bet. And, of course, you have many more options available to you online via bonus structure, the games and sports you like, the type of customer service you expect, etc. So while Arkansas may be pretty light on gambling options, the Internet gives you everything you could ever need to satiate your gambling itch.
Your Sports Options in Arkansas
When it comes to which types of sports people really watch in Arkansas, it really boils down to the types of sports available. Within the state, you can find literally dozens upon dozens of great teams. The issue here, however, is that none of them are professional teams. Arkansas doesn't have a team from the NFL, NBA, MLB, NHL, MLS, or any other major professional sporting league. Their teams are more or less semi-pro teams, and a slew of collegiate teams. Arkansas State, Arkansas Tech, Pine Bluff, and Monticello all have fairly popular collegiate teams in Arkansas. These teams play baseball, football, basketball, and other sports like track and field and volleyball. Of course, every Arkansas resident does have a really big team to root for. The Arkansas Razorbacks, a D1 team in the SEC West, competes directly against teams like the Alabama Crimson Tide, Auburn Eagles, and Texas A&M. This division is the most popular in all of college football, and Arkansas' citizens are absolutely crazy about their Razorbacks.
The Razorbacks, as a D1 team in college, also play men's and women's basketball, baseball/softball, and other sports, but it's the football that stands out the most in the state. If there's someone from Arkansas interested in sports betting, the odds are great that they keep up with the Razorbacks of men's football and place their wagers on the team.
Hail to the Razorbacks - A Look At The 2017-2018 Football Season
The Razorbacks, who are predicted to enter this year's football season ranked #31, have a somewhat quiet start to their season. They play Florida A&M, TCU, Texas A&M, New Mexico State, and South Carolina. These are winnable games, apart from TCU. Then their schedule gets tough, with back-to-back games against the Alabama Crimson Tide at Alabama, and against the Auburn Tigers at home. They finish off with playing Ole Miss, Coastal Carolina, LSU, Mississippi State and Missouri. The tough latter half of the season will likely put a damper on their playoff hopes. For sports betters, you can bet on Arkansas to cover on several of their games this year, but not against upper-ranked teams.
Razorbacks Odds To Win The 2019 CFP Championship
Razorbacks Football +50,000
Resources For Arkansas Players