Domestic Sports Betting In AR Available To 21+ Gamblers
Offshore Sportsbook Sites Are Legal In Arkansas
State-regulated Arkansas sports betting made its debut on July 1st, 2019 at the Oaklawn Racing Casino Resort. As the 9th state to legalize sportsbook gambling domestically, Arkansas sports fans can now enjoy placing bets at local in-person or mobile sports betting apps in the state or online using offshore sportsbooks.
In 2018, Arkansas residents voted in favor of a constitutional amendment that enacted sports betting laws to allow for in-person venues. The state's Racing Commission will oversee licensing and regulation of the sportsbooks. Brick and mortar sportsbooks were approved in the bill, and online/mobile sports betting followed in April of 2022.
Offshore sportsbook sites are still the top option for Arkansas sports fans seeking access to placing bets online using a computer, laptop, smartphone, or tablet. There are no state or federal laws that prohibit betting at legal USA sportsbooks sites that are operating offshore.
Best Arkansas Betting Site


For AR Sports Bettors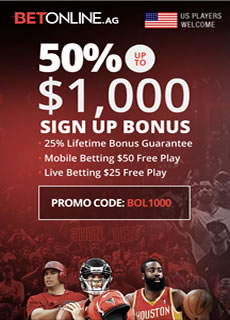 Betonline Sportsbook has become a preferred option among Arkansas sports bettors and USA gamblers in general. They have been in the business for over 20 years and are a well established operation that delivers a secure, professional and comprehensive betting environment. They cover all major US and international sports categories and have designed a high quality mobile betting app that includes their live betting features as well. You will find a host of betting lines, odds and wagering options.  Betonline is licensed and regulated to provide their services to gamblers all around the world, including those in the United States, making them a premium legal sports betting destination for American sports fans.
Best USA Sportsbook Sites

For Online Sports Betting In Arkansas 2022
Is Sports Betting Legal in Arkansas?

In 2018, a voter referendum passed in favor of domestic AR sportsbooks at retail locations. In April of 2022, online sportsbooks and mobile sports betting received approval granting the region all three major domestic avenues for wagering on athletics.
The state's existing gambling laws also do not prevent anyone in Arkansas from placing bets online through reputable USA-friendly online sportsbooks that are located outside of the country on international soil.
You will find a listing of recommended offshore sportsbooks on this page. It is not illegal for Arkansas residents to engage in legitimate sportsbook gambling at these types of sports betting sites. They each are either licensed individually or are owned and operated by a parent company that holds legitimate licensing from multiple jurisdictions.
Can You Bet On Sports Online In Arkansas?
Yes, legal wagers can be placed online with a web-based offshore sportsbook or an Arkansas sports gambling site or app. We prefer offshore mobile sportsbooks that operate inside of legal international gaming jurisdictions.
Offshore AR betting apps can legally accept bets on major sports from 18 and over gamblers inside of Arkansas. Any of our top suggested Arkansas sports betting sites can be pulled up on laptops, PCs, smartphones, and laptops.
How To Bet On Sports In Arkansas Legally
Legal Arkansas sports betting can take place at domestic sportsbooks and international sports betting sites. Domestic sportsbooks in AR require the bettor to be at least 21 years old and they must be present at the venue to partake.
Online sports betting at offshore sportsbooks grant gamblers in Arkansas the opportunity to wager over the Internet at 18 years of age from anywhere within the state. We've gathered together and reviewed the top AR sportsbook sites doing business today and have linked to them in the list above.
Where Are Legal Arkansas Sportsbooks?
21 and over AR-based sports bettors can enter any of Arkansas' domestic, in-person sportsbooks and lay some action on college or pro sports. The same can be said for any online Arkansas sports betting apps or online sportsbooks that operate domestically.
Online sports betting in Arkansas can also take place using overseas sportsbook sites like the ones we link to on this page and are open to 18+ customers a full three years earlier that AR gambling venues.
Are There Tribal Casinos In AR?
Being in the heart of the south, one might expect that Arkansas would have a very heavy population of Native Americans. However, there are only a few tribes that are recognized in the state, and even fewer Indian casinos. In fact, there are only two Indian casinos in the entire state, which means that Arkansas doesn't have that many options for gambling that don't include finding a legal website with which to wager.
The first live casino they have is the Oaklawn Park Racing & Gaming center, which features horse racing, over 1,100 slot machines, blackjack, and a slew of entertainment options. However, you won't find sports betting on the premises. Their other casino is the Southland Park Gaming & Racing center, and it's basically just like Oaklawn.
Only Southland has a poker room with six poker tables, and you can frequently find live tournaments and high-stakes cash games within the doors. Of course, Southland is by far the more popular of the two, and they also run greyhounds. Though Oaklawn has its share of traffic, of course, since they offer high-stakes horse racing.
The Pearl River Resort and the Santa Ana Star Casino are the only tribal casinos in Arkansas offering sports betting as of 2022.
Arkansas Mobile Sports Betting
In April of 2022, mobile sports betting apps in Arkansas were legalized and scheduled for accepting the first wager. These domestic AR sportsbook apps are available in the Google Play and App Stores to 21 and over gamblers.
For the best sports betting apps, Arkansas wagers must be placed using one of the vendors included in the sportsbooks above. These mobile sports betting apps in Arkansas are not traditional applications in that they aren't available in the App Store.
These are web-based apps that can be accessed with popular mobile browsers like Opera, Safari, Google/Chrome, Firefox, and more. All the odds, lines, futures, and props offered at the desktop sportsbook site are included when using their mobile sports betting apps using any current smartphone or tablet.
Major Sports To Bet On In Arkansas
The state of Arkansas is a major college sports hub thanks to the presence of the Arkansas Razorbacks who compete in the Southeastern Athletic Conference (SEC) which is inarguably the best grouping of college football programs today. Arkansas sportsbooks, both domestic and offshore, will offer Razorbacks odds for betting on college football, NCAAB, March Madness, and more, each season.
Betting On The Arkansas Razorbacks
The University of Arkansas played its first season of collegiate football in 1894 and currently competes in the SEC West division. Arkansas plays home games at Donald W. Reynolds Razorback Stadium in Fayetteville.
The team's mascot was originally the Cardinals but was changed to Razorbacks following the 1909 season. The Razorbacks claim one national title (1964) and have won 13 conference championships. Arkansas is always featured among the lines, odds, and props for NCAAF, college basketball betting, and CWS odds.