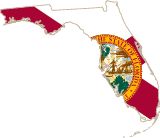 Most industry professionals would consider the state of Florida to be fairly warm towards gambling entertainment in general. There are numerous tribal owned and operated casino properties throughout the state, as well as various card rooms, pari-mutuel wagering facilities and bingo halls. Commercial casinos are not permitted within the state, however the tribal casinos effectively fill that niche. The closest that the Sunshine state ever came to legal sports betting was their jai alai industry, which is no longer the thriving sport it once was in the state. A few opportunities remain in FL to bet on jai alai, but by and large there just isn't much interest in it.
What there is a lot of interest in throughout the Sunshine State are basketball, baseball and football. Florida has three professional football teams, three prominent college football teams, two NBA teams and a professional MLB baseball team. Clearly Floridians like their sports. Teams can play virtually year round in the warm climate, therefor establishing a nice range of sports entertainment and teams for residents to follow.
Floridians and tourists to the Sunshine State will find information here in this guide for accessing legitimate online sports betting entertainment that does not violate state or federal gambling laws. In addition to comprehensively discussing the legal status of sportsbook gambling in Florida, we also take a look at the state's thriving sports culture concerning both professional and collegiate sports leagues. It was our intention to create a one stop resource guide that delivers the knowledge required to make informed decisions and sound judgments concerning legally sanctioned, responsible sports betting entertainment.
Most Trusted Sportsbook


Accepting Florida Players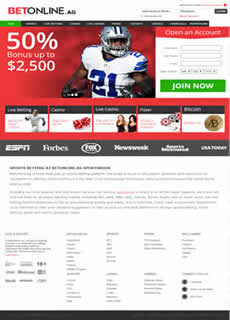 Betonline has become a household name for USA players looking for a reputable offshore sportsbook to bet at. They have built their reputation by providing some of the best sports betting software in the industry, and offering no nonsense payouts when players want to collect their winnings. We love their range of options for betting on sports leagues from around the world. Below are a few reasons why Betonline stands above the rest.
Best US Sports Betting Sites

Open To Florida Residents In 2018
Is It Legal To Bet On Sports In Florida?

Now that's the million dollar question, and the answer is both yes and no. Yes, it can be a little confusing, which is precisely why we have created this guide. Despite stringent federal and state laws concerning gambling within the state, believe it or not there are some options for Florida residents seeking to engage in legally sanctioned sports betting. But lets not get ahead of ourselves. In order to adequately answer this question, we need to give you some insight concerning how federal and state laws affect your options.
Federal Laws Affecting Sports Betting In Florida
There are three specific federal laws that hold bearing concerning sports betting in the United States and hence in Florida. We have a page on each of these laws for those of you who would like an in-depth look at them: Professional and Amateur Sports Protection Act (PASPA), The Federal Wire Act, and the Unlawful Internet Gambling Enforcement Act (UIGEA). These three laws combine pretty effectively to prohibit US based sports betting in most of the United States, including Florida. The first one, PASPA, makes it illegal to bet on sports at brick and mortar bookmakers with the exception of four specific regions: Nevada, Delaware, Montana and Oregon. Of those four exempt states, only two of them offer any type of sports betting entertainment.
The Federal Wire Act prohibits any type of US based online sports betting, so combined with PASPA, your only chances to legally bet on sports through US licensed destinations is to visit Nevada or Delaware. The UIGEA law provides regulatory oversight concerning how gambling related transactions can be processed. All of these laws apply to gambling operations and not to players themselves. While these laws effectively regulate and prohibit much in the way of state side sports betting, their effectiveness ends at US borders. These laws do not reach beyond the borders of the United States, and do not prohibit US residents from engaging in sports betting either online or offline that is located, licensed and regulated outside of the United States.
State Gambling Laws Affecting Sports Betting in Florida
There are numerous gambling laws in the state of Florida that regulate existing gambling businesses that are allowed to operate. Among those are laws regulating tribal gambling, horse racing, dog racing, card rooms and bingo halls. A negative run in with illegal gambling at Internet Cafes has driven the state to develop laws outlawing these types of business and state regulated online gambling (HB155). On the other hand discussions remain active concerning the possibility of embracing legal online poker gambling within the state. A few efforts have been made to see this through, including HB77, however it failed to pass and no additional bills have been presented. The sitting governor, Rick Scott, is openly opposed to legalizing any type of online gambling, so it is entirely possible that proponents of online poker will wait until his departure from office to officially try again.
Since Florida is not one of the territories that are exempt from the PASPA federal law, you won't find much in the way of sports betting laws on their books. It is really irrelevant for them to address it since any federal laws would trump them and render any actions to allow sportsbook wagering as a violation of federal law. However, as mentioned previously, US federal laws do not prohibit Floridians from engaging in legally licensed and regulated sports betting that is based outside of the US. There are also no state laws in Florida that prohibit legal offshore sportsbook gambling. Our list of USA online sportsbooks reviews nearly every reputable site that still caters to players from the United States.
Which Sports Can Florida Residents Bet On?
Betting On Football In Florida
Florida residents have a nice selection of NFL and NCAAF teams to devote their loyalty to. Professional teams in the state include the Miami Dolphins, Jacksonville Jaguars and Tampa Bay Buccaneers, with college teams from large and small colleges and universities sprinkled throughout the state. The legally licensed and regulated offshore sportsbooks featured on this website all cover Florida's NFL teams as well as the most prominent college football teams.
Florida NCAAF College Teams
The most popular college teams include the Florida State Seminoles, University of Florida Gators and the University of Miami Hurricanes. These teams have earned the loyalty of diehard fans in all three regions, and the rivalries between the three fuels an incredible gameday environment. The Gator – Seminole rivalry is the most intense, but UM's quarrels with both teams goes back as well. There is typically enough scandal each year surrounding prominent college football players to ensure that there is always a fair share of drama. College football is the star of the game in Florida, and if you've ever been to a football game in Gainesville, Tallahassee or Miami, you'll recognize the highly devoted sub culture that props up the NCAAF industry within the Sunshine State. These are the three teams that are typically covered in football betting lines at reputable online sportsbooks, and you will typically find live betting options available as well.
Florida State has been the most successful team out of the three as of late. They are expected to be serious contenders for this year's National Championship. The Gators and Hurricanes have been pretty quiet in the past few seasons, but they are still both strong teams worth consideration from a betting standpoint.
Betting Odds For FL Teams To Win The NCAAF National Title In 2018-2019
Florida State Seminoles +3000
Florida Gators +6000
Miami Hurricanes +3300
Florida NFL Teams
The three professional football teams in Florida are not among the upper echelon of the NFL, but at least two of them are on the rise. The Miami Dolphins, Tampa Bay Buccaneers and Jacksonville Jaguars make up the Sunshine State's NFL presence. While the Jaguars haven't had a strong season in years, the Dolphins and Bucs are showing signs of growth within their divisions.
The Miami Dolphins had the best showing out of the FL teams. They finished 10-6 overall, second in their division and qualified for the Playoffs. They lost against the Pittsburgh Steelers in the AFC Wild Card game, but head coach Adam Gase proved that he means business in first season at Miami. The team appeared to be firing on all cylinders with QB Ryan Tannehill continuing his improvement with each season. RB Jay Ajayai, WR Jarvis Landry and WR DeVante Parker each showed their offensive dominance with their numbers. Tannehill went down with an ACL injury towards the end of the season, but backup QB Matt Moore stepped in and performed well. Tannehill, along with the rest of the team, should be back in action ready to make another postseason push.
The Tampa Bay Buccaneers made headlines when drafting FSU QB Jameis Winston. The quarterback's numbers improved in his sophomore season, but the Bucs failed to qualify for the Playoffs and ended up finishing 9-7 in the NFC South. Head coach Dirk Koetter seemed to be getting a feel for things in his first season and will look to build on his developments. The Bucs signed WR DeSean Jackson from the Washington Redskins, a solid pickup for Winston's offensive options. They also drafted promising TE O.J. Howard from Alabama in the 2017 Draft. Look for the Bucs to make an exciting case in their division.
The Jacksonville Jaguars are the most lackluster team in the state by far. They went 3-13 last season and showed little to no improvement. Head coach Gus Bradley was fired in Week 15. QB Blake Bortles had a decent season, but the team couldn't seem to come together to pull out a victory. New head coach Doug Marrone hopes to end their Playoff drought since 2008. The Jags have had a tough time attracting players to the franchise, but they did manage to draft RB Leonard Fournette this year. The promising RB out of LSU will surely add a new dimension to their game.
Betting Odds For FL NFL Teams To Win The Super Bowl In 2019
Miami Dolphins +7000
Tampa Bay Buccaneers +5000
Jacksonville Jaguars +2200
Betting On Basketball In Florida
Florida's presence in the NBA and NCAAB is spotty when it comes to success, but still well received by Floridians by and large. With two professional teams and numerous college basketball teams throughout the state, there is enough local basketball action to keep Floridians happy, though not necessarily with teams that are at the tops of the leaderboards.
Florida NBA Teams
The Miami Heat and Orlando Magic were both established in the late 80s, and remain the state's only professional NBA teams. We'd have to say the Miami Heat is the more successful of the two, holding three championship titles (the last being in 2013), 5 conference titles (last one in 2014), and 11 division titles (last being in 2014). In contrast, the Orlando Magic, who is only one year younger than the Heat, holds no championship titles, only 2 conference titles and only 5 division titles.
Betting Odds For FL NBA Teams To Win The 2018 Championship
Miami Heat +30000
Orlando Magic TBD
Florida NCAAB College Teams
Of the three prominent schools in Florida, only the U of F Gators have much of a star studded presence in the NCAAB. Having won two NCAA Championships in the last decade (2006, 2007), they also have the most appearances in the various levels of the annual NCAA basketball tournament. They were the NCAA tournament runner up in 2000, and as of this writing have 5 appearances in the Final Four, eight appearances in the Elite Eight, ten appearances in the Sweet Sixteen and 14 appearances in the Round of 32. The Florida State Seminoles have not made it to the Final Four since the early 70s, and have far fewer tournament appearances overall than their rivals the Gators. The Miami Hurricane basketball team has not made it beyond the Sweet Sixteen level of the NCAA tournament, and has even fewer tournament appearances than the Seminoles. Though college basketball in Florida is limited in success, all three of these teams are still actively covered in NCAAB betting lines and odds at the leading sportsbooks.
Betting Odds For FL NCAAB Teams To Win National Title
FSU +12500
Miami +12500
Florida Gators +8000
Betting On MLB And College Baseball Teams In Florida
The Sunshine State does boast one professional MLB team, the Miami Marlins. The team is based in Miami at Marlins Park and plays in the National League. As of this writing the tea has one two World Series Titles (1997, 2003). Before 2012 the team was known as the Florida Marlins and their name was changed when they moved from Sun Life Stadium to Marlins Park in Miami. The Marlins are covered in the extensive selection of MLB betting lines at the industry's leading sportsbooks.
Betting Odds For FL MLB Teams To Win The 2018 World Series
Miami Marlins +50000
Tampa Rays +15000
College baseball has also carved out a presence in the state of Florida with all three prominent schools making their mark with College World Series appearances. The Seminoles, Gators and Hurricanes have all made appearances in the College World Series and have all been runner-ups more than once. Only the Miami Hurricanes can boast earning a national championship, something they have accomplished in 1982, 1985, 1999 and 2001. You will find that the odds makers at our recommended sportsbooks always include these three prominent FL college baseball teams in their lines.
Other Sports Betting Opportunities In Florida
Though football, baseball and basketball mark the most notable presence for Florida sports, the state's sports fans are drawn to many other sports categories, including major state based events such as the annual Daytona 500 and the many horse races that take place in the state's exquisite equestrian environment and tracks. Florida sports fans also follow golf, boxing, tennis, hockey, soccer, water sports and mixed martial arts, among others. Though they may not specifically have an athlete or team representing them in every sports category, Florida sports fans are quite diverse in their taste.