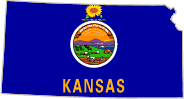 Kansas is your typical Midwestern state with a fairly warm demeanor towards gambling. The state laws and statutes allow some forms of gambling to take place, including casino gambling, pari-mutuel wagering, state lottery games, and limited charitable gaming. Kansas also permits daily fantasy contests as long as they meet some stringent requirements set in place by state lawmakers. Sports betting is currently on the list but first has to be approved by Kansas legislatures.
With no professional sports teams calling Kansas home, the only sports-related activity going on in the state is betting. So how do you access sportsbook gambling in a state in which state-based sports betting is not legal? The key is in understanding the legalities surrounding this type of gambling entertainment so that you can effectively determine where you can place legal bets.
This guide was created to provide insight into the laws and statutes relevant to sports betting in the Sunflower State. In addition, we also provide direction to individuals seeking legally sanctioned online sportsbooks that provide betting lines to Kansas residents through an authorized, overseen and safe online sports betting site that is operating legitimately within the industry.
Best Online Sportsbook


For Kansas Players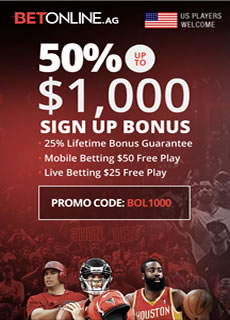 Kansas sports betting enthusiasts seeking certified and regulated sports betting options should consider signing up with Betonline. They are one of the biggest names in the industry and have been delivering a high quality betting product for over 20 years. Authorized and overseen in Panama City, Panama, they accept all KS players as well as the rest of the US. New players enjoy up to $1000 in free bonus money plus some of the best ongoing promotions for loyal players.
All Sports Betting Sites


Accepting Kansas Players
Is Online Sports Betting Legal In Kansas?

In order to answer this question, we have to qualify the context somewhat. When discussing the legality of sports betting in the state of Kansas, there are two separate categories of regulation that are relevant: state licensed sportsbook wagering and offshore certified sportsbook wagering. It is important to clarify these categories as state and federal laws apply differently to them.
State-based brick and mortar bookmakers are currently not legal in Kansas but state legislatures are currently working on a sports betting bill for Kansas residents. If the bill is passed by the state government, Kansas resident will be able to bet on sports domestically in the near future. Domestic sports betting is only permissible because the federal PASPA act was repealed in 2018. Since then several states have elected to enact sports betting laws.
It is at this point in the discussion that we often hear the question 'but what about DFS'? The daily fantasy sports contests that are legally approved in Kansas are not included in the state's definition of 'gambling'. This position remains controversial among many but is the standard position taken by those states that have regulated the contests. DFS contests are not the only sports-related wagering that Kansas residents have access to, it is simply as close as you can get to state-regulated sports betting action.
Another option for Kansas gamblers is bet on sports through a legitimate, certified and regulated online sportsbook that is located outside of the United States. This is what we mean when we refer to 'offshore sports betting'. These destinations are regulated through a respected governing jurisdiction that has already legalized bookmaking in their region. They are operating legally within the industry, and are not subject to US state or federal laws. There are no prohibitions found within Kansas state laws or US federal laws that criminalize participation in US Friendly offshore sportsbooks sites. In other words, you will not be violating any US gambling laws if you bet on sports online at offshore gambling sites.
How Kansas' Gambling Laws Affect Betting in the State
The strict laws Kansas has against gambling has basically created a tribal monopoly on all gambling that isn't a state-sanctioned lottery. So if you want to play the slots, play some blackjack, enjoy a hand of poker at a poker room, etc, then you're probably going to be at an Indian casino to do it. As far as the state getting into the for-profit gambling business, Kansas pretty much stays at a safe distance from such dealings. Instead, they make sure to get their hefty tax percentage on peoples' winnings and on the casinos' earnings. To the sports betters of the world, states like Kansas always seem the most hypocritical. They have no problem whatsoever spending money from gambling, but they stick their noses up in the air over gambling in general and act as if it's an evil activity that's beneath them. But people aren't stupid. We all know that what government gets up to makes even the shadiest forms of gambling seem like Sunday school. Even still, officials in Kansas don't have any plans to legalize gambling in the near future, and in fact they're more than happy to keep enforcing the federal regulations on everyone.
There are a couple of US federal regulations and laws that really affect the atmosphere of Kansas' gaming. The Federal Wire Act, which came around back in the early 1960s, stops any business or businessperson from knowingly accepting money for a gambling wager over a wire (telephone, Internet, etc) across state lines. So this obviously throws a monkey wrench in a few forms of gambling. The last piece of legislation is the UIGEA. This is the big federal act that made all online gambling sites in America illegal. So even if Kansas did offer gambling that was 100% legal, you would still be hard-pressed to find a website willing to accept you as a member.
Though just as with the state laws, you can get around these federal laws by simply finding a legal place to gamble. If you're able to find an online sportsbook or casino that accepts your money and allows you to play, then you're technically allowed to gamble there per state law. This is because the federal government of America has no power whatsoever against gambling sites that are authorized outside of United States jurisdiction; and just like with the Kansas laws, you can gamble as an American where you can find legal gambling. If you couldn't, then cities like Las Vegas and Atlantic City would evaporate. They're still vibrant places because American law allows you to gamble there, even if gambling is illegal everywhere else. The government cannot stop you from gambling as long as gambling is legal in a location, and that same fact holds true via online sportsbooks and casinos.
The State of Sports in Kansas
Located geographically directly in the middle of America, one might think that Kansas is a premium location for some of the nation's biggest sports teams. After all, if the National Football League can throw three teams in Florida, three teams in New York and three teams in California, they can throw at least one team in Kansas. Right? After all, a Kansas team would have a lot more room to operate. The state could house one of the grandest stadiums around. However, you won't find any NFL presence in the state. Sadly, the same goes for the National Basketball Association (NBA), the National Hockey League (NHL), Major League Baseball (MLB) and even Major League Soccer (MLS). None of these big sports leagues have a team here. In fact, you won't even find something like a famous PGA golf course in Kansas. When it comes to sports, Kansas and professionals seem to be at odds. But that doesn't mean Kansans are any less fanatical about their sports. It all depends on which sport you're speaking about. The Tennessee Titans? Not so much. The Kansas Jayhawks? This is basically a religion in Kansas.
With so much room to grow, and such a booming economy, the only real reason that no professional sports teams settle into Kansas is that they don't want the competition. The Kansas Jayhawks, the team that plays for the University of Kansas, is such a popular team that nothing else can compete. At all. Sporting goods stores and suchlike might still sell a few NFL or NBA items, but the vast majority of all sporting items sold in Kansas have to do with the Jayhawks. This basketball institution is as important to Kansas as anything else in the state's history. The Jayhawks have been around since 1898, and they have a long history of winning. They have won a lot; a whole lot. Their all-time record is 2153-831, which gives them a winning percentage of .722. They are one of the winningest teams in the history of NCAA men's basketball, and every March Madness the streets of Kansas go crazy in anticipation of the Jayhawks claiming another National Championship.
To date, they have won the big tournament three times: 1952, '88, and 2008. But in terms of winning their division and making it far in the big tournament, Kansas seems to be sticking around every single year. They have made the tournament for over 20 consecutive years, and from 2000 to 2013, they only missed making the round of 16 (Sweet Sixteen) twice. That means they were deep into the playoff almost every year of the new millennium, and this alone drives Kansans crazy with hope that the Jayhawks are going to one day win again. Their last Final Four appearance was in 2012, where they lost a heartbreaker, but the school definitely has the talent to get back. They have carte blanche on recruiting whomsoever they wish out of the middle of the nation, and there are a lot of great basketball players to choose from. So while there aren't a lot of sports around in Kansas, they do have the Jayhawks, and that's more than enough for most Kansans, even when it comes to betting.
Kansas' Gambling Options to Consider
If you need something to do in Kansas between basketball seasons, then you might think about visiting one of the state's casinos. Now, you're not going to find those huge mega-resorts like you find in Las Vegas, complete with dozens of restaurants, live shows from Penn & Teller and majestic fountains running around the clock. But you will find a few casinos that have ample space, high-quality slot machines, plenty of table games, and more. Through our research, we were able to pinpoint seven separate casinos operating within the state of Kansas, all of which seem to be tribal in some nature. You have the Boot Hill Casino in Dodge City, the Golden Eagle in Horton, the 7th Street Casino in Kansas City (not Missouri), the Prairie Band in Mayette, the Kansas Star in Mulvane, the Sac & Fox in Powhattan, and the Casino White Cloud in White Cloud. These casinos are spread out all over the state, and each one offers something unique.
For instance, the Sac & Fox is actually a very large casino and hotel. It's a Native American (tribal) casino, but it has all the makings of something you would find in a city much larger than Powhattan. There are over 780 gaming tables, poker tables and slot machines spread out over 106,000 square feet of space, and there are even three restaurants on the property, a spa, and more. None of the casinos in Kansas offer sports betting action unfortunately. Check out our list of legal offshore sports betting sites that accept all USA players.
Betting On the 2019 Kansas Jayhawks
Kansas has been historically bad the last few years. Over the past four seasons, the Jayhawks went 6-42. Les Miles took over for Kansas in 2018, hoping to reach a championship level before finishing his coaching career.
Junior college transfer QB Thomas MacVittie and Big 12 Offensive Freshman of the Year RB Pooka Williams should revitalize the offensive life for Kansas, if Williams can come back after a domestic violence suspension.
Kansas's defense lost seven 2018 starters to graduation and the NFL, including senior captains Daniel Wise and Joe Dineen. However, the Jayhawk secondary still hosts its best talent.
It will be a slow rebuild for Kansas, even with Miles at the helm. This should be a transition season with limited wins.
2019 NCAA Championship Odds to Win: TBD
---
Resources For Kansas Bettors