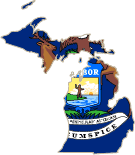 The multiple sports teams from Detroit all have big followings. Though the state has experienced extreme economic downturns in recent years, the sports culture and spirit of the state remains. Where you find significant enthusiasm for sports, you will find an appetite for betting on sports, and Michigan is no exception. Both state and federal laws have shaped the gambling industry in the Wolverine State, leaving a challenging and somewhat complex terrain to navigate. Accessing legally sanctioned sports betting in Michigan is certainly possible if you know where to look.
This guide will clarify the gambling landscape in the state of Michigan. You will find information specifically about the legalities of betting on sports in Michigan, including what legal options are available to residents in this state. We also provide some information regarding the state's most prominent sports leagues and programs, and where sports fans can enjoy legally sanctioned sports betting without traveling out of state. This guide will ensure that you have all the information you need to make an informed decision regarding your involvement in legal online sports betting in the US.
Best Online Sportsbook


For Michigan Players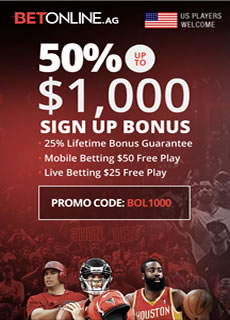 We recommend BetOnline Sportsbook to Michigan sports fans who are seeking a high quality, legally licensed and regulated online sports gambling destination offering premium betting action. We do this for several reasons. First of all, they are US friendly, they provide a nice range of sports betting lines and wagering options with odds that are comparable to the Vegas bookmakers. Their welcome bonus extends to every single deposit you make for the life of your account, and their customer support is one of the most helpful and responsive teams we've come in contact with. They have been involved in the online sportsbook industry for more than 20 years, and it shows.
Most Trusted US Sports Betting Sites


Open To Michigan Players In 2019
Is Online Sports Betting Legal In Michigan?

The answer to this question is a convoluted yes and no. But allow us to clarify matters for you. If you ask this question to find out if Michigan has any type of state-regulated online sports betting options available, then we would have to answer no for now. However, if you are asking if there are any legal options for betting on sports that Michigan residents can participate in, then the answer is a resounding hell yes! You see, there are not any state laws that prohibit citizens in Michigan from participating in online sports betting that takes place in a licensed sportsbook that is based outside of the Untied States. It is not legal to operate an online sportsbook within the state, but Michigan state laws and Federal gambling laws have no impact on what takes place outside of US borders.
The key is to make sure the sportsbook at which you bet is legitimately licensed and regulated by a jurisdiction that has legalized online sports betting for their respective territories. The USA online sportsbooks that are recommended in this guide are all legitimately operating within the industry and are licensed to provide their services to gamblers wherever they choose, including Michigan and the rest of the US. To sum things up, online sports betting is indeed legally sanctioned as long as you only place your bets through legitimately licensed and regulated offshore sportsbooks that are operating legally within the industry. The sports betting sites listed in this guide are all trusted, legal and high-quality destinations.
Why Would Federal Laws Apply to States?
Most sports fans in the US are a bit confused about federal regulations verses state regulations, particularly with legal state-based online gambling emerging in a few states. US sports betting laws on a federal and state level are not cut and dry by any means. You may be wondering how the federal regulations could actually impact state regulations. We have said a few times that it's tricky and that the federal government could technically override what the state says if they wanted. So let us explain that in more detail. To do so, let's first look at the Federal Wire Act of 1961. This is a federal regulation which makes it illegal to own or operate an online sportsbook in the United States. At one time, this law applied to all online gambling entertainment. In 2011, the Department of Justice did clarify that the Federal Wire Act only applies to sports betting at this time, allowing for state-regulated online casino and poker gambling should the people of Michigan ever decide to consider those options. The law does prohibit Michigan and every other state from creating their own online sports betting initiative.
Then you have a federal regulation like PASPA. PASPA was a federal law that prohibited legalized sports betting in 46 of 50 US states from 1992-2018. The SCOTUS ruled that PASPA was unconstitutional opening up the legal doorway for states to enact their own sports betting legislation. Michigan is currently working on passing a sports betting bill but it will likely be 2019 before any action takes place.
The last big federal regulation that governs gambling is the Unlawful Internet Gambling Enforcement Act of 2006, known as the UIGEA. This is the big one that President George W. Bush signed into law. The law places regulatory oversight and strict guidelines concerning how online gambling related transactions can be processed by US-based banks and credit card companies. Some states are allowing online gambling per state licensing, and there have been some struggles in adhering to the UIGEA while making it convenient for their residents to engage in online casino or poker gambling.
Does MI Actually Have Any Live Gambling Spots?
Michigan typically offers three types of casinos to its citizens. The first type of casino they offer is a riverboat casino, and these can be found on Lake Michigan or in the state's rivers. There are well over a dozen of these casinos, and they're typically fairly basic in how they're set up. They have a couple hundred slot machines, a few dozen gaming tables, and maybe half dozen poker tables. Though some riverboats focus hard on the gambling and are basically floating poker rooms. The second type of casino you're going to find in Michigan is a tribal casino. These are like miniature versions of casinos you find in Vegas. They offer all the different types of gambling games you could hope for, but they also often include small hotels and spas and restaurants. They're just like the MGM Grand or the Wynn, only a lot smaller.
The third type of casino you're going to find is a land-based state-licensed casino. These casinos are typically a little larger and a little more luxurious than tribal casinos, and they also feature hotel rooms, restaurants, spas, etc. They will also have more gaming options per tables, and some may even have sports betting options. These casinos will also typically have a racetrack of some sort, whether thoroughbred horse racing, harness racing, or greyhound racing. All in all, there are over 25 casinos in Michigan, riverboat and land-based, and two of the state's largest are located in the heart of Detroit: The MGM Grand Detroit and the Motor City Casino. Legal sports betting options are limited to the licensed and regulated offshore sportsbooks such as the ones recommended in this guide.
The Detroit Four
The state of Michigan is known for great music, the streamlining of the automobile, and sports. Those are certainly good things to be known for, especially sports. Because no matter how unpopular a type of music becomes, or how starkly the market shifts per automobile popularity, sports are always timeless. In Michigan, you have four major professional sports teams: The Tigers (MLB), Lions (NFL), Red Wings (NHL), and the Pistons (NBA). But the state also has two very popular and very competitive NCAA collegiate teams: The Michigan Wolverines, and the Michigan State Spartans. The Wolverines are typically standouts in men's football, while the Spartans are perennial favorites to make it to the latter rounds of March Madness. All told, Michigan has some serious contenders in the sporting arena, but the most popular are the big Detroit Four.
The Detroit Tigers
Situated in the American League of Major League Baseball, the Detroit Tigers don't exactly have it as tough as a team in the NBA West has it. Though there are still some tough teams in the AL, such as the Yankees, Red Sox and White Sox. The Tigers last won the World Series back in 1984, so they've been on a bit of a drought, but they have managed to make it to the playoffs a few times since then, and they have a good-looking roster that gives the people of Michigan hope that their Detroit club can pull off another series championship. They have players like Miguel Cabrera, Victor Martinez and Nick Castellanos swinging the bats, plus they have some decent pitching in Ian Krol and Justin Verlander. Overall, they're a solid team in the AL, and if they can put together a win streak they may end up a wild card team in the playoffs.
The Detroit Lions
After making the playoffs in 2016, the Lions missed the playoffs in 2016, which led to the organization firing head coach Jim Caldwell and hiring Patriots defensive coordinator Matt Patricia as their new head coach. Patricia will attempt to bring the "Patriot Way" to the Lions in hopes of creating a winning environment for a franchise who has never appeared in the Super Bowl. Most sportsbooks have the Lions finishing 3rd in the division and missing the playoffs. QB Matthew Stafford is at the helm for the 10th straight year, amassing 112 consecutive starts in that time but will need help from the run game, which ranked 32nd out of 32 teams a year ago, if the Lions want to compete. Signing RB LeGarrette Blount and drafting Kerryon Johnson should help immensely and give the Lions a more balanced attack. The defense is why Patricia was hired and will need to toughen up a Lions team who finished 27th in total defense a year ago and got pushed around every week. The Lions might squeeze into the playoffs, but betting on them winning the division or making a Super Bowl run is probably not worth it for at least 1-2 more years after Patricia can potential create the "Lions Way."
The Detroit Red Wings
The Red Wings are currently the best team playing in Detroit. Although they haven't won a Stanley Cup since 2008, they are a perennial playoff team. Situated in the Atlantic Division of the Eastern Conference, the Red Wings have to face teams like the Tampa Bay Lightning, the Boston Bruins, the Toronto Maple Leafs and the Buffalo Sabres. This is no easy task, but Detroit often proves to be the better of these teams, at least per their division. In conference, they also face off against teams like the Washington Capitals, the New York Rangers, and the Philadelphia Flyers. These teams are all a little better than Detroit, but with its young roster including stud players like Henrick Zetterberg and Pavel Datsyuk, the Red Wings do have a chance to compete for the cup next season.
The Detroit Pistons
The Pistons were just on top of the world ten years ago. In 2004, they won the NBA Championship, and in 2005 they were still atop their division and a team others feared facing. With Rasheed Wallace, Richard Hamilton and Chauncey Billups, the Pistons were seriously a great team, on the verge of becoming a dynasty. However, the wheels fell off quickly, and the team split up. Today, the Pistons have players like Andre Drummons and Brandon Jennings. They don't have that all-star roster needed to compete in the Eastern Conference, and the odds aren't very good for the Pistons making a playoff run next season. However, the Pistons are still one of the most popular teams in Michigan, and in the NBA, and they have been since the Bad Boys of the '80s, with Dennis Rodman, Isiah Thomas and Joe Dumars. It might take them a while to reach that level of play again, but they do have the fan support.
If you're a Michigan resident and enjoy betting on sports, just keep in mind that your love for the team should never cloud your judgment when placing bets. You don't bet on the team you hope will win; you do your research and bet on the team more statistically likely to win. Sports betting isn't about being a fan. It's about making money.
Future Betting Odds For All Michigan Sports Teams For 2018-2019 Season
Detroit Tigers Odds to Win the World Series +50000
Detroit Lions Odds To Win Super Bowl 53 +6500
Detroit Pistons Odds To Win The NBA Championship +30000
Detroit Red Wings Odds To Win Stanley Cup TBD
College Football Teams in Michigan
The Michigan Wolverines from Ann Arbor and the Michigan State Spartans from East Lansing are the two Power 5 Conference college football teams from Michigan with both playing in the Big Ten and together claim a total of 17 national championships (Michigan 11, Michigan State 6).
The two teams first played in 1898 and have met 110 times, and since 1953, they have played for the Paul Bunyan Trophy, a wooden trophy displaying a four-foot tall statue of the famous giant lumberjack Paul Bunyan on top of a five-foot base. The trophy is meant to represent Michigan's history as a large producer of lumber and was presented by governor G. Mennen Williams. Upon seeing it, Michigan athletic director and former head coach Fritz Crisler refused to take the trophy if Michigan had won the game, but fortunately, Michigan State won the 1953 matchup, choosing to display it proudly. Michigan won the following year and the trophy stayed on the field for half an hour before the Wolverines put it out of sight in an equipment closet. In, 1958 the game ended a 12-12 tie and neither team wanted to keep it with the dispute ending once the Spartans relented. Today, despite not being loved at first sight, the trophy is a symbol of the superior football team in Michigan, becoming a staple college football tradition in the process.
Betting on the 2018 Michigan Wolverines
The pressure is on for head coach Jim Harbough, who enters his fourth season coaching his alma mater, has yet to make an appearance in the College Football Playoff while going 1-5 against the Wolverines biggest rivals, Ohio State and Michigan State. However, Ole Miss-transfer and former 5-star QB Shea Patterson might be just what Harbough needs to jump-start the inconsistent offense the Wolverines have had since he arrived. The defense has always ranked near the top of college football under Harbough and many expect this to be his best defensive unit. The Wolverines do have a brutal schedule with three road games against their rivals, No.12 Notre Dame, No.11 Michigan State, and No.5 Ohio State, and not to mention, they must play No.4 Wisconsin and No.10 Penn State at home. Betting on Michigan is risky, but sportsbooks have odds on Michigan winning the national championship inside the top 10 and some have them inside the top 5. Waiting to see how Patterson performs at QB might be the best bet, since he'll be tested early against a stout Notre Dame defense in Week 1.
Betting on the 2018 Michigan State Spartans
Expectations are high in East Lansing following a 10-3 season and finishing the year ranked No.16. Head coach Mark Dantonio enters his 12th season as head coach of the Spartans and is one of the most underrated coaches in college football, especially since he's only had two losing seasons, has consistently put together double-digit winning seasons, and made an appearance in the CFP Seminal during the 2015 season. Need any more reason to bet on the Spartans in 2018? Here's a stat: Of all the players who contributed production on the offensive and defensive side of the ball in 2017, the Spartans return 92% of the players who recorded a stat during last season, ranking first out of every college football team in the nation. And unlike the Michigan Wolverines, the Spartans schedule is favorable for them, with No.10 Penn State being their toughest road test. Every other ranked team and rival on their schedule will have to come to East Lansing. Currently, the Spartans odds are hovering just outside the top 10 to win the national championship which means the payout is larger then most of the teams on everyone's radar. However, expect that to change one way or another after October 13 when the Spartans travel to Happy Valley to face Penn State – their first true test of the season.
Future Betting Odds For Michigan College Football Teams For 2018-2019 Season
Michigan Odds To Win The NCAAF Championship Title: +1800
Michigan State Odds To Win The NCAAF Championship Title: +3500