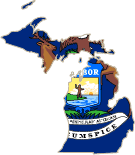 The multiple sports teams from Detroit all have big followings. Though the state has experienced extreme economic downturns in recent years, the sports culture and spirit of the state remains. Where you find significant enthusiasm for sports, you will find an appetite for betting on sports, and Michigan is no exception. Both state and federal laws have shaped the gambling industry in the Wolverine State, leaving a challenging and somewhat complex terrain to navigate. Accessing legally sanctioned sports betting in Michigan is certainly possible if you know where to look.
This guide will clarify the gambling landscape in the state of Michigan. You will find information specifically about the legalities of betting on sports in Michigan, including what legal options are available to residents in this state. We also provide some information regarding the state's most prominent sports leagues and programs, and where sports fans can enjoy legally sanctioned sports betting without traveling to Nevada. This guide will ensure that you have all the information you need to make an informed decision regarding your involvement in legal online sports betting in the US.
Best Online Sportsbook


For Michigan Players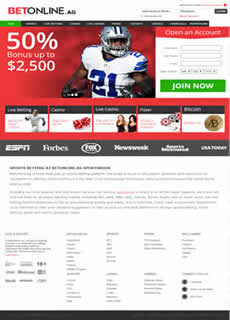 We recommend BetOnline Sportsbook to Michigan sports fans who are seeking a high quality, legally licensed and regulated online sports gambling destination offering premium betting action. We do this for several reasons. First of all, they are US friendly, they provide a nice range of sports betting lines and wagering options with odds that are comparable to the Vegas bookmakers. Their welcome bonus extends to every single deposit you make for the life of your account, and their customer support is one of the most helpful and responsive teams we've come in contact with. They have been involved in the online sportsbook industry for more than 20 years, and it shows.
Most Trusted US Sports Betting Sites


Open To Michigan Players In 2018
Is Online Sports Betting Legal In Michigan?

The answer to this question is a convoluted yes and no. But allow us to clarify matters for you. If you ask this question to find out if Michigan has any type of state regulated online sports betting options available, then we would have to answer no. However, if you are asking if there are any legal options for betting on sports that Michigan residents can participate in, then the answer is a resounding hell yes! You see, there are not any state laws that prohibit citizens in Michigan from participating in online sports betting that takes place in a licensed sportsbook that is based outside of the Untied States. It is not legal to operate an online sportsbook within the state, but Michigan state laws and Federal gambling laws have no impact on what takes place outside of US borders.
The key is to make sure the sportsbook at which you bet is legitimately licensed and regulated by a jurisdiction that has legalized online sports betting for their respective territories. The USA online sportsbooks that are recommended in this guide are all legitimately operating within the industry and are licensed to provide their services to gamblers wherever they choose, including Michigan and the rest of the US. To sum things up, online sports betting is indeed legally sanctioned as long as you only place your bets through legitimately licensed and regulated offshore sportsbooks that are operating legally within the industry. The sports betting sites listed in this guide are all trusted, legal and high quality destinations.
Why Would Federal Laws Apply to States?
Most sports fans in the US are a bit confused about federal regulations verses state regulations, particularly with legal state based online gambling emerging in a few states. US sports betting laws on a federal and state level are not cut and dry by any means. You may be wondering how the federal regulations could actually impact state regulations. We have said a few times that it's tricky, and that the federal government could technically override what the state says, if they wanted. So let us explain that in more detail. To do so, let's first look at the Federal Wire Act of 1961. This is a federal regulation which makes it illegal to own or operate an online sportsbook in the United States. At one time, this law applied to all online gambling entertainment. In 2011, the Department of Justice did clarify that the Federal Wire Act only applies to sports betting at this time, allowing for state regulated online casino and poker gambling should the people of Michigan ever decide to consider those options. The law does prohibit Michigan and every other state from creating their own online sports betting initiative.
Then you have a federal regulation like PASPA, which basically renders all sports betting illegal in most states, even if it's on amateur sports. States like Michigan typically avoid breaking this federal law by not offering sports betting. Instead of sports betting at their casinos and racetracks, they instead have slots, table games, and horse and greyhound races, which do not violate PASPA. The law allows only four regions in the United States to legally host sports betting, and Michigan is not one of them. At this point in time, unless this federal law is modified or nullified, Michigan will not be able to offer any type of sports betting services to their residents. PASPA combined with the Federal Wire Act effectively prohibits both online and offline sports betting at a state level. The law does not have any impact on legal offshore sports betting however, so players in MI and in the US in general need not worry about their participation in that type of legal betting action.
The last big federal regulation that governs gambling is the Unlawful Internet Gambling Enforcement Act of 2006, known as the UIGEA. This is the big one that President George W. Bush signed into law. The law places regulatory oversight and strict guidelines concerning how online gambling related transactions can be processed by US based banks and credit card companies. Some states are allowing online gambling per state licensing, and there have been some struggles in adhering to the UIGEA while making it convenient for their residents to engage in online casino or poker gambling.
Does MI Actually Have Any Live Gambling Spots?
Michigan typically offers three types of casinos to its citizens. The first type of casino they offer is a riverboat casino, and these can be found on Lake Michigan or in the state's rivers. There are well over a dozen of these casinos, and they're typically fairly basic in how they're set up. They have a couple hundred slot machines, a few dozen gaming tables, and maybe half dozen poker tables. Though some riverboats focus hard on the gambling and are basically floating poker rooms. The second type of casino you're going to find in Michigan is a tribal casino. These are like miniature versions of casinos you find in Vegas. They offer all the different types of gambling games you could hope for, but they also often include small hotels and spas and restaurants. They're just like the MGM Grand or the Wynn, only a lot smaller.
The third type of casino you're going to find is a land-based state-licensed casino. These casinos are typically a little larger and a little more luxurious than tribal casinos, and they also feature hotel rooms, restaurants, spas, etc. They will also have more gaming options per tables, and some may even have sports betting options. These casinos will also typically have a racetrack of some sort, whether thoroughbred horse racing, harness racing, or greyhound racing. All in all, there are over 25 casinos in Michigan, riverboat and land-based, and two of the state's largest are located in the heart of Detroit: The MGM Grand Detroit and the Motor City Casino. Legal sports betting options are limited to the licensed and regulated offshore sportsbooks such as the ones recommended in this guide.
The Detroit Four
The state of Michigan is known for great music, the streamlining of the automobile, and sports. Those are certainly good things to be known for, especially sports. Because no matter how unpopular a type of music becomes, or how starkly the market shifts per automobile popularity, sports are always timeless. In Michigan, you have four major professional sports teams: The Tigers (MLB), Lions (NFL), Red Wings (NHL), and the Pistons (NBA). But the state also has two very popular and very competitive NCAA collegiate teams: The Michigan Wolverines, and the Michigan State Spartans. The Wolverines are typically standouts in men's football, while the Spartans are perennial favorites to make it to the latter rounds of March Madness. All told, Michigan has some serious contenders in the sporting arena, but the most popular are the big Detroit Four.
The Detroit Tigers
Situated in the American League of Major League Baseball, the Detroit Tigers don't exactly have it as tough as a team in the NBA West has it. Though there are still some tough teams in the AL, such as the Yankees, Red Sox and White Sox. The Tigers last won the World Series back in 1984, so they've been on a bit of a drought, but they have managed to make it to the playoffs a few times since then, and they have a good-looking roster that gives the people of Michigan hope that their Detroit club can pull off another series championship. They have players like Miguel Cabrera, Victor Martinez and Nick Castellanos swinging the bats, plus they have some decent pitching in Ian Krol and Justin Verlander. Overall, they're a solid team in the AL, and if they can put together a win streak they may end up a wild card team in the playoffs.
The Detroit Lions
Unfortunately, no NFL team currently playing has a history of losing as much as the Detroit Lions. They are the only team in NFL history to go 0-16 for an entire season, and they rarely make the playoffs. However, Detroit residents are some of the most loyal fans in the country, and their faith is beginning to be rewarded. The Lions went 9-7 under head coach Jim Caldwell last season, making the Playoffs and finishing second in their division. They lost to the Seahawks in the Wild Card round, but showed they are taking steps in the right direction after losing WR Calvin Johnson to retirement. This was their first Playoff berth since 2014. QB Matt Stafford is a talented conductor of the game. RB Ameer Abdullah is one of the most explosive backs currently playing and WR Keshawn Martin and WR Golden Tate add to Stafford's available options. The Lions are a bit of a more cautious pick week-to-week, but they have shown growth in their past couple seasons. They make for a decent bet on their annual Thanksgiving game; they will be hosting the Vikings this year.
The Detroit Red Wings
The Red Wings are currently the best team playing in Detroit. Although they haven't won a Stanley Cup since 2008, they are a perennial playoff team. Situated in the Atlantic Division of the Eastern Conference, the Red Wings have to face teams like the Tampa Bay Lightning, the Boston Bruins, the Toronto Maple Leafs and the Buffalo Sabres. This is no easy task, but Detroit often proves to be the better of these teams, at least per their division. In conference, they also face off against teams like the Washington Capitals, the New York Rangers, and the Philadelphia Flyers. These teams are all a little better than Detroit, but with its young roster including stud players like Henrick Zetterberg and Pavel Datsyuk, the Red Wings do have a chance to compete for the cup next season.
The Detroit Pistons
The Pistons were just on top of the world ten years ago. In 2004, they won the NBA Championship, and in 2005 they were still atop their division and a team others feared facing. With Rasheed Wallace, Richard Hamilton and Chauncey Billups, the Pistons were seriously a great team, on the verge of becoming a dynasty. However, the wheels fell off quickly, and the team split up. Today, the Pistons have players like Andre Drummons and Brandon Jennings. They don't have that all-star roster needed to compete in the Eastern Conference, and the odds aren't very good for the Pistons making a playoff run next season. However, the Pistons are still one of the most popular teams in Michigan, and in the NBA, and they have been since the Bad Boys of the '80s, with Dennis Rodman, Isiah Thomas and Joe Dumars. It might take them a while to reach that level of play again, but they do have the fan support.
If you're a Michigan resident and enjoy betting on sports, just keep in mind that your love for the team should never cloud your judgment when placing bets. You don't bet on the team you hope will win; you do your research and bet on the team more statistically likely to win. Sports betting isn't about being a fan. It's about making money.
Future Betting Odds For All Michigan Sports Teams For 2018-2019 Season
Detroit Tigers Odds to Win the World Series +50000
Detroit Lions Odds To Win Super Bowl 53 +5000
Detroit Pistons Odds To Win The NBA Championship +99900
Detroit Red Wings Odds To Win Stanley Cup TBD
College Football Teams To Bet On In Michigan
Michigan hosts two very exciting NCAA teams in the University of Michigan and Michigan State. The University of Michigan is expected to be ranked #14 this year under head coach Jim Harbaugh. They had a decent 2016-2017 season, though they lost the Orange Bowl to FSU. Their biggest factor heading into the new season is the fact they have lost almost their entire starting defense and receivers. They also lost three starters on the offensive line. Harbaugh's recruiting should fix this, but that remains to be seen.
Meanwhile, Michigan State saw a reverse of fortune this last season, going from Big 10 Conference winners to a losing 3-9 record. They'll have to make some major adjustments to regain their identity, but they seem to give Michigan a run for their money in their rivalry matchup. The Spartans are expected to be ranked #42, a sign of their fall from grace.
Future Betting Odds For Michigan College Football Teams For 2018-2019 Season
Michigan Odds To Win The NCAAF Championship Title: +1800
Michigan State Odds To Win The NCAAF Championship Title: +3500