Despite the fact that no professional sports team calls West Virginia home, interest in legal US sports betting is alive and well in the Mountain State. West Virginia is a friendly gambling state that provides a welcoming environment for those interested in a variety of gambling venues. In August of 2018, West Virginia became the fifth state to launch domestic sports betting.
The legalities of sportsbook gambling in the US are complex at best, and figuring out the proper application of all relevant laws is challenging. There are legally sanctioned sports betting options available to West Virginia residents, and this guide will provide insight into the legal landscape as it relates to online and offline sports wagering in this region, as well as provide information on where to find the best USA sportsbooks that accept residents of WV and that are legitimately licensed and regulated.
Best Sports Betting Site


For West Virginia Residents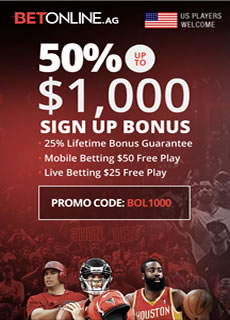 BetOnline Sportsbook is our top recommendation for West Virginia sports fans seeking a legally sanctioned, secure and high quality betting experience online. Their welcome bonus is lager than most of their competitors, and their 25% life time bonus will keep you coming back. Their selection of betting lines is substantial, and their odds and paylines are comparable with the Vegas bookmakers.  They were one of the first sportsbook brands to have an online presence, and it shows.
USA Online Sportsbooks


Accepting WV Residents In 2019
Is Online Sports Betting Legal In West Virginia?

There is currently no state legislation regarding state-based online sports betting. This is because there are already a couple of federal laws in place that govern this type of entertainment throughout the country.
Offshore online sports betting is legal in West Virginia as there are no laws that forbid it, but WV domestic sportsbooks are not allowed to offer online services to residents at this time. However, residents of the Mountain State are not limited to state-regulated domestic sportsbooks and can legally place bets at licensed offshore sports betting sites that are operating legally within the industry.
There are no state or federal laws that make it a crime for US bettors, including those in West Virginia, from participating in online sports wagering as long as the destination at which those bets are placed is legally licensed and subject to strict regulatory oversight. The section below goes into the details of the US federal sports betting laws and how they impact sports fans in West Virginia.
How Federal Laws Impact West Virginia
Just because gambling is considered to be legal inside of West Virginia doesn't mean that the federal government has taken a day off in their imposition of sports gambling. Since the 1960s, the federal government has really taken a stance against this type of gambling. It all started with the Federal Wire Act of 1961. This act makes it illegal for domestic sportsbooks to accept money on bets from across state lines or from foreign entities. Simple enough in premise, but its wide reaching implications have prevented any type of US-based online sportsbook from operating in West Virginia.
Then you have PASPA, which is also known as the Bradley Act. Basically, this was the government's back-handed way to supposedly "protect" athletes, amateurs and pros alike, by making state-based sports betting an illegal activity. PASPA was repealed by the Supreme Court of the United States in 2018 and gave states the rights to enact sports betting laws. West Virginia was one of the first states to enact laws and launch domestic sportsbooks across the state.
Lastly, we have the UIGEA, which is a relatively new piece of legislation passed in 2006 that places regulatory oversight for gambling related transactions. The law addresses US banks and payment processors and does not address individuals placing the bets. None of these federal laws makes it illegal for US sports fans to place bets at legally sanctioned online sportsbooks that are licensed, regulated and located outside of the US.
Places to Gamble At Inside of West Virginia
The state of West Virginia doesn't have a whole lot of casinos yet, but you have to understand that they're relatively new players on the casino scene. To date, they have seven casinos, which include some that feature primarily slots, but also some that give you table games, large poker rooms, sportsbooks, and more. It all depends on which casino you visit while in West Virginia. And it will also depend on when you visit. For instance, in a few years you can be sure that West Virginia will have more than a few casinos to boast about. The state is busy trying to make room for more gambling, after they've found out that offering gambling is a great way to earn revenue.
Some of the casinos in West Virginia include Big Buck's Bingo in Clarksburg, which is primarily a bingo hall but also features slots. They also have the Mardi Gras Casino and Resort, which is a large establishment featuring slots, table games, entertainment, and quality rooms for patrons. Another casino located in Chester, which you might pass if you don't know where it's at because it looks like a hospital, is the Mountaineer Casino and Racetrack.
However, far and away, West Virginia's biggest casino is the Hollywood Casino as the Charles Town Races. Not only does this casino feature a wide variety of racing, but you can also find a sportsbook, slots, table games, poker tables, and much more here. The Hollywood Casinos was the first casino to launch a domestic sportsbook in West Virginia, several other WV casinos are expected to launch sportsbooks as well. Domestic sports betting laws were passed in the wake of PASPA's repeal.
Betting on the 2018 West Virginia Mountaineers
QB Will Grier is expected to be a Heisman Trophy candidate this season after a great showing last season, following his transfer from Florida. The Mountaineers are predicted to finish near the top of the Big 12 standing and will likely be the main challenger to the defending Big 12 champion, Oklahoma. The Sooners will come to West Virginia on November 23, and the winner will likely control their own destiny in the conference, having a birth in the College Football Playoff on the line as well.
Odds For The West Virginia University Mountaineers To Win The NCAAF National Title In 2018-2019 Season
Mountaineers +6000
West Virginians love their collegiate football teams, and we cannot tell them any differently. The best we can offer here is some advice, and that starts with betting per statistical likelihood to win the bet, never as a fan who's rooting for a team to win. If you find yourself rooting on weekends, you're doing it wrong.