North Carolina Legal Online Sports Betting Guide For 2023
North Carolina is a sports-heavy state filled with franchises from major professional sports leagues and college athletic programs - especially NCAA Basketball! Legal North Carolina sports betting is offered locally at regional casinos, but NC-based gamblers also have the option to bet on pro and college games using offshore sportsbook sites.
Keep reading to learn more information pertinent to North Carolina sports gambling—including the laws that regulate the industry of legal sports betting, the best offshore sportsbooks available to North Carolina bettors, and local teams that can be wagered upon online.
Online/Mobile Sports Betting Available In NC Via Offshore Sportsbooks

In-Person Sportsbooks Are Available At North Carolina Casinos
Best NC Online Sportsbook For 2023

We recommend BetOnline Sportsbook to North Carolinians as a premium, USA-friendly, legal sports betting site for several reasons. BetOnline.AG is a trusted and reputable brand that has been involved in the online gambling industry since 1991 and provides a 50% match bonus worth up to $1,000 to new customers.
BetOnline Sportsbook puts a lot of effort into offering a fantastic selection of betting lines and wagering options. Their coverage of sports events, games, races, and matches is superb, and their range of wagering options and services outperforms the competition.
Their lines, odds, and props are competitive and no less than on par with what you'll get from Vegas bookmakers.
50% Welcome Bonus Up To $1,000 For New Members
25% Reload Bonus On All Deposits For Life
Super Bowl betting lines that are comparable with the Vegas bookmakers
Established in 1991 and have been a leader ever since
Sports, casino, poker, live dealers and racebook available
Certifications administered by the Government of Panama
All USA Sportsbooks
That Accept North Carolina Players In 2023
Is Sports Betting Legal In North Carolina As Of 2023?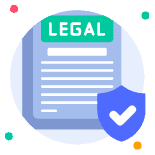 Yes. Local North Carolina sportsbooks are open to 21 and older gamblers and reside inside the state's brick-and-mortar casinos. There have been several efforts in the NC legislature to legalize and regulate mobile sports betting apps, but no bills have made it to the governor's desk for signature.
Offshore sports betting in NC is legal and available via web-ready devices in the Tar Heel State, with many online sportsbooks allowing members to join at the age of 18. The best USA sportsbooks listed on this page are our top recommendations for sports betting in North Carolina and qualify as offshore gambling sites.
Is NC Online Sports Betting Legal?
Online sports betting is legally available to North Carolina gamblers who opt to do business with offshore sportsbook sites like the ones we recommend in this guide. USA sports betting laws do not govern or prohibit international gambling entities that accept wagers over the web, nor do NC regulations, either.
While area gamblers wait for domestic sports betting applications to become legal in NC, offshore sportsbook sites are currently taking bets over the Internet using laptops, PCs, smartphones, and tablets. All of the sports betting sites listed here qualify as offshore sportsbooks.
Where Can I Sports Bet In North Carolina?
The state of North Carolina still has some legislative work to do before all forms of legal sports betting will receive approval. Here are the current forms of sports gambling offered in NC.
Domestic NC Sports Betting
In-person sportsbooks located inside a few North Carolina casinos (21+ only)
No domestic mobile sportsbook apps in NC
Online sports betting in North Carolina has yet to be approved domestically
Offshore Sports Betting: North Carolina
Internet-ready devices in North Carolina can access offshore sportsbook sites
International sportsbook apps available on Apple and Android devices
Most offshore books allow members to join at 18 years old
When Will Online Sports Betting Be Legal In North Carolina?
NC legislators have seen the sports betting revenue reports come in from around the United States and are keenly aware of the uptick in business once states graduate from in-person sportsbooks and begin to allow online options.
The North Carolina General Assembly meets biennially, and with the attention they've devoted to mobile sports betting in recent sessions, we expect domestic gambling apps to receive a pass soon. For now, online North Carolina sports gambling is best done with a site included in our list of sportsbook reviews.
Tribal Casinos In North Carolina With Domestic Sportsbooks
21 and older sports bettors in the North Carolina area can visit any of the following three tribal casinos that feature in-person sportsbooks.
Harrah's Cherokee Valley River Casino & Hotel - Murphy, NC
Harrah's Cherokee Hotel & Casino Resort North Carolina - Cherokee, NC
Catawba Two Kings Casino - Kings Mountain, NC
North Carolina Betting Apps
NC politicians have been close to passing legal mobile sports betting apps that operate domestically several times, but for now, no state-regulated options are available for download to Apple or Android smartphones and tablets. Sports betting on iPhones, iPads, and other popular devices are offered in NC, but only via mobile web browsers like Safari, Opera, and others.
Just click on any sportsbook linked to inside of this NC betting guide using a web-ready mobile phone or tablet and watch as screens fill up with the lastest lines, odds, and props from games around the planet. Most offshore sportsbook apps allow members to join at 18, and they are the best option for mobile sports betting.
Major NC Sports Teams To Bet On In 2023
North Carolina is blessed with several college basketball and football programs, as well as professional sports franchises that attract rabid fanbases, locally and nationally.
Below, we discuss these major sports entities within NC and direct readers toward outlets that allow gamblers to wager on their games.
Betting On North Carolina Tar Heels Basketball
The boys of Chapel Hill are one of the most popular basketball teams in the country, not just in NC. You won't find a state more fanatic about college basketball, and if you are a Tar Heel fan, you can bet on them inside North Carolina using domestic, in-person sportsbooks or online sports betting sites.
College basketball betting at the age of 18 can be done at offshore sportsbook sites like the venues we recommend here, but there are also domestic, in-person options available to NC gamblers that are 21 and are willing to travel.
Betting On Duke Blue Devils Basketball
Every top-tier NCAAB program needs a rival, and the annual competition offered up by the Duke Blue Devils basketball team and the North Carolina Tar Heels is some of the most exciting hoops action in the nation. Duke and NC go head-to-head most seasons for the ACC Championship, but they are also both routine qualifiers for the March Madness Tournament each year.
If you want to place a wager on Duke Basketball or bet on March Madness, it can be done in North Carolina using overseas sports betting sites like we suggest here, or at one of NC's three in-person 21+ sportsbooks.
College Football Betting In North Carolina
The state of North Carolina is home to four Power 5 Conference college football programs: The Duke Blue Devils, North Carolina Tar Heels, NC State Wolfpack, and Wake Forest Demon Deacons. All four teams play in the Atlantic Coast Conference (ACC) and are primarily known for their basketball prowess, but also field competitive football teams as well.
The four universities are all a part of a rivalry known as "Tobacco Road," which refers to North Carolina's history as a major tobacco producer. Before Wake Forest moved in 1956, all four universities were located within 25 miles of each other. Today, Duke, North Carolina, and N.C. State make up the "Research Triangle," a region in the Piedmont of North Carolina that is home to several tech companies and businesses, having a population of 2.7 million in the 24-county area.
Legal college football betting can occur at online sports betting sites that operate offshore or in one of NC's three in-person sportsbooks.
Betting On The Carolina Panthers (NFL Football)
The Carolina Panthers are the only NFL team in either of the Carolinas and played their first season in 1995 as the league's 29th franchise. The team is headquartered in Bank of America Stadium in uptown Charlotte and is a member of the NFC South Division.
Area gamblers that are interested in NFL betting on the Panthers odds, or any other franchise, have two options - local casinos or online sportsbooks. We suggest becoming a member with one of our preferred offshore sportsbooks to bet on the Panthers for many reasons, not least of which is their expansive selection of NFL prop bets, futures, and odds for Super Bowl betting.
Betting On The Charlotte Hornets (NBA Basketball)
The Charlotte Hornets are owned by NBA legend and former North Carolina Tar Heel Michael Jordan. The Hornets are a member of the Eastern Conference's Southeast Division and are still on the hunt for their first NBA Championship in team history.
Legally betting on the NBA is possible inside of NC using either offshore sportsbook sites or in-person casinos, but we prefer international gambling online because they allow members to lay some action on Hornets odds and game lines from anywhere inside the state.
Betting On The Carolina Hurricanes (NHL Hockey)
Playing within the National Hockey League's Eastern Conference and Metropolitan Division, the Carolina Hurricanes have been a regional favorite since they moved to Charlotte in 1997 after a lengthy stint in Hartford, Connecticut.
The Hurricanes won the Stanley Cup at the end of the 2005-2006 season and are often featured atop the preseason futures odds presented each year for NHL betting. Area gamblers can bet on the Hurricanes at in-person tribal casinos or, even better, using the offshore sportsbook sites recommended for NHL odds within this guide.
Charlotte Motor Speedway (Nascar Racing)
Designated as "America's Home for Racing," the Charlotte Motor Speedway is the annual host for Memorial Day Weekend's Coca-Cola 600 and the Bank of America Roval 400 each October, two major races on the NASCAR schedule.
Legally betting on NASCAR races in North Carolina is available to 21 and older gamblers that are willing to travel to one of the state's three participating domestic casinos, or to 18 and older customers in NC using offshore sportsbook sites or apps.
The Impact of Federal Regulations on North Carolina
North Carolina is subjected to several US federal laws that relate to sports betting. The first of these laws is known as the Federal Wire Act, which prohibits US-based online sportsbooks from accepting wagers from US bettors located in other states.
The Professional and Amateur Sports Protection Act (PASPA) was a ban on state-run sports betting operations in all but 4 states—Nevada, Oregon, Delaware, and Montana. The PASPA act was repealed in 2018 after the Supreme Court ruled that it was unconstitutional.
The Unlawful Internet Gambling Enforcement Act (UIGEA) enforces the financial side of online gambling, specifically banks and financial institutions, and how they process transactions. The aim of these laws is to stop US-based sports betting, leaving the market open to legal offshore sportsbooks.
The NC sportsbooks in this guide are legally sanctioned and regulated by their respective government. These sportsbooks accept North Carolina-based bettors and are outside the jurisdiction of the US federal laws mentioned above.
None of these federal laws prohibit US residents from participating in certified offshore sports betting. While it is always best to be aware of the federal laws that govern gambling where you live, it is reassuring that you can enjoy online sports betting without having to worry about the feds. The US gambling landscape is fluid and continuously changing, and we will make sure that this page is updated as changes occur.
Helpful Links For North Carolina Gamblers