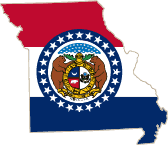 With six professional sports teams that span just about every pro league that exists in the US, it is not surprising that there is a healthy appetite for sports betting in Missouri. The Missouri revised statutes are fairly liberal concerning commercial and tribal casino gambling, pari-mutuel wagering and lottery, with more restrictive laws governing charitable and social gaming. The one form of gambling entertainment that is more complicated for Missouri is sports betting. Sports related wagering falls under the purview of federal regulation, thereby adding an additional layer of complexity to the equation. In order to assist Missouri sports fans who are seeking legal sports betting options, our team of analysts poured over the relevant state and federal laws that govern this type of betting entertainment.
We created a comprehensive and informed guide that provides valuable insight into the legal status of sportsbook gambling in Missouri. In order to access legally sanctioned sportsbooks, you must first understand what is and is not legal. This guide is comprised of our interpretation of the facts based on our extensive experience in the industry. You will find information concerning both state and federal statutes applicable to Missouri's gambling industry and an explanation on how these laws impact sports related betting in the Show Me State. We also provide a refined list of recommended sportsbooks that accept customers from Missouri and are legally licensed and regulated to operate within the sports betting market.
Best Online Sportsbook


Accepting Missouri Players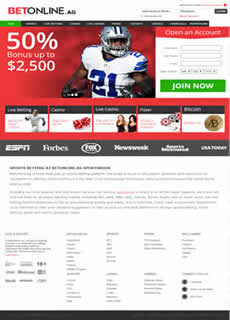 Betonline sportsbook is actually one of the pioneers in online sports betting and offers some of the best betting lines and most competitive odds and paylines. They've been around for almost 2 decades and have earned a fantastic reputation in that time by being fair and honest with their players and always paying out winners. Claim up to $2500 free on your first deposit to the site.
Most Trusted USA Sports Betting Sites


Open To Missouri Players
Is Online Sports Betting Legal In Missouri? - State And Federal Laws To Contend With

This is where things get a little bit more challenging. Individual states do have the freedom to regulate or ban various forms of gambling entertainment (including online betting) within their jurisdiction at their own discretion. The one exception is sportsbook gambling. When it comes to sports related wagering, the feds are the sole arbitrators of justice. There are two specific federal laws that apply in this case. The first one is the Bradley Act, also known as PASPA. This law criminalizes the operation of brick and mortar bookmaker businesses outside of these four exempted regions: Delaware, Montana, Nevada and Oregon. You will notice that Missouri is not on the list of exceptions to this law.
Secondly, we have the Federal Wire Act. This law criminalizes the operation of any type of online sportsbook within US borders. Missouri has made no moves towards a state regulated online gambling initiative, but if they were to decide they wanted to launch an Internet gaming platform, sports betting could not legally be included due to the application of the Federal Wire Act. Though deemed controversial because the law was created and enacted prior to the inception of the Internet, in 2011 the Department of Justice issued a formal opinion confirming that the law does indeed apply to online sports betting. These two federal laws ensure that state regulated online sportsbook gambling is not an option in Missouri or any other state across the country.
So where does this leave Missouri residents who want to bet on sports? It leaves them sitting quite pretty actually. No, there will not be any state based or US based online bookmakers for you to visit. However there are some fantastic offshore sportsbooks that are legally licensed and regulated to deliver high quality sports betting opportunities to American gamblers, including those living in Missouri. The federal laws discussed above do not have any bearing on the legal status of online sports betting sites that are located and regulated outside of the United States.
Missouri residents can legally place sports bets online at legitimate offshore sportsbooks without violating any state or federal laws. We have included a list of the industry's top online sportsbooks. Each of them has been carefully vetted by us, and has been evaluated to ensure that they are indeed licensed, certified and regulated by a legitimate governing jurisdiction, and that they offer betting lines, odds and wagering options that are comparable with the Vegas bookmakers. They are also the most trusted and respected brands in the business.
Daily Fantasy Sports Contests in Missouri
Missouri has legalized daily fantasy sports contests through House Bill 1941. The bill imposes regulatory requirements that benefit the state and its residents. Many sports fans and industry professionals find this to be controversial with how closely related DFS and sports betting actually are. However, DFS escapes coming under federal sports betting laws due to its non-gambling classification, regardless of how controversial that classification is. DFS is a sports related betting opportunity that is regulated by the state, however it is not able to offer the range of lines and sports coverage that an offshore online sportsbook can. If you want traditional sposrtsbook gambling but are settling for DFS, you may want to check out our list of recommended and legally licensed offshore sportsbooks.
Missouri Sports Teams To Follow And Bet On
Kansas City Chiefs 2017-2018 Season Preview
The Chiefs have demonstrated they mean business over the past few seasons. Under head coach Andy Reid, the Chiefs went 12-4 and clinched the AFC West division. They lost in a very close game against the Steelers in the divisional round of the Playoffs. QB Alex Smith has proved himself as one of the league's elite quarterbacks. They also have some of the NFL's best ranked players including S Eric Berry, TE Travis Kelce, CB Marcus Peters, WR Tyreek Hill and LB Justin Houston. The franchise decided to cut WR Jeremy Maclin, who was picked up by the Ravens. The Chiefs make a for a strong bet in most of their matchups and will likely make a Playoff appearance again. If anything, they'll be playing with a bit more ferocity after losing such a close game at the end of their season.
Kansas City Chiefs Odds to Win Super Bowl 53 +3300
The betting lines at premium online sportsbooks cover both collegiate and professional sports from around the world. This means that you will find betting lines for the following professional sports teams that call Missouri home:
Kansas City Chiefs – NFL (http://www.kcchiefs.com/)
Kansas City Royals – MLB (http://www.kcroyals.com/)
St. Louis Cardinals – MLB (http://www.stlcardinals.com/)
St. Louis Blues – NHL (http://www.stlouisblues.com/)
Sporting Kansas City – MLS (http://www.sportingkc.com)
St. Louis Aces – Tennis (http://www.stlouisaces.com/)
You will also find betting lines for professional and collegiate sports teams and programs from around the country, and around the world. There are no restrictions on what type of betting lines you participate in as long as you are visiting a legally approved online sportsbook that is licensed and regulated to operate legitimately within the industry. The sposrtsbooks in this guide are a prime example of this type of destination.