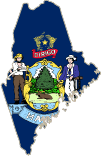 The gambling climate in Maine has slowly warmed up over the last 40 or so years, resulting in a fairly liberal set of laws that govern betting entertainment throughout the state. While Maine gambling laws allow a healthy selection of regulated bettng opportunities, it is federal law that carries the governance of sportsbook betting in the USA. The state and federal platforms intersect concerning sports related wagering, providing a rather different set of rules than you find for online casino or poker gambling. This adds a level of complexity to understanding the legalities surrounding betting on sports in Maine.
This section of our website was written specifically with the residents of Maine in mind. You will find an explanation of the state's gambling laws, as well as information on how the US federal sports betting laws impact Maine's gambling industry. We share our insight about accessing legal offshore sportsbooks that hold legitimate credentials without violating any state or US gambling laws. Lastly, we provide recommendations to legally sanctioned sports betting sites that have been personally vetted by our team of analysts to ensure the legitimacy and quality of each destination. We answer such questions as Is sports betting legal? and more futher down the page.
Top Online Sportsbook To Bet On Super Bowl LII


That Accept Players From Maine
Is Online Sports Betting Legal in Maine?

To be perfectly honest, online sports betting is both legal and illegal in Maine. In order to understand that response, you'll need to learn a little bit about some specific gambling laws that are in place in the United States. We will start with the federal laws since they have the most impact here. There are two distinct federal laws that effectively govern all sports betting that is based in the United States. They are the PASPA and the Federal Wire Act. These two laws impose a ban on both US based brick and mortar and online bookmakers from operating within the US. The only exception is that four states were exempted from PASPA, those being Nevada, Delaware, Montana and Oregon. No states are exempted form the Federal Wire Act.
Both of these laws make it a crime to offer sportsbook gambling services to players from a business or website that is based within the United States. They also prevent any type of expansion to the existing US based sports betting industry as it is today. The one thing these two laws do not impose is criminalizing the act of placing bets on sports. Clearly these federal statutes were intended to address providers of illegal gambling and not those participating from a bettor standpoint. The state laws in Maine make no mention of any online interactive gambling regulations, therefore it is not legal to operate an online gambling site within the state's boundaries. However, it also means that according to state regulations, it is not illegal to bet on sports at regulated and licensed destinations that are based outside the borders of the United States.
Online sportsbooks that are operating legitimately within the industry, meaning they are legally regulated with their headquarters and operations based outside of the US, can offer their betting lines to customers in Maine without violating any US laws or regulations. US federal laws do not reach beyond our borders, and do not prohibit US players, including those in Maine, from legally placing bets on sports from legitimate offshore sportsbooks. Approved online sportsbook betting is a much more viable alternative than finding the time and money to travel to Las Vegas just to find some attractive sports betting lines and wagering options. The sportsbooks listed on this page are all legally sanctioned, offer a safe, secure and high quality betting environment, and some pretty nice bonuses as well.
Laws and Regulations to Contend With In Maine
The state of Maine will uphold federal laws and regulations against gambling, to the extent that their laws will partially reflect state laws, and also to the extent that they will not allow sports betting to be considered legal. The UIGEA for example is a federal law that extends regulatory oversight concerning how gambling related transactions can be processed. This law applies to US based credit card companies and banks, and is not directed at individual gamblers.
As discussed above, Maine also adheres to the Federal Wire Act. This law makes it a crime to own or operate an online sportsbook within US borders. Before 2011, the law was applied to all forms of US based online gambling. However, in 2011 the Department of Justice issued a formal opinion that clarified the law's application. It was deemed that the law is only relevant to sports gambling and does not apply to casino, poker, bingo, pari-mutuel, lottery or other forms of gambling. This left the decision of online casinos, poker rooms and bingo halls up to each individual state to allow or prohibit at their own discretion.
The Professional And Amateur Sports Protection Act regulates brick and mortar bookmaking in the United States. The limitations administered through PASPA on sports betting in the US is one factor that gave rise to the online sports betting options as most people cannot drop what they are doing to travel to Las Vegas to bet on a sports event. PASPA does not have any bearing on offshore sports betting businesses.
Federal laws are like state laws in that they cannot stop you from gambling anywhere you find legal gambling. So if you're able to find a legal gambling option, such as a legally sanctioned offshore sportsbook, you are free to pursue your options here and bet all you want. There are no laws on the books that prohibit you from living a free life and gambling where you want to gamble, so long as the destination at which you are placing bets is licensed to do so and subject to legitimate regulatory oversight.
Does Maine Have Any Legal Casinos or Sportsbooks?
As we touched on up above, Maine is one of those "iffy" states whose laws against gambling are more self-serving than anything. In other words, Maine will legally license a casino if there's any tax revenue in it for them. And we can't really blame states for acting this way. After all, as a citizen, which would you rather happen? (A) A state up your tax rate, or (B) a state open up casinos? They're both after the same end goal: Getting your tax dollars. Only with casinos, you do have a chance to win money, and nobody's forcing the money out of your paycheck. So most people, at least sane people, would rather have option B. Speaking of casinos, Maine does offer a few at which Mainers are free to play.
The first casino we'll speak about is probably the biggest and best in Maine. It's the Hollywood Casino Hotel and Raceway, located in Bangor. This casino has roughly 1,000 slot machines, over 16 gaming tables, and even a small poker room with four tables. You can find a racebook here, as well as live harness racing (those horse races where the horses pull the carts), and other live events. This is probably one of the biggest casinos in the northeast, save the huge Connecticut casinos, and it has a legitimate resort there, with hundred of hotel rooms, a spa, a pool, and other features that make you feel like you're in Vegas instead of in Maine. However the Hollywood Casino in Bangor does not offer a sportsbook.
You can also play at the Oxford Casino. While not as big, there are actually more game tables here, over 20, and still 800 different slot machines. You can find a wide range of poker being played here, which is a big draw. Since this isn't a racetrack, the casino in Oxford relies pretty much on its slots and its poker to draw people in, and it's been working for years. Other areas in Maine where you can gamble include the Penobscot High Stakes Bingo hall, the Scarborough Downs racetrack, and the Scotia Prince Cruises, which is a riverboat casino. All in all, you do have quite a few options for gambling in Maine, but don't expect to find any live sportsbook. You can find some events from time to time, but they don't have anything in the state like a full-time bookies. Bummer, sure, but there are still plenty of other options. You'll just have to go online to do your sports betting. You should check out our list of the best online sportsbooks for USA players which are some of the highest rated sites in the industry by a mile. We don't mess around with low budget sportsbooks or those that have a bad reputation. We only recommend the cream of the crop here on USA sportsbook sites.
The State of Sports in Maine
Located in the northeast of the United States, many people outside of Maine might initially think that the state is absolutely flooded with different sports. After all, you're up there around New York and Boston, and those areas have some of the most famous sports teams on the planet. However, Maine is basically bereft of any major sports team. Even though they have some great colleges, they don't really have any NCAA powerhouse teams to speak of. For instance, the Bates Bobcats aren't exactly winning championships in any sport, and the Husson Eagles are a team that most people outside of Maine don't even know about. In fact, there are some schools' teams, like the Maine Black Bears, that not even a lot of Mainers root for. So, where do Mainers get their love for sports? Well, since Maine is technically the New England area, that's where their sports teams come from. People from Maine are more than proud to be close to the New England Patriots, the Boston Red Sox, the Boston Celtics and other teams like the Bruins. Although they're not technically home teams, Mainers still treat these teams as if they are.
Out of all these different Boston-area teams, the New England Patriots are undoubtedly the most popular. Since the year 2000, Tom Brady and the Patriots have been to seven Super Bowls, winning five of them, and Tom "Tommy Terrific" Brady is considered already to be one of the greatest quarterbacks to have ever played the game. Though this is recent history. If you look at basketball and dig back a bit, you will find stud, world-class athletes like Bill Russel, whose Celtics teams actually won 11 NBA championships. That's a ridiculous amount of winning for any team, much less a team that did so in a span of under 20 years. That's just unheard of in any major sport.
Mainers also love their Boston Red Sox. Although Boston isn't doing much this year, with the worst record in the American League and no chance at all mathematically to make the post-season, it was only two years ago that the Boston bombers hit the famous Boston Marathon with pressure cooker bombs. The "Boston Strong" slogan took root soon after, the Red Sox went on a rampage in the playoffs, winning the World Series and dedicating their win to the victims and loved ones who suffered through the horrific attack. So, while there are no home Maine teams of which to speak, Mainers have adopted teams like the Red Sox and Patriots as their own over the years, and they root just as hard for these teams as do people who live in Boston.
Do The Patriots Have A Shot This Year At Winning The Title
So, if you're a Mainer who loves to bet on sports, you're probably pretty excited about the new NFL season that's just right around the corner. Will you bet on the Patriots to win their division? What about the AFC or even the Super Bowl? Well, before you go throwing your money down on the long game for the Pats this season, let's first go through a realistic rundown of the Patriots' odds to repeat as Super Bowl champions.
While Maine may not have any traditional NFL franchises located in the state, it is in the general New England region. This designates the New England Patriots as the closest thing to a home team. Lucky for residents, the Patriots are the defending Super Bowl Champions and arguably the best team in the league. They went 14-2 and won the AFC Championship against the Steelers before mounting a historical comeback in the Super Bowl against the Falcons. QB Tom Brady is back for another season, along with role players Julian Edelman, Rob Gronkowski and Danny Amendola. They lost RB LeGarrette Blount, but replaced him with Mike Gillislee and Rex Burkhead. They also picked up WR Brandin Cooks from the Saints, who has enjoyed some success in the past few seasons. The Patriots will look to defend their title in the 2017-2018 season and a favorable matchup in any game.
Future Betting Odds For The Patriots
New England Patriots Odds to Win the 2018 Super Bowl +250
If you are on a mobile device, our website is mobile friendly. So fee free to navigate around to find what you are looking for. Also check out our list of mobile USA online sportsbooks. Each of these sites all offer a mobile version of the software.
Or if you are new to online sports betting, you should read our US Sportsbook deposit page to learn about the safest ways to get money both on and off the sites.  One of the best ways for USA players to deposit money nowadays is using Bitcoin.  It's a little confusing a first, but trust me this will save you a lot of headaches down the road if you take the time to become acclimated to crypto currencies.
Maine Player Resources