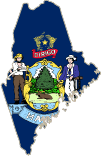 The gambling climate in Maine has become red hot in recent years, resulting in a fairly liberal set of laws that now govern sports betting throughout the state. Maine now features all viable avenues for legal sports betting (in-person, online, mobile, offshore) but which route is best for ME-based gamblers?
This section of our website was written specifically with Maine sports bettors in mind. You will find an explanation of the state's gambling laws, as well as information on how the US federal sports betting laws currently impact Maine's gambling industry.
We share our insight about accessing legal offshore sportsbooks that hold legitimate credentials without violating any state or US gambling laws. Lastly, we provide recommendations to legally sanctioned sports betting sites that have been personally vetted by our team of analysts to ensure the legitimacy and quality of each destination. We answer such questions as Is sports betting legal? and more.
Best Online Maine Sportsbooks


That Accept Gamblers From ME
Is Online Sports Betting Legal in Maine?

Yes. Online sports betting in Maine became legal when LD 585 passed the state legislature. The bill enabled domestic operators to offer mobile sports betting in Maine using Apple or Android devices.
21 and over sports bettors in Maine can access state-regulated sportsbooks online and in person. The state laws in Maine make no mention of any prohibition of offshore sportsbook sites, therefore it is not illegal to bet on sports at regulated and licensed destinations that are based outside the borders of the United States.
Online sportsbooks that are operating legitimately within the industry, meaning they are legally regulated with their headquarters and operations based outside of the US, can offer their betting lines to customers in Maine without violating any US laws or regulations.
Laws and Regulations to Contend With In Maine
The state of Maine will uphold federal laws and regulations against gambling, to the extent that their laws will partially reflect state laws, and also to the extent that they will not allow sports betting to be considered legal.
The UIGEA for example is a federal law that extends regulatory oversight concerning how gambling-related transactions can be processed. This law applies to US-based credit card companies and banks, and is not directed at individual gamblers.
As discussed above, Maine also adheres to the Federal Wire Act. This law makes it a crime to own or operate an online sportsbook within US borders. Before 2011, the law was applied to all forms of US based online gambling. However, in 2011 the Department of Justice issued a formal opinion that clarified the law's application. It was deemed that the law is only relevant to sports gambling and does not apply to casino, poker, bingo, pari-mutuel, lottery or other forms of gambling. This left the decision of online casinos, poker rooms and bingo halls up to each individual state to allow or prohibit at their own discretion.
The Professional And Amateur Sports Protection Act regulated brick and mortar bookmaking in the United States from 1992-2018. The limitations administered through PASPA has had a lasting effect on many states. Today most states still do not have domestic sports betting operations because of the once federal ban. The post-PASPA era has just begun and already almost half the states are working on sports betting bills.
Does Maine Have Any Legal Casinos or Sportsbooks?
Maine features two major casinos that are poised to open their first in-person sportsbook in the near future.
The first casino we'll speak about is probably the biggest and best in Maine. It's the Hollywood Casino Hotel and Raceway, located in Bangor. This casino has roughly 1,000 slot machines, over 16 gaming tables, and even a small poker room with four tables. You can find a racebook here, as well as live harness racing (those horse races where the horses pull the carts), and other live events. This is probably one of the biggest casinos in the northeast, save the huge Connecticut casinos, and it has a legitimate resort there, with hundred of hotel rooms, a spa, a pool, and other features that make you feel like you're in Vegas instead of in Maine. However the Hollywood Casino in Bangor does not offer a sportsbook.
You can also play at the Oxford Casino. While not as big, there are actually more game tables here, over 20, and still 800 different slot machines. You can find a wide range of poker being played here, which is a big draw. Since this isn't a racetrack, the casino in Oxford relies pretty much on its slots and its poker to draw people in, and it's been working for years. Other areas in Maine where you can gamble include the Penobscot High Stakes Bingo hall, the Scarborough Downs racetrack, and the Scotia Prince Cruises, which is a riverboat casino.
All in all, you do have quite a few options for gambling in Maine, but don't expect to find any live sportsbook until legislation is passed. You can find some events from time to time, but they don't have anything in the state like a full-time bookies. Bummer, sure, but there are still plenty of other options. You'll just have to go online to do your sports betting. You should check out our list of the best online sportsbooks for USA players which are some of the highest-rated sites in the industry by a mile. We don't mess around with low budget sportsbooks or those that have a bad reputation. We only recommend the cream of the crop here on USA sportsbook sites.
Popular Sports Teams in Maine
Located in the northeast of the United States, most people from Maine are more than proud to be close to the New England Patriots, Boston Red Sox, Boston Celtics, and Boston Bruins. Although they're not technically home teams, Mainers still treat these teams as if they are.
Out of all these different Boston-area teams, the New England Patriots are undoubtedly the most popular. The Patriots have been to ten total Super Bowls, winning six.
---
Maine Player Resources