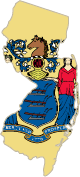 Known as the Garden State, New Jersey is the most densely populated state in the USA. Known for providing home field stadium space to New York's pro NFL teams the Giants and the Jets, New Jersey has adopted these teams as their own. New Jersey is also famous for being home to the second most popular gambling region in America known as Atlantic City. This fact alone demonstrates the state's liberal views concerning gambling, so its reasonable to assume the state has also embraced sports related wagering. It has recently become quite a bit more simple.  Until very recently, the characteristics of legal sports betting entertainment in New Jersey were rather dissimilar to those of other gambling venues that are active in the state.
This is because the federal government respects states' rights when it comes to nearly every other form of gambling. However sports betting regulation resides within the sweaty palms of the feds. Over the last few years, New Jersey has taken on the feds concerning sportsbook gambling, with interesting results. On Monday, May 14, 2018, the United States Supreme Court made a historic ruling regarding the New Jersey sports betting case that rendered the federal ban on US based sports betting, known as PASPA, as unconstitutional. This page will provide brief look at this legal decision, which carries a precedence significant no only to New Jersey, but also to the USA sports betting market at large.  As details of the implications of the ruling are released, we will be updating the content on this page to provide insight into what it means to the existing application of the law and the sports betting options moving forward.  We also break down the legalities that up to this point have been relevant to sports betting in New Jersey by providing insight into the state's gambling laws and the US federal gambling laws, explaining how their intersection defines the infrastructure by which legal online sports wagering is governed.
Best USA Sports Betting Site


For New Jersey Residents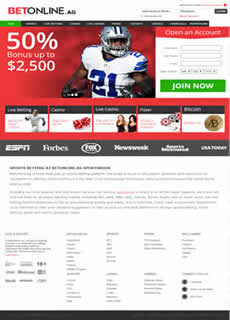 Betonline is one of only a handful of quality and reputable sportsbooks that still accept USA players. At the end of the day, they are legally allowed to offer the sports betting services to Americans (including New Jersey players) because they are located offshore and not bound by US laws. They also stand out for their extensive range of options for betting on sports leagues and events from all around the world.
Here are some quick points on why Betonline is one of the top rated sites for American players.
USA Online Sportsbooks

Open To NJ Players In 2018
Is Online Sports Betting Legal In New Jersey?

UPDATE May 14, 2018: SCOTUS Rules In Favor Of New Jersey
The Supreme Court ruled in favor of New Jersey in the infamous sports betting case by a 6-3 vote. The decision sees the Professional and Amateur Sports Protection Act (PASPA) be repealed after 25+ years of enforcement. New Jersey, along with 45 other states, have the right to vote in legislation supporting legal sports betting options (brick-and-mortar only). It is reported that some establishments in Atlantic City are ready to introduce legal wagering options in a matter of weeks. The federal government may step in and implement regulations, but it seems more likely that states will be able to run sports gambling on their own terms. We will update this page in its entirety as more details about how this ruling will be implemented as the information surfaces.
NJ Sports Betting Legalities Prior To The Supreme Court Ruling
The answer to this question is certainly not a simple yes or no and can be classified as more of an 'if then' scenario. Lets start with explaining the relevant laws, statutes and regulations that are in play here. As mentioned previously, several specific US federal laws govern sportsbook gambling in the United States. State laws found in the NJ Casino Control Act & Commission Regulationshave little if any bearing on matters other than to support and reiterate the federal regulations.
The Professional and Amateur Sports Protection Act was passed in 1992 and prohibits individual states from licensing bookmaker operations within their territory. The only exception to this law consists of four specific regions that were exempted from these restrictions. Based on the Garden State's existing gambling market at the time, New Jersey was offered a spot among those states that would not be required to comply with this law. Unfortunately they chose not to take advantage of this offer at the time of the law's passage, a decision that they likely regret now.
The only four states that can legally allow state licensed sports betting are Nevada, Delaware, Montana and Oregon. All other states must comply with the ban imposed in PASPA, including New Jersey. In addition, the Federal Wire Act prohibits any type of US based online sportsbook operations with absolutely no exceptions. This means that if New Jersey, or any other state for that matter, was interested in legalizing online sports betting entertainment, they would not be permitted to do so legally. So to summarize, according to the two relevant US federal sports betting laws that are in force at this time, New Jersey cannot legally offer state regulated online or offline sportsbook gambling entertainment.
It appears that nobody told New Jersey lawmakers that this is the case, because they moved forward with approving and launching sports betting options within the state. They have faced numerous legal challenges as a result, including lawsuits initiated by the various professional sports leagues in the country. The courts of the land have thus far upheld the ruling that New Jersey is in violation of PASPA for proceeding with the licensing of sportsbook gambling entertainment in the state. New Jersey has chosen to fight these rulings, and is awaiting a response on a last ditch effort legal review requested Governor Christie. At the time of this writing, the case is on the docket to be reviewed by SCOTUS.
We think it's safe to say that the legal status of state regulated sports betting is still not definitive at this time. Originally we predicted that their efforts aimed at allowing state regulated sports related wagering to emerge will eventually be snuffed out by the federal government. Allowing New Jersey to buck the system by openly negating PASPA sets numerous precedents that the feds are likely not quite ready to embrace. However, with some subtle shifting taking place among the pro league commissioners, DFS having established a definitive presence in the US, and more lawmakers warming up to the concept of sports betting expansion in the US, we actually have a glimmer of hope that things could actually change federally concerning the legality of US based bookmaking. One silver lining here is that New Jersey residents are not limited to only state regulated sports betting options.
None of the state's gambling laws or applicable federal gambling laws prohibit residents in NJ from placing bets online. The kicker is that bets must be placed through an online destination that is legally licensed and regulated, and that is located offshore and outside of US borders. If these requirements are met, then Garden State citizens can legally place sports bets online without violating PASPA, the Federal Wire Act or any state laws. The numerous sportsbooks you see recommended in this guide are all legally sanctioned, secure and high quality online sportsbooks that accept customers from New Jersey. We can recommend each of them without hesitation and as paying customers ourselves.
An Easy Way To Look And Understand The Laws
An easy way to look at whether or not sports betting is legal in New Jersey is to think of it like this. It is illegal to knowingly accept wagers or bets in the United States within the US borders. For example if you want to be the local bookie, this is definitely illegal and could land you in a serious legal situation that could cause you a lot of problems. However there are no laws that specifically target players or that make it illegal for a player to gamble or place a sports bet via an offshore site. This is where many players get confused about the legalities. There are some laws such as the UIGEA that make it illegal for banks to process any gambling related transactions, but it goes after the financial institutions and not the actual players.
Other Federal Laws That Affect New Jersey Online Sports Betting
The last federal gambling laws that plays a role in gambling in New Jersey is the IUGEA, also known as the Unlawful Internet Gambling Enforcement Act. Despite popular belief, this law does not prohibit US residents from gambling online. In actuality, this law is directed at gambling site owner / operators and payment processors. The UIGEA imposes regulatory requirements regarding how online gambling related transactions can be processed. Advanced security protocols and payment processing technology have combined to provide online gambling sites with the tools necessary to operate legally within the online gambling industry and the confines of the law itself. The UIGEA does not really have any impact on gamblers in the US other than causing some challenges concerning account-funding options.
Recent Developments Regarding New Jersey's Efforts To Legalize Sports Betting
In 2013, New Jersey attempted to get sports betting legalized in the state. However this butted heads with major sports leagues such as the MLB, NBA, NFL and the NHL which in turn sued claiming that doing so would violate the Bradley act of 1992. To get around this, New Jersey claimed that the Bradley act does not apply to Racetracks and casinos that want to offer sports betting. To the disappointment of state officials, in 2014 a Judge ruled that New Jersey could not use "clever drafting" in order to skirt the laws for their own interests.
The New Jersey sports betting case has been a very drawn out proceeding. However, things seem to finally be shifting in favor of the Garden State. After losing several appeals in the lower circuit courts, New Jersey tried their hand with the Supreme Court of the United States—their last available option. SCOTUS reached out to the acting Solicitor General on whether they should hear the case or not. The SG met with representatives of both parties before issuing a formal report stating that SCOTUS should not take the case and instead uphold the rulings of the lower courts. While this may seem like the final nail in the coffin, SCOTUS ended up going against the SG's recommendation and accepted New Jersey's sports betting case.
This does not mean New Jersey is out of the woods yet, by any means. But, the fact that SCOTUS, the highest-ranking court in the country, has decided to hear a case like this (statistics show that SCOTUS normally does not take on matters like this) shows that they are willing and able to hear out arguments for legalizing sports betting. If SCOTUS rules in favor of New Jersey, PASPA will likely be stricken from the law, allowing the 46 states that are barred from hosting sports gambling under it to introduce a sports betting framework.
As of now, there are several reports being written and sent to SCOTUS for their consideration. These reports come from people on both sides of the issue. The actual legal proceedings are expected to begin sometime later this year and will likely continue into 2018. If New Jersey wins their case, expect 2018 to be the year when the US finally gets widespread legal and regulated sports betting.
New Jersey's Adopted Sports Teams
Only recently, New Jersey had two sports teams of their own. They had, and still have, the New Jersey Devils in the National Hockey League, which is a middle-of-the-road team, if we're kind, that actually has a fairly large fan base when you consider that they're not exactly Stanley Cup contenders on a year on year basis. And until two years ago, New Jersey also had the New Jersey Nets in the National Basketball Association. This was yet another pretty big team in the NBA that had a huge Jersey following. They never quite managed to get over the hump, but they were a perennial playoff team in the early to mid 2000s, and they would typically win around 60 games a season. Out of 82 games, this means that they were huge with the sports betting community. Knowing that they would earn a mid to high seed in the Eastern Conference playoffs, a lot of Jerseyans bet on the Nets. Unfortunately, the Nets were purchased by a Russian billionaire four years ago, and he began the process of relocating the team to Brooklyn. So now they're the Brooklyn Nets, but many Jerseyans still follow the Nets closely.
New Jersey's most famous sports teams aren't actually New Jersey's teams at all but are rather adopted by the state. In the National Football League, there are three New York teams: The Buffalo Bills, the New York Jets, and the New York Giants. However, only one of those teams actually plays in New York, and that's the Buffalo Bills. Buffalo, located in upstate New York, whereas the Jets and the Giants, who play in the AFC and NFC respectively, are located in New York City. Since NYC is packed to the rafter with millions of people and businesses and streets and parks, it's impractical to put a stadium up in the city. So for decades the Jets and Giants have shared a stadium in New Jersey, the Meadowlands (now MetLife stadium). And while they're New York teams, the fact that they play in Jersey makes them the most popular home teams in the state of New Jersey.
The Giants are the better of the two teams. Their last season saw them go 11-5, finishing second in the AFC East. They went into the Playoffs with high hopes, but were eliminated by the Packers in the Wild Card round. This was their first playoff berth since their Super Bowl winning season in 2010. Their offensive linkup of QB Eli Manning and RB Odell Beckham Jr. is one of the deadliest in the league, but the Giants seem to fall short year after year. The Giants added to their offensive arsenal by signing WR Brandon Marshall from the Jets. Expect the new addition to make an immediate impact as the Giants attempt to fulfill their potential this upcoming season.
The Jets are another story. They went 5-11 last season and finished fourth in the AFC East. They missed the Playoffs for the sixth consecutive season, showcasing their bad streak. 2015 was an improvement, but the Jets failed to hit the same mark and probably won't be able to this year either. RB Matt Forte is arguably their best player, but no team can ride the efforts of one player. The Jets will have to do some serious tinkering to their game plan if they want to become contenders. Don't plan on betting on the Jets on a consistent basis.
Betting Odds For New Jersey's NFL Teams To Win The Superbowl 53
Odds For The NY Giants To Win The 2018 Super Bowl +5000
Odds For The NY Jets To Win The 2018 Super Bowl +10,000
The Famous Boardwalk Empire
Atlantic City, in many ways, is every bit as famous as Las Vegas. Surely you've heard of the game Monopoly, but did you know that it's actually based on Atlantic City? Boardwalk is directly from AC, and so too is the former HBO show Boardwalk Empire. This is a show that gave a semi-accurate look at how modern Atlantic City made it through the Prohibition Era in America. Although many of the characters were fictional, and the time lines could get a bit wonky, the stories told in the show were actually true. AC was a big reason Prohibition hit the US hard, and the city was controlled by a handful of, well, let's just say guys who were on the wrong side of the law. They purchased land, built roads and hotels, made the Boardwalk famous, and paved the way for the casinos.
Atlantic City's history doesn't really get that interesting, removed from the Boardwalk Empire days, until the 1970s. This is when gambling was legalized. In 1976, a referendum was passed in the state of New Jersey, and gambling was considered legal. This was only two years after a similar referendum was shot down, keeping gambling illegal. It didn't take long for people in Atlantic City to take advantage of the famous Boardwalk, which had already been there for nearly a hundred years. They actually started building big casinos directly off the Boardwalk, while putting up hotels and spas and resorts. Today, there are 11 total casinos that are on the Boardwalk all up and down Atlantic City. And while that might not sound like a lot of casinos, you have to consider that these are huge Vegas-style casinos, featuring thousands of slots, hundreds of gaming tables, multiple restaurants, hundreds of rooms, huge halls for entertainment, and much more. They are giant casinos, like Harrah's, Trump Plaza and the Showboat Casino.
We're obviously not talking about anything that's quite the size of Las Vegas here. Sin City has over a 120 casinos located on the Strip alone, and that's not counting what's off the Strip and what's up near Reno. So in terms of size and gambling options, Vegas is the first on the entire planet. But when it comes to a pure gambling city, everything in AC is very compact and direct. You can literally walk up and down the boardwalk and enjoy the huge casinos of the city. Magic is also huge in Atlantic City. While Vegas might have David Copperfield, AC has a host of magicians in the majority of their casinos, and they put on shows all around the calendar year.
Other casinos you can find in Atlantic City include Caesars Atlantic, Bally's, the Tropicana, the Atlantic City Hilton, the Trump Marina and Trump Taj Mahal, and the Borgata. All told, there are plenty of gambling options in AC, however none of these casinos are actually permitted to offer sports betting just yet. You can also find a few racetracks within the state and city, including thoroughbred racing and greyhound racing. So if you're a gambler, Atlantic City gives you plenty to do while there.
Whether you're going to Atlantic City or staying home on your computer, we want you to exercise caution when betting. Don't get carried away in the moment; take your time, study your bets, and leverage. You want to win. That's the entire purpose of betting.