When most people think of New Mexico, sports is not what generally comes to mind. However, because of a legal loophole, many people are starting to think of NM as a sports betting destination after all.
New Mexico recently made headlines when a tribal casino located outside of Albuquerque launched their domestic sports betting operation. In addition to domestic sports betting, NM residents are also permitted to place bets with legally authorized offshore sportsbooks. This page was created as a resource guide for New Mexico residents and will provide up-to-date legal information about USA sports betting laws, and sports betting throughout the state.
Best USA Online Sports Betting Site


For New Mexico Players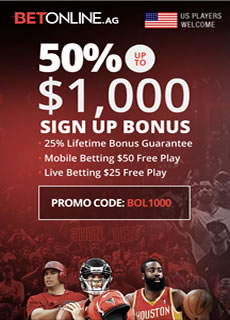 New Mexico sports fans looking for a legally authorized sportsbook to bet with will find exactly that at Betonline. They have been in the industry for almost 2 decades and have been one of the top shelf USA friendly options for years now. They lead the pack when it comes to offering a great selection of competitive betting lines, odds, paylines and prop bets.  Betonline accepts all players from NM and is authorized to operate in Panama City, Panama. They offer a special 50% bonus up to $1,000 for all new depositing players in 2022.
USA Online Sportsbooks


Open To New Mexico Players
Is Online Sports Betting Legal in New Mexico

The federal government has passed several laws to regulate sports betting throughout the United States. The Bradley Act, also referred to as PASPA, criminalized US-based brick and mortar bookmakers until its repeal in 2018. States now have the right to enact sports betting laws. The Federal Wire Act bans any US-based online bookmakers from accepting bets across state lines. The fact that the law was enacted long before the Internet was even conceptualized drives opponents of this legislation to decry its constitutionality. The UIGEA act currently provides regulatory restrictions regarding gambling related transactions.
In New Mexico, there has been no legislation passed to allow domestic sports betting, but tribal casinos found a legal loophole in the lack of wording in their gaming agreement with the state. Since tribal casinos have the right to accept bets without further legislation from the state, and there is no mention of sports betting in the New Mexico gaming compact, sports betting was consequently launched in compliance with the compact.
Domestic Sportsbooks In New Mexico
There is currently 1 domestic sportsbook operating in New Mexico at the Santa Ana Star Casino (Outside Albuquerque). The sportsbook launched in late 2018 and is now accepting bets on popular sports and sporting events across the US and around the world. The Santa Ana Star sportsbook teamed up with USbookmaking (a Vegas-based company) to handle operations. More tribal casinos are expected to launch domestic sports betting operations in the coming months.
The Types of Casino Options Available to New Mexicans
New Mexico has about four times the number of casinos as a gambling-specific area like Atlantic City. There are a wide variety of racetracks and slot houses to classic live casinos, if you're in the New Mexico area, you can certainly find many places to go if you want to bet some money on gambling games.
For instance, you can find locations like the Zia Park Casino Hotel and Racetrack. This is obviously a hybrid here, blending a casino with a racetrack, and the building has over 750 slot machines, many table games, horse racing, valet parking, restaurants, rooms, and much more. And this is just one of dozens of similar locations throughout New Mexico. You also have the Taos Mountain Casino, which features over 200 slot machines and table games like blackjack, craps and roulette.
Sports In New Mexico
If you thought New Mexico was a little strange with how they handle gambling, just wait until you see how they handle sports. Now, it's no secret that sports are huge throughout the southwestern United States. In states like Arizona and Texas, you can find professional league teams in football (NFL), basketball (NBA), and baseball (MLB), as well as great collegiate programs like the Texas Longhorns, Texas A&M Aggies, the Arizona Wildcats, and more. New Mexico, however, exists kind of on the border of these states, for lack of a better term, and they don't have quite the same punch when it comes to their own in-state offerings.
One might think that Albuquerque is every bit as popular as a city like San Antonio, but surprisingly there's no real market in New Mexico for a professional team. New Mexicans typically like teams like the Arizona Cardinals in the NFL, and they often tend to split their NBA interests between teams like the Phoenix Suns and San Antonio Spurs. Since they're all located within the same region in the southwest, these teams feel like home teams for New Mexico.
Baseball Fever in the Southwest United States
Another reason that it's so strange that New Mexico doesn't have a professional sports team is that the southwest is crazy about their baseball. Some of the best baseball players in the nation come from southern Cali, Arizona, Texas and New Mexico, and many of these players are of Hispanic descent.  New Mexico can raise homegrown baseball players who are really good, but when they get ready to play for a college team, they typically tend to leave New Mexico.
If you want to bet on sports and live in New Mexico, then leaving your favorite team behind is something you may want to consider – at least if you're planning on winning money. To win money when betting sports, it's all about studying up and playing the odds. If you're betting on the team you want to win, you're going to lose money. If you're betting on the team more statistically likely to win, then you're more likely to start winning money. So you have a simple choice: Bet with your heart and go broke, or bet with your head and win.
---
Resources For New Mexico Bettors