Mississippi has a middle of the road stance concerning gambling, which means that there are a few forms of regulated betting allowed in the state, as well as several types of gambling that are not legal to engage in. Our focus here will be on the presence of sports betting opportunities for Mississippi residents. Some of the best collegiate football teams and some of the top NFL players have come out of Mississippi. Archie Manning played for the Ole Miss Rebels, as did his son Eli, who is currently the starting quarterback for the New York Giants and two-time Super Bowl champion. The sports culture in Mississippi is undeniably woven into the very fabric of the state's identity.
The gambling laws in Mississippi cherry pick a handful of approved forms of gambling while banning others. Some of the approved types of betting carry heavy restrictions with them. All of this information combines to make the state's laws and statutes that govern gambling entertainment in the state rather intricate to figure out. In an effort to assist Mississippi gamblers who are seeking legally approved sportsbook gambling options, we have generated this resource guide that systematically breaks down relevant information concerning the legalities of betting on sports in Mississippi. We will discuss the gambling laws on both a state and federal level, and how these laws impact the options that are legally available to residents of the Magnolia State. Lastly we will provide direction for accessing legally licensed American online sportsbooks that accept customers from Mississippi.
Best Online Sports Betting Site


For Mississippi Players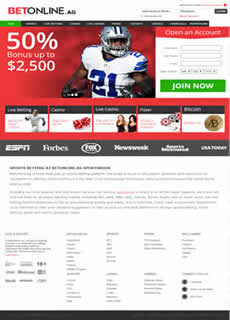 Sports fans in Mississippi looking for legally licensed sports betting options can find everything they need at Betonline, an extremely reputable 5 star sportsbook that accepts all Mississippi players. Doing business for over 20 years, they have earned a fantastic reputation in the industry by offering great betting lines, secure software and some of the best bonuses in the business. Their range of betting lines and wagering options for is nothing short of impressive. Licensed out of Panama, they can legally accept all USA players because they are located offshore.
All USA Online Sportsbooks


Open To Mississippi Players
Is Online Sports Betting Legal in Mississippi?

In order to determine the legal status of sports betting in Mississippi, we must first break down the state and federal gambling laws that govern this type of betting entertainment in Mississippi. Lets start with the federal laws first since they are the most relevant for this gambling venue. The feds are satisfied leaving most forms of gambling regulation in the hands of individual states. The exception to that rule is when it comes to sports betting. The two federal laws that impose their will upon the country as a whole include PASPA and the Federal Wire Act. PASPA regulates brick and mortar bookmaker operations, banning them from existing everywhere in the United States except for Nevada, Oregon, Montana and Delaware. That leaves out of the game for state licensed bookmakers.
The second federal law that impacts sportsbook gambling in the US is the Federal Wire Act. In the 2011 formal opinion issued by the DOJ, we learned that the Federal Wire Act prohibits all US based online sportsbooks across the country, with no exceptions. This law eliminates any possibility of operating an online sportsbook anywhere in the US. Then we have the Mississippi state laws. The state has not taken any steps to legalize state licensed online betting of any kind, and even if lawmakers in the state wanted to embrace online sportsbook wagering, they would be prohibited by law from doing so according to the Federal Wire Act. So what's a Mississippi sports fan to do?
There is some good news about all these laws and the restrictions they impose. None of them prohibit gamblers in Mississippi from placing bets online at legitimately licensed online sportsbooks located offshore (we recommend the most trusted sites here). All of the state and federal laws that impact bookmakers in the Magnolia State all prohibit the operation of unlicensed sportsbooks, but do not make mention of participating as a bettor. This results in a handful of legally licensed and regulated online sportsbooks that are located outside of US borders and that can accept bets from Mississippi residents without violating any state or federal gambling laws. Each of the sportsbooks you see recommended on this page accept customers from Mississippi, and they are all licensed, certified and regulated to operate legally within the industry.
If you still have questions or concerns regarding is online sports betting illegal in the US, then our legal section has you covered.
A Brief On The Federal Laws Impacting Gambling in Mississippi
Pick almost any state-based article that we have on this site, and you will have an opportunity to read, in detail, about the federal regulations against gambling. What we aim to do is to inform readers about the gambling laws not only in their particular state but also in America. So if it seems a bit redundant, just remember that we're out to inform, and we want to get the point across that no matter which state you're in, federal regulations still may apply.
In this article dealing with Mississippi sports betting, we're just going to briefly touch on the three main federal regulations of which you need be aware. The first is the Federal Wire Act, and this says that it's illegal across the entire nation to transfer money via a wire whose purpose is gambling. The second is PASPA, which defines all sports betting, professional and amateur, as an illegal activity. The third piece of legislation is the newest, the UIGEA. Essentially, this legislation makes it illegal for an online gambling site to be operated under US jurisdiction. Luckily for gamblers, however, all you need to do to avoid all three regulations is find a site that's based outside of the US's reach. If you do this, and the site allows you to play, then you can legally play any type of game you want or bet on any sport you want.
You can learn more by visiting our comprehensive page on sports betting laws in the US.
Mississippi's Gambling Options for the Public
When it comes to your gambling options in the state of Mississippi, you actually have a whole lot to choose from. Now, we're not talking about Vegas-level gambling, but it might just be the next best thing. In fact, all told, you will find more casinos in the state of Mississippi than you'll find on the Atlantic City boardwalk, and that's saying a lot about the state. There are over 30 casinos in Mississippi, all of which feature at least a wide array of slot machines. Movie buffs might have already suspected that Mississippi allowed legitimate casinos to open up. If they remember the last in the "Oceans" movie franchise starring George Clooney and Brad Pitt, they may remember that Andy Garcia's character was bidding on a new type of casino game to have it open up in his Mississippi casino, which was in direct competition with Al Pacino's Las Vegas casino. A small detail from a mildly popular movie, but still a pop culture reference to the popularity of gambling in the state of Mississippi.
The list of Mississippi casinos is rather lengthy. You have casinos like the Ameristar Casino, the Bok Homa Casino, Bally's and Bayou Caddy's, the Golden Moon, two different Harrah's casinos, and over twenty more to choose from. By and large, these casinos are located up and down the Gulf region of the state and feature basic slot machines and a few table games. But you can find a few locations that are very large racetrack-casino hybrids, and some will even have sports betting in limited fashion. It all depends on what you're in the mood for. The odds are great that Mississippi has it.
Popular Sports Teams In Mississippi
As we mentioned previously in this article, the state of Mississippi is absolutely crazy about their football. All throughout the southeastern region of the United States, you will find some of the most rabid football players, the best football players in the nation, and some of the best schools in the country for collegiate football. Mississippi is certainly no exception to this general rule. Although Mississippi is in a position where they play against Alabama, LSU, Auburn, and other tough teams in the SEC, Mississippi's teams still manage to stand out and hold their own. Unfortunately for residents of Mississippi, the state doesn't have any professional franchises to boast about. Baseball isn't really big in the state, and so you won't find a big market for an MLB team. Likewise with the NBA; you're just not going to get enough fans to flood into a stadium for 41 games a season, so the NBA has no real interest in showing up in Mississippi. This can definitely be said about sports like hockey too. While hockey is popular on a national level, the people of Mississippi don't really watch it. That leaves football, and while an NFL team could theoretically step in and pick up some fan fare, the state basically deals with two very good college teams.
The thing about Mississippi's college teams is that there used to only be one that was good. The Ole Miss Rebels, based out of Oxford, were Mississippi's biggest team for decades. Then, out of nowhere, the Mississippi State Bulldogs came along and shocked the world by beating every opponent in the SEC except for Alabama. They were the number-one ranked team for most of the season last year, and their squad has actually improved during the off-season and threatens to be a lot better for this season upcoming.
Mississippi State Bulldogs
The Mississippi State Bulldogs went 6-7 overall last year. They managed to dismantle Ole Miss 55-20 in their rivalry matchup, so they are the current interstate champions. Nick Fitzgerald has established himself as their main QB, but they will have to make some changes if they want to make an impact in the tough SEC. One element will be solidifying their pass game so the offense does not have to rely on Fitzgerald's rushing. The QB totaled just over 1,300 rushing yards, a positive for the offense as a whole, but a QB's main job is to pass. If they can combine Fitzgerald's rushing element with a strong passing framework, Mississippi State can be a strong presence in the SEC West division. Analysts have the Mississippi State Bulldogs at #44 overall, but that could change if they can sort their offense out.
Odds for Mississippi State to win 2018-2019 NCAAF National Title
Mississippi State Bulldogs Odds: +10000
University Of Mississippi - The Ole Miss Rebels
The Rebels of the University of Mississippi have always been the favorite team located in Mississippi, and this really all started back when Archie Manning took the helm for the squad. Since his retirement, the state has named streets and stadiums and a slew of other items after the star QB. Even though Archie never went to the NFL playoffs as a QB for the St. Louis Rams in over ten years of NFL play, the state of Mississippi still recognizes him as the greatest Rebels QB to ever suit up and play. And that's even considering that his son Eli, younger brother of Peyton Manning, actually beat Alabama and broke most of Archie's records, and has two Super Bowl wins to his name. Even still, people in the Magnolia State hold Archie up to be the best to ever do it.
The Ole Miss Rebels are coming off a disappointing 5-7 season where they saw their starting QB Chad Kelly injured. Kelly has since been drafted, leaving the position to Shea Patterson, who took over for Kelly after his injury. Their lackluster run defense contributed to most of the self-inflicted damage and will be a point to improve upon heading into this year. The team is a considerable force in the SEC and has been successful in the past, but their recent form has left fans disappointed. Ole Miss is expected to be ranked #34 at the start of the season.
Odds for Ole Miss to Win the 2018-2019 NCAAF National Title
Rebels Odds:+50000
Resources For Mississippi Gamblers
Mississippi Council On Problem And Compulsive Gambling - Because there are over 30 brick and mortar casinos in the state, Mississippi actually has many outlets where players can go for help if they feel they have a gambling addiction.