The post-PASPA era in Mississippi saw an immediate emergence of legalized state-licensed sports betting entertainment. Our focus here will be on the presence of sports betting opportunities for Mississippi residents. Some of the best collegiate football teams and some of the top NFL players have come out of Mississippi. Archie Manning played for the Ole Miss Rebels, as did his son Eli, who is currently the starting quarterback for the New York Giants and two-time Super Bowl champion. The sports culture in Mississippi is undeniably woven into the very fabric of the state's identity.
In an effort to assist Mississippi gamblers who are seeking legally approved sportsbook gambling options, we have generated this resource guide that systematically breaks down relevant information concerning the legalities of betting on sports in Mississippi. We will discuss the gambling laws on both a state and federal level and how these laws impact the options that are legally available to residents of the Magnolia State. Lastly, we will provide direction for accessing legally licensed American online sportsbooks that accept customers from Mississippi.
Best Online Sports Betting Site


For Mississippi Players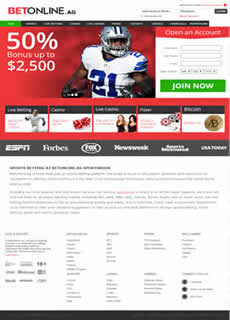 Sports fans in Mississippi looking for legally licensed online sports betting options can find everything they need at BetOnline, an extremely reputable 5-star sportsbook that accepts all Mississippi players. Doing business for over 20 years, they have earned a fantastic reputation in the industry by offering great betting lines, secure software and some of the best bonuses in the business. Their range of betting lines and wagering options for is nothing short of impressive. Licensed out of Panama, they can legally accept all USA players because they are located offshore.
All USA Online Sportsbooks


Open To Mississippi Players
Is Online Sports Betting Legal in Mississippi?

Mississippi legalized domestic sports betting in 2018, not long after PASPA was repealed by the Supreme Court. They are the first southern state to offer a sportsbook that residents and visitors can play in the casinos. State-wide online sports betting is still not allowed from domestic sportsbooks, but the casinos are poised to offer an online sportsbook that can be used while on casino grounds.
Mississippi residents interested in betting online have the option of using legal offshore sportsbooks. There are no state or federal laws that outlaw legally licensed offshore sportsbooks. Each of the sportsbooks you see recommended on this page accepts customers from Mississippi, and they are all licensed, certified and regulated to operate legally within the industry.
A Brief On The Federal Laws Impacting Gambling in Mississippi
There are three primary federal laws that impact the gambling market across the United States. The first is the Federal Wire Act, and this states that it is illegal across the entire nation to transfer money across state lines via a wired connection that qualifies as a gambling-related transaction.
The second piece of legislation is the newest, the UIGEA. Essentially, this legislation places regulatory oversight for gambling related transactions and how they are processed. This law does not affect individual gamblers, but rather addresses gambling business operators and payment processors.
The Professional and Amateur Sports Protection Act was overturned on May 14, 2018, removing the nearly 26-year ban nationwide ban on sports betting expansion. When this happened, individual states were given the authority to prohibit or allow state-regulated sports betting entertainment within their borders.
Mississippi's Gambling Options for the Public
When it comes to your gambling options in the state of Mississippi, you actually have a whole lot to choose from. Now, we're not talking about Vegas-level gambling, but it might just be the next best thing. In fact, all told, you will find more casinos in the state of Mississippi than you'll find on the Atlantic City boardwalk, and that's saying a lot about the state. There are over 30 casinos in Mississippi, all of which feature at least a wide array of slot machines and some of which are already offering legal sports betting. On August 1st, 2018 casinos in Biloxi and Tunica started taking sports bets, many more casinos are expected to launch domestic sportsbooks by the end of the year.
The list of Mississippi casinos is rather lengthy. You have casinos like the Ameristar Casino, the Bok Homa Casino, Bally's and Bayou Caddy's, the Golden Moon, two different Harrah's casinos, and over twenty more to choose from. By and large, these casinos are located up and down the Gulf region of the state and feature basic slot machines and a few table games. But you can find a few locations that are very large racetrack-casino hybrids, and by now, casinos are offering legal domestic sports betting. It all depends on what you're in the mood for. The odds are great that Mississippi has it.
Popular Sports Teams In Mississippi
As we mentioned previously in this article, the state of Mississippi is absolutely crazy about their football. All throughout the southeastern region of the United States, you will find some of the most rabid football players, the best football players in the nation, and some of the best schools in the country for collegiate football. Mississippi is certainly no exception to this general rule. Although Mississippi is in a position where they play against Alabama, LSU, Auburn, and other tough teams in the SEC, Mississippi's teams still manage to stand out and hold their own. Unfortunately for residents of Mississippi, the state doesn't have any professional franchises to boast about. Baseball isn't really big in the state, and so you won't find a big market for an MLB team. Likewise with the NBA; you're just not going to get enough fans to flood into a stadium for 41 games a season, so the NBA has no real interest in showing up in Mississippi. This can definitely be said about sports like hockey too. While hockey is popular on a national level, the people of Mississippi don't really watch it. That leaves football, and while an NFL team could theoretically step in and pick up some fanfare, the state basically deals with two very good college teams.
The thing about Mississippi's college teams is that there used to only be one that was good. The Ole Miss Rebels, based out of Oxford, were Mississippi's biggest team for decades. Then, out of nowhere, the Mississippi State Bulldogs came along and shocked the world by beating every opponent in the SEC except for Alabama. They were the number-one ranked team for most of the season a few years back. Now they are going through another coaching change, so time will tell if they can make a championship run.
Mississippi State Bulldogs
The Mississippi State Bulldogs went 9-4 overall in the 2017 season and ended the season with their coach resigning to take the Florida head coaching job. In 2017, the Bulldogs had a good year but lost Georgia, Auburn, Alabama, and Ole Miss. Georgia and Auburn blew them out by double digits, but they played really well against Ole Miss and Alabama. Since coach Dan Mullen resigned and left for Florida, fans are unsure of what to expect for the 2018 season. Joe Moorehead was recently hired to be the head coach going into the 2018 season.
Odds for Mississippi State to win 2018-2019 NCAAF National Title
Mississippi State Bulldogs Odds: +8500
University Of Mississippi - The Ole Miss Rebels
The Rebels of the University of Mississippi have always been the favorite team located in Mississippi, and this really all started back when Archie Manning took the helm for the squad. Since his retirement, the state has named streets and stadiums and a slew of other items after the star QB. Even though Archie never went to the NFL playoffs as a QB for the New Orleans Saints in over ten years of NFL play, the state of Mississippi still recognizes him as the greatest Rebels QB to ever suit up and play. And that's even considering that his son Eli, younger brother of Peyton Manning, actually beat Alabama and broke most of Archie's records, and has two Super Bowl wins to his name. Even still, people in the Magnolia State hold Archie up to be the best to ever do it.
The Ole Miss Rebels are coming off a disappointing 6-6 season. Their lackluster run defense contributed to most of the self-inflicted damage and will be a point to improve upon heading into this year. The team is a considerable force in the SEC and has been successful in the past, but their recent form has left fans disappointed. Ole Miss is expected to be ranked #57 at the start of the season.
Odds for Ole Miss to Win the 2018-2019 NCAAF National Title
Rebels Odds:+55000
Resources For Mississippi Gamblers
Mississippi Council On Problem And Compulsive Gambling - Because there are over 30 brick and mortar casinos in the state, Mississippi actually has many outlets where players can go for help if they feel they have a gambling addiction.