The post-PASPA era in Mississippi saw an immediate emergence of legalized state-licensed sports betting entertainment. Our focus here will be on the presence of sports betting opportunities for Mississippi residents.
Some of the best collegiate football teams and some of the top NFL players have come out of Mississippi. Archie Manning played for the Ole Miss Rebels, as did his son Eli, who is currently the starting quarterback for the New York Giants and two-time Super Bowl champion. The sports culture in Mississippi is undeniably woven into the very fabric of the state's identity.
In an effort to assist Mississippi gamblers who are seeking legally approved sportsbook gambling options, we have generated this resource guide that systematically breaks down relevant information concerning the legalities of betting on sports in Mississippi.
We will discuss the gambling laws on both a state and federal level and how these laws impact the options that are legally available to residents of the Magnolia State. Lastly, we will provide direction for accessing legally licensed American online sportsbooks that accept customers from Mississippi.
Best Online Sports Betting Site


For Mississippi Players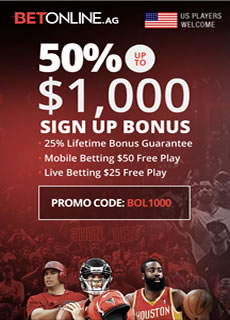 Sports fans in Mississippi looking for legally licensed online sports betting options can find everything they need at BetOnline, an extremely reputable 5-star sportsbook that accepts all Mississippi players. Doing business for over 20 years, they have earned a fantastic reputation in the industry by offering great betting lines, secure software and some of the best bonuses in the business. Their range of betting lines and wagering options for is nothing short of impressive. Licensed out of Panama, they can legally accept all USA players because they are located offshore.
All USA Online Sportsbooks


Open To Mississippi Players
Is Online Sports Betting Legal in Mississippi?

Mississippi legalized domestic sports betting in 2018, not long after PASPA was repealed by the Supreme Court. They are the first southern state to offer a sportsbook that residents and visitors can play in the casinos. State-wide online sports betting is still not allowed from domestic sportsbooks, but the casinos are poised to offer an online sportsbook that can be used while on casino grounds.
Mississippi residents interested in betting online have the option of using legal offshore sportsbooks. There are no state or federal laws that outlaw legally licensed offshore sportsbooks. Each of the sportsbooks you see recommended on this page accepts customers from Mississippi, and they are all licensed, certified and regulated to operate legally within the industry.
A Brief On The Federal Laws Impacting Gambling in Mississippi
There are three primary federal laws that impact the gambling market across the United States. The first is the Federal Wire Act, and this states that it is illegal across the entire nation to transfer money across state lines via a wired connection that qualifies as a gambling-related transaction.
The second piece of legislation is the newest, the UIGEA. Essentially, this legislation places regulatory oversight for gambling related transactions and how they are processed. This law does not affect individual gamblers, but rather addresses gambling business operators and payment processors.
The Professional and Amateur Sports Protection Act was overturned on May 14, 2018, removing the nearly 26-year ban nationwide ban on sports betting expansion. When this happened, individual states were given the authority to prohibit or allow state-regulated sports betting entertainment within their borders.
Mississippi's Gambling Options for the Public
When it comes to your gambling options in the state of Mississippi, you actually have a whole lot to choose from. Now, we're not talking about Vegas-level gambling, but it might just be the next best thing. In fact, all told, you will find more casinos in the state of Mississippi than you'll find on the Atlantic City boardwalk, and that's saying a lot about the state. There are over 30 casinos in Mississippi, all of which feature at least a wide array of slot machines and some of which are already offering legal sports betting. On August 1st, 2018 casinos in Biloxi and Tunica started taking sports bets, many more casinos are expected to launch domestic sportsbooks by the end of the year.
The list of Mississippi casinos is rather lengthy. You have casinos like the Ameristar Casino, the Bok Homa Casino, Bally's and Bayou Caddy's, the Golden Moon, two different Harrah's casinos, and over twenty more to choose from. By and large, these casinos are located up and down the Gulf region of the state and feature basic slot machines and a few table games. But you can find a few locations that are very large racetrack-casino hybrids, and by now, casinos are offering legal domestic sports betting. It all depends on what you're in the mood for. The odds are great that Mississippi has it.
College Football Teams in Mississippi
Mississippi is home to two Power 5 Conference college football teams: The Mississippi State Bulldogs who play in Starkville and the Ole Miss Rebels who play in Oxford. These two in-state rivals play the Southeastern Conference (SEC) and first played each other in 1901 and have met 114 times in total. Today, the teams meet each other annually in the end-of-season matchup known as the "Egg Bowl."
The Egg Bowl got its named from Clarion-Ledger sportswriter Tom Patterson in 1979, coining the name after the rivalry trophy, the "Golden Egg Trophy." The trophy was made after Ole Miss fans rushed the Mississippi A&M Aggies (later named Mississippi State Bulldogs) home field after upsetting A&M in 1926, ending a 13-year losing streak. Ole Miss fans proceeded to destroy their rival's property and attempted to tear down goal posts, but the A&M fans responded by arming themselves with their stadium's wooden chairs, causing fights to breakout in the stadium, coming to an end once most of the chairs had been broken and splintered.
To prevent future altercations, the two student bodies got together before the next meeting and created the "Golden Egg Trophy," a golden trophy given to the winning team each season and mimics the ovoid footballs of the 1920s but today would resemble an egg. The winning team holds the trophy until the next matchup where the two team will decide who keeps it for the following year.
Betting on the 2018 Mississippi State Bulldogs
The Bulldogs did well in 2018, finishing 8-4, but not competing in the brutal SEC for a title.
Running backs Kylin Hill and Nick Gibson should have productive years in 2019 thanks to the strong offensive line returning from last season. MSU must find the right quarterback to give the offense stability. Keytaon Thompson, Jalen Mayden, Garrett Shrader, and Penn State transfer Tommy Stevens are all possible replacements for former QB Nick Fitzgerald.
Mississippi State lost a chunk of their defensive starters from last season, but players like DE Chauncey Rivers and safeties Cameron Dantzler and Maurice Smitherman will be expected to fill the gaps.
The Bulldogs might take a step back in 2019, but the team should do well overall despite not competing for an SEC title.
2019 NCAA Championship Odds to Win: TBD
Betting on the 2019 Ole Miss Rebels
Coach Matt Luke is entering his third season with Ole Miss, now with former NCAA head coaches Rich Rodriguez and Mike MacIntyre on his staff offering support.
Freshman QB Matt Corral will lead the offense in 2019 with receivers Elijah Moore and Braylon Sanders as his primary targets and RB Scottie Phillips to help orchestrate the run-based spread offense.
DE Qaadit Sheppard, OL Sam Williams, and LB Mohamed Sanogo should lead the Ole Miss 3-4 defense. This side of the ball has plenty of experience, but limited playmakers that have proved their production.
2019 NCAA Championship Odds to Win: TBD
---
Resources For Mississippi Gamblers
Mississippi Council On Problem And Compulsive Gambling - Because there are over 30 brick and mortar casinos in the state, Mississippi actually has many outlets where players can go for help if they feel they have a gambling addiction.