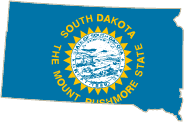 South Dakota is a friendly state when it comes to gambling. With a total of 31 casinos and a variety of games offered, including poker, slots and more, it is clear residents favor the industry. There are no professional sports franchises located within the state, leaving something to be desired in terms of a sports betting market, but that doesn't mean sports betting is completely out of the question.
While US federal laws and South Dakota state gambling laws may not specifically support any type of state-regulated sports betting options, they also do not prohibit residents of the Mount Rushmore State from engaging in legally sanctioned offshore betting.
This guide will show residents how they can start placing bets with these offshore sportsbooks. It will also inform you concerning the US federal laws relevant to sports betting and how you can place your bet both legally and safely without violating any type of state or federal regulations.
Top Rated Sportsbook


For Residents Of South Dakota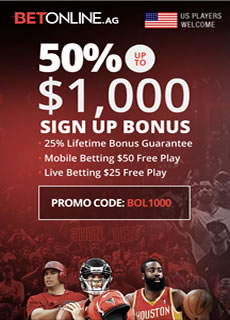 There are lots of online sportsbooks, but not as many come with the positive reputation that BetOnline does. BetOnline is one of the most respected online gambling sites in the industry. The site offers a multitude of additional features like mobile and live betting, bonus offers and more. They provide comprehensive sports coverage, including odds, lines, and wagering options. You'll be welcomed with a new customer bonus good for up to $1,000, as well as a 25% lifetime reload bonus for up to $1000 for each deposit you make for the life of your account. If you're looking to place wagers on sports, BetOnline is a premier destination for US bettors that.
Best USA Sportsbook Sites

For Online Sports Betting In South Dakota 2022
Is Online Sports Betting Legal in South Dakota?

Yes, from offshore sportsbooks. There is currently no legal form of state-regulated online or offline sports betting in the state of South Dakota. There are federal laws in place that make it illegal for Americans to place bets online with US-based sportsbooks or to operate land-based sportsbooks within the United States.
South Dakota residents can legally place bets through sanctioned offshore sportsbooks that are legitimately authorized and operated through a respected governing jurisdiction. While state based sports betting is not yet legal in South Dakota, certified offshore sportsbook options are available to residents of the state who are interested in legally betting on sports online.
How Federal Laws Affect The Betting Landscape In South Dakota
The Federal Wire Act is a US federal law that prohibits Americans from placing bets online across state lines with US-based online sportsbooks. This law restricts South Dakota residents and visitors from betting with state-regulated online sportsbooks. It prevents you from betting with a US based online sportsbook in any state.
The Professional and Amateur Sports Protection Act (PASPA) banned physical sportsbook locations in all but four states. PASPA was overturned in 2018 by the Supreme Court giving states the option to enact legal sports betting laws.
The Unlawful Internet Gambling Enforcement Act (UIGEA) deals with banks and how they process online gambling transactions. The UIGEA affects how players deposit and withdraw money with these online sportsbooks. It doesn't make it illegal to place bets with them. In fact, none of these laws even address the bettors themselves, but rather focus on preventing the operation of illegal gambling businesses from an owner/operator standpoint.
Since the legal offshore sportsbooks that we recommend are legally authorized and operated outside US jurisdiction, they are outside the reach of these federal laws, so American bettors can bet with them without fear of breaking any US federal law. You can gein-depthn depth information about gambling-related federal regulations from our Legal Online Sports Betting Guide For US Residents.
South Dakota State Gambling Laws
South Dakota state law permits gambling to a certain extent. This legality extends to the casinos located within the state and the games run out of them. South Dakota's gambling industry is regulated by the state government. State based sports betting is illegal in the state and not offered in any of their casinos. However, South Dakota state law doesn't say anything about placing wagers on sports via the legal offshore sportsbooks that we've suggested in this guide.
There are laws preventing residents from operating a sportsbook, but there are no laws prohibiting residents from placing bets online. The South Dakota Commission on Gaming oversees much of the gambling industry in the state. You can review the state's laws and regulations here: South Dakota State Gambling Laws
Will South Dakota Ever Legalize Sports Betting?
Now that PASPA has been repealed it is likely. Lawmakers have made several attempts to pass a sports betting bill but the state legislature won't sign off on the bill. As of now, there is still no domestic sports betting in South Dakota.
What Types Of Betting Lines And Wagering Types Are Available To South Dakota Residents?
These offshore sportsbooks offer betting lines similar to the ones you would find in Las Vegas sportsbooks. The betting lines are on sports and leagues from around the world. For example, you can enjoy US football betting by placing a bet on an NFL game, or get in on some basketball action by betting on an NBA game or even an English Premier League game.
USA online sportsbooks do not restrict you to betting on teams in your area (this is especially important since South Dakota has no major professional sports franchises), so feel free to place bets on whichever teams you'd like. The betting lines are constantly updated, giving you an early jump on the action and increasing your chances of winning.
There is a wide range of wagering options available to bettors on these offshore sportsbooks. One of the most common is a point spread bet, where you wager on a certain team to either win or lose by a predetermined amount of points. Other wagering types include money line bets, where you simply bet on a team to either win or lose (with no attention to the point spread), prop bets, where you bet on a specific occurrence or nonoccurrence in a game, future bets, where you bet on a team to win the championship at the beginning of the season (for example), parlay bets where you bet on the outcome of a series of games or matches, and many more. The different wagering options provide you with a variety of ways to bet on your teams, which keeps things entertaining and helps you win more money.